At a Glance
Expert's Rating
Pros
Fun and addictive to use
You can make watchlists and find movies on other services
Useful source of second opinions to services such as Rotten Tomatoes
Cons
Not completely intuitive (it takes some patience to learn)
You can't react to a television series as a whole, only individual episodes
Lacks reactions to many older, more obscure, and classic movies
Our Verdict
This fun and free app for Android and iOS devices lets you record and share your reactions to movies, trailers, and TV shows.
Best Prices Today: Stardust: Movies & TV Reactions
Movie-lovers discover films in different ways. Sometimes computer algorithms offer something interesting. Sometimes articles by movie critics or aggregation sites like Rotten Tomatoes can point viewers in the right direction. (And, as a movie critic, I like to believe that's a good way to go.) But sometimes there's nothing quite like a human being telling you that he or she just simply loved a certain movie.
So with the complex world of social media and social sharing becoming ever more and more sophisticated, how would a simple movie recommendation machine work? The Stardust app—available free for iOS and Android—has a pretty good idea. It allows viewers to look up any TV show or movie they want, and then watch or record a short video reacting to it.
The app asks for a phone number and a birth date before it allows you to log in. It also requires your Facebook login. Once I did all that and created a username, I was immediately able to start watching reactions. Upon my first use, quite a few of the newer ones were for the hit Stephen King adaptation It. The first reaction showed a man hiding behind his clenched fingers chanting, "It's only a movie! It's only a movie!"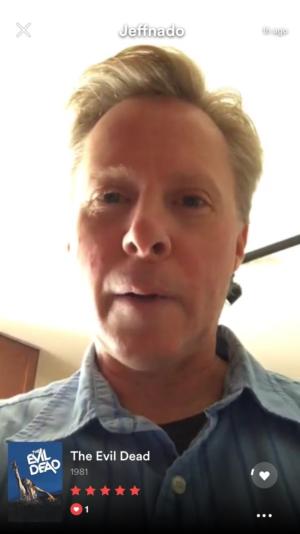 Darren Aronofsky's mind-bender mother! also inspired some interesting reactions, many of whom had the same one I did: I think I need to think about this one awhile. Another guy, however, was flat-out angry and did not hide his feelings.
Quite a few of these reactions are funny, as you might expect. For Mad Max: Fury Road, one woman simply sits, rapt, watching the movie and munching popcorn. And, as with movie critics, it is actually quite a bit more fun to find the bad reviews. The reactions to Reese Witherspoon's Home Again in particular are pretty amusing. On the other hand, I was touched somewhat by the fellow who loves Batman (1989) because it was his first drive-in movie, and another guy who was inspired to start reading comics after seeing it.
Some users have even created little title screens for their reactions. One featured a digitally manipulated version of herself. It's interesting to note how many people record their reactions in their cars.
The downside is that not everyone has something great to say about every movie. Not to mention that you'll probably hear recommendations for terrible movies. I found two right away, for The Grinch (2000) and Man of Steel (2013). Also, there seems to be no filter for language or content, so the app is probably not recommended to anyone too young to see an R-rated movie.
The app also lets users watch trailers—largely for new releases—and comment upon them, although these are less interesting. Trailers are basically ads to sell a movie, so all the comments are merely speculation. On the "latest reactions" page, the app unfortunately does not indicate whether a reaction is for the entire movie, or just the trailer.
If spoilers are a concern, the app offers a button to push to proceed to a spoiler-laden reaction. The option to include this button is given when users upload a video. When a reaction is recorded, users can rate each movie from one to five stars, although a reaction must be recorded for the right to do that. (I could not figure out how to give a star rating otherwise.) You can also "heart" other people's reactions and create a watchlist of movies you'd like to see. For older titles, the app provides a handy guide as to where to buy or stream them, with links to services such as iTunes, Amazon, Vudu, Google Play, Hulu, and others.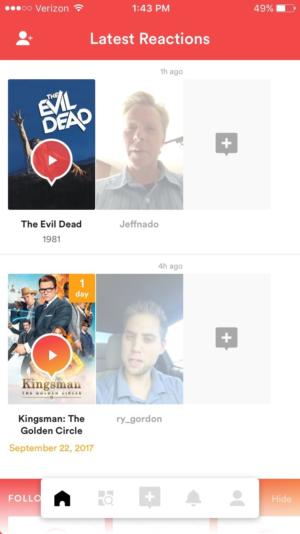 On a technical level, I found that the app is not particularly intuitive. For example, if you'd like to skip a boring reaction and see what the next one is, it initially seems as if you have to wait through each entire one. I later discovered by accident that merely tapping in the center of the screen skips a reaction.
Not all movies have reactions yet, and things are of course weighted to newer and extremely popular movies. I had more fun using the search tool, finding some of my more obscure favorites, and listening to what others had to say about them. At least half the time, critic-certified classics had no reviews (Citizen Kane? The Rules of the Game? Tokyo Story? Sunrise? Persona?). Aren't people watching these great films?
TV shows are included as well, although the app divides each show into individual episodes, so that a user would have to record dozens of reactions, rather than a single reaction, to an entire show. I checked out several shows and this holds true for most of them. But for some reason, the Netflix series Stranger Things is listed like a movie, as a single entity.
It definitely takes a bit of courage to record your face and voice talking about a movie you love, and so kudos to all those users who conquer stage fright. I confess I had fun using the app, and even had trouble putting it down, as I kept thinking of other titles to look up. (One man gave a fair review to Indiana Jones and the Kingdom of the Crystal Skull, a decent movie that fans love to bash. So thank you for that!)
Overall, Stardust seems like a good app to keep around, especially now that awards season is coming up. It will be interesting to see what regular movie fans are saying about some of the most acclaimed movies of the fall season; it could offer a useful perspective against Rotten Tomatoes.
Best Prices Today: Stardust: Movies & TV Reactions