At a Glance
Expert's Rating
Pros
Reasonably intuitive app
Smooth-dimming and fairly bright bulbs
Cons
Simply not worth the price
Setup is weirdly convoluted and classically Ikea-style
Limited light tunability, with iffy light quality
Our Verdict
From its weak setup to its limited configurability, Ikea's smart light kit leaves a lot to be desired.
Best Prices Today: Ikea Tradfri Gateway Kit
If you had trouble putting together the Billy bookcase, wait until you get your hands on Ikea's smart lighting system!
The fun begins before you ever even make a purchase: All 13 of Ikea's smart lighting products are sold under the name of Tradfri, so first you need to know which of these products you want.
Ikea Tradfri Gateway Kit
For any real smart home enthusiast, that answer will be the Ikea Tradfri Gateway Kit, which gives you two smart, somewhat-white-tunable bulbs; a wired hub that supports a mobile app; and a wireless remote control for $80.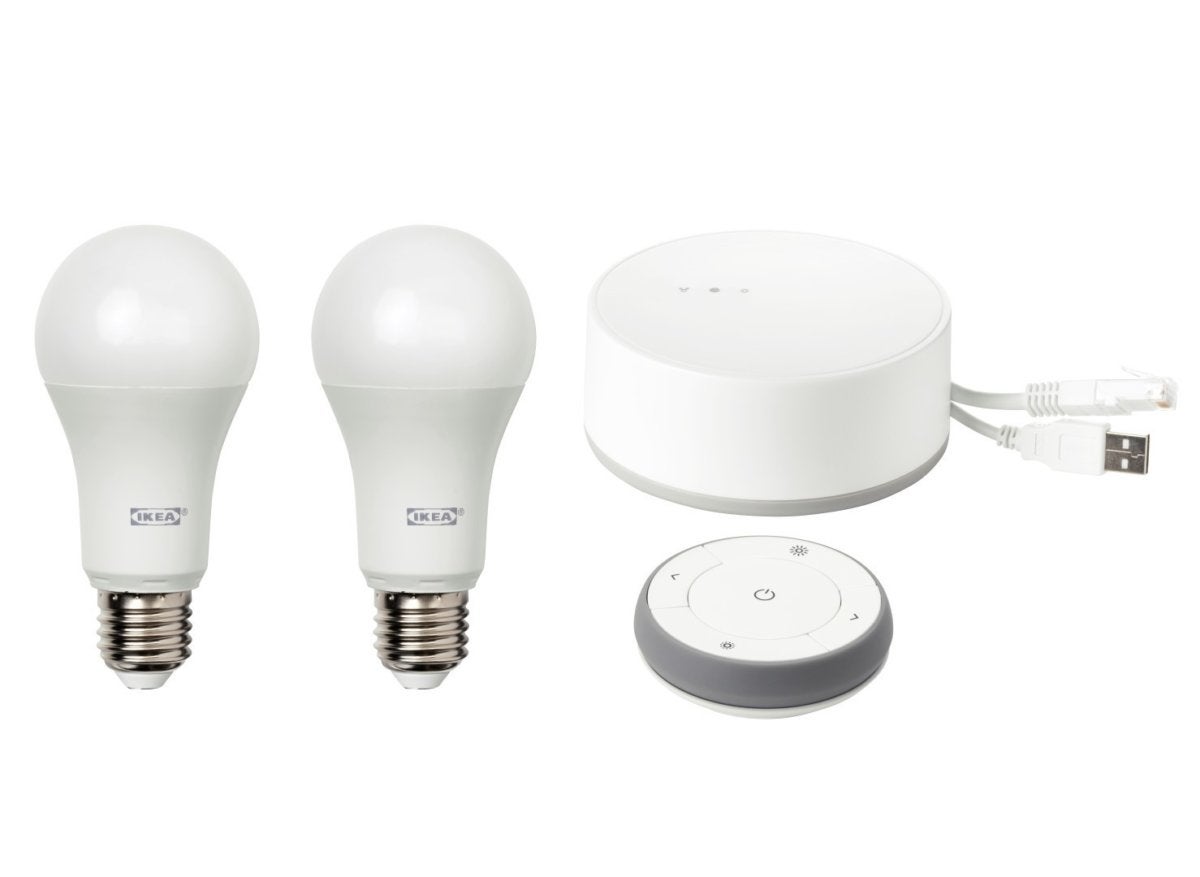 From an infrastructure standpoint, the system is built a lot like the dimmable-but-non-tunable Philips Hue White Starter Kit ($69.99 at Amazon). Installation is a bit more complex, though. The hockey-puck gateway (a ZigBee hub) connects to your router via ethernet (and must be plugged in to wall power). After you install the mobile app, you scan a QR code on the back of the gateway, crack open the remote control, install a coin-type battery, hold the remote 2 centimeters away from the light bulb, hold down a button inside the remote for 10 seconds, update the firmware, and—presto!—you can now control your smart bulb like a boss. Don't worry, all of this is explained in classic Ikea pictogram-illustration format, and you don't even need an Allen wrench to finish the job.
As smart bulbs go, the Tradfri lineup is decidedly simplistic. There's no fluid color tuning, but the 980-lumen bulbs do have three color temperature settings: a cool 4000K, a mid-level 2700K, and a (very) warm 2200K that's almost bright orange in tone. The bulbs also dim smoothly, but that's the extent of what they can do.
You can control all of these settings either through the mobile app or the remote control, but bear in mind you need to re-pair the remote to each light bulb you want to add. The remote controls all of the lights it's paired with identically and as a group. If you want to use a separate remote for different lights in the house, that remote has to be bought separately ($15 each)—and no, you can't control the bulbs via the app unless they're paired with a remote.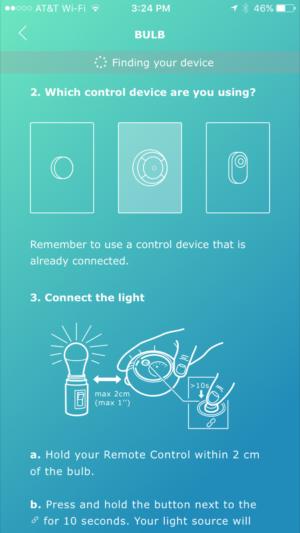 This turns out to be a really convoluted way to set things up. Why the gateway needs a middleman in the form of a remote control between it and the light bulbs just doesn't make a lot of sense, and while the remote can be a handy thing to have, its a bit superfluous, and it drives up the cost of entry. (The remote in the Philips' kit isn't required for setup and is provided merely for convenience.)
The good news is, wonky setup aside, the bulbs work fine once they're set up, though the color of the light is far from exceptional, particularly the warmest tone.
A basic timer system is included if you want to use the bulbs as vacation timers, but Tradfri doesn't connect to any other smart home gear if you're thinking about getting fancy with your setup.
Ikea Tradfri Motion Sensor Kit
If you don't need app-based control, you might consider one of the other Tradfri products, such as the Ikea Tradfri Motion Sensor Kit. (The other main system is a dimming kit, which we didn't review.) The motion sensor kit consists of two pieces: a wireless motion sensor and a single 1,000-lumen smart bulb hard-tuned to 2700K (for $25). Again, the kit is self-contained. You don't need the gateway kit for it to work—but the bulb can be paired to the gateway and remote instead if you decide you just want to use it as a regular bulb (at which point the motion sensor won't work).
The sensor and bulb are supposed to be automatically paired out of the box, but this wasn't the case in my test unit. Manually pairing the two was fairly simple, though. You pop off the back panel of the motion sensor and, while holding the sensor next to the bulb, depress a button inside for 10 seconds, much like the remote control in the gateway set. (Up to 10 bulbs can be paired to a single sensor.)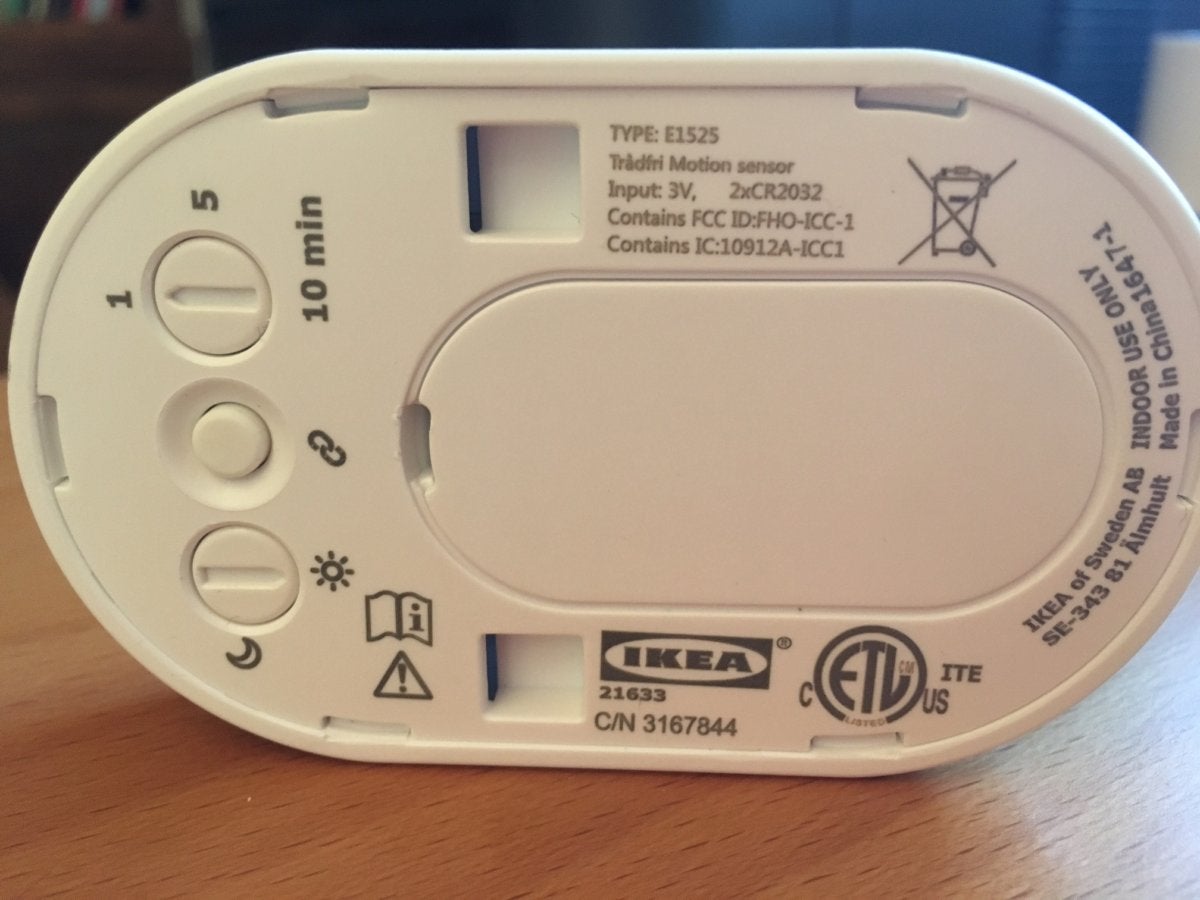 You'll have to open up the sensor anyway, because here you'll find two dials that let you set how the sensor works. One lets you set the amount of time the light stays on after the sensor is tripped (1, 5, or 10 minutes). The other lets you set whether the sensor should work at night only or during both day and night. Both features worked exactly as advertised in my testing.
In use, I found the sensor remarkably sensitive to motion—but only if said motion occurred quite close to the sensor. While Ikea claims a range of up to 30 feet, I only experienced a working range of 10 to 12 feet, which is definitely on the short side to be universally useful.
At $25, however, this is a reasonably priced kit for a motion sensor system that works fairly well on the whole. Ultimately, it merits a cautious recommendation.
Best Prices Today: Ikea Tradfri Gateway Kit
Note: When you purchase something after clicking links in our articles, we may earn a small commission. Read our affiliate link policy for more details.