At a Glance
Expert's Rating
Pros
Enables you to control stand-alone A/C units from anywhere you have internet access
Can be controlled with voice commands via Amazon Echo or Google Home
Basic support for geofencing, so you're A/C isn't running when away and don't need it
Cons
Only works with A/C units that have remote controls
The Sky app is missing some key features
A little pricey for the features delivered
Our Verdict
The Sensibo Sky is useful gadget for controlling stand-alone air conditioners and heat pumps additional brains, but it's a bit light on features for the asking price.
Best Prices Today: Sensibo Sky
The Sensibo Sky can make any air conditioner equipped with an infrared remote control just a little smarter. Smart thermostats are great if you have a central HVAC system, or if you live in a temperate climate where you need only a furnace for the winter. But unlike the Sky, none of those can control the room air conditioner in your window or the ventless model on your wall.
The Sky connects to your router, and the Sensibo app installed on your smartphone replaces the dedicated remote that came with your unit. This allows you to establish schedules when you want the A/C on and off, or you can control the air conditioner from anywhere you have internet access. There's also geofencing support, so you can program the A/C to turn off when you leave the house and back on when you return home. Both these features are currently undercooked, however; the scheduling feature is weak, and Sensibo says geofencing is still under development.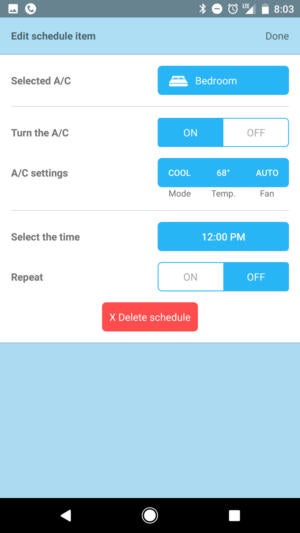 The Sky will also let you control your air conditioner (or heat pump) with voice commands, by way of the Amazon Echo and Google Home smart speakers. You can further tie the device into your smart home using IFTTT recipes.
If those hooks aren't enough for your smart home's needs, Sensibo has also developed an open API that has allowed third-parties to build interfaces to Samsung's SmartThings ecosystem, openHAB (home-automation software for enthusiast DIYers), and Homebridge (an open-source iOS HomeKit API emulator).
Installing the Sensibo Sky is similar to putting in a new thermostat, but there's less wiring to deal with. You just hang the device on your wall (within sight of your A/C unit), plug it in, and connect it to your Wi-Fi network. The Sky learns your air-conditioner's remote control codes from the factory remote. If you have multiple room air conditioners, you can install multiple Skys and control all of them from the same app.
Mentioned in this article
Sensibo Sky
Price When Reviewed:
$149.00
The Sky itself is outfitted with sensors that will monitor the room's temperature and humidity, but it has no means of determining what the air conditioner's internal thermostat is set to. In my test, the Sky assumed the air conditioner was set to 73 degrees when it was actually set to 68. The only way I could sync the Sky's target temperature with the air conditioner's target temp was to set the air conditioner to 73 and then use the app to adjust it to my desired temperature. This is a minor complaint, but it seems like an odd way of doing things.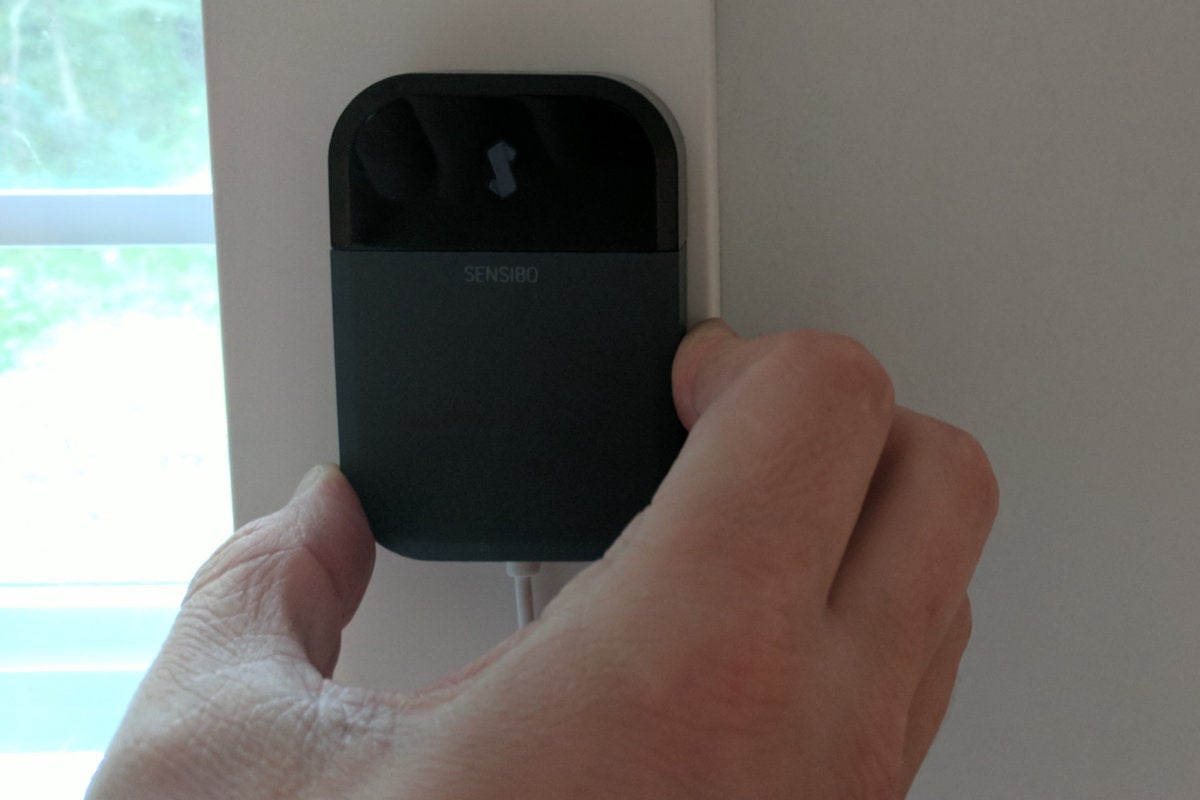 The Sensibo Sky is a convenient gadget, and it should pay for itself in energy savings—eventually. Depending on how much you use air condition, that could take a while with the Sky selling on Amazon for about $120 a pop (MSRP is $149). That seems a little high considering how the Sky's app makes this product feel like it's still a work in progress.