Among everything Apple announced at its press conference this week, the Apple TV 4K was the only one lacking a killer hook.
The new streaming box's most noteworthy features are support for 4K HDR video—already table stakes in other high-end streaming boxes—and a faster processor for the Apple TV's oft-neglected gaming features. The remote control got a slight redesign, perhaps to stop people from holding it wrong, and there's gigabit ethernet instead of 10/100Mbps, but Apple introduced nothing on the hardware side to change the way we interact with our televisions.
Mentioned in this article
Apple TV (2015)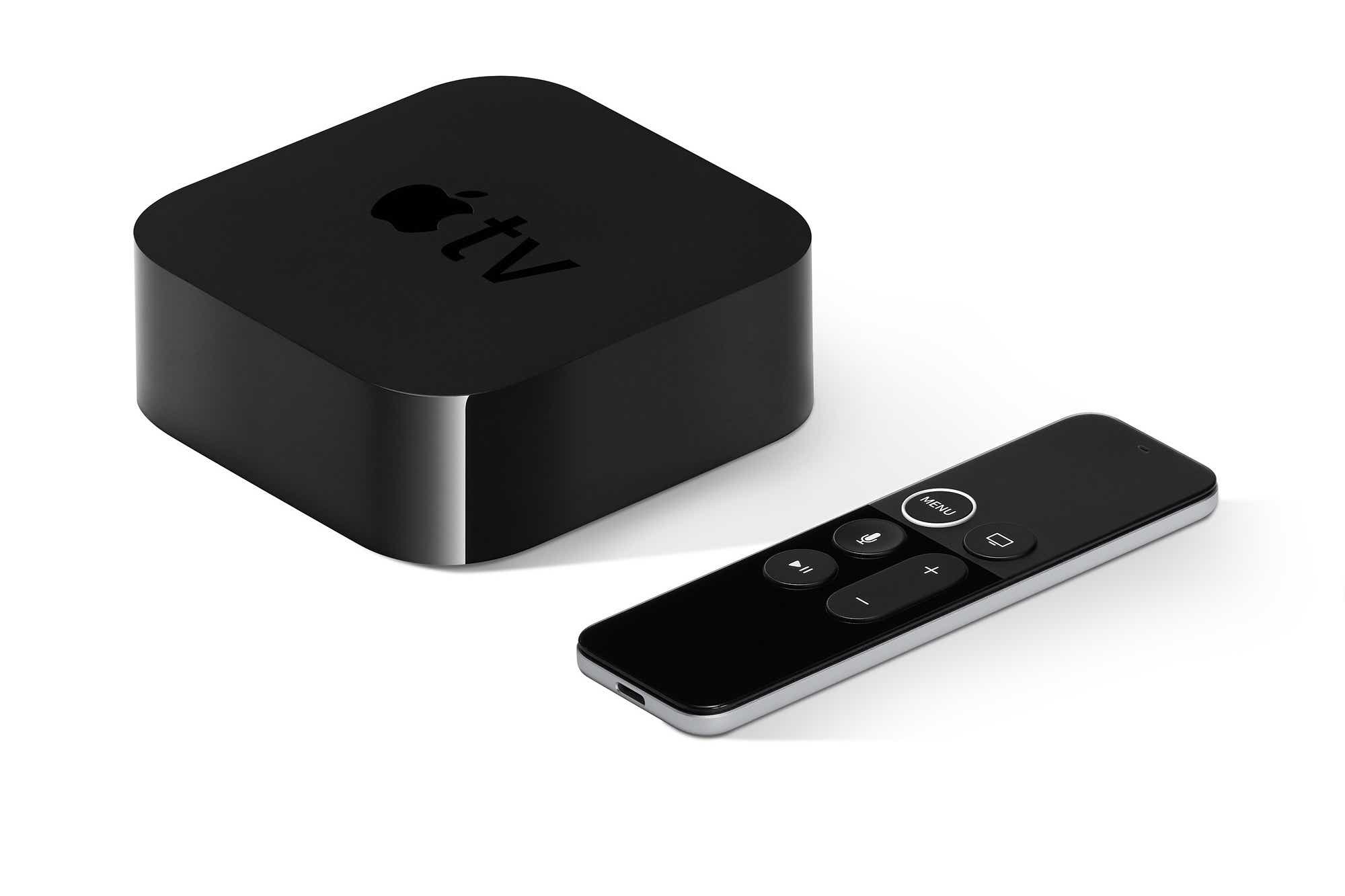 Price When Reviewed:
$149
The company did raise prices: The new Apple TV 4K costs $179, which is $30 more than the previous version (introduced in 2015). And while the two-year-old 1080p Apple TV is sticking around, it'll carry the same $150 price tag that it always has.
This was an unusual segment in a presentation that otherwise focused on how Apple, in the words of worldwide marketing head Phil Schiller, tries to "skate to where the puck is going to be." Schiller had just demoed the iPhone X, and was referring to a classic Wayne Gretzky quote as relayed by Steve Jobs a decade earlier. But while Apple's new iPhone displayed foresight with its new approaches to security, augmented reality, and software design, the Apple TV is still playing catch-up.
All about VOD
The Apple TV 4K does have one unique angle: Beyond just Netflix and Amazon in 4K HDR, iTunes will offer movie purchases and rentals in the new format, and they'll cost the same in 4K HDR as they do in HD. For purchases, prices should be around $20 per film, rather than the $25 or $30 per film that other stores charge currently. For rentals, the price will likely be around $5 per film instead of up to $10. Apple will also upgrade iTunes users' existing HD purchases to 4K HDR at no extra charge, provided the films are available in the new format.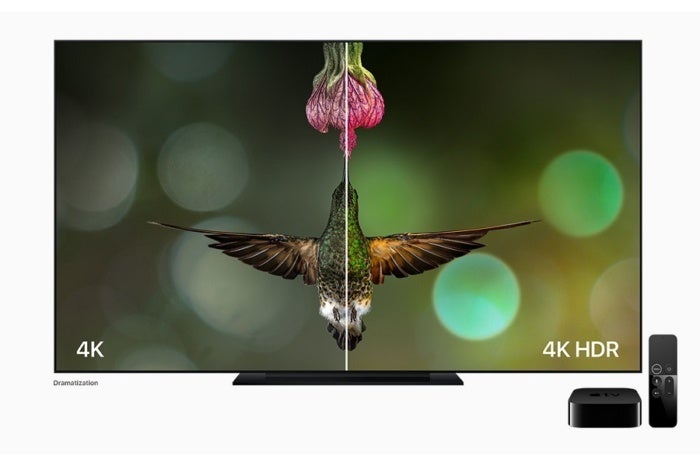 4K HDR, with its crisper images and more vivid colors, is a genuine leap forward in video quality, so this might give some owners of the requisite 4K HDR televisions an incentive to buy. But for most people, it won't register as a major benefit for a few reasons:
First, Apple hasn't said how many 4K HDR titles it'll have for purchase or upgrade, but we can probably get an idea by looking at other services. Vudu offers 121 movies in Ultra HD, compared to more than 24,000 films in standard or high definition, while FandangoNow lists 197 Ultra HD films, so it's safe to assume most movies will remain in HD for a while. Disney has also indicated that it won't offer 4K HDR movies on iTunes at all.
Mentioned in this article
Roku Ultra
Price When Reviewed:
$129.99
Second, digital purchases and rentals make up a small fraction of what people spend on video, especially compared to subscription streaming. Survey data supplied by Parks Associates shows that U.S. households on average spent less than $1 per month each for video purchases and rentals in Q3 2016, which is the last time Parks gathered this data. Those figures—which include both TV shows and movies—have been steadily declining over the past five years, while subscription streaming expenditure is sharply rising. Surveyed households spent around $8 per month on average for services like Netflix in Q3 2016.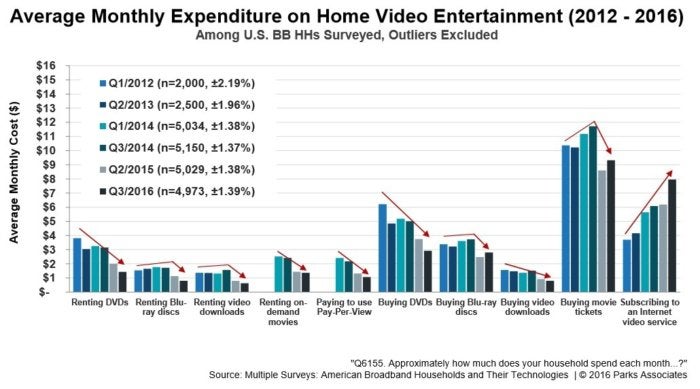 Finally, the $179 Apple TV 4K is about $90 pricier than the Roku Premiere+ and about $110 pricier than the Chromecast Ultra. Rumored 4K HDR Fire TV devices from Amazon are expected to be much cheaper than the Apple TV 4K as well. That means the idea of saving money on 4K HDR iTunes movies rings a bit hollow.
At best, then, Apple's pricing and upgrades create a modest Apple TV purchase incentive for 4K HDR TV owners. But given the dearth of available 4K HDR titles, the shortage of interest in digital movie purchases, and the strong preference among consumers for lower-cost streaming devices, selling discounted 4K HDR movies through iTunes isn't a huge selling point overall.
(Still) not too late
The Apple TV can still redeem itself, and you can see some signs of foresight if you squint hard enough. As part of this week's press conference, Apple announced support for live news and sports in its TV app, which aggregates video from various streaming apps into a single guide. ESPN, MLB, NBA, CNN, and Bloomberg are on board as early supporters.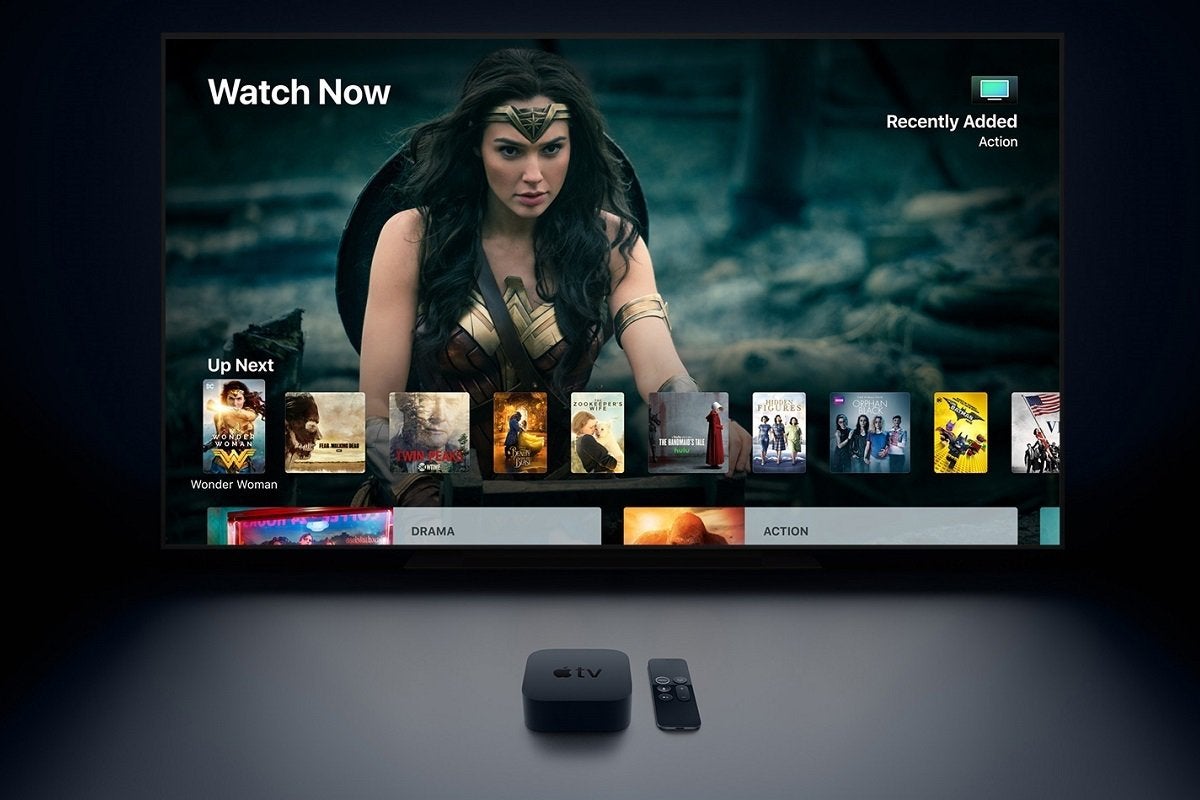 In its current form, the TV app still seems like it's searching for an audience. Antenna-friendly services like Tablo, Plex, and Channels aren't supported, nor is Netflix, making it a tough sell for many cord-cutters. For streaming bundles like Sling TV and DirecTV Now, the patchy nature of TV Everywhere app support means you can't reliably use the TV app in place of those bundles' own apps. And the limited support for single sign-in among major cable providers means that using Apple TV instead of a cable box can be a hassle.
Yet with live sports and news, the TV app almost seems evermore like scaffolding for an Apple streaming bundle. Instead of creating an entirely new interface, Apple could just tie into TV Everywhere apps and embed its bundle directly into the Apple TV's main menu, which also integrates with standalone services like Amazon Video and Crunchyroll. This sort of solution would be unique to the Apple TV, and could provide an easy off ramp from cable for many more people.
This is all just speculation, though, and 4K HDR has little to do with it. Compared to what cheaper streaming devices offer already, the Apple TV 4K's namesake feature is only a minor perk for the small percentage of people who haven't left Apple's video ecosystem. Wherever the puck is going, it's unlikely to travel through iTunes.
Sign up for Jared's Cord Cutter Weekly newsletter to get this column and other cord-cutting news, insights, and deals delivered to your inbox.