At a Glance
Expert's Rating
Pros
Incredible mid-range and high-frequency performance
Able to reveal subtle nuances in the best recordings
Satisfying bass response with music
Cons
You'll want a subwoofer for home theater applications
Our Verdict
B&W's 704 S2 are stellar floor-standing speakers, they will knock your socks off.
Best Prices Today: 704 S2 floor-standing speakers
Bowers & Wilkins' 704 S2 floor-standing speakers ($1,250 each) lie smack-dab in the middle of B&W's completely new 700-series loudspeaker lineup. And they sound fantastic.
While the benefits of trickle-down economics are mythical, there's a long and successful tradition of trickle-down technology: Innovations introduced at the high end being folded into less-expensive models as their manufacturer recoups their R&D costs. Such is the case with the 700 series.
B&W 704 S2 specs
B&W took several features first introduced with its ultra-high-end 800 Series Diamond speakers and incorporated them into the 700 series. The 704 S2 speakers reviewed here don't get all those new technologies, but they do get a 5-inch Continuum midrange driver, along with a version of B&W's Aerofoil Profile bass driver (there's a pair of these airfoil-shaped cones in the cabinet).
Continuum is an all-new woven-metal material that B&W developed in house to replace the Kevlar it had been using in its mid-range drivers. The 704 S2 also feature a 1-inch carbon dome tweeter that's decoupled from the cabinet to reduce cabinet coloration (the midrange is similarly decoupled). The 704 S2 cabinets are outfitted with a reflex port based on B&W's Flowport design, which uses hundreds of dimples in the surface of the port at each end to improve airflow in and out of the cabinet.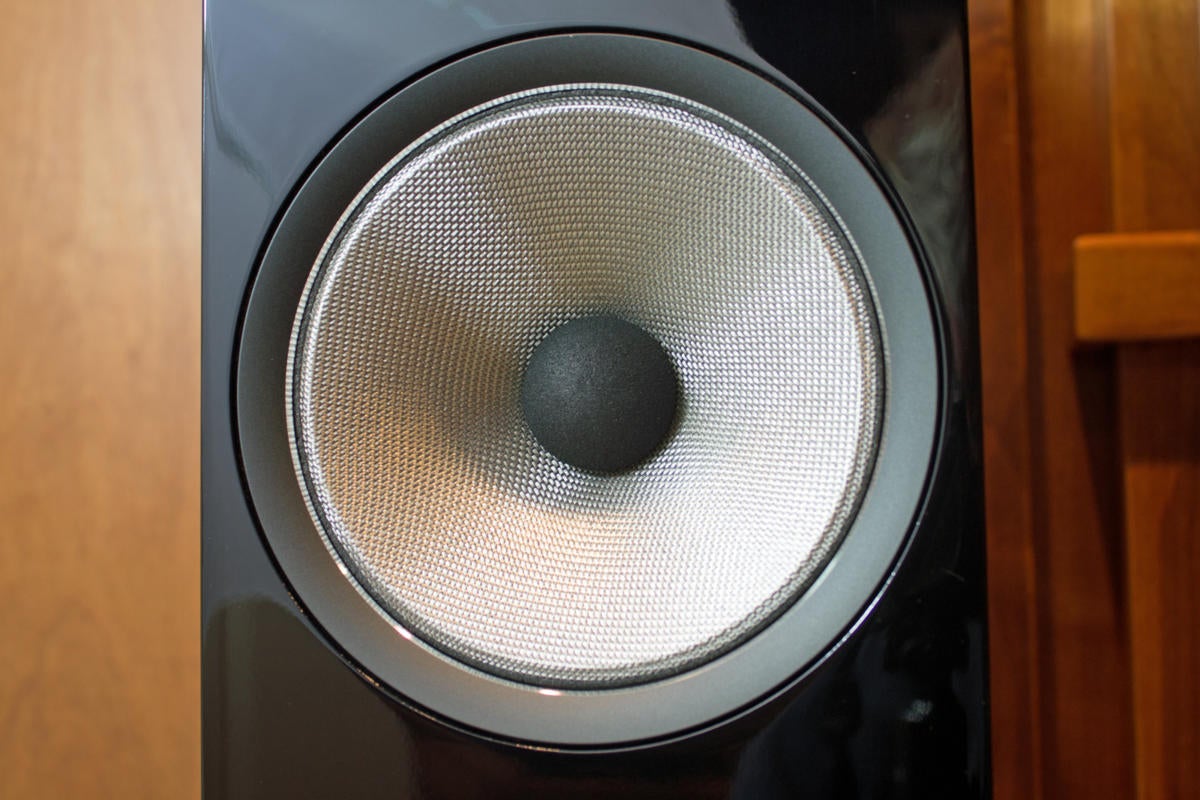 The 704 S2 B&W sent for this review came in a luxurious gloss black finish, but you can order yours in satin white or rosenut if you prefer. To avoid getting finger and palm prints all over the finish, I donned a pair of nitrile gloves. Marketing photos show these 36.4-inch-tall, 41-pound speakers resting on the bottoms of their cabinets, but they come from the factory with plinths that you bolt them to. You can then screw either non-marring rubber feet or metal spikes to the bottom of the plinths. I used the spikes to isolate the cabinets from the floor. The speakers are relatively slim, measuring 6.5 inches wide and 10 inches deep (9.9- and 11.7 inches respectively when mounted to their plinths).
How do the B&W 704 S2 sound with music?
The 704 S2's will reveal sonic details you'll miss with lesser speakers, especially in the high- and mid-range. And while you can choose from two new subwoofers in the 700 series, I didn't find myself craving one—at least not for musical performances. I connected the 704 S2 to an Onkyo TX-NR737 A/V receiver and used that device's room-calibration hardware and software to correct for my home theater's acoustics after disconnecting my center and surround channels and my subwoofer.
On Steely Dan's "Jack of Speed," from the duo's Two Against Nature release (RIP, Walter Becker), those carbon-dome tweeters rendered the opening high-hat strike with a delicious sizzle. You'll hear that sound on just about any speaker, of course, but you can hear the two cymbals come together as they close and the electric bass hits the downbeat with a deep thrum. And when the drummer hit the snare drum at the 20-second mark, there was a remarkable separation—an instant of near silence—between the first and second snaps that I hadn't noticed before.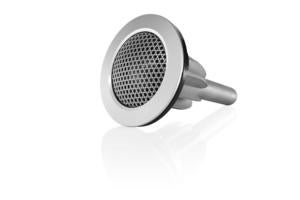 Listening to the lead-off track on Syriana's A Life in Film, I was impressed with the dual 5-inch woofers' ability to produce the opening double bass with an authority that I could feel in my solar plexus. That's an instrument that benefits greatly from having a dedicated speaker reproducing very low frequencies, but the 704 S2 were very satisfying in this respect. And when the Arabic dulcimer entered the mix at about the 24-second mark, the midrange and tweeters worked in perfect harmony to deliver that instrument's incredible dynamic range (it has 81 strings).
How do the B&W 704 S2 sound with movies?
The 704 S2 are great speakers, but movie buffs will want more than just stereo for their home theater. The action-packed Mad Max: Fury Road just didn't sound complete without a beefy subwoofer to reproduce the bone-rattling explosions and the sound of crunching metal as the monster trucks and apocalyptic hot rods smashed into each other. As soon as I re-added my beloved—if aging—Boston Acoustics PV500 subwoofer and recalibrated again, I enjoyed the movie closer to the fashion in which I've grown accustomed.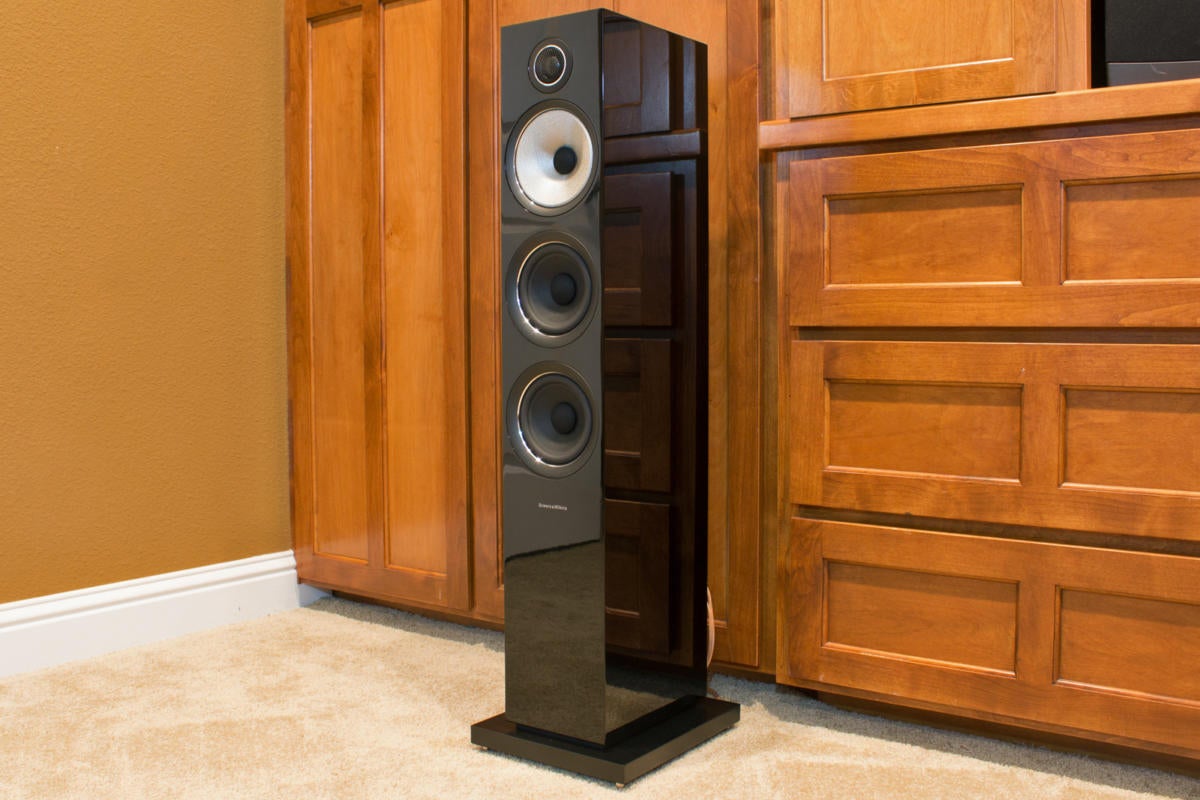 The experience was even better when I returned my center and surround channels to the mix and recalibrated yet again (alas, I currently don't have height speakers that would allow me to experience the movie with Dolby Atmos). I found using the speakers by themselves to be less of an issue with other types of movies and television shows. They do a fantastic job of rendering dialog and nuanced elements of less-intensive soundtracks.
Do the B&W 704 S2 justify their price tag?
Yes, $2,500 is a lot of green to drop on a pair of speakers, but these towers fully justify their lofty price tag. They sound fabulous across the board and will reveal nuances in your favorite recordings that lesser products won't. They're spectacular performers with music, and they'll get by in your home theater if you're not demanding when it comes to beefing up the low-frequency effects in movie soundtracks. B&W also introduced a new subwoofer, the $1,600 DB4S, that is sonically matched to the 700-series.
The new 700-series also includes two new center-channel speakers: The $800 HTM72 S2 would be the best mate for the 704 S2, it features a pair of 130mm Continuum bass/mid-range drivers and a 25mm carbon-dome tweeter. The larger HTM71 S2, $1,350, is a three-way speaker with a pair of 165mm Aerofoil Profile bass drivers, one 100mm Continuum midrange, and a 25mm carbon-dome tweeter.
I did not review any of those product, so I can't say with authority if they are worthy companions to the 704 S2. But I wouldn't bet against them. I can say that the 704 S2 are absolutely exquisite.
Best Prices Today: 704 S2 floor-standing speakers