At a Glance
Expert's Rating
Pros
Includes control systems for fertilizer and lighting, rare features in this market
Pretty interface looks better than it works
Cons
One of the most expensive sprinkler alternatives on the market
Significant setup trouble, and the interface is a buggy mess
Push notification system doesn't work
Our Verdict
While it's stuffed with features, GreenIQ's setup and manageability needs considerable work to justify its sky-high price.
Best Prices Today: GreenIQ Smart Garden Hub Gen 3
Slim, sexy, and full of features, GreenIQ's recently released 3rd-generation Smart Garden Hub looks amazing on paper. If only its capabilities lived up to those expectations.
Editors' note, December 10, 2018: GreenIQ has notified us that it will be ceasing operations as of January 1, 2019. The company says its second- and third-generation GreenIQ irrigation controllers will continue to operate in "GreenIQ Direct" mode (peer-to-peer communication), but that cellular-based operations will not be guaranteed after that date. The controllers will continue to operate on predefined schedules, but remote control will not be possible. If you own one of these products and registered with the company, you should be receiving an email with instructions on how to operate them.
If you're familiar with the 2nd-generation GreenIQ, this version makes some dramatic (and welcome changes). One of the biggest is the expansion of coverage from six zones to 16, but more importantly is the way the product's internal design has been updated. Namely, the 2nd-gen product didn't include built-in wiring terminals: You had to connect wires from your sprinkler valves by stripping a snake's nest of wires encased in a pigtail that emerged from the GreenIQ station, then splice the various wires together with wire nuts—an exhaustively convoluted solution. The 3rd-generation product nicely jettisons the pigtail and features standard screw-in terminals on the backside like any other sprinkler controller.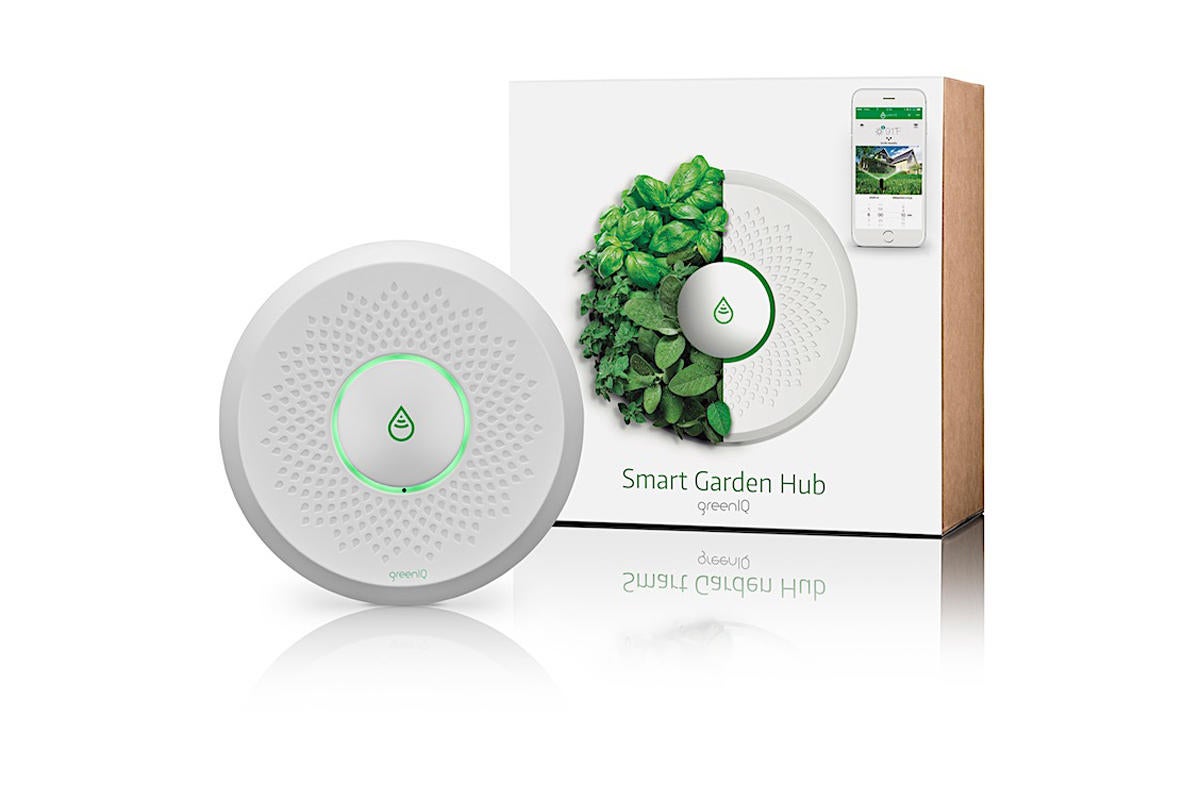 A host of add-ons
In addition to 16 sprinkler terminals, the GreenIQ Smart Garden Hub supports a wide range of additional devices, with terminals for a fertilizer pump, two low-voltage lighting zones, various sensors, and more. If fully decked out, you'd have quite a mess of wiring to deal with. (Note that the GreenIQ is not rated for outdoor use, and the company does not sell a weatherproof enclosure, either.) The device can also connect to various wireless sensors to monitor weather and soil conditions, including Netatmo, Flower Power, Koubachi, Plantlink, Vegetronix, and others.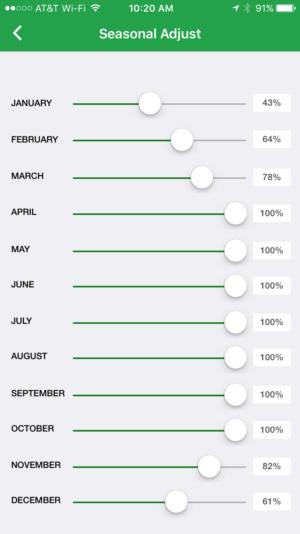 Once connected and engaged with the app, GreenIQ can be a bit tricky to master. The app is sloppy in design and difficult to navigate because various configuration options are too close together, text tends to run over other text, and other features are not entirely intuitive. (Is a green circle with a white power icon inside it on, or is a white circle with a green power icon inside it on?) The system is slow to refresh after you make changes, and I had to force-quit the app more than once to get my schedule changes to stick. The app supports push notifications for watering runs, but these never popped up in my testing.
What's not to like
Setup is similar to other Wi-Fi enabled controllers: You connect to a temporary network, then shift the connection to your home network from there. It should be simple, but this task gave me considerable trouble. I spent more than a day trying to get the GreenIQ to connect to my network so I could actually interact with it. The company noted that this was a known bug and that an upcoming version of the app (supposedly available by the time you read this) would correct the problem.
With a little trial and error I finally managed to get things working, running manual waterings and setting an every-other-day schedule for automatic waterings. Note that while the GreenIQ app does fold in weather information, it does not offer any kind of smart-watering recommendations based on your particular environment.
While you can set a monthly seasonal adjustment for your watering, it's completely up to you to specify how much (as a percentage) you want watering to be reduced during rainy or colder months. However, in addition to this, you can tell GreenIQ to consider ambient weather conditions in order to fine-tune the running time of the system (and, as noted above, you can connect it to an in-home weather station to make this configuration even more accurate).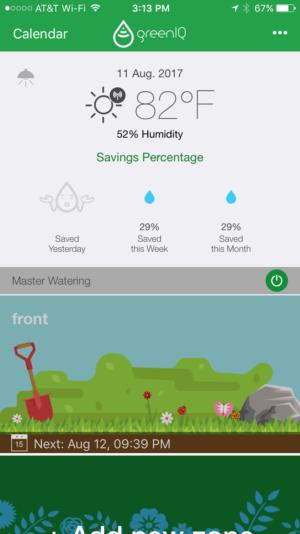 It's a nice touch, but I found GreenIQ's schedule changes to be aggressive. On a moderately cooler summer day, GreenIQ would drop water delivery to as little as 60 percent of normal. Also, it's worth noting that the app wouldn't connect to my Netatmo until I spent a further day tinkering with the system.
Ultimately, while the GreenIQ is stuffed to the gills with features, getting them to work can be time-consuming and frustrating due to its many bugs, and the system's core feature—watering your plants—isn't really all that powerful when compared to other devices.
One shining spot would seem to be the system's configurable email reports (daily or weekly) that tell you everything about your watering conditions—except, bizarrely, all the times reported by these emails are seven hours behind my local time.
At a suggest retail price $250 for the 16-zone version (an eight-zone model is $200), GreenIQ is one of the priciest sprinkler controllers on the market. While cheaper models won't control your lighting or fertilizer system, in its current state I wouldn't totally trust GreenIQ to get them right anyway.
Editor's note: At press time, the only place we could find the third-generation GreenIQ Smart Garden Hub for sale was at GreenIQ's own website, where it was offered for at $357.57 plus shipping, import duties, and taxes. Home Depot was selling an earlier six-zone model for $249.99, as was Amazon, also at $249.99, but only from third-party sellers.
Best Prices Today: GreenIQ Smart Garden Hub Gen 3