At a Glance
Expert's Rating
Pros
Customizable motion-detection zones
Live stream includes intercom feature
720p video
Cons
Narrow 80-degree field of view
Can't view surveillance video clips without cloud subscription
Our Verdict
The Ring Stick Up Cam is a great companion to the Ring Video Doorbell. As a standalone outdoor camera, it may not be the best option for every user.
Ring Video Doorbell users who want to expand the security perimeter around their home have a ready option in the Ring Stick Up Cam (available for $179). This outdoor camera, clearly designed as a companion to the company's front-door sentinel, comes with customizable motion detection, two-way talk, and an assortment of installation possibilities.
The Stick Up Cam adheres pretty closely to the look of Ring's video doorbells, with similar dimensions and design cues. The top of the body houses a motion sensor and a 720p HD lens with an 80-degree field of view. The lens is flanked on either side by three infrared LEDs for night vision. As with the doorbell, a built-in mic and speaker let you talk with anyone who moseys up to the camera.
"Stick up" implies, to me at least, a fairly informal installation, but that's not exactly the case here. It's apparent when you open the camera box and see a pair of mounts, screws, anchors, screwdriver, and drill bit, that setting up the Stick Up Cam requires a certain amount of consideration and elbow grease. Whether you decide to mount the camera to wood, stucco, brick, concrete, or vinyl, the array of included tools will help you get the job done.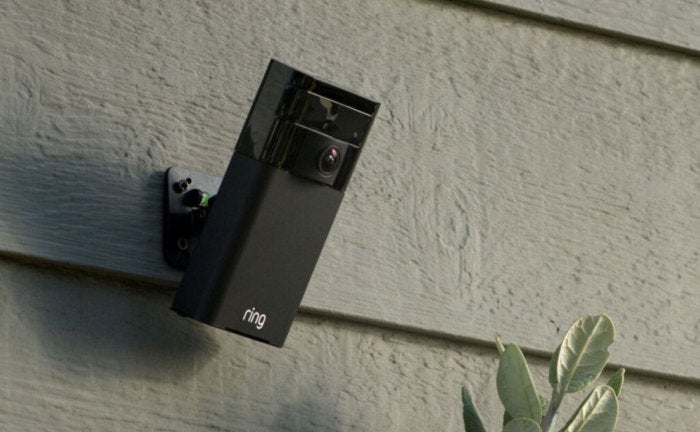 The Stick Up Cam is weatherproofed for rain and has an operating temperature of -5 degrees F to 120 degrees F. It's powered by a 5,200mAh lithium-ion rechargeable battery. If you don't want to have to remove it from its mount every few months to recharge it via USB (a USB cable is also included in the package), you can purchase Ring's optional Solar Panel ($49) and mount it next to the camera to keep it continuously charged.
Mentioned in this article
Ring Solar Panel
Price When Reviewed:
$49.99
When motion is detected, the Stick Up Cam will push an alert to your mobile device and record video of the triggering event. You need a subscription to Ring's cloud service to view the videos. A 30-day free trial comes with purchase of the camera; after that you can buy a Basic plan for $3 per month or $30 a year per camera, or a Protect plan for $10 per month or $100 a year for unlimited cameras.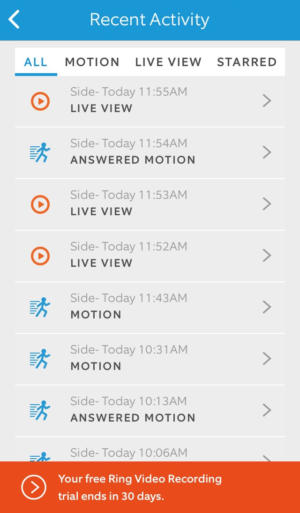 Setup and usage
Ring recommends you fully charge the Stick Up Cam and connect it to your Wi-Fi before you mount it outside. The network-connection process only takes a few minutes with guidance from the Ring mobile app.
The app also provides a helpful instructional video for mounting the camera. There are two options: using the security mount and quick-release mount together, which lets you easily remove the Stick Up Cam for recharging (if you don't use the Solar Panel), or attaching the security mount directly to a surface, which deters someone from walking off with the camera.
In either case, the Stick Up Cam has to be fastened to the security mount's swivel arm. There are three mounting points on the back of the camera—top, middle, and bottom—each providing angling advantages depending on whether you mount the camera, say, high up on a wall, on a ceiling, or under some eaves.
The Ring app is the same one used with the Ring Video Doorbell, and if you're using that device as well, you can access both from the app's My Devices tab, where you'll also see a running feed of all the activity they've detected.
Tapping the Stick Up Cam here will open a dedicated screen showing the camera's battery status, an on/off toggle for motion alerts, and a button for accessing the camera's live feed. On the bottom half are seven buttons across two tabs for access to various settings. Most of these—Event History, Device Health, Motion Settings, Live View Settings, and Shared Users—are self-explanatory. The last two, Linked Chimes and Ring+ Partners, allow you to connect your account with the Ring Chime accessory and Ring's smart home partners' apps, respectively.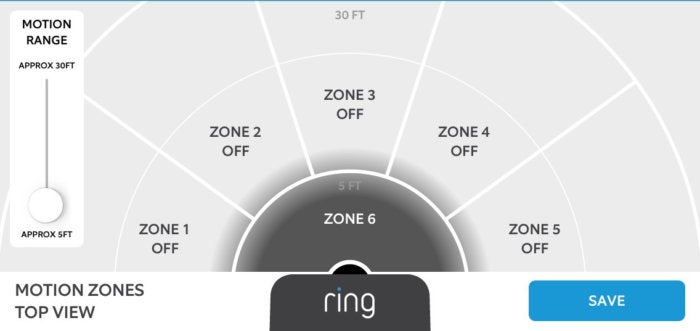 Depending on where you put your Stick Up Cam, it may face anything from the occasional passerby to a steady stream of street traffic. A Motion Zone feature allows you to tailor the camera's detection area to these various scenarios. If you've used either of the Ring Video Doorbells, it will look familiar: a 180-degree radial divided into six zones. You select which zones to monitor, then set how far the Stick Up Cam's detection extends (up to 30 feet) into each zone using a slider. This is particularly effective when, for example, you want to detect any encroachment on your front yard without picking up cars or pedestrians passing in front of your house.
Mentioned in this article
Netatmo Smart Outdoor Camera
Price When Reviewed:
$299.99
If motion zones alone don't prevent a firehose of alerts, you can also use scheduling to deactivate them during certain times of day. There is also a Smart Alerts feature that will identify "repeated or continuous motion" and notify only when that motion has concluded. You can set this to send you more or fewer alerts based on that activity.
The Stick Up Cam's video quality is quite sharp, but in daytime mode it always had a purple tint. Night vision produced a nice contrast with plenty of detail. My only real complaint is that the 80-degree field of view is pretty narrow—most cameras offer viewing angles of more than 100 degrees—so depending on how much ground you need a single camera to cover, that may or may not be significant.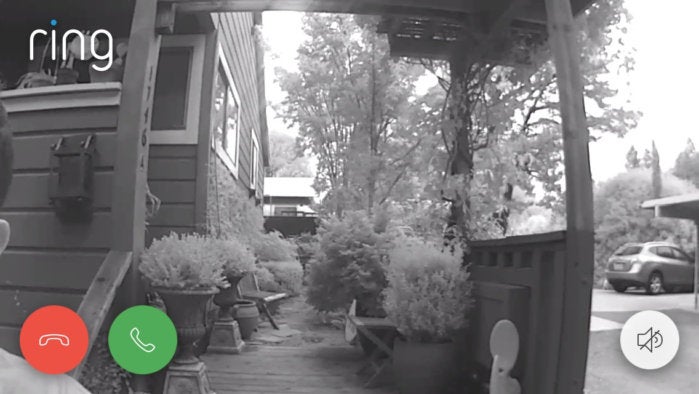 You can toggle audio on when you're viewing the live stream if you want to hear as well as see what's happening outside your home. There are also intercom buttons that display when the live stream is active, so you can communicate with someone on the other side of the cameras. This two-way audio was crystal clear in my tests.
Bottom line
The Stick Up Cam is an attractive outdoor camera that probably makes the most sense if you're already invested in a Ring Video Doorbell. It's easy to see how a few Stick Up Cams around the outside of your home with a video doorbell on your porch would make a pretty sweet—and easily managed, thanks to the intuitive Ring app—security system.
As a standalone camera, it's not such an easy sell in light of competitors like Nest Cam Outdoor and Neatmo Presence. The Nest Cam Outdoor costs less up front and has a much easier install, but its required cloud plans are more expensive. The Neatmo Presence doesn't need a cloud subscription—it uses on-board storage—so even though it costs nearly twice as much, it may be less expensive in the long run (the Presence also has a built-in floodlight and is meant to replace a porch light). Both of those models require access to AC power, though, so the Stick Up Cam may be a better option if you don't have easy access to an outlet.
Ultimately, the Stick Up Cam is another good camera in a sea of worthwhile options, so determine exactly what your outdoor surveillance needs are before pulling the trigger.