Philips aims to widen the appeal of its Hue smart bulbs by adding a fourth bulb to each of its starter kits. The $200 White and Color Ambiance, $150 White Ambiance, and $100 White now come with four A19 bulbs and a ZigBee-powered Hue bridge. Previous kits included only three bulbs. The connected-lighting pioneer also announced two new lighting fixtures that have integrated Hue White Ambiance technology: the $230 Cher Suspension and a $35 downlight.
Each hub can support up to 50 bulbs, but you can operate multiple hubs on the same local network provided you have enough ethernet ports on your router or switch. The bulbs in the White and Color Ambiance kit, as you can probably guess, produce both white and color light, with brightness of 800 lumens. They are currently our top pick in the color LED space (you can read our complete review here). The White Ambiance bulbs are likewise our top pick in the white LED smart bulb category. The "ambiance" description indicates that you can tune the color temperature of these bulbs, from a cold 6500K to a warm 2700K.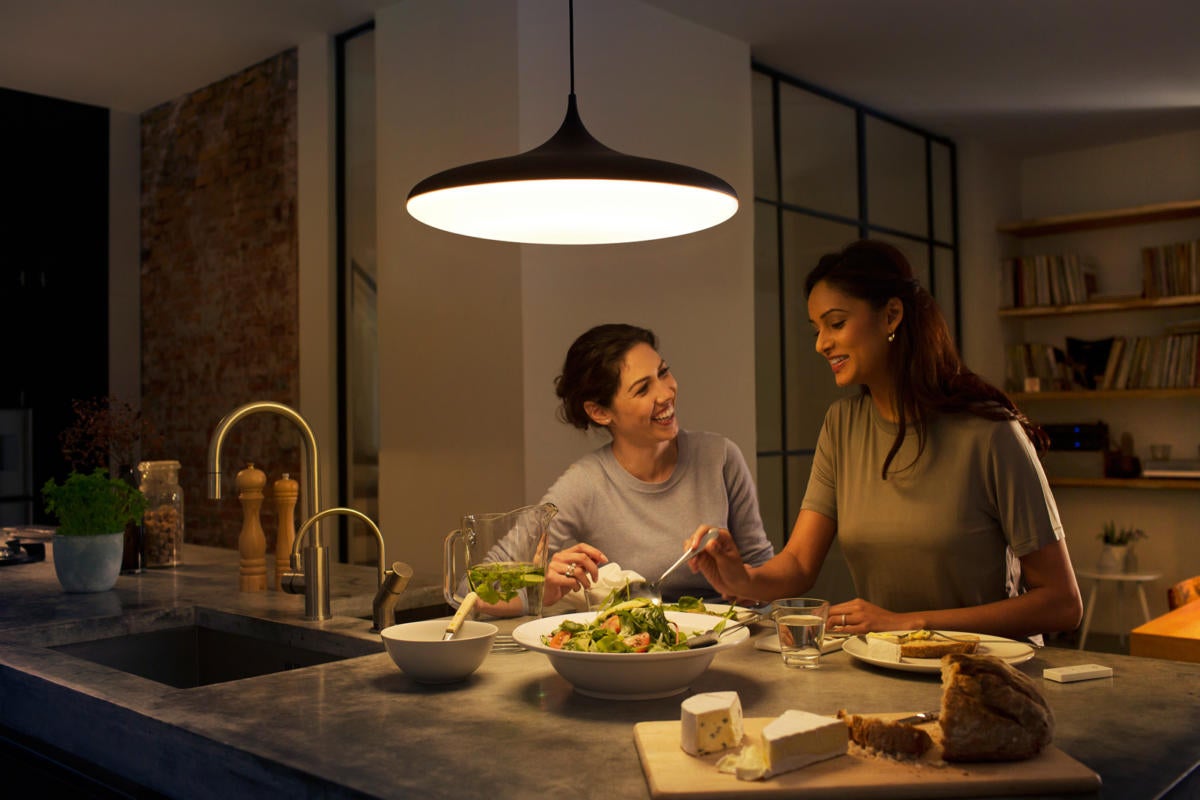 The Hue White bulbs can be dimmed and controlled with the app or various smart-home systems, just like the other Hue bulbs, but you can't tune their color temperature (they're fixed at 2700K). You can see a feature comparison on Philips' site here. In addition to the A19 starter kits, Philips now offers a new Hue White and Color Ambiance candle bulb, with an E12 base that's designed for candelabras, ceiling fans, and decorative table lamps. It's a 40-watt equivalent bulb that produces 450 lumens of brightness. Philips' existing candle bulb is white only.
The new Philips Hue Cher Suspension light is designed to replace existing fixtures in kitchens, dining rooms, and other locations that have existing non-recessed ceiling lights. It has Hue White Ambiance technology built in and can produce up to 3000 lumens of brightness. If you're looking to upgrade your recessed lighting, Philips will soon offer 4-inch and 5/6-inch downlights (the latter will replace both 5- and 6-inch cans). These also have integrated Hue White Ambiance technology and can produce up to 700 or 750 lumens of brightness respectively.
Philips says the starter kits should be available now. The Cher Suspension, the downlights, and the color candle bulb will be available for purchase in October.
This caption in this story was corrected to report 2700K as a warm color temperature and 6500K as cool.The descriptions were reversed in the original story.