The Nest Learning Thermostat, now on its third generation, is one of the most beautiful pieces of technology you can hang on your wall, even if it ends up in a hallway where most people won't see it. But all that glass and stainless steel costs money. So today, Nest is announcing a new cost-reduced model made largely of polycarbonate that will sell for $169. Nest will continue to sell the $249 third-generation model, which is available in the original finish as well as copper, white, and black.
You'll control the Nest Thermostat E using its outer ring, just as with the original, but the ring on the new model is made from a polycarbonate material instead of stainless steel. To ensure the thermostat feels good under your fingertips, Nest's Director of Product Marketing Maxime Veron told me the white ring is treated with a coating that makes it feel like ceramic rather than plastic.
Mentioned in this article
Nest Learning Thermostat (3rd generation)
Price When Reviewed:
$249
The Nest Thermostat E's biggest visual departure from the original is its frosted display. It's a polarized polycarbonate lens that allows light to pass through from inside the thermostat while blocking light from entering it. When the display is off, the screen turns gray to blend into the wall. When it's on, text is rendered in a soft-looking font and a pastel color palette that Veron says was inspired by watercolors.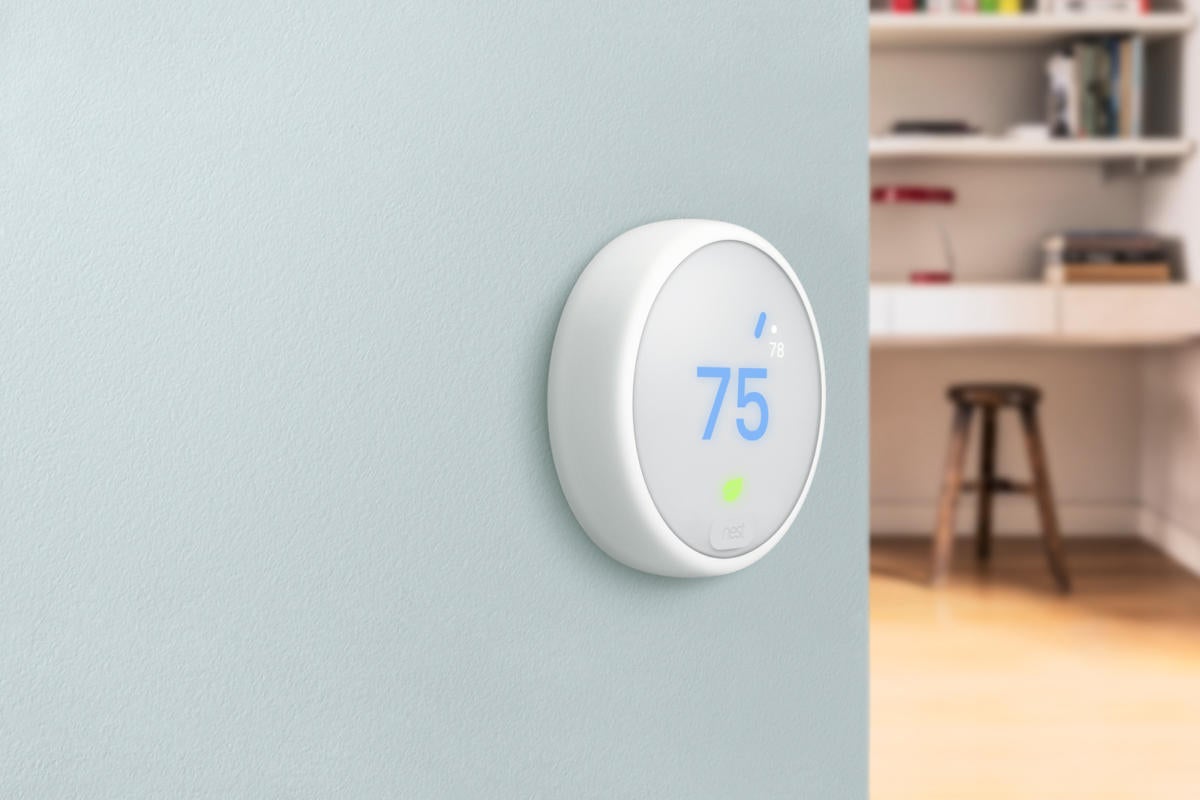 You'll still see the current and target temperatures, and the iconic green leaf icon will appear when you choose an energy-saving temperature. The model E doesn't have Nest's Farsight feature, however, so it can't display the time, the current outdoor temperature, or a weather forecast.
The model E has all the same sensors as its more expensive sibling, according to Veron, and will be just as capable of learning your home and away patterns. But the thermostat comes with a preset schedule right out of the box if you don't want to wait to start saving money. You can also program a manual schedule using the Nest app.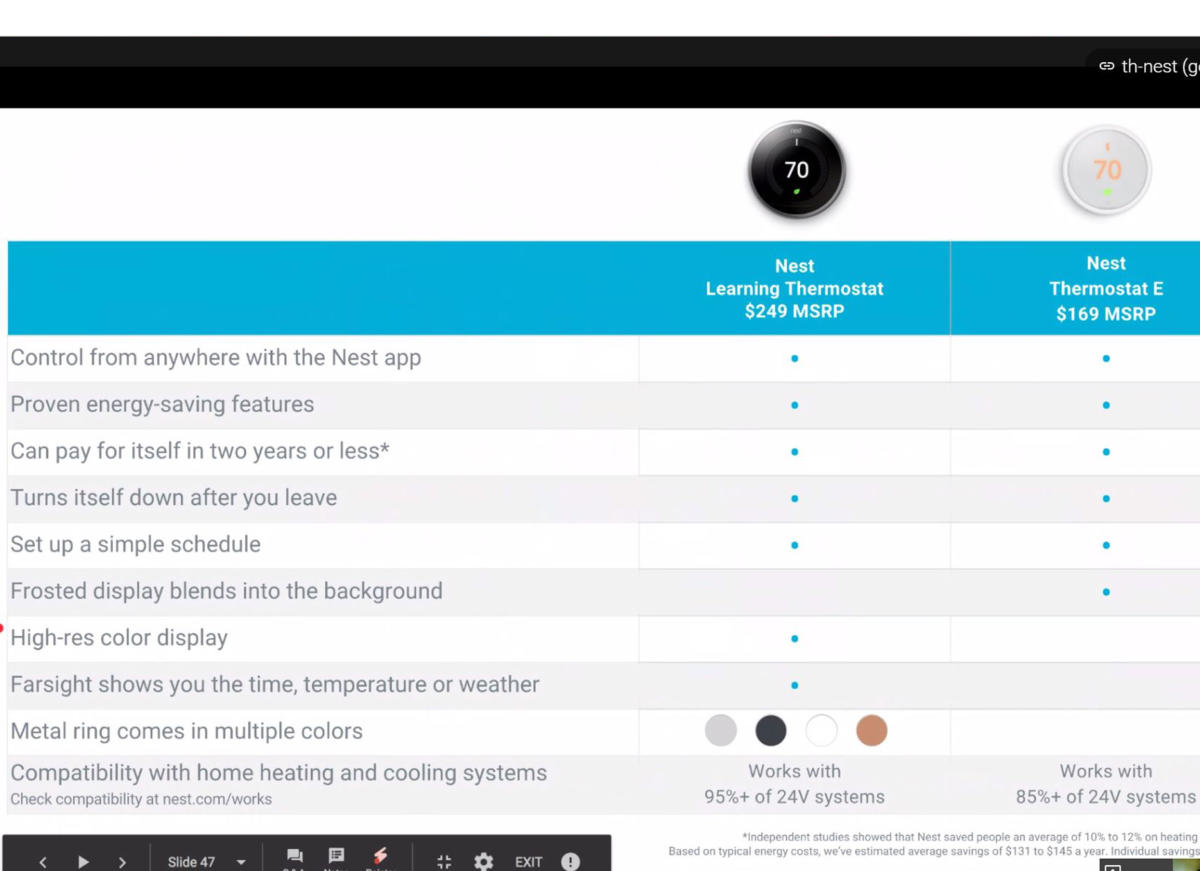 The Nest is Energy Star certified, and the company says users can expect to save between $131 and $145 per year in energy costs (this is according to an internal Nest study and two independent studies). In addition to the energy savings, Nest is promoting various incentives offered by utilities and other service providers that can offset the cost of a new thermostat (although most incentives don't require you to buy a specific brand of thermostat).
Nest was also able to shave some of the cost of the model E by reducing the types of HVAC systems it supports. The base plate is equipped with six wire connections, where the original has 10. Veron didn't specify which types the model E won't support, but his presentation indicated that the new model is compatible with 85 percent of home heating and cooling systems, where the pricier third-generation model supports 95 percent. Neither thermostat requires a C wire from your HVAC system to operate.
Smart-home dwellers interested in buying a Nest Thermostat E will be happy to know that the new model is just as compatible with third-party devices as the third-gen model, and that includes supporting voice commands via Google Home and Amazon Echo. The Nest Thermostat E is available now, and Nest is sending us a unit for review. We'll publish our findings as quickly as we can.