At a Glance
Expert's Rating
Pros
Simple interface makes live TV easy to navigate
Unlimited DVR allows for a huge on-demand library (with skippable ads)
Broad selection of local, news, sports, and entertainment channels
Cons
Can't delete recordings or mark them as watched on TV devices
One-off recordings only work for live sporting events
Menu doesn't clearly separate DVR and on-demand video (with unskippable ads)
Our Verdict
YouTube TV is a solid cable replacement, even if its value has diminished in recent years.
Price When Reviewed
$50/mo. when first reviewed. As of 4/18/23, price is $73/mo
Best Prices Today: YouTube TV
YouTube TV isn't the value it used to be, but it's still a compelling replacement for more expensive cable and satellite TV packages.
For $73 per month, you get broad local channel coverage, popular news and sports channels, and a wide range of entertainment channels. All this comes in a simple interface with a cloud-based DVR that lets you skip through commercials in your recordings.
Still, YouTube TV's DVR setup takes some getting used to, and rival Hulu + Live TV provides more for your money at $70 per month—a price that also includes Disney+ and ESPN+. While YouTube TV's user experience still holds an edge among live TV streaming services, it's no longer the obvious choice for cord-cutters who want a cable-style bundle.
This review was updated in its entirely on April 4, 2023. It is part of TechHive's in-depth coverage of the best TV streaming services.
What's included with YouTube TV?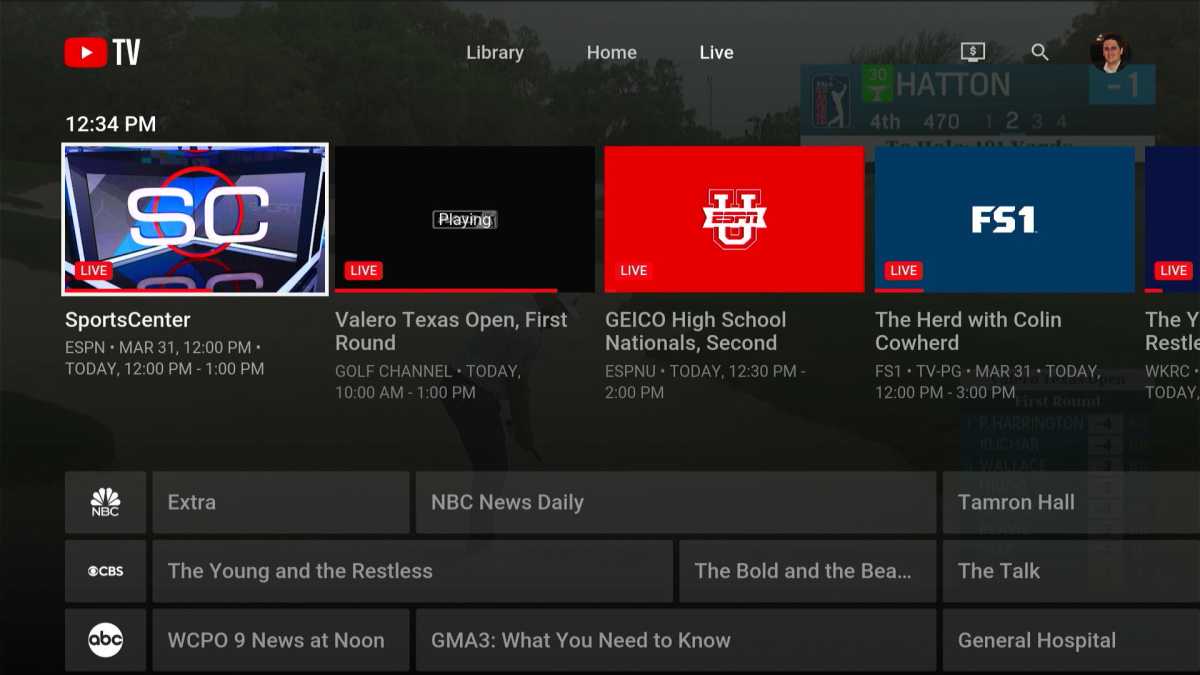 Jared Newman / Foundry
YouTube TV offers more than 100 channels in its base package. It includes local ABC, CBS, NBC, and Fox channels, and is one of two live TV streaming services with local PBS stations. (The other is DirecTV Stream.) All three major cable news networks—CNN, MSNBC, and Fox News—are also on board, along with national sports channels such as ESPN and FS1. Broad entertainment coverage available from channels such as HGTV and AMC as well.
So what's missing? A few notable omissions from YouTube TV's lineup:
A&E channels, including History and Lifetime.
Regional sports networks in many markets, though NBC Sports networks and SNY are available.
MLB Network, as of a February 2023 carriage dispute.
YouTube TV also sells an array of add-ons. An $11-per-month Sports Plus package adds NFL RedZone and a slew of niche sports channels, while a $30-per-month Entertainment Plus bundle includes HBO Max, Showtime, and Starz. Various other premium channels are available on an a la carte basis.
Mentioned in this article
Roku Streaming Stick 4K+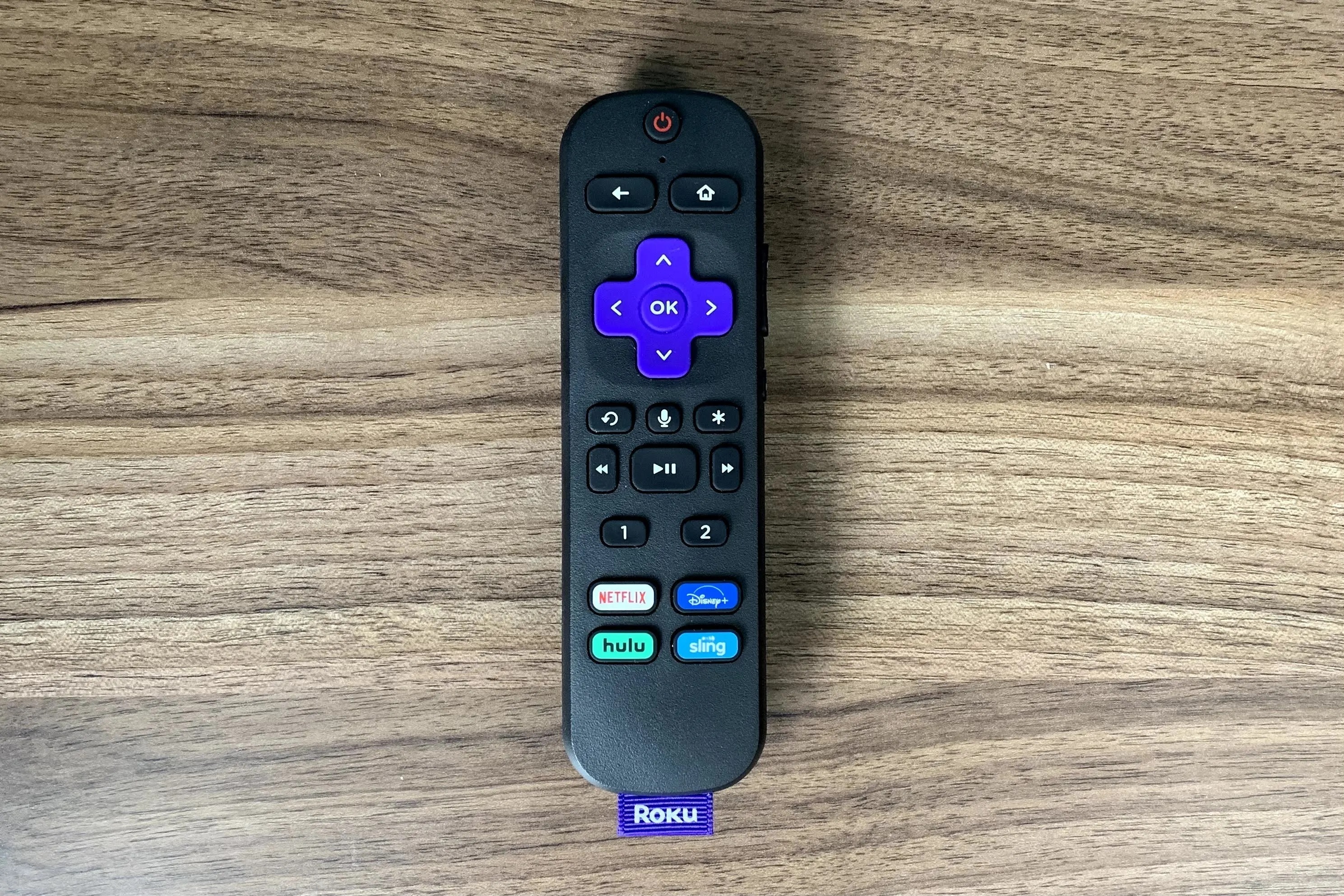 Price When Reviewed:
$69.99
Starting this fall, YouTube TV will offer NFL Sunday Ticket, but the service will also be available on a standalone basis through the regular YouTube app. YouTube hasn't announced Sunday Ticket pricing yet, so it's unclear what kind of bundle deal YouTube TV subscribers might get.
For a complete channel list, enter your zip code on YouTube TV's welcome page.
How does YouTube TV's DVR work?
Jared Newman / Foundry
YouTube TV includes cloud DVR service at no extra charge, letting users record an unlimited number of TV shows, movies, and sporting events. It stores these recordings for nine months before deleting them automatically.
Compared to cable, this approach can feel liberating. By recording shows with reckless abandon, you can build up a vast on-demand catalog, all with support for ad skipping. While YouTube TV doesn't automatically mark up commercial breaks, it does show a visual preview while fast forwarding to help you avoid the ads.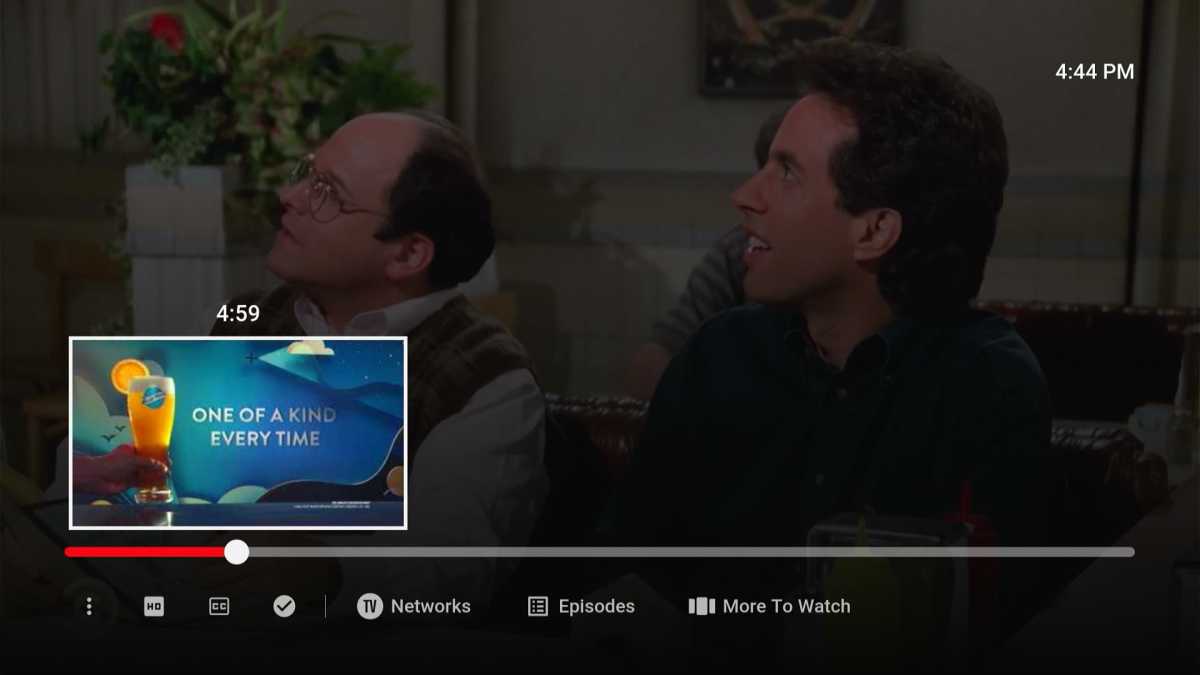 Jared Newman / Foundry
Six years after launch, though, YouTube TV users' biggest DVR complaint hasn't changed: You still can't delete individual recordings, nor can you create one-off recordings for any program aside from live sporting events.
A lot of cable converts like to delete watched episodes to avoid cluttering their DVR, but that's not an option here, and there's no way to mark recordings as watched through your television. (That feature, which debuted in 2020, remains limited to YouTube TV's mobile apps and website.) It's baffling that YouTube hasn't addressed this gripe after so many years.
YouTube TV's simultaneous streams and viewing restrictions
YouTube TV's mobile app
YouTube TV's base package lets users watch on up to three devices at the same time. For an extra $10 per month, the service's 4K add-on allows for unlimited streams at the user's home location. Either way, you can install YouTube TV's app on as many devices as you want.
On the road, YouTube TV has no restrictions on where you're allowed to watch. That's a major advantage over Hulu + Live TV, which bars users from accessing the service on TV devices from outside the home.
The only hitch is that you'll have to check in at home once every three months, or once every 30 days for MLB games, and you'll get local channels from wherever you happen to be. If you're traveling for longer, YouTube TV lets you switch home locations up to twice per year.
As for account sharing, YouTube TV hooks into Google Families, allowing up to six total users to access a single account. Each family member gets their own recommendations and DVR libraries.
YouTube TV device support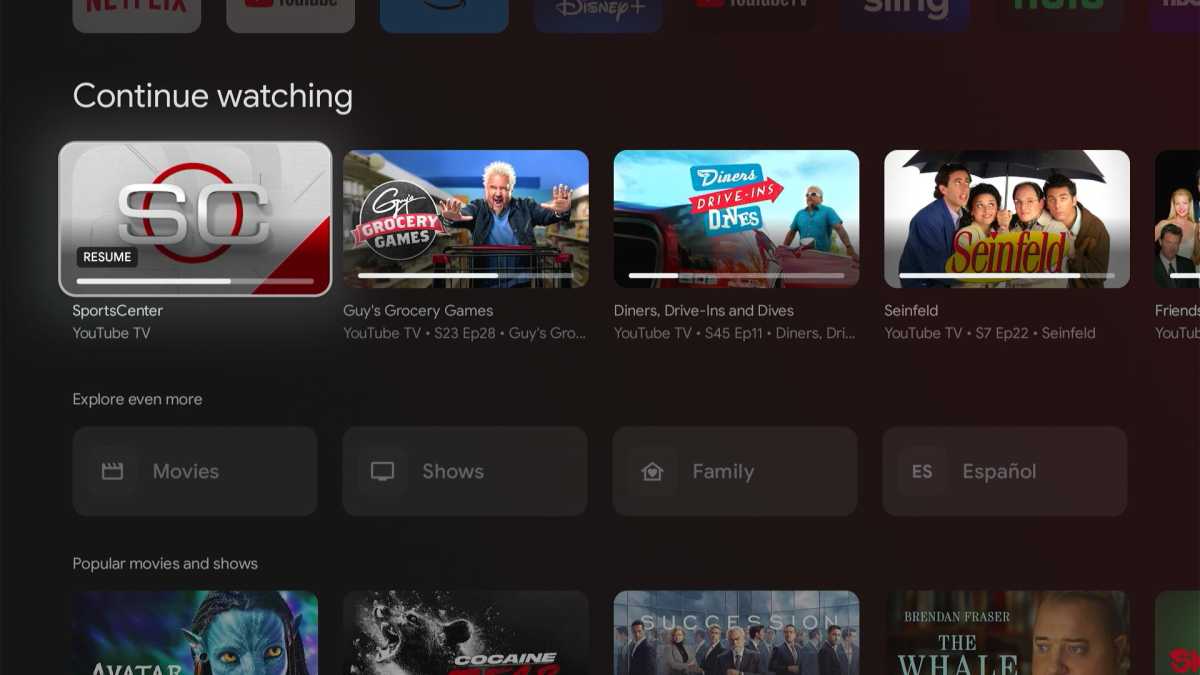 Jared Newman / Foundry
YouTube TV is available on Roku, Amazon Fire TV, Android TV/Google TV, Apple TV, Samsung TVs, LG TVs, Vizio TVs, Xbox consoles, PlayStation consoles, iOS, Android, and the web. But like other live TV streaming services, the app works better on some devices than others.
For example, YouTube TV supports launching live channels by voice on Android TV, Google TV, and Fire TV devices. That means you can just tap the mic button on your remote and say "tune to ESPN." YouTube TV also integrates with the live TV guides on these devices, so you can see what's on directly from their home screens.
Mentioned in this article
Chromecast with Google TV (4K)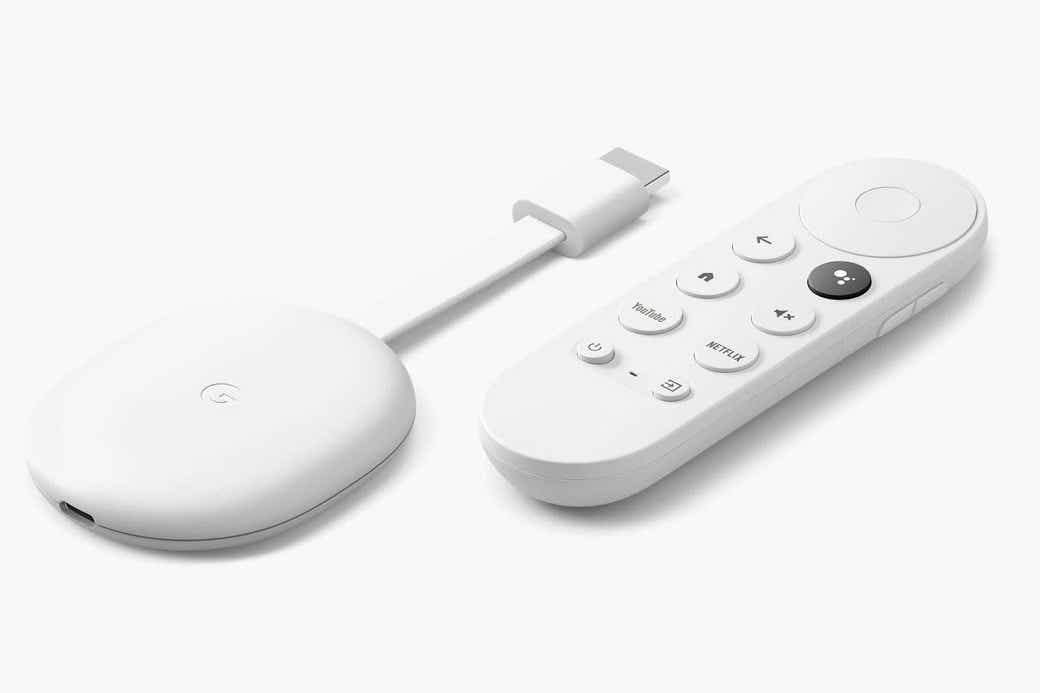 Price When Reviewed:
$49.99
The best YouTube TV experience, though, is on Google TV devices such as the latest Chromecasts. These devices have a quick-launch button on their remotes for YouTube—which can be mapped to launch YouTubeTV instead—and you'll get recommendations for things to watch directly on the Google TV home screen.
The YouTube TV viewing experience
Jared Newman / Foundry
Instead of bombarding you with menu options, YouTube TV splits its home screen into three tabs: "Home" is where you get suggestions on things to watch and quickly resume the shows you've been watching; "Live" offers a cable-style grid guide, and "Library" lists all the programs you've saved to watch later.
To drill down further into YouTube TV's catalog, the search function supports not just titles and actors, but genres such as "action movies." The Home tab also has helpful buttons for every genre, and within each one you'll find subgenres such as "Sitcoms" (in the Comedy section) and "Food (in the Reality) section. Clicking on a channel icon in the grid guide also lets you view a list of all its programming.
Jared Newman / Foundry
YouTube TV's guide view is nicely designed as well, with a carousel of recommended channels up top followed by a more traditional grid. Episode details appear over every highlighted entry, and clicking any future program brings up an "Add to library" option for your DVR. The only nitpicks is that you can't filter channels by genre, and that you must use YouTube TV's website or mobile app to set up a favorite channel list.
During playback, YouTube TV avoids laying on too many confusing remote control shortcuts. Pressing any direction brings up a single menu that includes a mini guide—arranged, conveniently in order of recently-viewed channels—along with DVR options, an episode list, and other recommendations. Pressing the back button predictably backs you out through every menu layer to the home screen.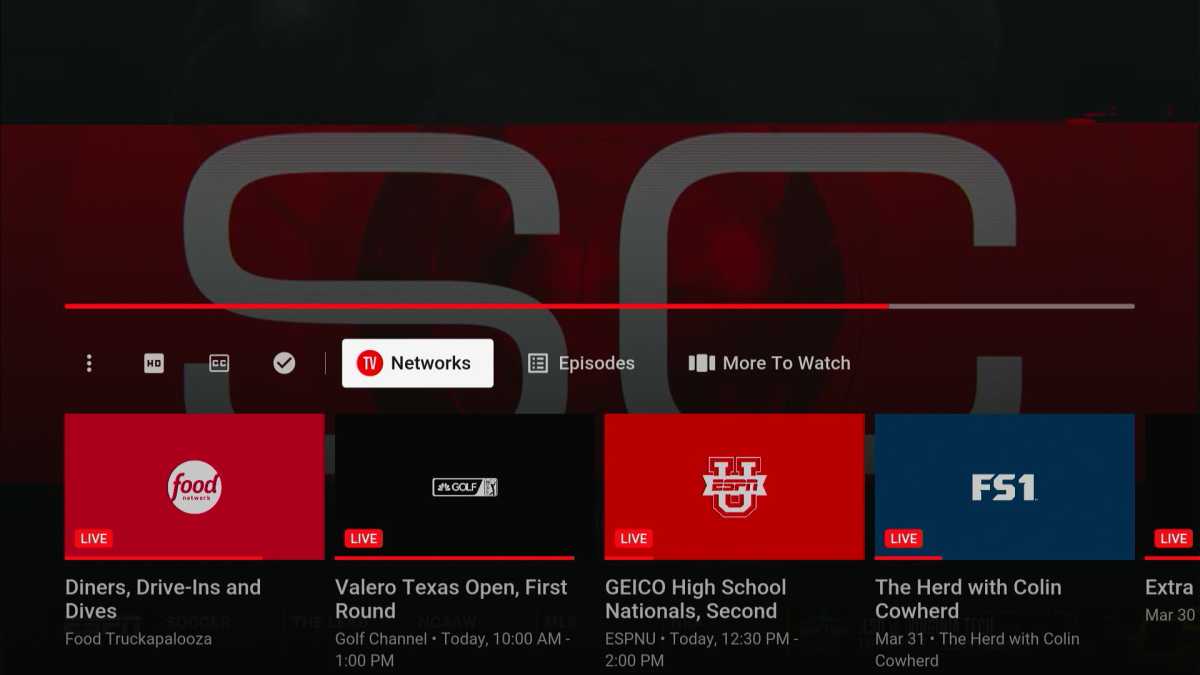 Jared Newman / Foundry
The biggest problem with YouTube's interface is its Library section. When you add a program to your library, you'll see both DVR recordings and on-demand videos in this section, and there's an important distinction between them: If YouTube TV records a live airing, you can skip through ads; but if no recording exists, you'll need to watch ads in the on-demand version.
Unfortunately, the only way to tell if you're getting a DVR recording or on-demand video is through some small descriptive text, which says "Recorded" (for DVR) or "Released" (for on-demand). You can't filter the Library section to only show recordings, either.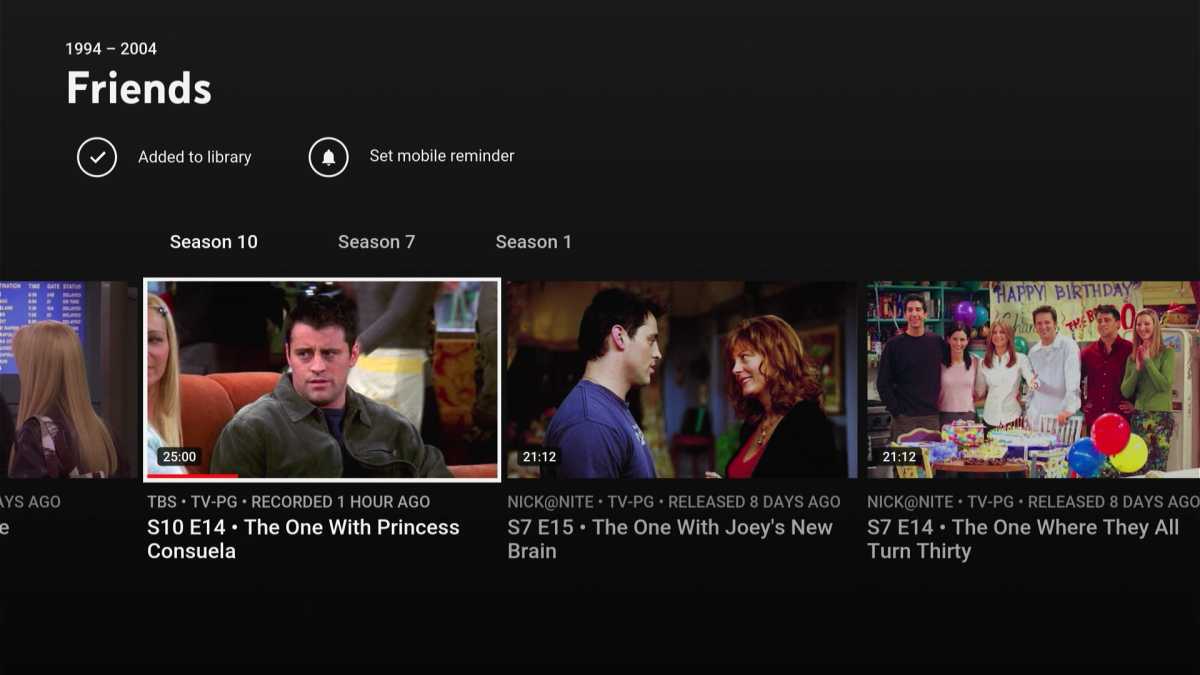 Jared Newman / Foundry
As a result, I've heard from readers who still believe YouTube TV doesn't allow ad-skipping. While this isn't true, YouTube TV needs much clearer iconography and sorting so that users understand when they're accessing their actual DVR.
YouTube TV video and audio quality
At the risk of stepping on a wasp's nest, YouTube TV's video quality is, well, probably fine.
On paper, the service streams at up to 720p resolution for most cable channels, with 1080p support for on-demand recordings. Support for 60-frames -per-second video—a must for smooth sports streaming—is also solid, appearing on all major sports, news, and local channels.
Jared Newman / Foundry
Still, YouTube TV's bit rates have been a topic of much debate, with some users claiming that the quality is worse than other services. I have not been able to replicate this in my testing, which has shown similar bit rates and indistinguishable video quality next to Hulu + Live TV and DirecTV Stream. YouTube might have rolled out quality improvements in recent months, or the results might vary by program or streaming device; but to my eye, nothing seems amiss.
YouTube TV also supports 5.1-channel surround sound. The company says it's available on Roku, Apple TV, most Fire TV devices, smart TVs from 2021 onward, and some earlier smart TVs as well.
One other nice touch worth noting: YouTube TV has adjustable video quality levels, dropping to as low as 240p resolution. That's helpful if your internet plan has a data cap or bandwidth is limited, and more streaming services ought to offer it.
Is YouTube TV worth it?
Despite some lingering DVR frustrations and persistent price hikes, YouTube TV is still easy to recommend as a drop-in replacement for cable or satellite TV. It's easy to use, has a broad range of channels, and offers pricing that isn't out of line with its rivals.
It's just no longer the leader on value that it once was, and as the price of all these live TV bundles ticks upward, the case for abandoning them entirely gets stronger.
Best Prices Today: YouTube TV