At a Glance
Expert's Rating
Pros
Solid mix of channels for the money
Includes DVR with no storage limits
Easy-to-understand app design
Cons
Still not available in some markets, or on Amazon Fire TV devices
Ad-riddled on-demand videos can override DVR
Some channels don't support 60-frames-per-second video yet
Our Verdict
YouTube TV doesn't have every channel for everyone, but it's still the best streaming bundle for most people.
Price When Reviewed
$50/mo. when first reviewed. As of 4/18/23, price is $73/mo
Best Prices Today: YouTube TV
Although YouTube TV isn't quite the value that it used to be, it's still the best live TV streaming service for most people.
The service combines broad local channel coverage, popular news and sports channels, and a wide range of entertainment channels for $50 per month. That's $15 per month more than what YouTube TV charged at launch in 2018, but it's still cheaper than other live TV packages with similar channel mixes. It also includes cloud-based DVR with no ad-skipping restrictions or limits on storage space, and it's the best attempt yet at combining live, on-demand, and recorded TV into a comprehensible interface.
That doesn't mean YouTube TV is for everyone. The service no longer offers regional Fox Sports channels in some locations, and the concept of an unlimited DVR can take some getting used to compared to traditional TV bundles. But if you're looking for the most cost-efficient way to replace the best parts of cable, YouTube TV is tough to beat.
Editor's note: This review was updated in its entirety—including its review score—after YouTube TV underwent a number of changes, channel additions, and expansions to new markets. If you're interested in reading our original opinion, we've preserved that record here.
YouTube TV: What you get
Mentioned in this article
Roku Streaming Stick+
Price When Reviewed:
$69.99
YouTube TV is a one-size-fits-all service, with more than 50 channels for $50 per month. The lineup includes the major broadcast networks, ESPN channels, regional sports from Fox and Comcast, all three major cable news networks, and a slew of entertainment channels such as FX, AMC, SyFy, and Disney Junior. Access to YouTube Red originals are included at no extra charge, and you can add Showtime for $11 per month and Fox Soccer Plus for $15 per month. (See the bottom of this review for the full channel list.)
Like other streaming bundles, YouTube TV omits some networks to keep prices down. You won't get any channels from Scripps Networks (HGTV, Food Network), Discovery Communications (Animal Planet, Science), or Viacom (Comedy Central, MTV), and the package doesn't include the NFL Network. Google is also a bit less stringent about including local channels than it was at launch, when it offered live feeds from ABC, CBS, NBC, and Fox in five markets. Now, some markets only include live local broadcasts from three of those channels—plus the CW in some cases—with on-demand video from the rest.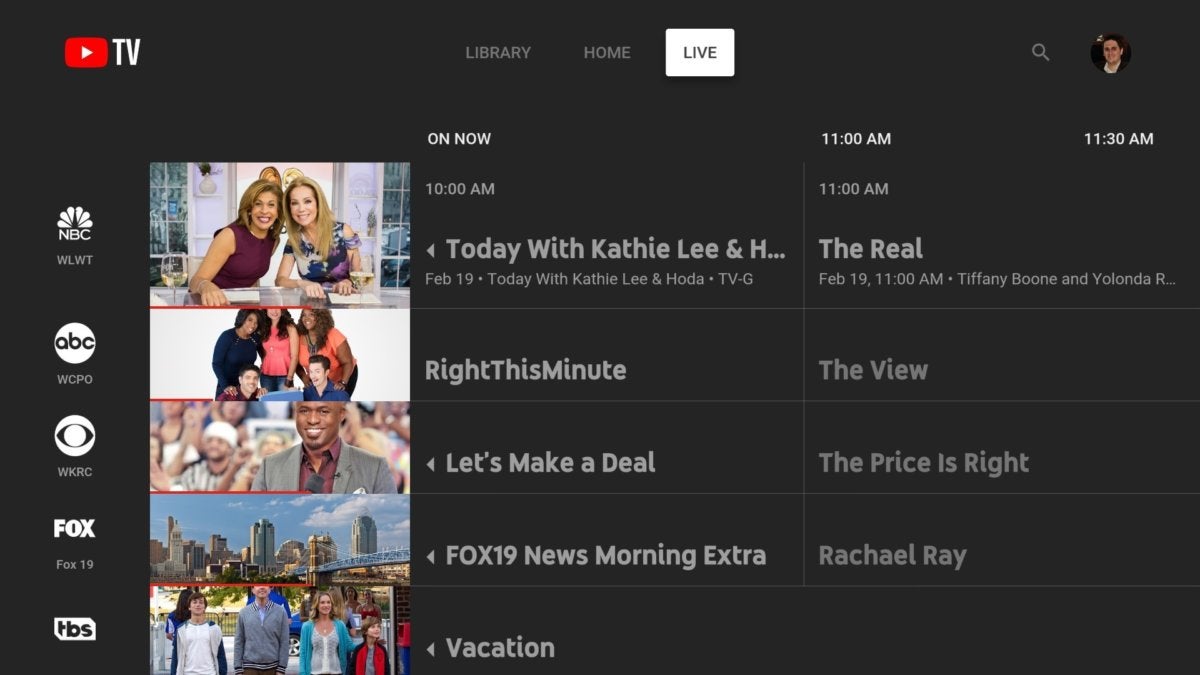 Each subscription entitles you to three simultaneous streams, and supports up to six profiles for anyone with a Google account, allowing family members to save their own favorite shows and DVR recordings (more on that shortly). YouTube TV also works with about 20 TV Everywhere apps, so you can log in and watch shows even on platforms that the service doesn't support yet.
How YouTube TV DVR works
YouTube TV doesn't charge extra for DVR, like Sling TV does, nor does it set storage limits like Sling TV, Hulu, and FuboTV do. Instead, recordings expire after nine months, which is more generous than the 28- and 30-day windows afforded by PlayStation Vue and Philo respectively. The service also supports partial recordings, and it lets you watch the recorded portion of a program while it's still airing live. You can pause any live TV channel and rewind through what you've already watched as well.
Mentioned in this article
Apple TV 4K
Price When Reviewed:
32GB $179 | 64GB $199
While YouTube TV at one point placed restrictions on ad-skipping for certain channels, that's no longer the case. For any program that YouTube TV records, you can freely fast forward through commercials, with a handy visual preview so you can see what you're skipping over.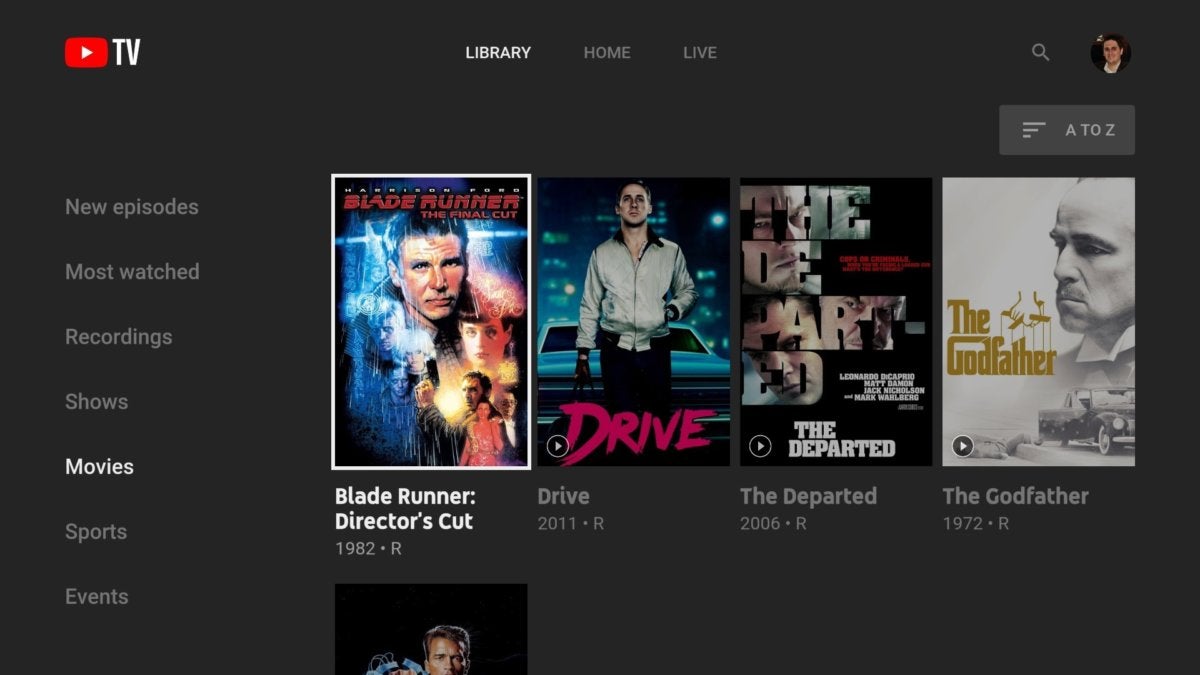 Some hardcore DVR users might gripe about the lack of granular controls—you can't make one-off recordings or avoid recording reruns—but having unlimited storage means you shouldn't have to worry about recording management in the first place. YouTube TV frees you to make liberal use of the "+" button that accompanies every program, and you'll quickly build up a backlog of movies and shows to watch as a result. The only thing that's really missing is a way to filter out watched recordings so the menu isn't cluttered with programs you've seen already.
Navigating the bundle
Here's how I know YouTube TV nailed the design for its apps: I can explain them easily.
The main menu splits off into three sections: The Home section provides quick access to recommendations and things you haven't finished watching, the Library section lists all the on-demand and recorded programs that you've marked as favorites, and the Live section is a traditional grid-based TV guide.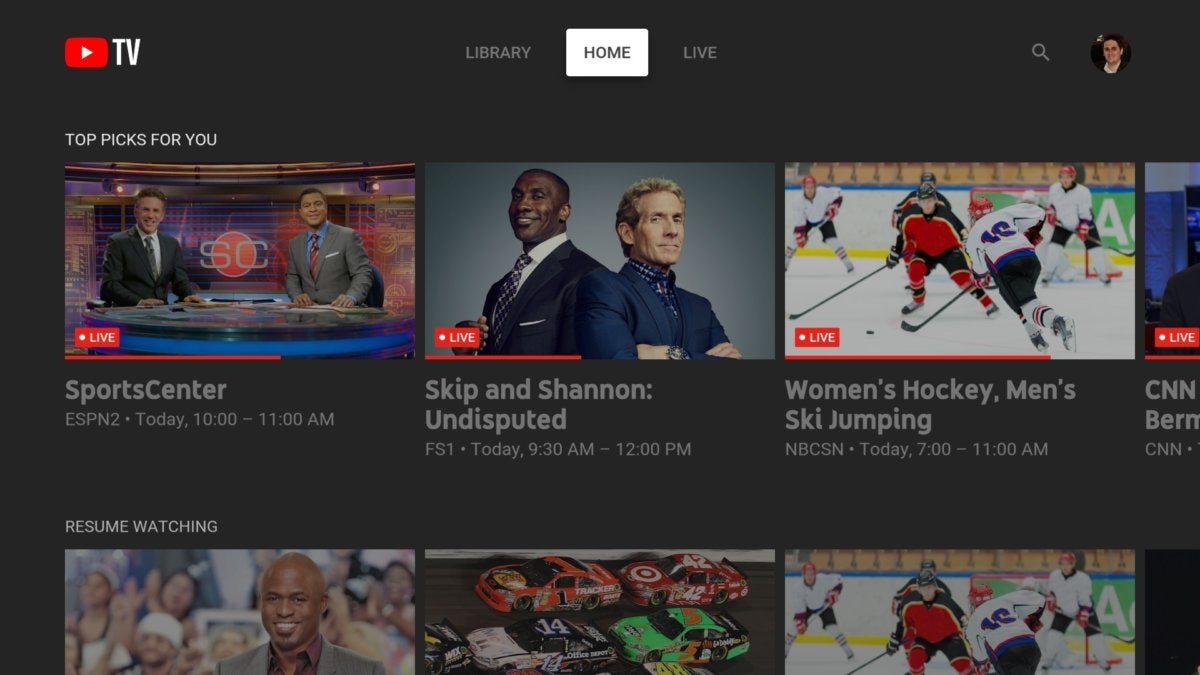 In addition, YouTube TV offers a powerful search feature, letting you look up titles, actors, directors, genres, sports teams, channels, and even specific seasons or episodes. On mobile devices, pressing the search button also brings up lots of ways to peruse the YouTube TV catalog. You can browse by channel, each of which has its own subsections for featured programming. You can select a genre, and YouTube TV will present shows or movies that it thinks you'll like. You can even dig through a list of every sports league covered by YouTube TV's channels.
Mentioned in this article
Strangely, YouTube TV's Roku, Xbox, and Apple TV apps don't function in quite the same way. The search button offers none of the rich browsing options that appear in YouTube's mobile apps. Some are scattered across the home screen, while others you can only find with a voice or text search.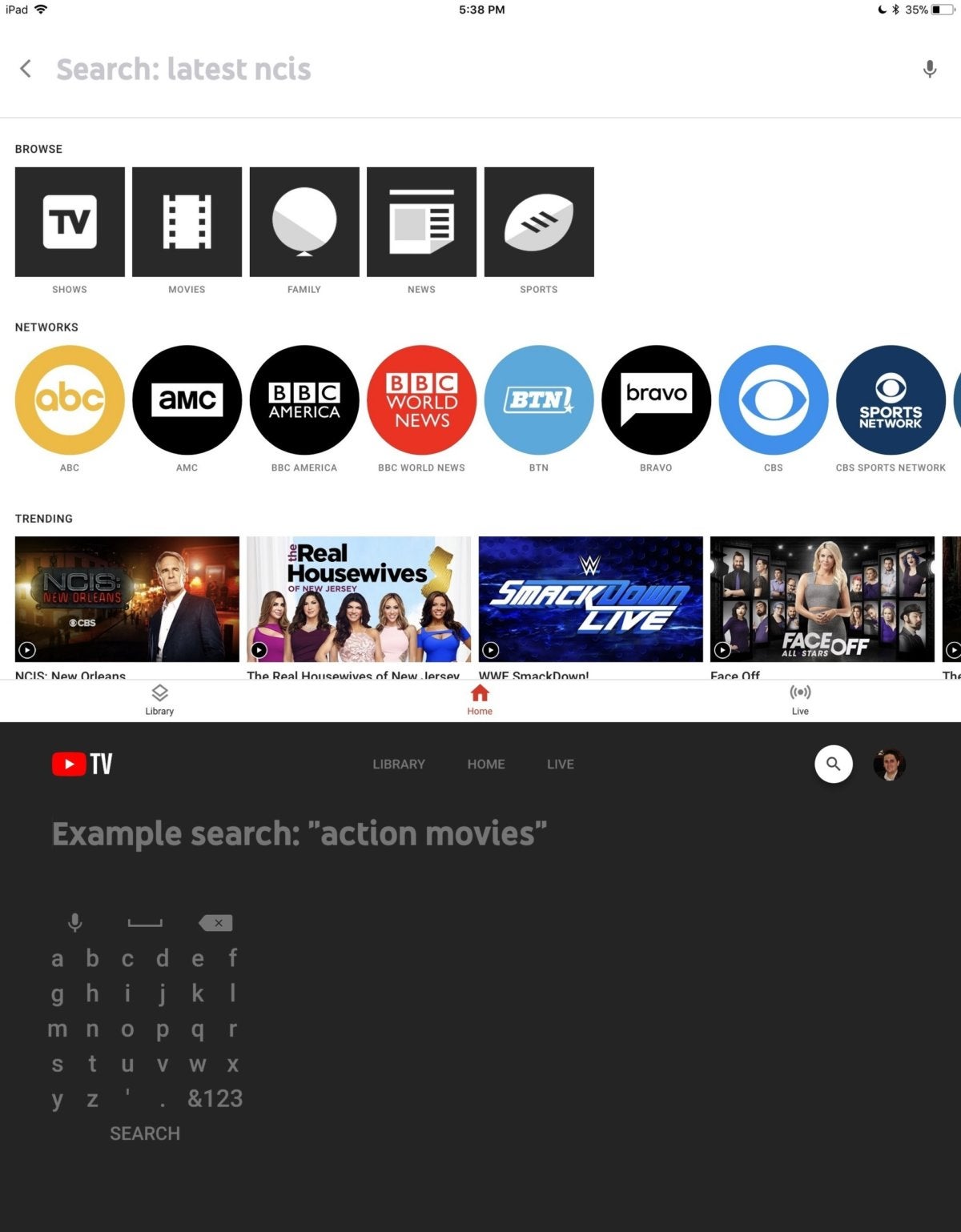 On all devices, YouTube TV offers rich program pages, with plot synopses, cast information, and related programming for movies and shows. For sports, you'll see team information, league rankings, scores, and roster details. These pages are a little harder to reach on TV devices—you'll need to swipe or tap up, and then scroll over to the tiny "i" button near the right side of the screen—but they're still available.
Mentioned in this article
Nvidia Shield TV (2017)
Price When Reviewed:
$199.99
The only major misstep in YouTube TV's interface is the inclusion of some regular YouTube videos on the home screen. In theory, the tie-ins should help create continuity between the two services, but the tone and quality of YouTube videos are in such sharp contrast with Hollywood productions that their inclusion just comes off as ham-fisted.
Few performance caveats
In my personal experience—which may not be representative—YouTube TV has been mostly reliable. Channels typically loaded in a couple seconds, and fast forwarding or rewinding through videos seldom required any buffering or major drops in quality. I do appreciate that YouTube TV offers a "stats for nerds" menu, where you can monitor resolution, framerate, and video latency in real time.
While YouTube TV supports up to 1080p resolution at 30 frames per second, and up to 720p at 60 frames per second, some channels still aren't providing the higher frame rates: 60fps is currently limited to ESPN channels, Fox and Fox Sports channels, and the Big Ten Network So if you're watching sports, news, or talk shows on CBS or NBC channels, motion won't look quite as smooth. DirecTV Now and PlayStation Vue are still ahead of other streaming bundles in this regard.
So far, every streaming bundle I've tested has at least one significant weakness. Sling TV lacks two of the four major broadcast networks in most markets, DirecTV Now lacks DVR, PlayStation Vue is a bit on the pricey side, FuboTV's apps are unpolished, and Hulu with Live TV is a little too clever for its own good.
YouTube TV's biggest weakness is simply that some people still can't get it. For everyone else, it's the new sweet spot of streaming bundles.
Here's the full YouTube TV channel list as of March 25, 2020:
ABC
ACC Network
AMC
Animal Planet
BBC America
BBC World News
Big Ten Network
Bravo
Cartoon Network / Adult Swim
CBS
CBS Sports Network
Cheddar
CNBC
CNN
Comet TV
Cozi
CW
Discovery
Disney Channel
Disney Junior
Disney XD
E!
ESPN
ESPN-SEC Network
ESPN2
ESPNEWS
ESPNU
Food Network
Fox
Fox Business
Fox News
Fox Sports regionals (varies by location)
Freeform
FS1
FS2
FX
FXM
FXX
Golf Channel
HGTV
HLN
IFC
Investigation Discovery
Local Now
MLB Network
MotorTrend
MSNBC
Nat Geo Wild
National Geographic
NBA TV
NBC
NBC Sports Regionals
NBCSN
NECN
NESN Regional
Newsy
Olympic Channel
Oxygen Network
POP
Smithsonian Channel
SNY
Sundance TV
Syfy
TBS
Telemundo
Tennis Channel
TLC
TNT
Travel Channel
TruTV
Turner Classic Movies
Universal Kids
USA Network
We TV
Acorn ($6 per month)
AMC Premiere ($5 per month)
CuriosityStream ($3 per month)
Fox Soccer Plus ($15 per month)
NBA League Pass ($40 per month)
Showtime ($7 per month)
Shudder ($6 per month)
Sundance Now ($7 per month)
Starz and Encore ($9 per month)
UMC ($5 per month)
Because online services are often iterative, gaining new features and performance improvements over time, this review is subject to change in order to accurately reflect the current state of the service. Any changes to text or our final review verdict will be noted at the top of this article.
Best Prices Today: YouTube TV