At a Glance
Expert's Rating
Pros
Relatively bug-free operation; gets the job done
Checks for rain and frost before watering
Excellent third-party smart home integration capabilities
Cons
Recommended watering schedule seems way out of whack
Advanced configuration options can be dizzyingly complex
Some quirks in setup process
Our Verdict
This device is a smart, top-notch choice to handle your outdoor watering needs.
California might be out of its longtime drought for now, but that doesn't mean that homeowners should turn the sprinklers on full bore. Water rates, here in northern California, are actually going up, and my district still has a litany of water restrictions in effect, including a ban on sprinkler irrigation within 48 hours of rainfall.
If you have an irrigation system, using it with a timer is a must, as watering at night and on a regular schedule is the most efficient and cost effective way to hydrate your garden. Now, smart irrigation systems like the Rachio Smart Wi-Fi Sprinkler aim to boost the intelligence of these systems, and let you monitor and control water delivery via a smartphone app.
The Rachio comes in two varieties. An 8-zone unit is $200. The 16-zone version (which we tested, as the 8-zone was out of stock) runs $250. Physical installation is similar to a traditional sprinkler timer. Zone wires are inserted into clips inside the device, then the device is plugged into a standard wall jack. Rachio's spring-loaded wire clips are a bit tough to manipulate—they must be pressed with the tip of a screwdriver—but after some trial and error I got everything wired up without issue. A $30 outdoor enclosure is also available if you must mount the device outside.)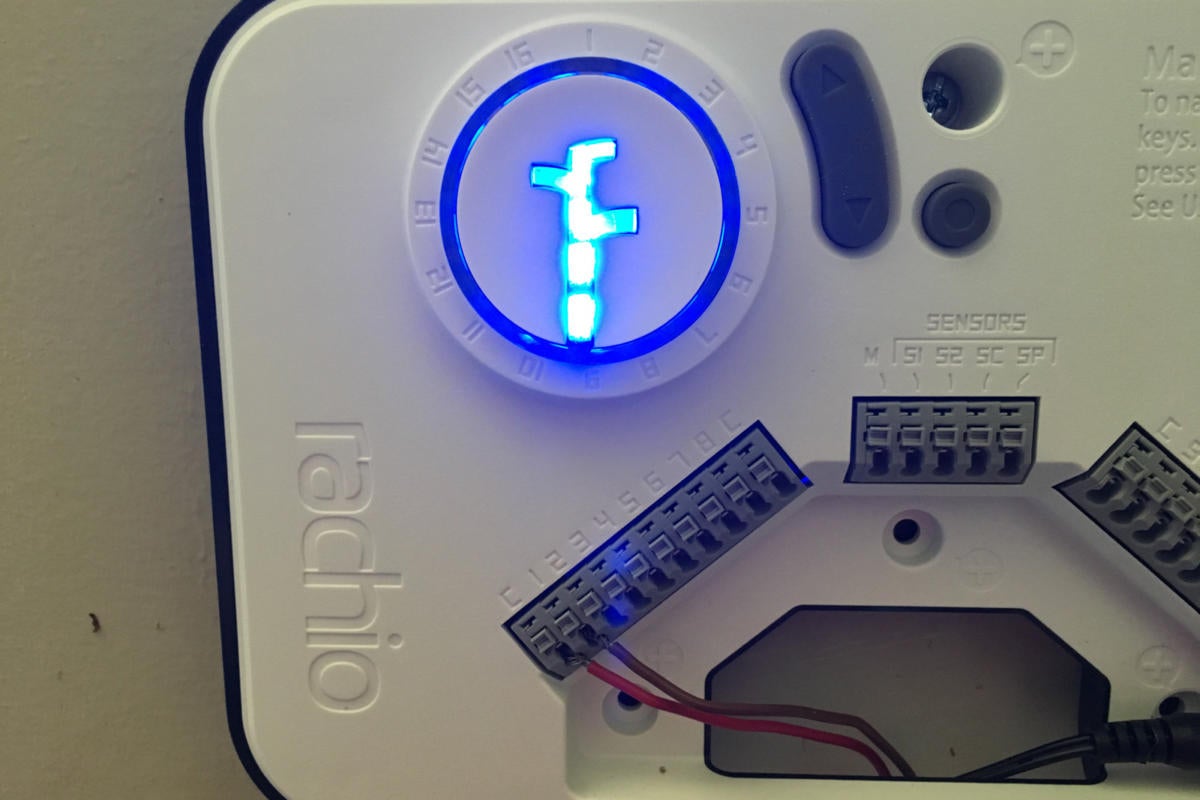 From there, the rest of the work is done through the Rachio mobile app, which guides you through a series of questions that, in theory, determine how much water your plants need. Come prepared with knowledge about what kind of vegetation is being watered, the soil type, sun exposure, and the slope of the land. Rachio crunches the numbers and figures out how long to run the system. Note that with limited manual controls, the Rachio can't be controlled from the unit itself.
I had some setup hiccups, mainly because the device inadvertently connected to the wrong Wi-Fi network at first. A manual reset (as guided by the app) made this easy, and I was connected to my network and ready to start watering in about 15 minutes.
In my case, I set Rachio up on a zone that ran water to a mix of small trees, oleander shrubs, and our vegetable garden. Rachio's recommendation was a bit of a shock: a whopping 34 minutes of water every day. Historically I have only run water to this zone for 10 to 15 minutes, three days a week. Rachio's recommended settings would have blown up my water bill and left the garden a soggy mess.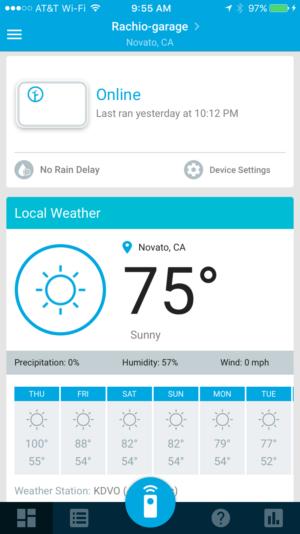 It's easy to dial this back, fortunately. Rachio's scheduling system is reasonably intuitive, and you can set up a near-infinite number of schedules if you want to water different zones on different days. The secret sauce is that Rachio can also adjust the schedule on the fly based on weather conditions. "Weather intelligence" takes into account web-delivered rain, freeze, and "evapotranspiration" (aka soil moisture) data to determine whether to dial back or skip a watering cycle. In my testing—in the dead of a hot summer—none of these were activated, though.
The app includes detailed logs about when watering occurred, how much water was used, and if anything interrupted the watering cycle. The app also sends push notifications when watering starts and finishes, so you're always in the loop. All of this worked fine during my evaluation.
Things get a little crazy when you dig down into the more advanced settings, and you can get lost in the weeds of settings that let you specify the area of your property and the depth of your plants' roots. All this information is really just fodder for the watering recommendations, though, and most users will be able to safely ignore all of it. The Rachio is also compatible with external rain and soil sensors if you want to fine-tune its recommendations.
Rachio integrates with a fairly wide array of other smart home products, including Nest, Alexa, IFTTT, Wink, Control4, and Nexia devices. I set it up to work with a Wink Hub 2, but within the Wink app the system has far fewer features, and there's not a huge amount of advantage to creating automations that, say, turn on the sprinkler if the kitchen lights are turned on. Simple Alexa voice commands also worked well with the Rachio skill enabled.
Rachio is already a leader in this small but growing space, and the capabilities of this sprinkler controller show why it deserves to be. If you're looking to smarten up your irrigation, it's an easy product worth recommending.