At a Glance
Expert's Rating
Pros
Easy to set up and operate
Timely and accurate motion alerts
Priced less than $100
Cons
No cloud-storage backup
Video quality is soft and noisy
Our Verdict
The Geeni Vision is an easy-to-use budget security camera for those who don't need all the extras.
While DIY security cameras grow more sophisticated with "intelligent" alerts and smart-home integrations, there's still a niche for something more basic. The Geeni Vision is that kind of camera. The Geeni line, which also includes smart plugs and smart bulbs, offers two versions of the Vision: a 720p model ($70) that we review here, and a 1080p model ($90).
The camera is encased in a white plastic (it's also available in gray) sphere that fittingly evokes an eyeball. The sphere is cupped in a U-shaped stand that allows you to manually swivel the camera up and down to adjust the viewing angle. The power cord—a USB cable and adapter—plugs into the back of the stand. Aesthetically speaking, the Vision doesn't try to blend in with any particular style of decor, but its small size and subtle design guarantees it won't draw unwanted attention either.
The Vision's feature set is as basic as they come. It has a 115-degree field of view and streams and records video in 720p resolution. It includes night vision, a mic and speaker for two-way audio, and a motion-detection sensor.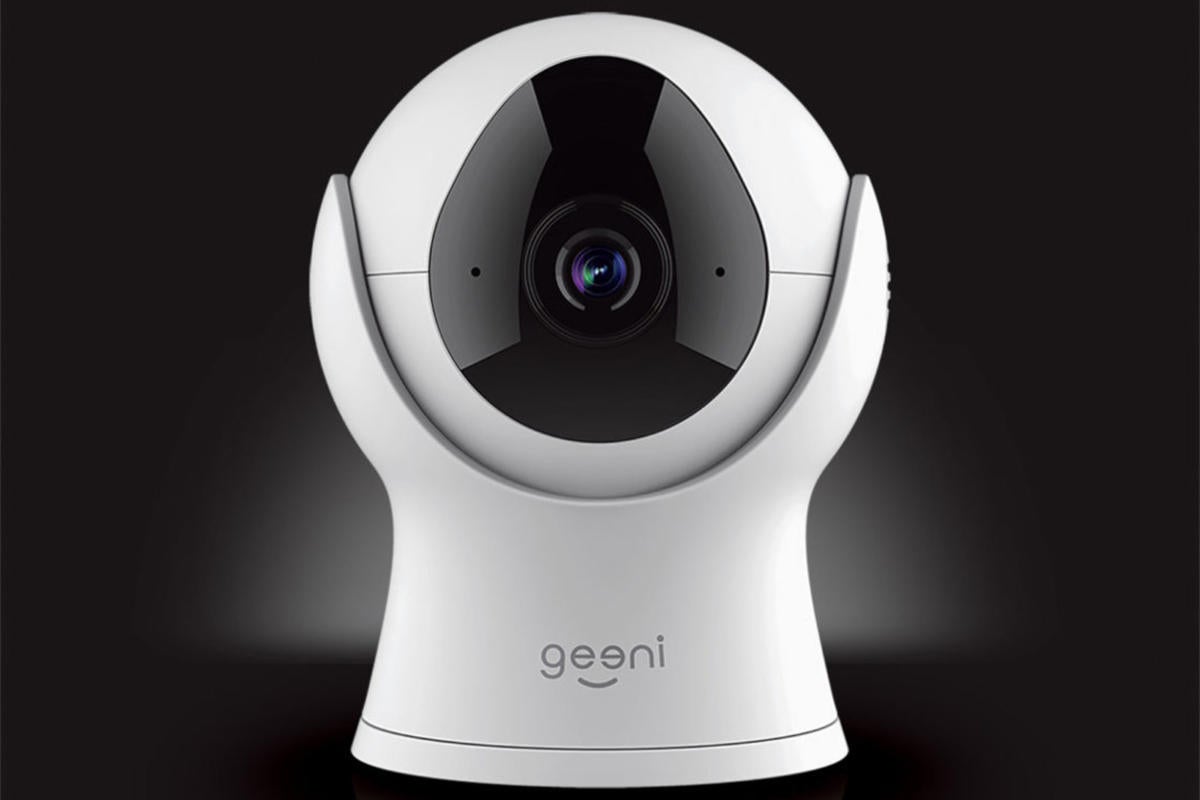 The Vision records all video locally to a microSD card (not included). Geeni doesn't offer a cloud-storage option, which eliminates the ongoing costs of a cloud subscription but also means any video evidence of a break-in doesn't have a backup if the intruder walks off with your camera to cover his tracks.
Setup and usage
The Vision comes fully assembled, so out of the box you just plug it in and insert a microSD card by rotating the camera up to expose the card slot. You must purchase a card separately. The camera supports cards with up to 128GB of capacity, which should be plenty for most home use.
The camera is controlled by the same companion app used to manage other Geeni smart appliances. To connect the camera to your Wi-Fi network, you just add it the Vision to the app, scan a couple of QR codes, and log into your network. The process was super smooth and I had the Vision up and running in a couple minutes.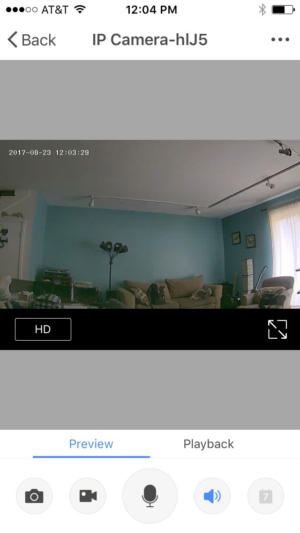 The Geeni apps camera interface is uncluttered and easy to navigate. Selecting your camera from the available devices takes you right to the Vision's live streaming feed. You can toggle between HD and Standard resolution by tapping a clearly marked button right under the camera image. Adjacent to this is a button for putting the camera in full-screen mode.
A pair of tabs run across the bottom of the Vision's homescreen, one labeled Preview, the other Playback. The first houses the camera controls: buttons for manually recording video, taking a snapshot of the feed, activating the microphone, and turning the live audio on and off. The other, as you can guess, is the where you access and play back video clips and view a timeline of triggering events.
I was disappointed with the Geeni's video quality, though. The image was a little soft and colors were accurate but flat. There was noticeable image noise, too, particularly in the darkest areas of the picture where shimmering was pronounced. Granted, you won't be making theatrical films with this camera, and the quality is more than good enough for surveillance purposes, but we've seen 720p security cameras produce crisper, richer images.
Motion detection, on the other hand, was fairly flawless. You have three pre-calibrated sensitivity options to choose from when you activate it: low, medium, and high. I found the middle setting to be the sweet spot in my home, where several four-legged family members roam free. The motion alerts I received were timely and accurate, and each was accompanied by a screenshot of the triggering activity so I could easily determine whether to dismiss them or investigate further.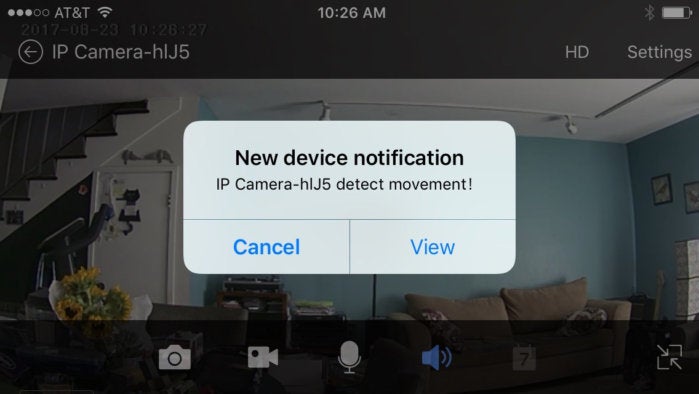 A modest camera for modest needs
Other than the motion-detection sensitivity, there really aren't any customization options. The Vision doesn't offer definable motion-detection zones nor does it include scheduling, geofencing, or any other auto-arm feature. It also doesn't currently work with any smart-home products or services, though Geeni's representative says Alexa integration is on the horizon (it's already available for the line's smart plugs and bulbs).
That's not necessarily a bad thing. Plenty of users want a security solution they can just set and forget, without the added complexity advanced features can bring. And for those folks, the Geeni Vision is a pretty good choice. The video quality could be better, but at this price nobody's going to squawk too much. Whether you want to keep an eye on your pets or kids or just make sure your place is secure until you get home from work, the Vision will deliver what you need.