At a Glance
Expert's Rating
Pros
Connects to the internet from anywhere with celluar service
Excellent video quality
Can operate on battery power, so it's entirely wireless
Cons
More than twice the cost of many very good Wi-Fi security cameras that aren't battery powered
Entails the recurring cost of a mobile data plan
Our Verdict
Arlo Go is a fantastic security camera, but its price tag and ongoing fees for 3G service make it a luxury for all but those with the most serious mobile surveillance needs.
Best Prices Today: Arlo Go
Wi-Fi cameras have revolutionized home security, but they have one obvious limitation—they require a Wi-Fi connection to function. If you need to put a camera in a location your Wi-Fi network just can't reach, or if you'd like to install a security camera in your RV, vacation home, or some other spot where you don't want to pay for full-time broadband access just to support a camera, you'll want to take a look at Netgear's Arlo Go.
The company's latest DIY security camera cosmetically resembles its predecessors, but it has one significant difference under the hood: a cellular modem that connects via 3G and 4G LTE networks. That means it will connect even out in the sticks—as long as you have cellular coverage; specifically, a data plan with Verizon, the only provider Arlo Go currently supports. (Update: AT&T now also supports the Arlo Go, but with a different model number. A Verizon-provisioned Arlo Go won't work on AT&T's network and vice versa.)
If you're not a Verizon subscriber, you can you can use the camera with Netgear's Arlo Mobile service. Arlo Go comes pre-activated with 15 minutes worth of recording time so you can use the camera right out of the box. Once you reach that limit, you can sign up for one of Arlo Mobile's three service plans for uploading 30-second video clips: $3.99 per month for one 30-second clip per day (or 30 clips per month), $18.39 for eight clips per day (240 per month), or $26.39 for 15 clips (450 per month). Those are for service plans that are billed annually. Opt for pay-as-you-go and the three plans cost $4.99, $22.99, and $32.99 per month respectively.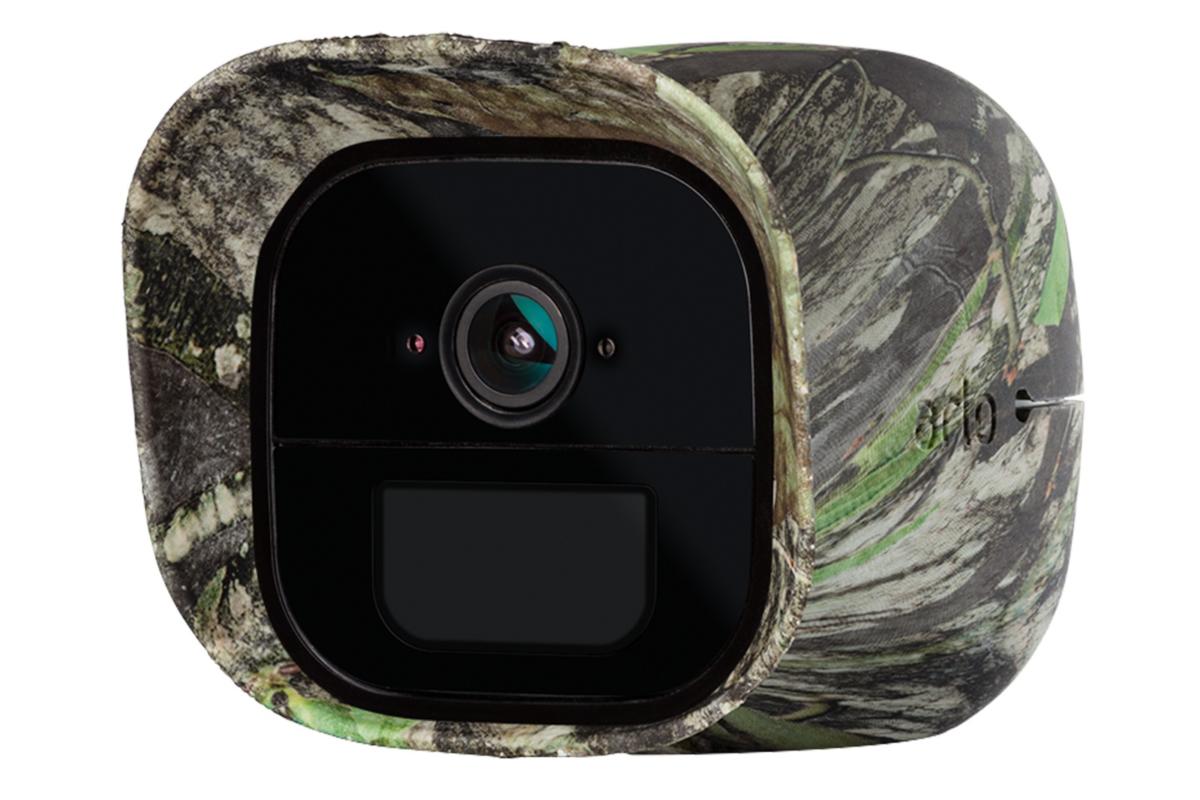 Arlo Go's design is similar to the Arlo Pro, a white pod-like body with a flat black face, though it's bigger and more than twice as heavy. That's largely due to the hefty 3660mAh rechargeable battery that powers it. You can also plug the Arlo Go into electrical power with the supplied weatherproof cord if you have a convenient outdoor outlet. Netgear also sells a solar panel that will trickle-charge the battery.
The camera has a 130-degree field of view and streams 720p live video. An 8x digital zoom gets you up close to your subject, whether it's a home intruder or a coyote prowling the edge of your property. Motion and sound detection use the same Mode-based control as the Arlo Pro with email alerts and push notifications. A built-in mic and speaker let you communicate with family members or scare off encroachers
Arlo Go is rated IP65—meaning it's completely protected from dust and has decent protection from water—and has an operating temperature of -4 degrees to 113 degrees F. The lens is flanked by 850nm LEDs that provide up to 25 feet of night vision. You can turn these off if you're using the camera for hunting or spying wildlife around your home, and Arlo even offers color, camouflage, and ghillie silicone skins ($20, $25, and $35 a pair respectively) to conceal the camera outdoors.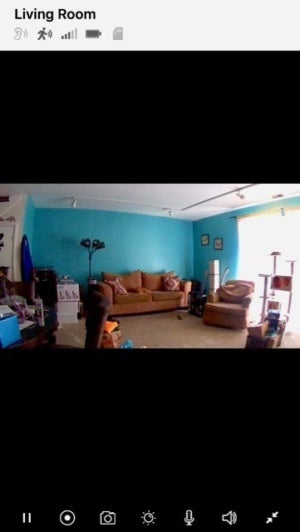 Video can be recorded locally to an optional microSD card—a new feature for Arlo cameras—but you still get Arlo's seven-day cloud storage free for up to five cameras. If you need more, you can upgrade to the Premier Plan (30 days for up to 10 cameras) for $10 per month or $100 per year, or the Elite Plan (60 days for up to 15 cameras) for $115 per month or $150 per year.
Setup and usage
Netgear's cameras have typically been easy to install, and Arlo Go is no exception. You just pop in the battery and a microSD card (not included) if you want to record video locally, download and sign into the app, and follow the prompts to sync the camera. You can sit the camera on any flat surface or mount it to a wall, fence, tree, or other permanent spot with the included metal mount and screws.
The camera has fantastic image quality. Even on the "optimized" setting, which balances picture quality with battery life, Arlo Go displayed rich accurate colors and crisp detail. Bright areas like the light streaming in a side window of my living room were blown out with the out-of the-box settings, but I was able to tone them down with the brightness control. The lens produced only the slightest bit of fisheye distortion.
Night Vision provided excellent illumination and good contrast. It was plenty to light up my small yard, which is shrouded by an old acacia tree and faces a street with just one streetlight a couple houses down.
Arlo Go's live feed displays on the app's Device screen along with those of any other Arlo cameras you have installed. Tapping the feed takes you its dedicated screen. Along the top here are indicators for motion and sound detection, battery charge, and cell-signal strength. At the bottom are all the camera controls, including a record button, brightness settings, and mic and speaker toggles.
Arlo Go comes with four preset modes that should be familiar Arlo Pro users:
Armed: When motion is detected, Arlo Go will record 10 seconds of video and alert you via push notification and email.
Disarmed:Motion and sound detection are deactivated.
Schedule The camera automatically arms and disarms according to a schedule you set. You can set several active periods for each day and even bridge calendar days.
Geofencing: The camera automatically arms and disarms according to your location.
You can modify the specific settings for each of these modes—add sound detection to Armed mode, extend the length of video clips, or adjust motion detection sensitivity, for example—or create your own modes altogether. You can also choose who email alerts are sent to, a handy option when you're having a neighbor watch over your home while you're out of town. Motion and sound alerts were timely and accurate in our testing.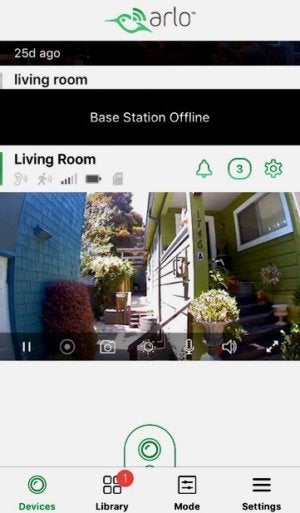 You can access all your event-triggered videos by tapping he Library icon on the Device page. The library defaults to the current day, displaying date- and time-stamped videos in reverse chronological order. Each entry is marked Motion or Sound depending on what triggered it. A three-dot menu adjacent to each video holds options for downloading, sharing, favoriting, or deleting the clip.
Like all Arlo Cameras, Arlo Go works with IFTTT. I tested it with a pair of applets, having it turn on Philips Hue lights and calling my phone whenever it detected motion, and it worked flawlessly.
Should you buy it?
Arlo Go is an excellent security camera with all the functionality and ease of use we've come to expect from the Arlo line. And Arlo Mobile, which uses AT&T's nationwide 4G LTE network, worked without a hiccup in my testing.
But with a sticker price of $430 and the associated costs of a cellular data plan and any cloud storage upgrade you purchase, Arlo Go is not a small investment. The Canary Flex also offers a 4G LTE connectivity option and that camera only costs $199, though it didn't impress us nearly as much as the Arlo Go. Ultimately, you'll need to decide what your peace of mind is worth.
Best Prices Today: Arlo Go