At a Glance
Expert's Rating
Pros
Stylish design, with a bright touchscreen
Lots of programming flexibility
Effective use of geofencing
Cons
A little pricey compared to the direct competition
Run-of-the-mill app
No algorithms that can learn your occupancy patterns
Our Verdict
An attractive smart thermostat that doesn't go over the top.
Best Prices Today: Emerson Sensi Touch
Emerson's previous foray into the world of smart thermostats, the Sensi, was a decidedly traditional take on HVAC control. It performed well enough, but it looked and operated much like a conventional thermostat and was aimed at homeowners who found products like the Nest and Ecobee3 too radical. Emerson is targeting a subset of that same audience with its new Sensi Touch: People who want a traditional thermostat with just a little more panache.
Mentioned in this article
Emerson Sensi Wi-Fi Thermostat
Price When Reviewed:
$129.00
Visually, the Sensi Touch is drastically different from the Sensi. The 4.3-inch touchscreen isn't the sharpest (272 x 480 pixels) or the most sensitive display we've seen on a smart thermostat, but the Touch's black rectangular body, bright screen, and temperature displayed in large easy-to-read numbers (on a blue background in cooling mode, and a red background in heating mode) is sure to please its target audience.
Apart from requiring the C wire to draw electrical power, the Sensi Touch is easy to install—a task made simpler by an ingenious design feature: The terminals you'll need to connect the wires to are illuminated—even without external power. The light makes it so much easier to see the wires and labels in what's invariably a poorly lit area of your home. This is a feature I'd like to see on, well, just about anything that needs installing.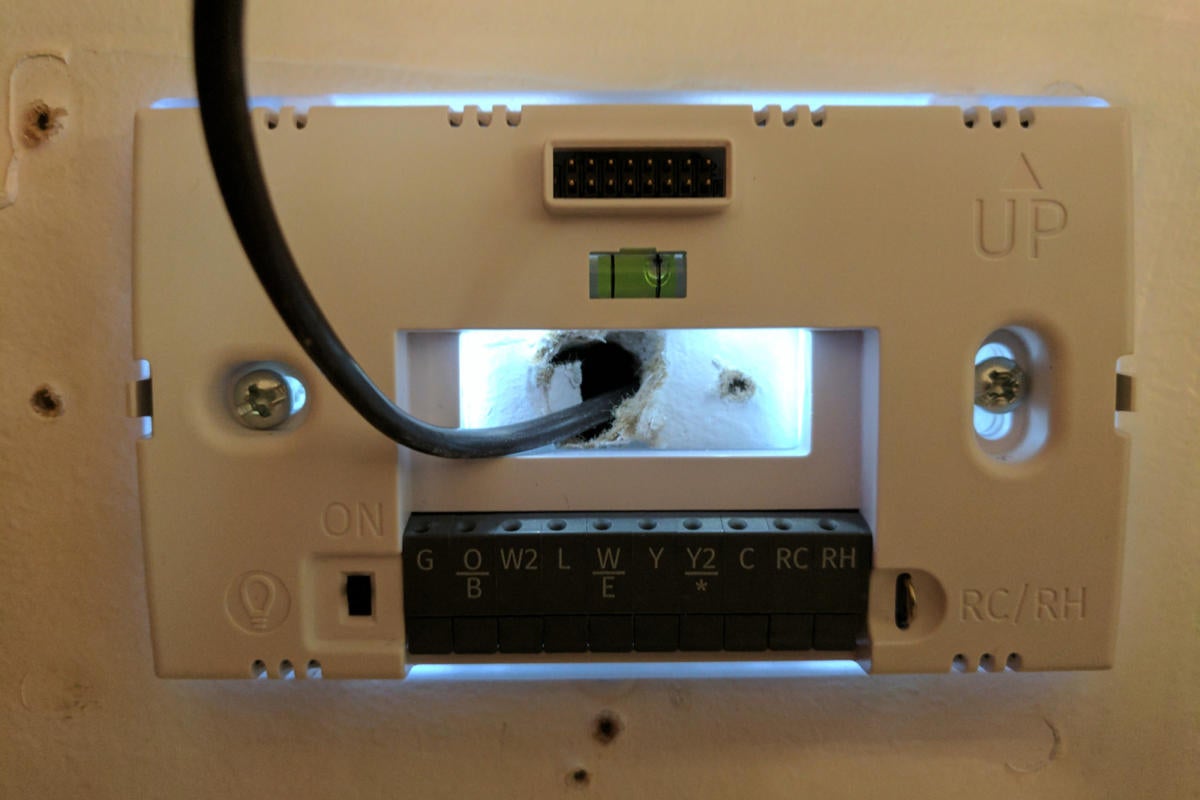 Once the unit is physically installed and powered up, the rest of the setup is performed through the Sensi app. Nervous DIYers should install the app (available for both Android and iOS) prior to wiring the unit, because it provides in-depth instructions that walk you through the process. The Sensi is also compatible with Apple HomeKit, Amazon's Echo, and the Wink smart-home hub. We encountered an issue installing the Sensi in an Android environment: It refused to acknowledge the unit-specific security code required to pair the thermostat with our Sensi account. When we installed it with an iOS device, the process went off without a hitch. Make of that what you will.
Setup through the app is straightforward—at least if you want one heating, cooling, or automatic schedule for Monday through Friday, and a second one for the weekend. Making alternative schedules is a little more convoluted, but you can specify an unlimited number temperature targets for each day, and you can create new schedules that are anywhere from different every day to the same all week.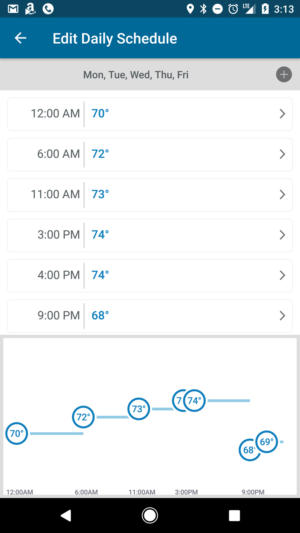 The Sensi Touch also has a geofencing feature that will automatically put the thermostat into an energy-saving away mode when your smartphone indicates you've left a three-mile perimeter, and restore your target temperature when you come back into it. The Sensi app provides a basic weather report, and you can adjust the thermostat's settings from anywhere you have internet access.
Other nice features of the Touch include a nightlight mode and the way the screen background color changes between blue and red to let you know if it's in cooling or heating mode. The Sensi also tracks humidity as well as temperature, which can be especially useful for advanced systems that include humidifying (or dehumidifying) equipment.
The Sensi Touch isn't a budget thermostat, but it costs less than a Nest and is attractive and easy to use. It's a good value overall.
Best Prices Today: Emerson Sensi Touch