At a Glance
Expert's Rating
Pros
Organized for and tailored to the interests of classical music listeners
Streams are encoded in 16-bit/44.1kHz FLAC
Downloadable albums encoded in up to 2.8MHz DSD surround available for purchase
Cons
Streaming catalog not yet as rich as the download service
Subscription doesn't include downloading for offline listening
We encountered problems streaming to outboard audio gear using any browser other than Chrome
Our Verdict
This music-streaming service is produced by classical music lovers for classical music lovers.
Best Prices Today: Primephonic
If you're a classical music fan like me, mainstream music-streaming services such as Spotify don't meet your needs. Tidal—even with its pricey FLAC/MQA tier—doesn't either. Well I've found a service that does: It's called Primephonic.
Primephonic, which launched in the U.S. and U.K. on June 26, is a $14.99-per-month streaming service that's an outgrowth of the same company's high-resolution download store. I recently took the service for a spin and also spoke with the company's management: CEO and co-founder Simon Eder and CMO Jonathan Bradley.
You can sign up for a 30-day free trial of the service without needing to provide a credit card to try it. Paying subscribers get an added perk: A 10-percent discount on the purchase of high-resolution downloads from the Primephonic store.
Web streaming today, an app in the fall
Mentioned in this article
P9 Signature Headphones
Price When Reviewed:
$899.99
Primephonic's streaming service is currently browser-based and features up-to-CD-quality audio. The website is a responsive design, which means that it's accessible from desktop, tablet, and mobile devices. The service offers 16-bit, 44.1kHz FLAC streams by default, but you can opt for 192Kbps MP3 if your ISP imposes a severe data cap, for example, or you're using a mobile connection.
If you choose to stream Primephonic's FLAC offering from your computer's digital-audio output to a two-channel or multi-channel audio system, as I did during my evaluation, I recommend using Google's Chrome browser. I encountered bizarre audio artifacts using Firefox, and Safari produced no audio at all. These problems disappeared when I used my Mac's own speakers and when I plugged headphones into the Mac. And I encountered no problems at all with Chrome, Firefox, or Safari when I switched to MP3 streams.
Eder and Bradley told me that Primephonic will release an iOS app sometime this fall, which will add the ability to download albums and tracks for offline playback. That's something you can't do with the browser-based service. The company is also considering adding video and multimedia content if there's sufficient demand.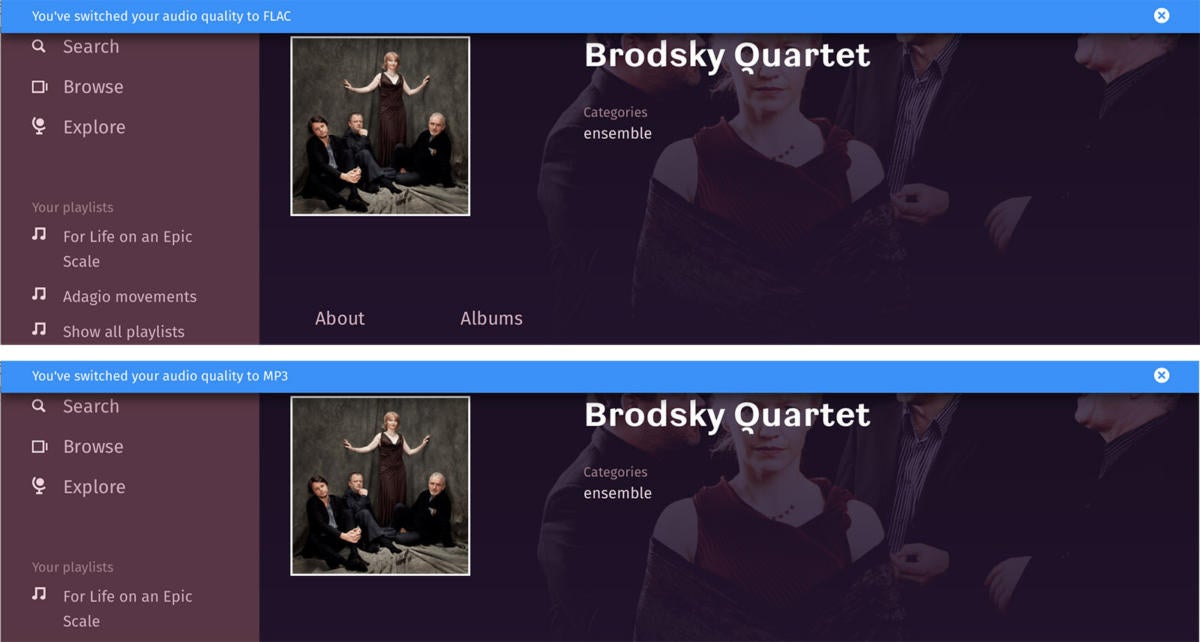 A streaming catalog growing bigger by the day
Bradley said Primephonic offers approximately 7,000 albums—more than than 100,000 tracks—for streaming today. The company's online store, in contrast, stocks more than 16,000 downloadable albums.
Classical works range from a fine selection from stalwart classical labels such as LSO, Naxos, and Living Stereo. Primephonic recently signed deals with Warner Classical and Sony Entertainment that will bring three key Warner labels—Erato, Warner Classics, and Muncher Philharmoniker—and more than 30 labels from Sony Music Entertainment to its streaming service. The company hopes to ingest the core Warner and Sony back-catalogs by the end of 2017.
Everything the classical music fan could want
Primephonic's streaming service sports a familiar user interface, but with some unique attributes for classical music fans. The lower left corner of the screen hosts the control pad, where you'll find the current album or playlist you're listening to, with a spinning record as the motif. You can control volume, play/pause, and advance or reverse a track.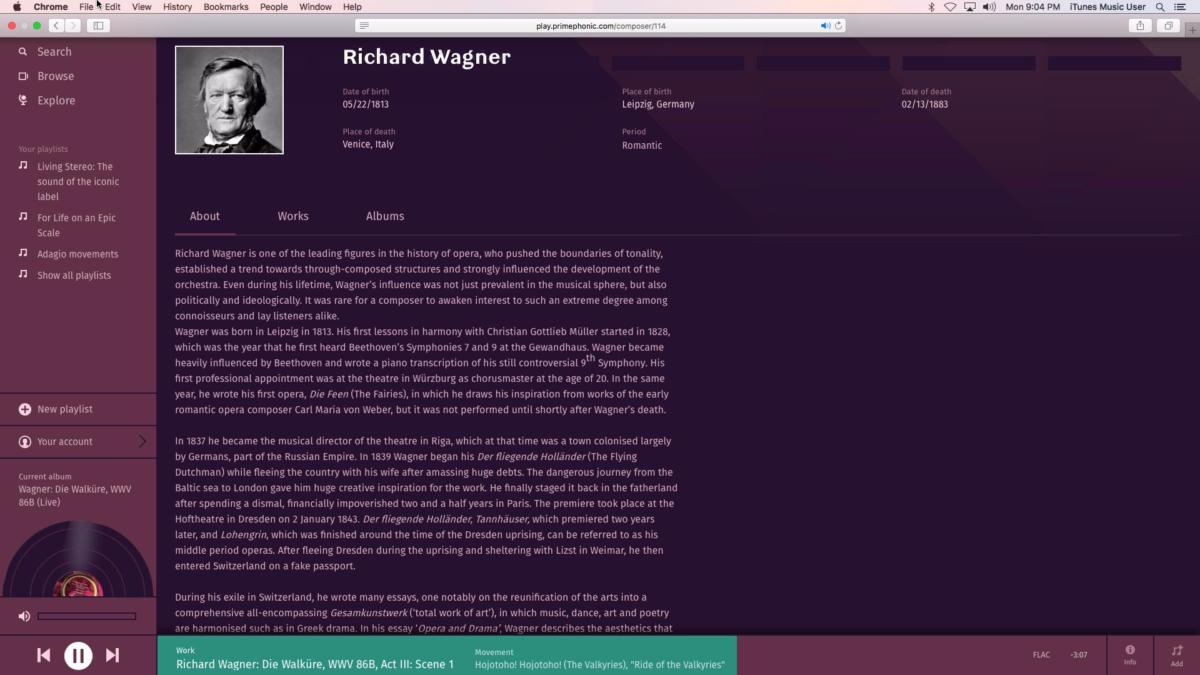 Primephonic's browsing and playback options are are tailored for classical music. I found it easy to browse by composer, artist, work, historical period, record label, or genre. When browsing in a particular category, I had the ability to drill down into sub-categories. While looking through the Sacred Choral genre, for example, I was able to refine my browsing by composer or work. Primephonic has also created a curated category that lets you browse based on mood.
Mentioned in this article
Naim Mu-So Wireless Music System
Price When Reviewed:
$1500
If you miss the in-depth liner notes that accompany recordings on vinyl, you'll appreciate Primephonic's encyclopedic presentation. I looked up Gustav Mahler, Richard Wagner, Johannes Brahms, Camille Saint-Saëns, and other composers and was presented with brief biographical sketches of each, including their place and date of birth, date of death, and the period the composer belonged to. I could view all the composer's works on the same page, and clicking on any work revealed all the streamable recordings that were available. I also had the ability to browse all the albums in the catalog of works. Primephonic's approach reminded me of the beloved Penguin Guide to Recorded Classical Music. Unlike The Penguin Guide, however, there's currently no ability to rank or rate a particular performance.
Background content stays with you throughout your experience. If you want to explore Beethoven's Piano Concerto No. 2 in B-Flat, Op. 19, for example, you'll find information about the work's premiere and how this work relates to Beethoven's other piano concertos. I can't think of a better way to get a succinct and straightforward overview of classical works and contexts.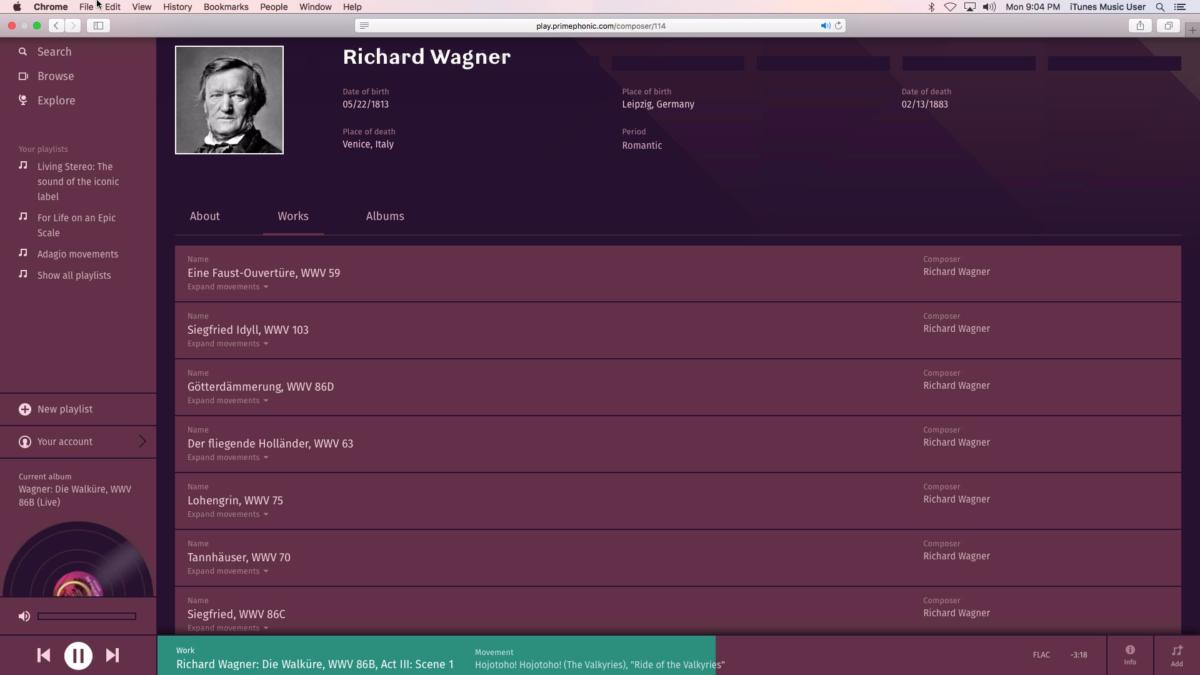 Primephonic's search feature, located at all times in the upper left portion of the screen, is also flexible. Search results come back nicely grouped by album, playlist, composers, and individual works. While there's no ability to conduct a search within a search, if you're using the Explore menu, you can conduct refined searches. If you're exploring the composers section in the Late 20th Century Period, for example, you can type in "Williams" and it will bring up just three choices instead of the hundreds of results you'd get from the main search bar.
Primephonic provides curated content via the service's explore menu. There, you'll find classical playlists that are curated manually by one of the company's musicologists—not by some computer algorithm. The curation process takes into account a work's performance and even its particular interpretation. Bradley said Primephonic plans to scale this curation process through a closer collaboration with labels, artists, and artist managers. This attention to detail will resonate with classical music lovers and represents some of the nuanced features that Primephonic's classical service provides.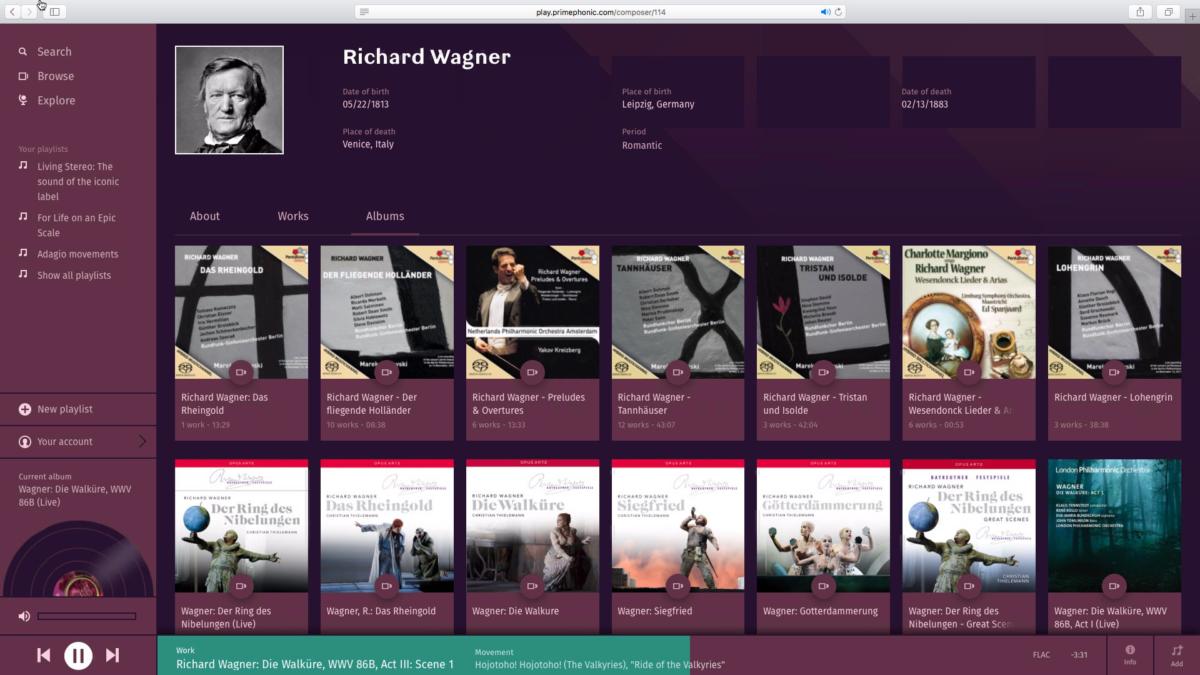 There's no question that Primephonic's undertaking is massive and requires significant manual intervention. As such, you'll find some parts of the service to be a work in progress. I wasn't able to stream some albums—I was presented with a message that the quality was not sufficient for streaming. I also found some gaps here and there in the encyclopedic info, along with some minor cataloging anomalies. Bradley said many of these shortcomings were related to the ongoing ingestion and manual curation process. All in all, however, I didn't encounter anything that I'd consider a deal breaker.
A streaming service you can feel good about using
Mentioned in this article
PW Amp
Price When Reviewed:
$499.00
It's no secret that streaming has made it difficult for many recording artists to make a living. Classical artists have been hit particularly hard, in part because the audience for classical music is much smaller than it is for pop, R&B, rock, or even jazz.
Primephonic is trying a different approach to compensating artists: It pays them on a per-second-streamed basis. The objective is to give artists a fair share in a more transparent transaction. Eder and Bradley are looking to develop a revenue-sharing model that will sustain and grow the classical music market.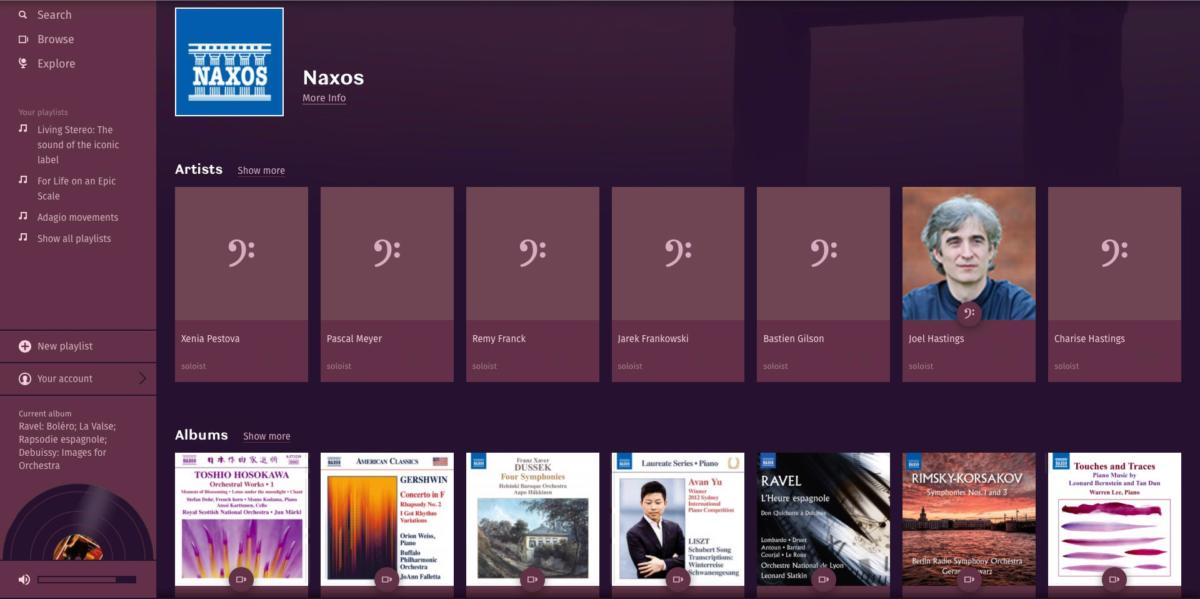 A supremely satisfying experience
I tested Primephonic's streaming service with both a high-end audiophile setup and headphones. The two-channel setup consisted of Revel Ultima2 Salons anchored by an SVS SB16-Ultra subwoofer, an Anthem AVM 60 preamp-processor, and Benchmark Media Systems' AHB2 power amplifiers. I also used B&W's P9 Signature and Focal's Listen Wireless headphones.
With a capable pair of headphones or a good sound system, you'll be seduced by the sonic bliss Primephonic's streaming service delivers. Whether it was Tchaikovsky's 1812 Overture, Mussorgsky's Pictures at an Exhibition, Wagner's Die Walküre, or Holst's The Planets, the raw orchestral energy came blazing through. On well-recorded works, bass drums had incredible, almost realistic weight, and symphonic dynamics were gloriously delivered.
If you want the convenience of a streaming service that rivals the quality of your CD collection, Primephonic's streaming service fits the bill.
Sign me up
Primephonic has served up a panacea for the classical music-streaming blues. This is a streaming service by classical music fans for classical music fans. The service is slick, smart, and organized in the way classical music fans demand.
An intuitive interface and solid catalog of music make Primephonic's streaming service a winner. While its repertoire is not yet as deep as the company's download catalog, and you'll come across some rough edges and growing pains here and there, those issues can be easily overlooked—especially if they remain temporary. The only major missing piece—a mobile app with the ability to download tracks—is promised to land in the fall. TechHive will revisit this review then. In the meantime, if you like classical music, you'll love Primephonic. Highly recommended.
Best Prices Today: Primephonic