At a Glance
Expert's Rating
Pros
Excellent sound at all volume levels
Omnidirectional sound eliminates the sweet-spot dilemma
Controls are easily accessible and easy to understand
Water and impact resistant
Cons
Absence of true stereo will irritate audio purists
Charging cradle costs extra
Battery did not last as long as promised when tested
Our Verdict
The Bose Soundlink Revolve+ is a pricey, but excellent omnidirectional wireless speaker that most people will love.
Best Prices Today: Bose Soundlink Revolve+
Bose used to be a big proponent of the if-it-ain't-broke-don't-fix-it school of gadgetry. The company's speakers and headphones often went years without an aesthetic or technical update, and new products were slow in coming to market. But in the past four or five years, the company's been working hard to brush off its reputation for stagnant excellence. New Bose hardware hits stores on a regular basis these days and, as evident with their QC30 earphones and Soundlink Mini II speaker, its new-found fast turnaround on introducing new products hasn't diminished its ability to churn out quality stuff.
Enter the Bose Soundlink Revolve+. This $300 portable Bluetooth speaker pumps out omnidirectional sound.
Omnidirectional? What happened to stereo?
While there's more to it than what I have time to get into here, at a very basic level, to get the best sounding audio out of most speakers, it's necessary to point their speaker grill in the direction of where you'll want to listen to music. Otherwise, you end up hearing less clearly defined sound than what the speaker is actually producing. An omnidirectional speaker doesn't have this issue. Set it up anywhere in a room and you'll hear the best audio that the speaker can provide. This is especially nice in settings like a get together in your living room: plop an omnidirectional speaker on the coffee table and everyone sitting around it can enjoy decent audio, no matter where they're seated.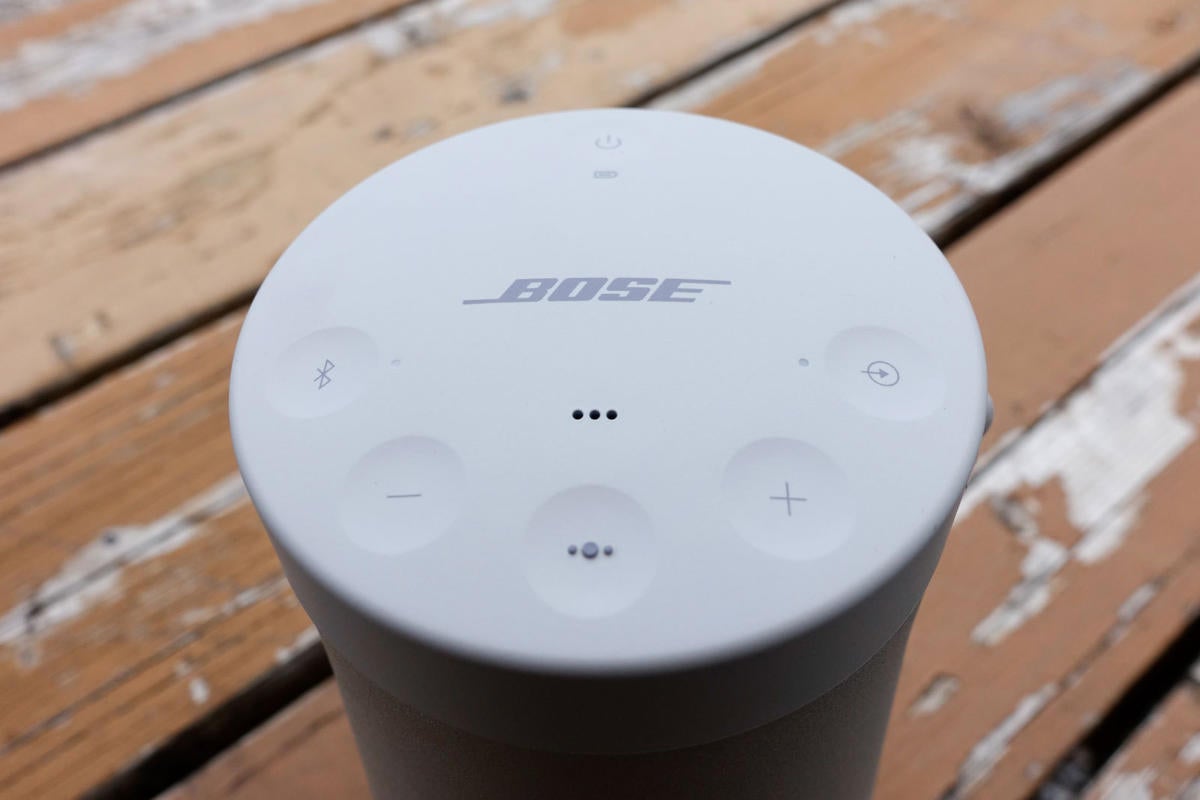 The details
With its 7.25-inch height and a width that tapers to a diameter of 4.13 inches at its base, the Revolve+ isn't a small Bluetooth speaker (although it's less than half the size of the Soundcast VG7 we recently fawned over). That it's available in white or black and comes sporting a smooth, minimalistic design ensures, however, that it will tastefully disappear into the decor of most homes, despite its dimensions. It's unassuming enough to blend into your breakfast nook's counter but it can hold its own as a centerpiece on a dining room tablet, too. The Revolve+ weighs two pounds, though, so you might not want to bring it on your next backpacking trip (the VG7 weighs in at 21 pounds). But the Revolve+'s built-in handle makes it easy to pick up the device to carry around your home or into your backyard.
While most of the speaker's body, including its wraparound speaker grill, is covered in aluminum, the bottom and top of the Revolve+ is capped are capped in rubber, making it easy to wipe clean and help it to stand up to casual abuse.
If you've owned other Bose wireless speakers in the past, the control scheme for the Revolve+ will be old hat for you. Volume, pairing, track control/pause play, and audio source selection buttons can be found on the top of the speaker.
Mentioned in this article
Soundlink Revolve Charging Crade
Price When Reviewed:
$29.00
In the base of the Revolve+, you'll discover a threaded port that allows the speaker to be mated to a tripod mount—a great feature for anyone using the Revolve + in places where the only place to set the speaker up on is the ground. There's also a connection for mating the speaker to an optional $30 charging cradle. You can otherwise juice up the Revolve+ using via a micro-USB port near the bottom of the speaker, next to its 3.5mm auxiliary input port.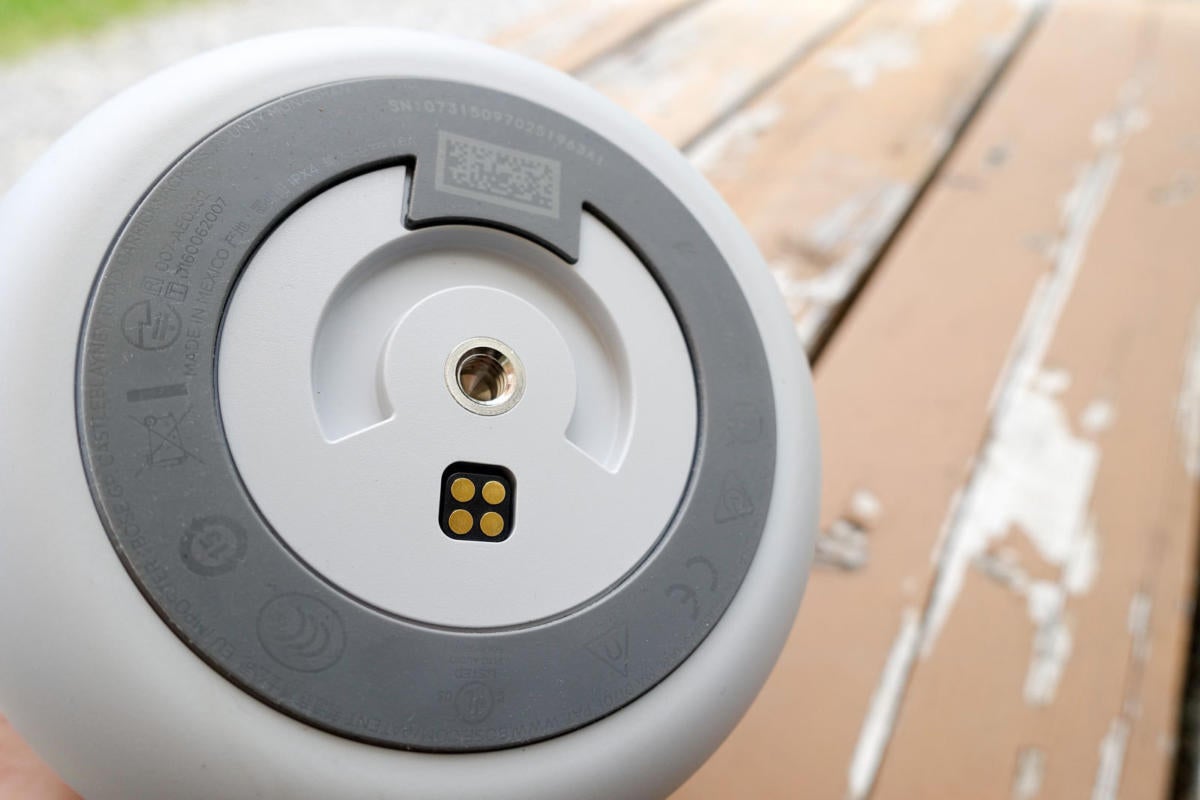 Bose suggests that the Revolve+ can go for 16 hours between charges. Under testing, I found that the average was closer to 12 hours. While lower than promised, its still an impressive enough runtime.
Audio quality
Bose doesn't like to spill the beans on the technical specs of its products. And as the Revolve+ I'm review is on loan to me, I'm not about to go pulling it apart so that I can tell you what's inside. Bose PR provided some additional details: There's a single full-range transducer inside, along with a pair of opposing passive radiators. The enclosure carries an IPX4 rating, meaning the speaker is protected from splashes of water and can operate in the rain as long as it's not submerged. Bose declined to reveal what materials the transducer and radiators are fabricated from, what type of amplifier is inside, and how many amps it produces.
One this I can tell you with certainty, however, is that this speaker sounds great.I found that no matter what volume I set the speaker to or where I set it up in my home or outside, I was able to enjoy distortion-free sound, leading me to believe that Bose baked the same sort of digital signal processing into the Revolve+ as they used in their QuietComfort 35 headphones. This means that, at higher volumes, the speaker will tweak the sound of your audio to offer less bass, making it easy to pick out the mid- and high-frequency bits of your music. Listen to the Revolve+ at around 50 percent of its maximum volume or lower and you get more bass. No matter how loud you like your music, unless you're an audiophile who can't stand anything but the most accurate, balanced audio being piped into their ear holes, you'll love the sound of this speaker.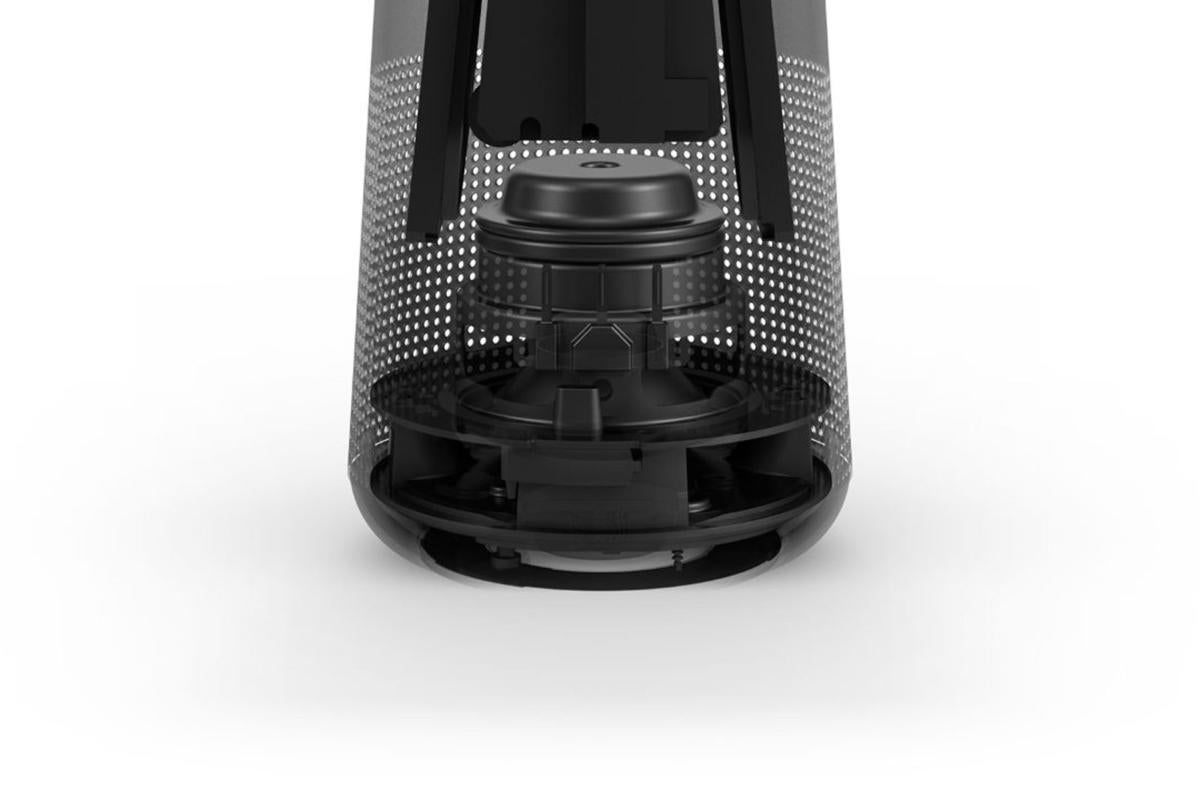 While listening to Sean Rowe's "Joe's Cult," from his album The Salesman and the Shark, I found that the speaker kept the deep bass of Rowe's voice from drowning out the relentless chop of his acoustic guitar. And, while writing this review, the speaker refused to drop or muddy a single note of The Very Best of Chris Barber—a favorite album that I know very well.
The Revolve+ also proved its mettle as a speakerphone too. Calls piped through to it from my iPhone SE sounded infinitely better than what the handset's anemic speakers can manage. What's more, the people on the other end of the line were able to hear me loud and clear. Speaking of loud, it's worth noting that you can pair two Revolve+ speakers to blast out stereo audio.
The Bottom Line
Most people will adore the Bose Soundlink Revolve+ for its ability to deliver beautifully balanced omnidirectional sound at any volume. That it also comes packing long battery life; excellent build quality; and a sleek, modern design is icing on the cake.
Best Prices Today: Bose Soundlink Revolve+