At a Glance
Expert's Rating
Pros
Works with Alexa and Google Assistant
Part of a growing TP-Link smart-home ecosystem
Easily accessible manual on/off on the front
Cons
Design takes up entire two-jack outlet
Requires account for remote access
Doesn't support Apple's HomeKit
Our Verdict
There are less-expensive options that deliver the same benefits—unless you've already committed to using TP-Link's Wi-Fi smart bulbs.
Best Prices Today: TP-Link Wi-Fi Smart Plug with Energy Monitoring (Model HS110)
Turning an outlet smart has a lot of appeal, and prices for plug-in options have dropped substantially. The TP-Link Wi-Fi Smart Plug with a power-usage monitoring option costs $39.99, but you can buy the very similar Geeni Energi energy-tracking Wi-Fi smart plug for about $15 less.
Either way, I've never been sold on single-outlet monitoring, as it doesn't offer enough insight into your overall consumption. The TP-Link does allow a pull of up to 1800 watts (about 15 amps at 120 volts), so you could track an air-conditioner or dehumidifier's drain.
If you've already installed a bunch of TP-Link Wi-Fi smart bulbs, you'll benefit from being able to use the same app—Kasa, available for Android and iOS—to control everything. But those aren't among our favorite smart bulbs: The white-LED LB120 earned three stars while the color-LED LB130 scored three and a half.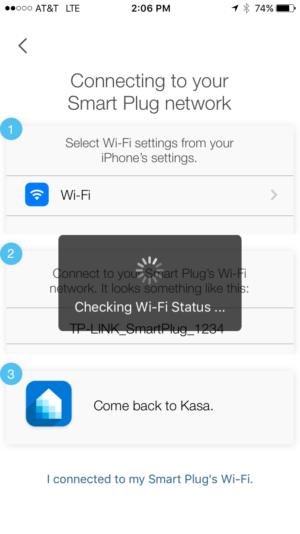 The HS110 smart plug can also be controlled via voice commands using Amazon's Alexa or the Google Assistant, so you're not entirely trapped in TP-Link's ecosystem. On the other hand, TP-Link's products can't be integrated into broader smart home systems by way of a Samsung SmartThings hub or the Wink Hub 2. The absence of compatibility with Apple's HomeKit ecosystem is less surprising than the fact the HS110 doesn't work with IFTTT, either.
TP-Link did make it easy to see status and use a manual on/off button, by putting them all together and on the front. The separate Wi-Fi network LED and power indicator are part of the on/off button. There's also a tiny, easily reachable pair/reset button on top.
Setting up a TP-Link smart plug is a little tedious, because it requires swapping your mobile device from your home Wi-Fi network to one temporarily created by the smart plug. After using the TP-Link smart-home app, Kasa, to configure the device, your network connection snaps back, and you can finish configuration.
You can use the Kasa app to set scenes of multiple devices and schedules, timers, and away settings for each device without needing an account. For remote access, however, you must register with TP-Link and enable the feature in Kasa. For those who prefer to keep their smart-home devices as stupid as possible, working only over a local network, Kasa provides plenty of capabilities.
This smart plug is bulky, preventing use of both outlets in a two-up fixture. TP-Link offers a more compact version, the HS105, that does allow use of a second outlet while it's plugged into the first, but it's $10 more and doesn't support energy monitoring.