At a Glance
Expert's Rating
Pros
Excellent and exacting temperature controls
Battery back up
Highly customizable temperature scheduling
Cons
Entirely reliant on user scheduling
Boring industrial design
No motion sensor
Our Verdict
The Sensi is like your old thermostat with the addition of some excellent Wi-Fi features.
Best Prices Today: Emerson Sensi Wi-Fi Thermostat
If smart really isn't what you want, or you simply find most of the other choices we've tested prohibitively expensive, for around a hundred bucks, Emerson offers the Sensi. It's not smart, looks like a traditional thermostat, and isn't nearly as sophisticated as most of the others. Essentially, the Sensi is a normal thermostat with connectivity.
Installation and Setup
The white, rectangular plastic Sensi is boring compared to the Nest or Ecobee3, but that's the point. It allows smart features like controlling it through your phone via its app, with Amazon's Alexa, or the Wink Home Hub. The Sensi supports, but doesn't require, the C-wire and it uses two AA batteries for backup power. You could potentially power the Sensi just on batteries, but that would require turning the Wi-Fi off. It has a menu button, a mode button, a fan button, and a schedule button with a blue and black display.
The Sensi is compatible with a full range of HVAC configurations, including heat pumps (even dual-fuel) and up to four stages of heat and two stages of cooling. Installation is simple and the app offers a wide range of scheduling options that allow you to set things up just as you want them throughout the day. The Sensi's ability to let users schedule as many temperature changes over the course of a day as they want is a definite selling point for those who want truly exacting control. You can even set custom schedules for specific instances, like as working from home or naptime.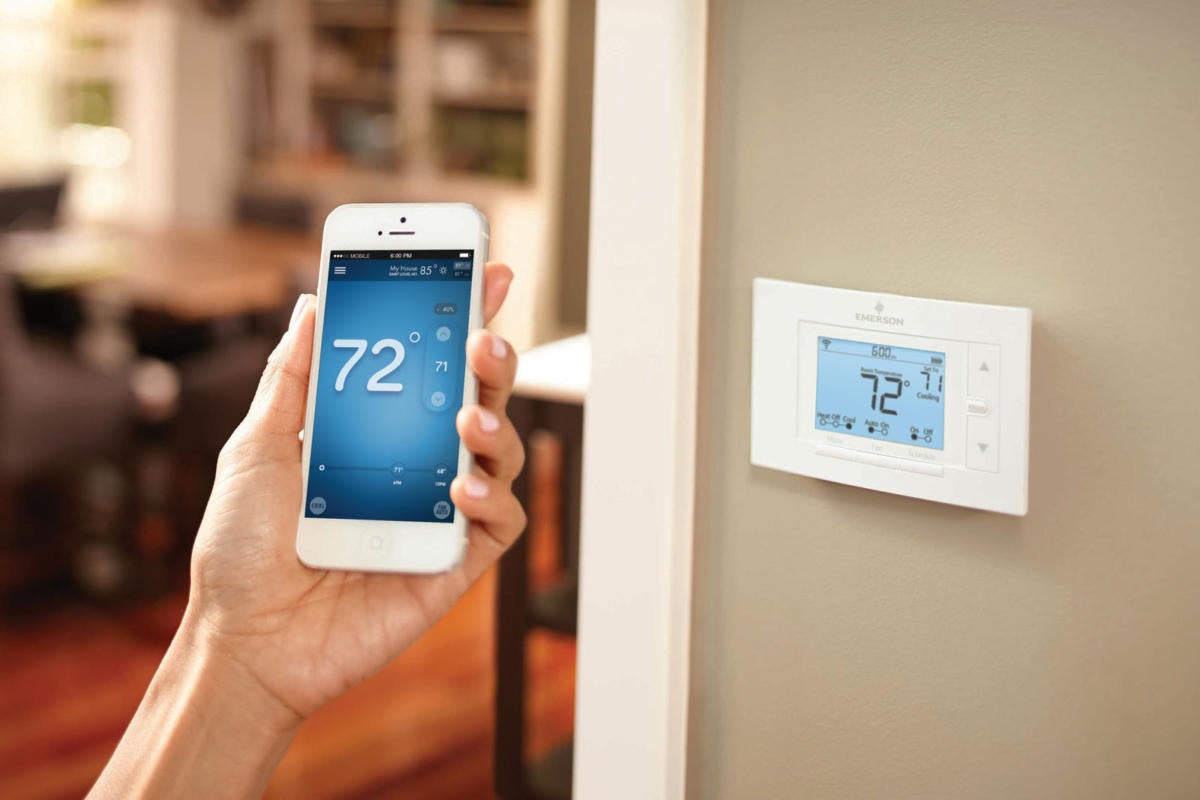 Features
Since the Sensi works purely based on exactly what you program it to do, it's also very accurate. Most smart thermostats have an issue with a degree ranges, but the Sensi boasts mere +/- 1 degree range. The Sensi's mobile app is perfectly adequate for scheduling the thermostat, but doesn't offer many bells and whistles. It doesn't have the in depth tracking of the LUX/GEO, but does provide the weather and remote access to the thermostat.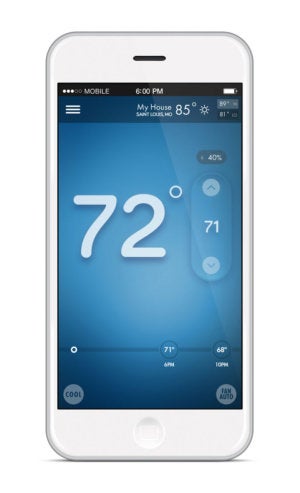 A unique feature is a keypad lock preventing little (or big) hands from adjusting the temperature directly from the unit. The display also provides the weather and it includes a humidity sensor, though it doesn't adjust for it.
When initially released, the Sensi lacked any geofencing options at all. Emerson recently updated the Sensi's mobile app to include location sensing for all their thermostats, giving the budget priced Sensi a much-needed new feature. That said, there's still no motion sensor or advanced algorithm/prediction feature, which is standard on more advanced and expensive units.
Emerson has been in the HVAC game a long time, so we expect the Sensi to be a reliable device and the uncomplicated installation makes it mostly stress-free to start. Set up through the app is thorough, with plenty of room to customize your comfort needs throughout the day.
Bottom line
From the perspective of upgrading an old thermostat to something new but not overly expensive, the Sensi is a solid choice. For a around the same price, you can admittedly get the more high-tech LUX/GEO, but the Sensi offers much finer temperature control. If you have an older furnace, this is most accommodating thermostat you'll find.
This story was updated with information about a new location-sensing feature that Emerson added to its mobile app.
Best Prices Today: Emerson Sensi Wi-Fi Thermostat