At a Glance
Expert's Rating
Pros
Learns your preferences quickly
Reliably set it and forget it
Excellent display screen
Cons
Some initial networking issues
Geofencing feature wasn't always reliable
Requires smartphone to set up and operate properly
Our Verdict
Although not perfect, the Lyric Round is a commendably smart and functional thermostat.
There was a time when the name Honeywell was almost synonymous with thermostat. If your family home didn't have one when you were growing up, your parents almost certainly did when they were. Imagine how surprised the company must have been when the upstart Nest Labs came along and made the sleepy category it had taken for granted for decades so exciting.
Honeywell brought its first-generation Lyric smart thermostat in 2014, and it was clear who the old guard was going after. That first-generation model was problematic, but Honeywell has learned from its mistakes and the second-generation Lyric is much better. The stylish round appliance occupies a bit more wall space than the Nest, with a large glass display that has several touch-sensitive buttons, and a control wheel that rotates around its perimeter.
The Lyric is compatible with a broad range of HVAC hardware, including single- and multi-stage heating and cooling systems; heat pumps with and without auxiliary heat; geothermal and hot water heating; 24V gas fireplaces; and humidifiers, dehumidifiers, and ventilators. The Lyric doesn't absolutely require the presence of a C (common) wire, but we recommend using one.
Installation and Setup
The Lyric was relatively simple to wire up, guided by a well-illustrated user manual and a smartphone app that methodically takes you through each step. In fact, having an Android or iOS smartphone is pretty much a prerequisite for installing this thermostat. But I did encounter some complications while connecting the Lyric to my home network. The thermostat first establishes its own temporary network that you connect your smartphone to. Once you've made that connection, you can pass your home network's Wi-Fi login ID and password to the Lyric. I had to repeat this step several times before it finally took. It was a minor inconvenience, but tempered the fun of setting up a new gadget.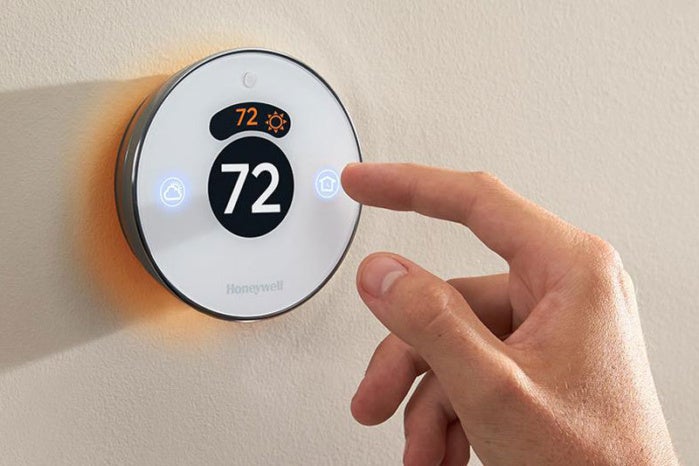 Compared to other similar apps, I would've have liked to see more tracking data on HVAC usage and some streamlining of certain key options. I found setting temperature ranges to be a bit confusing, especially through the app, though on the bright side, it does allow for six temperature changes for each day. The interface of the device itself is functional, but not terribly convenient. There's no touch screen, so changing settings from the Lyric requires a lot of turning the dial and pushing it like an oversized button.
Once set-up, the Lyric's main screen (and the app's home screen) is quite useful, displaying not just temperature settings and readings for inside your house, but the local weather, humidity, and other useful data. In combination with the app, you can use the Lyric as an HVAC monitoring system for second homes.
Features
Geofencing is a major element of the Lyric. Where the Nest Learning Thermostat relies mostly on its built-in motion sensor, the Lyric uses your phone's location to determine what state your HVAC system should be in. This, however, requires you to enable your phone's location-tracking service, which might be a deal breaker for people with privacy concerns. Once the app knows your location, it shows you a map view of your address with a circle around it.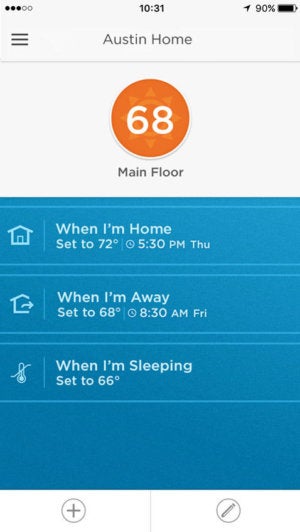 The edge of the circle indicates where the thermostat will activate its home or away settings. To tighten the range, just pinch the circle. You can also invite other members of your household to install the app on their smartphones—each person will need to create an account with Honeywell—so they can add establish their own geofences that will prevent the heater or air conditioning from shutting off when you leave the house and they stay.
I didn't find the geofencing to work flawlessly. The app sometimes had trouble synchronizing with the Lyric, and If you live in an area with spotty cell coverage, losing signal could make the thermostat think you're outside your geofence. The app must always be at least running in the background, too. Honeywell has been steadily improving its the app, however, and it now regularly pings the thermostat to try to offset sporadic connection problems.
Without fine-grained manual set up, any smart thermostat will need to experience a few days of your routine before it can most effectively establish a heating and cooling schedule. With the Lyric, it took just 48 hours before it was controlling the HVAC system reliably and intelligently. We just gave it the preferred temperature range and it did the rest. The Lyric's indoor humidity sensor was particularly useful in maintaining comfortable temps in my home.
Like any "smart" home device, the Lyric offers a wide range of compatibility with smart vents, Apple HomeKit, Samsung's SmartThings, Amazon's Echo, Google Home, and more (for a complete list, go here). While the list isn't quite as vast as the Nest's Made for Nest program, Honeywell is pushing hard to allow the Lyric to connect to as wide an array of smart devices as possible.
Bottom line
While it still has some flaws and refinement to work out, the Honeywell Lyric Round worked very well at learning my household's erratic patterns. Within a couple days, it sank into the background without any need for adjustment.