At a Glance
Expert's Rating
Pros
Very good sound across the frequency spectrum
Touch-sensitive control surface
Handy accessories included
Cons
Topples over too easily
Monophonic
Not rated for particle ingress
Our Verdict
The Libratone One Click is a fun, good-sounding speaker for fashion-conscious music lovers.
Best Prices Today: One Click Bluetooth speaker
Libratone marches to a different drummer than most other Bluetooth speaker manufacturers, and that's fine with me. I liked the Danish company's cylindrical Zipp speakers when I reviewed them last year, so I've been looking forward to hearing the newer—and quirkier—One Click.
The One Click derives its name from the touch-sensitive dial on its face. You touch this once to play or pause your music (or to answer and end a phone call, as it can also function as a speakerphone), and you slide your finger around it to adjust the volume. LEDs light up to show the volume level. A quick tap on the power button when the speaker is on lights up LEDs to inform you of the battery level. Libratone says the speaker should run for up to 12 hours on a charge. I logged at least 10 hours of listening over several days and there was plenty of juice left.
Mentioned in this article
Zipp
Price When Reviewed:
$299
The quirkiness relates to the removable aluminum-and-rubber frame that wraps around the speaker. Punch-outs (two on each side and one on top) let you attach either a rubber strap or a shorter, but equally rubbery loop for hanging the speaker. You'll probably want to use one or the other, because it can be difficult to balance the relatively skinny speaker on its bottom or on its side—it topples over all too easily. I either hung it or leaned it against something—a wall, a stack of books, or whatever else was handy—whenever I listened to it.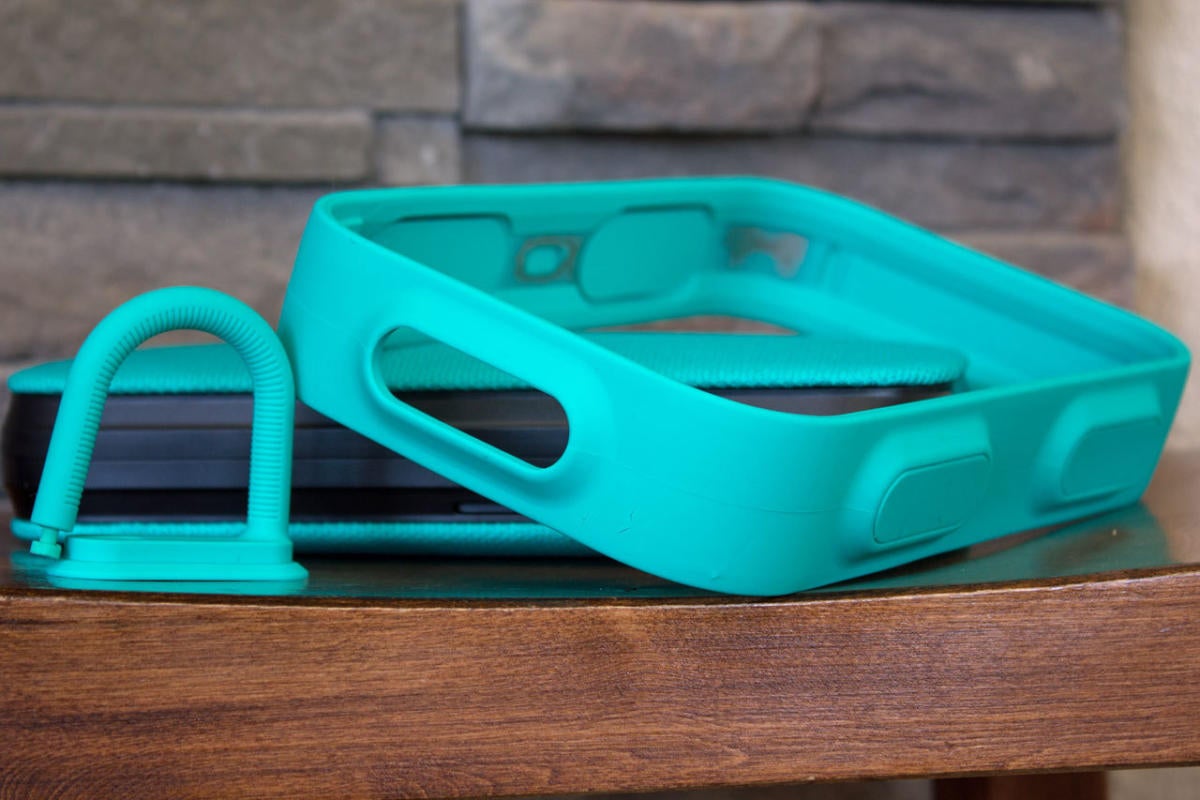 If you could remove the One Click's cloth (you can't), you'd find a generously sized 3-inch woofer, a 1-inch tweeter, and a passive radiator mounted inside a rugged ABS enclosure (the speaker weighs 2 pounds). I'm not sure how easy the cloth grill is to clean, but the speaker itself carries an IPX4 rating for weather resistance. That means it's not rated for particle ingress, but it is protected from splashing water—so beach or poolside use is fine, as long it's protected from sand and water immersion.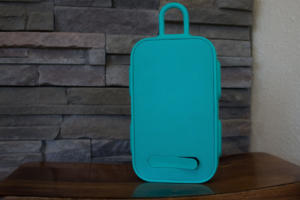 The drivers are arranged to deliver 360-degree sound, so it doesn't matter how the speaker is oriented. Having said that, the One Click benefits greatly from having a bit of space and a vertical surface behind it to reflect its sound. Yeah, that kinda defeats the 360 concept, but so will having the speaker fall on its face or its back.
The One Click is a very good near-field speaker that can also fill a small room with sound. It's easy to forget that you're not getting stereo (you can link a second Libratone speaker—you're not limited to another One Click—to the first, but that doesn't deliver a left/right sound stage). The speaker's propensity to tip over is its biggest shortcoming, but that largely goes away if you can find a good place to hang it.
Best Prices Today: One Click Bluetooth speaker