At a Glance
Expert's Rating
Pros
The ultimate conversation piece for your home
App is reasonably simple, quick, and lots of fun
It's brighter than you think, though rated at just 100 lumens per triangle
Cons
The connecters are quite loose and require careful attention when wall-mounting
No SmartThings or Wink compatibility
Dangling power cord kind of ruins the whole effect
Our Verdict
What the Nanoleaf Aurora lacks in utility it more than makes up for in pure enjoyment.
Best Prices Today: Nanoleaf Light Panels
Some smart lighting solutions are designed to provide useful illumination. Nanaleaf's Light Panels are built strictly for fun.
The whole affair couldn't be simpler or much more obvious to use. The starter kit contains nine triangular panels (nine inches per side, which are bigger than you might think from the pictures) that fit together like a puzzle. Just slip a sliver of plastic (which looks like a SIM card) into one of the sides of a triangle and connect it to another triangle.
Nanoleaf changed the name of this product from Nanoleaf Aurora to Nanoleaf Light Panels, so this review has been updated accordingly.
Come up with whatever pattern of interconnected triangles your heart desires, then plug one of those triangles into a slim base that in turn connects to the wall. Presto, the whole affair lights up and begins cycling through a series of flashy, vibrantly colorful themes ranging from a glowing fire-like experience to a blue and white "snowfall" effect.
This review is part of TechHive's coverage of the best smart bulbs, where you'll find reviews of competing products, plus a buyer's guide to the features you should consider when shopping for this type of product.
Naturally, this is a smart device and a smartphone app lets you customize your own scenes, setting color and brightness, panel by panel. Much like a smart light, you can pick from a full color wheel of hues, or set up sweeps, fades, bursts, or any other number of effects. The obsessive inside all of us can easily get lost in this kind of thing for hours; but frankly, the Light Panel's beautiful pre-loaded scenes are hard to beat.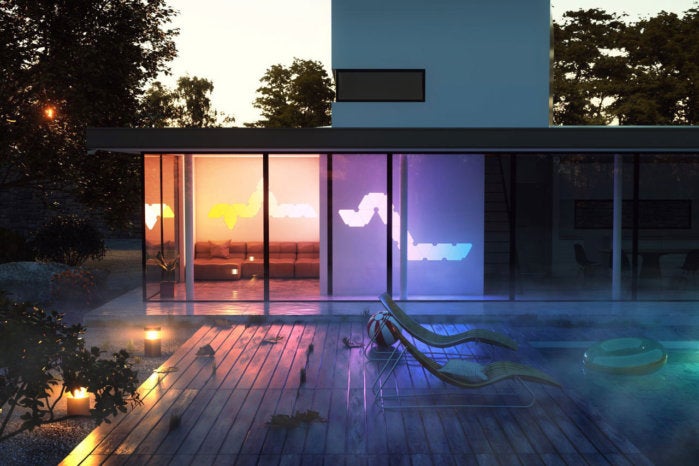 As a smart-home component, Aurora is both HomeKit- and Alexa-enabled. Functionally, this means you can tell Siri or your Echo to turn the Light Panels on or off, or to switch the theme to something else. If you're smart home-challenged, there are two small buttons on the base unit that let you manually turn it on or off, or cycle through all the scenes you have saved, one by one. Nanoleaf also offers a stand-alone remote control.
If you have other HomeKit lights in your house, you can control all of them at once through Siri. You can use the app to create a basic schedule, but that's the extent of what the app can really do. (The company also has a music visualization system called the Nanoleaf Rhythm. You can read our review of that product here.)
Mentioned in this article
Amazon Echo Plus (2nd Gen)
Price When Reviewed:
$164.98
Again, Nanoleaf Light Panels is primarily built for fun, not for function, so don't go looking for geofencing or SmartThings or Wink Hub 2 integration that would enable you set up a visual alarm (you can create IFTTT recipes, though). Heck, there's not even much of a means to keep the panels stuck together—or even attached to the wall—aside from some sticky tape Nanoleaf throws in the box. No matter how sophisticated you get with your themes, keep in mind you'll have a rather homely power cable dangling down off the wall, so plan accordingly.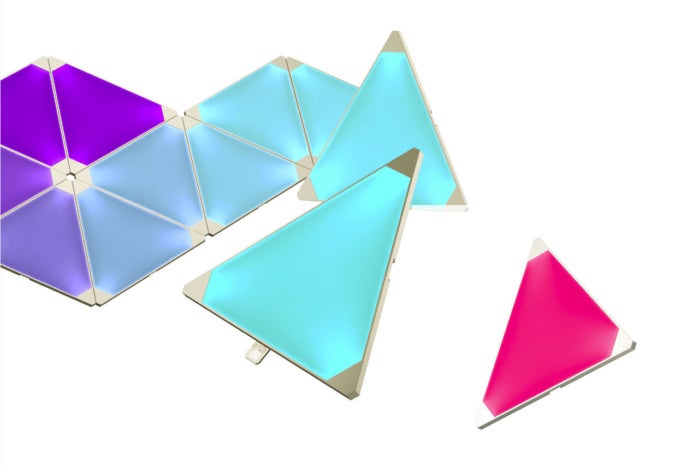 Is $200 too much to pay for nine plastic triangles that light up and make pretty patterns on your wall? I don't think so, even if that money could go a long way toward proper color LED smart bulbs that you can actually read by.
But hey, you're either on board with this concept or you're not, and if it sounds appealing to you, the best news of all is that you don't have to stop at nine triangles. Pick up an add-on kit or two ($60 for three panels) and you can connect up to 30 panels in total per system.
Best Prices Today: Nanoleaf Light Panels