At a Glance
Expert's Rating
Pros
Great video quality
Can connect with Z-Wave smart home products
Can be used with ADT monitoring service (subscription plan)
Cons
Can't view or store recorded video without a paid subscription
No free cloud storage option
Our Verdict
The LG Smart Security camera is a great option for those who want affordable professional monitoring. Those interested in strictly DIY security should explore other options.
The DIY home security movement driven by the proliferation of affordable, easy-to-use wireless cameras was supposed to be a smug nose-thumbing at pricey professional security firms like ADT. So it raised a few eyebrows when LG announced its Smart Security Wireless Camera ($200) would be built around ADT's new standalone monitoring service.
Update: LG has informed us that this product is being withdrawn from the market, and that consumers who purchased one are entitled to a refund. Here is the full statement:
Effective February 20, 2018, LG and ADT will discontinue the LG Smart Security device and associated ADT professional security services. Consumers who purchased the LG Smart Security product, which rolled out in very limited quantities at select retailers earlier this year, can receive a full refund for the original retail value of the product after submitting their product information to www.LGSSProductRefund.com.
LG is a leader when it comes to developing and delivering smart products that enhance consumers' lives. While we are discontinuing LG Smart Security, we are expanding our smart device offering with an expansive line of connected products across our home appliances, home entertainment and mobile devices – including the most extensive range of Wi-Fi enabled appliances available today.
Unlike most IP security cameras, nothing about the the LG Smart Security Camera's design reveals the device's true purpose. In fact, you'd be hard pressed to recognize the 3-inch-tall black cone as a camera at all—you really need to get close enough to spot the 5MP lens sitting behind a square of black plastic near the top. Thanks to its unconventional design, this is a camera you can hide it in plain sight despite its significant girth (2 inches at the base, and 5 inches across the top).
That lens has a 130-degree field of view and captures 1080p video. It's flanked by two IR LEDs that provide up to 15 feet of night vision. Below this is a strip-thin status LED that changes color to indicate Bluetooth pairing, Wi-Fi connection, or downloading and installing updates.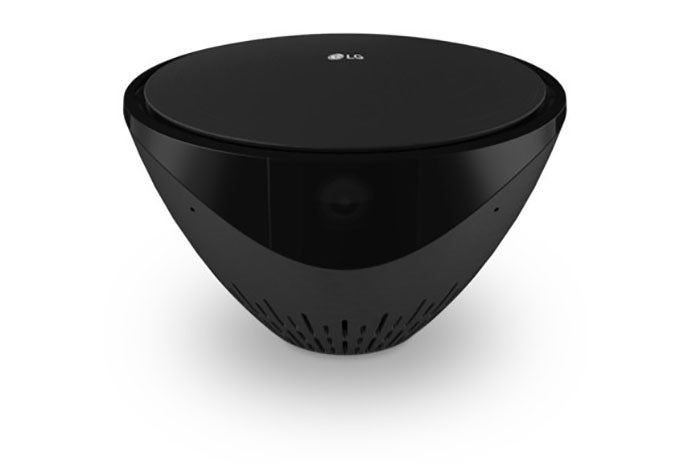 The camera includes a built-in mic and speakers for two-way communication. It also houses temperature and humidity sensors for monitoring your home's climate, and a 93dB siren you can trigger to ward off intruders. It also includes Z-Wave technology for controlling compatible smart devices.
Out of the box, you can view live streaming video, receive email and push-notification alerts, and create custom event schedules to control your compatible connected-home devices. To view recorded surveillance video, however, you'll need to purchase an ADT Canopy Secure Video Storage plan: $10 per month for seven days of video history, or $30 per month for 30 days of history.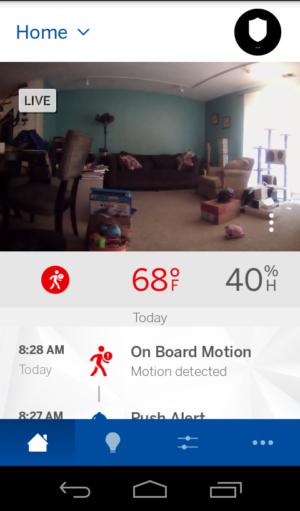 For added security, the camera also comes with an Intrusion Detection offer: ADT's professional security monitoring service will contact you when an alert is triggered and send emergency personnel if you don't respond. This plan also lets you remotely arm and disarm the camera. Intrusion Detection is available for $20 per month, or as part of a bundle with Secure Video Storage for $25 per month with seven-day video history or $40 per month with 30-day history.
It's notable that there is no free option or trial offer for either of the plans as we've come to expect with home security cameras.
Setup and usage
Setting up the LG Simple Security Camera consists of plugging it into a power outlet, downloading the ADT Canopy app, and creating an account. Once you've registered, the app prompts you through the steps of pairing with the camera and connecting to your home's Wi-Fi network. Within five minutes, the system was up and running.
The 1080p video was of comparable quality to the better security cameras I've reviewed—sharp with vibrant colors in daytime mode, detailed with good contrast with night vision on. Fisheye distortion was barely discernible at the top of the frame.
The ADT Canopy app home screen is laid out for at-a-glance information. Current temperature and humidity are displayed under the live feed window and are updated as they change. They consistently mirrored the readings on my thermostat and indoor hygrometer within a degree and percentage respectively. The bottom half of the home screen is devoted to an activity log that updates each time motion is detected, the temperature or humidity fall out of the range you set, or an alert is sent.
At the very bottom of the home screen are icons for accessing the Devices and Activities screens, a menu of further settings, and returning back to the home screen.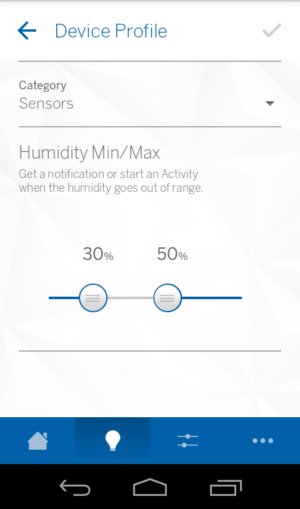 The Devices screen is where you access all devices connected to the hub—not just Z-Wave devices, but also the camera itself and the motion and environmental sensors. This last part is a head-scratcher—it's not clear why built-in equipment listed as "devices" along with third-party appliances like a connected Amazon Echo or a smart light switch, and it's likely to cause some confusion at first.
Nonetheless, you can adjust any attached device's settings from this tab, for example adjusting the motion sensor's sensitivity or defining the upper and lower temperature and humidity thresholds that will trigger an alert.
Overall, the camera's alerts were timely and accurate. Particularly useful, was the "People" setting for motion detection. I toggled this on when just my dog and cats were home, and and sure enough their various passings in front of the camera did not trigger an alert, as they do with virtually every other camera, but it did when I walked in front of it. I found the camera app will also identify certain motion as "tampering" rather than movement, as it did when I picked it up to reposition it. That's a cool trick, and one that can tip you off to an actual intruder.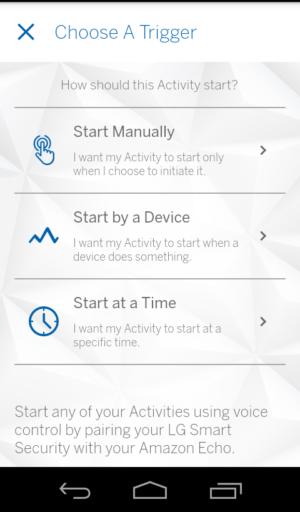 On the Activities tab, you can create rules for working with any Z-Wave devices you have attached to the camera. The app makes this exceedingly easy, prompting you to choose a trigger—these can be initiated manually, by a device, or at a scheduled time—and a corresponding action. You can also start activities with Alexa voice commands if you pair the camera with an Amazon Echo.
Bottom line
In terms of features and performance, LG's Smart Security camera holds its own with our top-rated models. What sets it apart are its ADT plans: You'll need to pay a minimum of $10 just to view and store recorded video.
Similar all-in-one monitors—like Canary and SpotCam's Sense Pro HD—give you a day's worth of video history gratis before you have to upgrade to a paid longer-term plan. The Piper NV, meanwhile, offers this essential security camera component completely free of charge. In that light, you might pause before pulling the trigger on this purchase.
But what will likely determine whether or not the LG Smart Security Wireless Camera is for you is how strongly you feel you need professional monitoring to bolster your own home security efforts. If the idea of ADT having your back gives you more peace of mind, then the $240 to $480 per year you'll pay on top of the cost of the camera probably won't bother you.