The new Nest Cam IQ might look like an indoor version of the Nest Cam Outdoor we reviewed last fall, but product manager Maxime Veron says this is a truly new product. "Everything to date was an iteration on the Dropcam platform from 2009," Veron said in a briefing last week. He described the Nest Cam Outdoor "as a bit of a side project. The main project for our camera team was really this one [the Nest Cam IQ]. All our efforts were put behind it to really make it of its class."
Mentioned in this article
Nest Cam Outdoor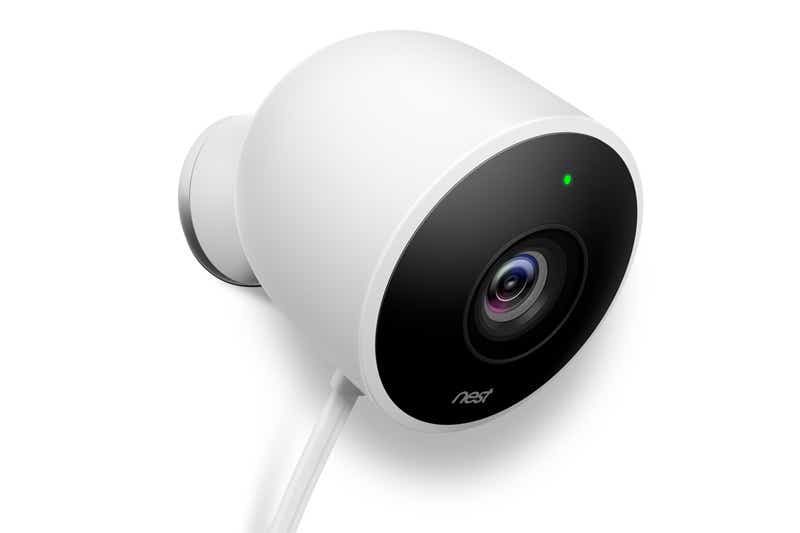 Price When Reviewed:
$199.00
When it ships in about a month, the $299 Nest Cam IQ will be outfitted with an 8-megapixel image sensor that's capable of 4K resolution with HDR (high dynamic range) imaging. But you needn't worry about slamming into your ISP's bandwidth cap as the camera uploads video 24/7. "It would just explode everybody's internet bandwidth," Veron said, "but we use it to create best-in-class 1080p output," including a 12x digital zoom. A pair of 940nm infrared LEDs provide night vision without the telltale red glow that's typical of other security cameras.
The Nest Cam IQ is outfitted with a six-core processor that's capable of running some algorithms locally, instead of in the cloud. This eliminates the need for a Nest Aware subscription to get what Nest calls Person Alerts—a message with a zoomed-in photo informing you that a person has been detected in the camera's 130-degree field of view. Another feature called Supersight provides a picture-in-picture view with a full view of your room, plus a close-up tracking view of any person in the room.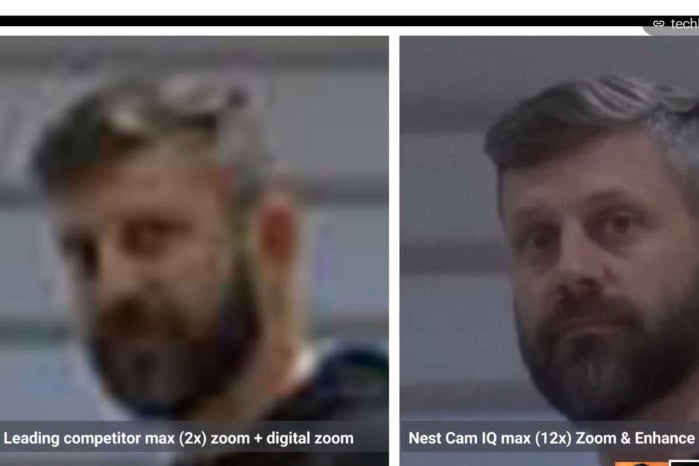 Earlier Nest Cam models will continue to require a Nest Aware subscription to receive person alerts, and most Nest Cam IQ users will want the subscription service to get other features that do require cloud processing. These include Familiar Face Alerts, which you can use to teach the camera to differentiate between family members and strangers (unlike the Netatmo Presence outdoor camera, the Nest Cam IQ won't send an alert if it detects an animal).
Another cloud feature is Intelligent Audio Alerts, which notify you when a person is talking or your dog is barking. You'll also need a cloud subscription to create custom clips and time-lapse videos that you can share with friends or provide to the police as forensic evidence after a break-in.
Mentioned in this article
Nest Cam
Price When Reviewed:
$199
Veron said Nest has also improved the camera's talk-and-listen feature, with speakers that are seven times more powerful than the Nest Cam Indoor. There's also a three-way microphone array that provides noise suppression and echo cancellation for two-way conversations (to enhance privacy, a blue LED ring lights when this feature is in use, and a green LED glows when someone is remotely viewing through the camera). An update to be delivered later this summer will eliminate the need to push a button on the app when you want to talk and then push it again to listen. You'll be able to have a two-way conversation just as you would on a phone.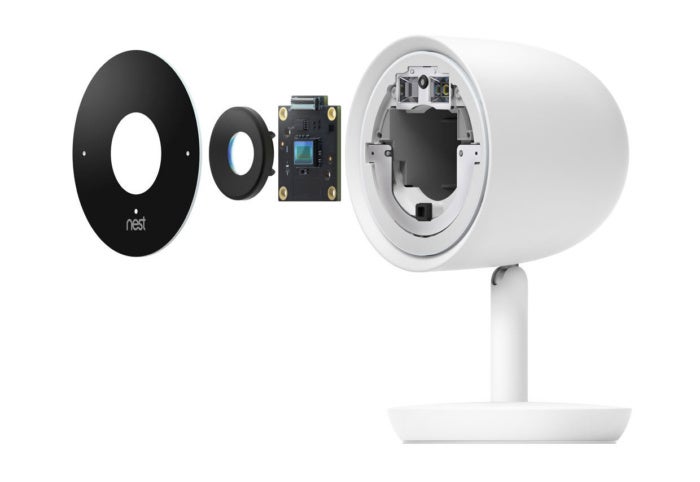 Nest is taking Nest Cam IQ pre-orders now, offering a $100 discount if you buy a $498 two-pack. The company expects to deliver the camera in about a month (we've been told we'll have review units in mid June). Nest will continue to offer the first-generation indoor Nest Cam and the Nest Cam Outdoor ($199 each). Nest Aware subscriptions cost $10 per month ($100 per year) for the first camera and $5 per month ($50 per year) for each additional camera. That buys 10 days of cloud storage. A storage plan with 30 days of video history costs $30 per month ($300 annually) for the first camera and $15 per month ($150 annually) for each additional camera.