At a Glance
Expert's Rating
Pros
Brings Wi-Fi streaming, via DTS Play-Fi or Apple AirPlay, to any audio setup
Anthem Room Correction works audio wonders
DTS Play-Fi supports high-resolution audio streaming
Cons
Does not support Bluetooth
Can't read files stored on USB media
Our Verdict
The Unison wireless pre-amp can not only stream music using your choice of DTS Play-Fi or Apple AirPlay, it also offers one of the best room-correction solutions on the market.
MartinLogan is best known for building high-end electrostatic loudspeakers, but the company has been dipping its toes into the streaming-audio market for the past few years. The $399.99 Unison is a case in point.
Unison is a specialized stereo preamplifier that can also stream music over your Wi-Fi network. In that respect, it's similar to multi-room audio components from Sonos, Denon (Heos), and Yamaha (MusicCast). But where each of those manufacturers limits you to using its brand of equipment, Unison is wonderfully flexible: You can stream from just about any source to any destination that supports either DTS Play-Fi or Apple AirPlay. You'll find a list of compatible products with a wide range of price tags and capabilities on the DTS Play-Fi website.
You can easily create a whole-home audio setup consisting of Play-Fi clients (DTS recommends limiting deployments to 32 devices) and control them individually or in groups (zones). Each zone can support up to 16 grouped speakers, and you can stream to as many as four zones at once from the same device. As many as eight people can stream different music from different devices to different speakers at the same time. Note that I didn't evaluate these scenarios.
You can connect nearly any analog or digital audio source to the Unison, ranging from a CD player to a turntable (remember, the Unison is a preamp), and stream music from that device over your home Wi-Fi network to any audio component (self-powered speakers or another Unison, for instance) that also supports Play-Fi or AirPlay. Alternatively, you can connect the Unison to a pair of self-powered speakers—or a two-channel amplifier driving a pair of passive bookshelf speakers—and stream music to it from a network source or any Play-Fi or AirPlay source device (including another Unison).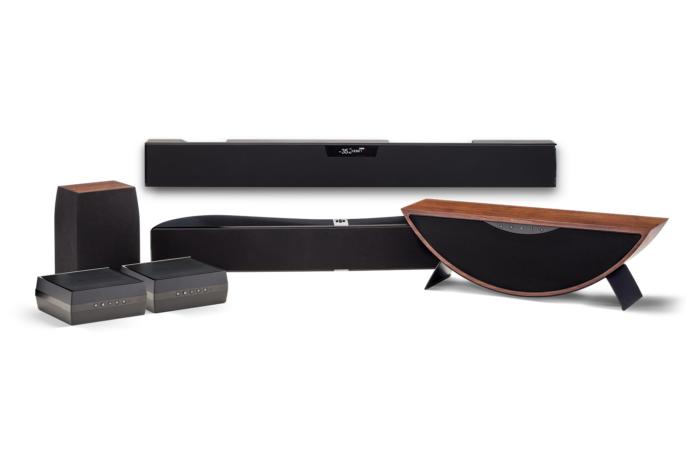 As a bonus, Unison also incorporates Anthem Room Correction (ARC), which can adjust the Unison's audio performance to compensate for any acoustic anomalies your room presents. I'll discuss that in greater detail in a bit.
Connectivity
The Unison is equipped with analog stereo RCA inputs as well as an S/PDIF (optical) connector input. Its one USB port is reserved for servicing the unit, so you can't stream from a USB storage device, but you can stream from network storage. Each of these inputs is mirrored by a corresponding output. That means you're covered, whether you wish to output audio to an A/V receiver, an outboard DAC, an amplifier, or self-powered speakers. The Unison also has a 12-volt trigger that enables it to trigger outboard devices (such as to turn an external amplifier on and off).
An ethernet port is provided for those who prefer the absolute reliability of hardwired network connections, but most buyers will avail themselves of the onboard 2.4/5GHz 802.11n adapter. Bluetooth is not supported, so you'll want to install the DTS Play-Fi and/or Apple AirPlay apps to control the system with your smartphone, tablet, or PC (there is no DTS Play-Fi MacOS app).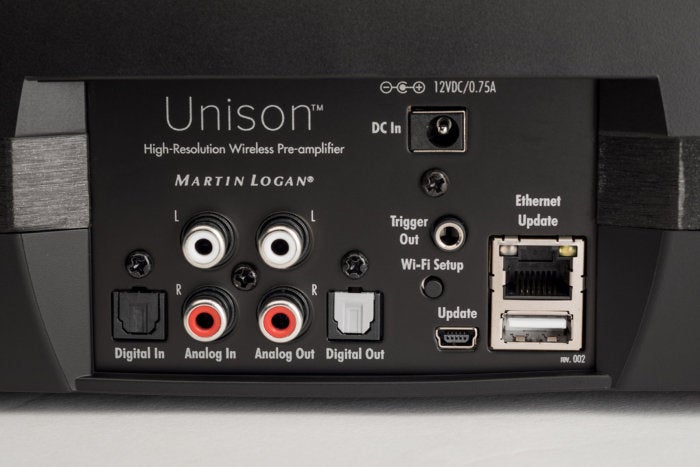 Using the Play-Fi app, you can stream music from any DLNA server on your network (DTS has tested Plex, Twonky, Serviio, and Logitech Media Server for compatibility). I used Twonky. iTunes is also supported. Play-Fi can stream AAC, AIFF, FLAC, M4A, MP3, and WAV files with up to 24-bit resolution and sampling rates as high as 192kHz, with a significant caveat: You're limited to streaming such high-resolution files to a single Play-Fi client in what DTS calls Critical Listening mode (available only from the Play-Fi app).
In any other scenario, Play-Fi will down-sample higher-resolution streams to 16-bit/48kHz. Files up to 16-bit/48kHz, meanwhile, are streamed without compression or down-sampling. Tracks streamed using Apple's AirPlay are automatically converted to Apple Lossless, with 16-bit resolution and a sampling rate of 44kHz (that's part of the AirPlay standard).
You can also stream from most of the popular music-streaming services, including Amazon, Google Play Music, Xbox Live, and YouTube. And since the Play-Fi supports Spotify Connect, you can stream directly to the Unison from the Spotify app (this requires a Spotify Premium subscription, a restriction imposed by Spotify). Apple Music subscribers can use that service from within the AirPlay app, but not the Play-Fi app.
Switching back and forth between Play-Fi and AirPlay is a minor hassle: You must first stop the Play-Fi source before you can switch to AirPlay. In addition, AirPlay is an optional feature that Play-Fi partners can either support or ignore. That's something you should consider if you're an Apple user who intends to mix and match Play-Fi devices.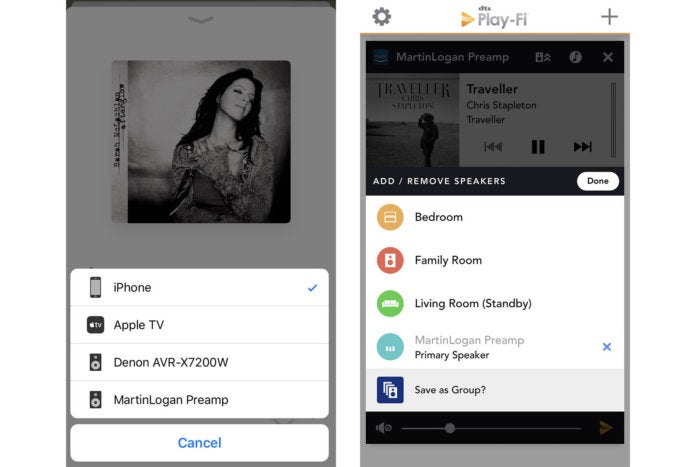 ARC shines
I evaluated the Unison in my home theater, which is anchored by a Denon X7200WA A/V receiver, a Monoprice Monolith 7 200wpc amplifier, and SVS Ultra Tower speakers. The Denon itself supports AirPlay, but not DTS Play-Fi.
Many are under the impression that if they buy a high-quality speaker and plunk it in a room, they'll get great sound. It's not so simple. The room's dimensions, the angles of the walls, the number and placement of windows, where you place the speakers, and even the furniture in the room all have significant impacts on how things will sound. A room-correction system will analyze the room and then apply corrective filters to compensate for any acoustic shortcomings it detects. My Denon receiver has its own room-correction solution, which I disabled for this review.
ARC is widely praised as one of the best room-correction solutions on the market. Unlike some of its competitors, which try to correct for frequencies all the way up to 20kHz, ARC limits its correction to 5kHz and below. More isn't always better. ARC is particularly adept at handling lower frequencies. Where other systems I've tried suck the life out of bass, ARC expertly compensates for the amount of bass reinforcement (aka room gain) in your room.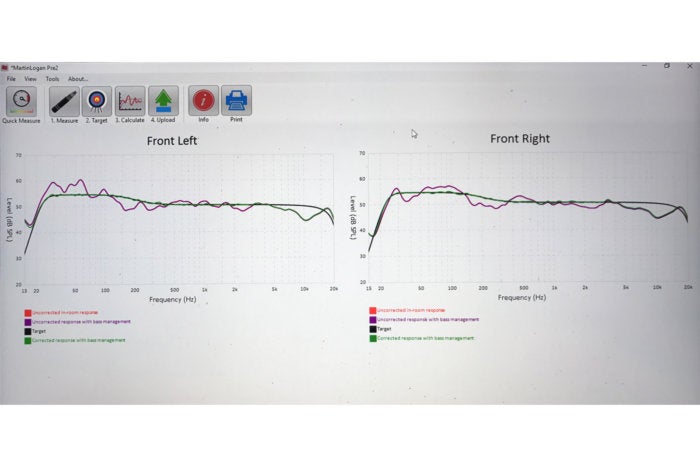 You can operate ARC with the provided microphone and Windows software, or you can run it from an iOS device using the phone's or tablet's built-in mic. Both approaches are easy and fast, but I used the Windows version because it presents before and after graphs and allows you to tweak its adjustments to your liking. I've performed dozens of ARC calibrations over the years using different speakers and rooms and have rarely needed to go beyond its recommendations.
Listening tests
I appreciated the difference ARC made from the first note. Listening to several tracks with deep bass lines, including Jesse Ware's "Wildest Moments," from Devotion, revealed just how good things sounded. Bass lines were taut and constantly under control while always pounding out every ounce of impact.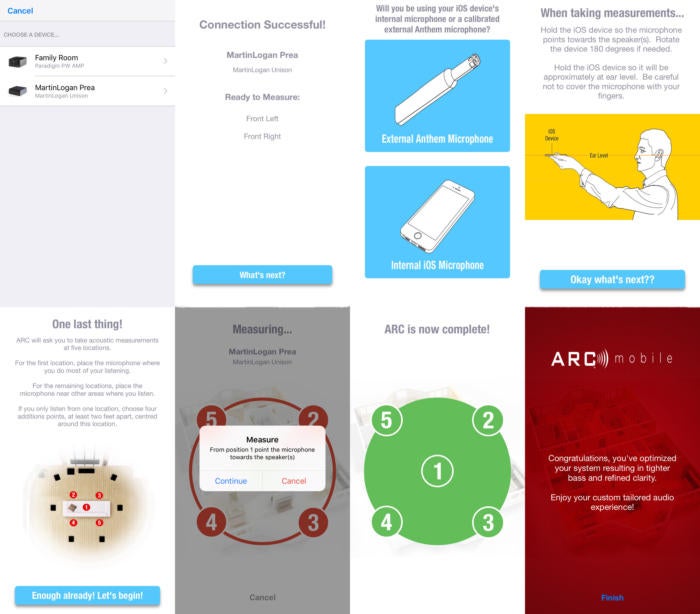 I played a wide variety of genres (jazz, classical, rock, pop) from different sources. Whether it was losslessly ripped CDs on my music server or FLAC files streamed from Tidal, everything sounded oh so right. Playing Amy MacDonald's "This is the Life," I noted how beautifully balanced and natural the sound was. I also listened to several Norah Jones albums, including …Featuring. I loved how Jones' breathy vocals come across as well as those of the artists she was singing with. ARC did a beautiful job of taming midrange anomalies. Whether it was Alirio Diaz's masterful work on Spanish guitar or sitting back and getting lost in Adele's 21, the MartinLogan Unison mastered pretty much everything I threw at it. Sonic bliss.
I then connected my Pro-ject turntable to the Unison's analog inputs and bingo! I was streaming my vinyl LPs to Play-Fi components in different rooms around my house. How cool is that? My only minor complaint was that I wish DTS made it easier to stream analog sources. Once I got it set up, however, it was flawless.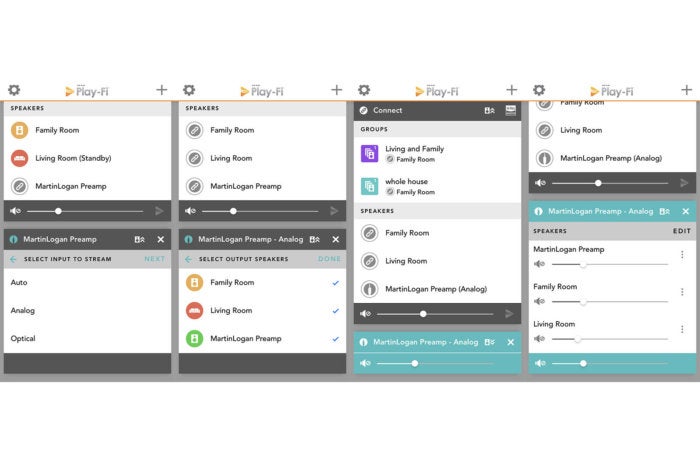 A smart addition to any setup
I simply loved the MartinLogan Unison. It lets you convert virtually any analog or digital audio component into a multi-room audio node using your choice of DTS Play-Fi or Apple's AirPlay. The inclusion of ARC is icing on the cake that enables the gear it's connected to to deliver the best performance possible from the room that it's in. The Unison is a no-brainer recommendation.