With the advent of smaller cameras there followed more hand-held cinematography, and thus more shaking, nausea-inducing movies. Many of this week's new and notable streaming movies celebrates smooth camerawork, with attention to space, depth, movement, and rhythm—all of which looks great on a TV screen as well as on a movie screen.
To demonstrate, we have an Oscar-winning drama, an action-packed crime film, a story about two generations of men, a giant monster movie, a movie about a kidnapper with dissociative identity disorder, and a nightmarish story—literally Kafka-esque—about a man accused of an unknown crime.
Mentioned in this article
Amazon Fire TV Stick with Alexa Voice Remote (2016)
Price When Reviewed:
$39.99
Lower budget movies may feature grainier camerawork, or appear more washed-out, but the effect is no less deliberate. In a story about a one-night stand carried over into the next day, in a disturbing story of manipulation, or in a horror tale about a pregnant mother taking sinister orders from her unborn child, the camera placement is still expertly made.
It goes without saying that a classic from the 1940s—one that has become relevant again—as well as a stand-up comedy show and a TV series about a man and two robots watching films, are all incredibly well-shot. Enjoy your selection of savvy cinematography!
The Place Beyond the Pines (Netflix)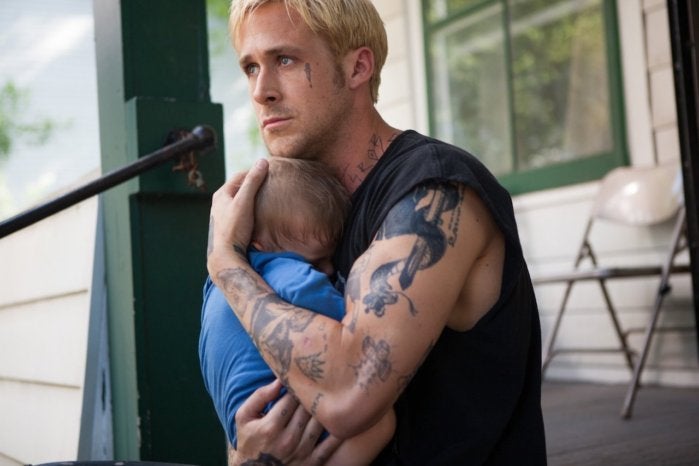 ★★★★☆
After his intimate relationship drama Blue Valentine (2010), writer and director Derek Cianfrance stepped it up for one of the most ambitious and complex character studies of recent years. Plus, its three-part structure and 140-minute running time make it perfect for streaming at home; just think of it as a three-part mini-series. The Place Beyond the Pines (2013) also has the benefit of featuring strong performances by many actors whose stars have only grown brighter. In the first section, a motorcycle stunt man, Luke (Ryan Gosling) discovers that his ex-girlfriend (Eva Mendes) has given birth to his child and he decides he wants to help. A mechanic friend (Ben Mendelsohn) offers him a chance to earn bigger money by using his motorcycle to rob banks.
A young cop, Avery Cross (Bradley Cooper) eventually intervenes and becomes a local hero. Years later, he runs for office, but struggles with a dark secret. The movie's final stretch deals with a confrontation between the two men's now-teenage sons, AJ (Emory Cohen) and Jason (Dane DeHaan). Rose Byrne, Bruce Greenwood, Ray Liotta, and recent Oscar-winner Mahershala Ali co-star. Cianfrance's pacing is slow and deliberate, allowing time to absorb the littlest actions and their long-reaching consequences. It may be that the ultimate themes here are not particularly deep, but the characters and performances are strong enough to make this a memorable experience. Mike Patton, of the band Faith No More, provides the powerful, disquieting music score. [Note: Netflix offers this title for download and offline streaming on mobile devices.]
Medicine for Melancholy (Netflix)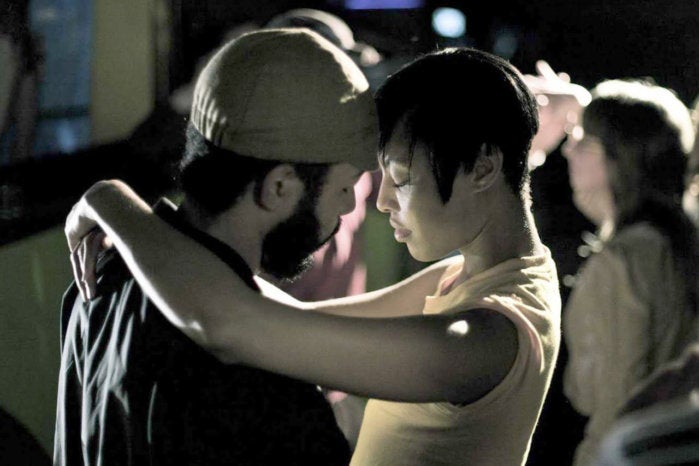 ★★★★☆
If, like me, you saw Barry Jenkins's Moonlight—that surprise Oscar winner for Best Picture—and loved it, then you'll be pleased to hear that Netflix is offering Jenkins's only other feature film, his earlier Medicine for Melancholy (2009). It's not quite as beautifully accomplished as the later film, but it has all the evidence of a talented filmmaker on the rise. It tells the simple story of a pair of African-American twenty-somethings, Micah (Wyatt Cenac) and Jo' (Tracey Heggins), living in San Francisco. They wake up together after a one-night stand at a drunken party, and despite Jo's initial reluctance, they unexpectedly wind up spending the whole day together.
Mentioned in this article
They wander around The City, visiting various places and striking up conversation. Micah learns that Jo' has a white, long-distance boyfriend, and eventually the talk turns to gentrification, the difficulty of being black in such an expensive city, and the difficulty of even finding places to live. Jenkins had not yet mastered the art of folding his messages into his story, and it can feel a bit preachy, but the dialogue and performances are so natural and engaging that it's not hard to forgive. His pacing is easy and sleepy, with most of the bold colors washed out to a nearly black-and-white color scheme (reds and pinks show up a little bit), and allowing room for the occasional music and laughter. It's a lovely movie. [Note: Netflix offers this title for download and offline streaming on mobile devices.]
Gentleman's Agreement (Netflix)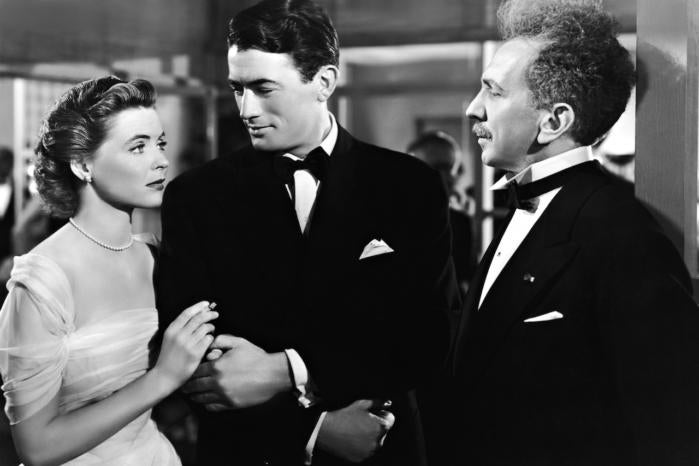 ★★★☆☆
This message movie, an early effort by the acclaimed director Elia Kazan, received eight Oscar nominations and won three Oscars, for Best Picture, Best Director, and Best Supporting Actress (Celeste Holm). It was far from the best movie of its year—that honor arguably belongs to Charlie Chaplin's Monsieur Verdoux—but as an earnest attempt to discuss anti-semitism in the United States, it was hard to beat. In the years after WWII, Gentleman's Agreement (1947) might have been forgotten, but now, seventy years later, following the tumultuous election season of 2016, it seems relevant again… even essential. Gregory Peck stars as a widowed, WASPy magazine journalist, Philip Schuyler Green, who decides to pass himself off as Jewish for eight weeks in order to report directly on anti-semitism. He has just begun a new relationship with his editor's niece, Kathy (Dorothy McGuire), and while she admires his crusade, she quickly finds it difficult to be around him.
Just about anything she says inadvertently comes across as prejudiced. ("But Phil… you're not really Jewish, are you?") To the movie's credit, it does explore this extremely touching tipping point. Indeed, Peck's character does seem instantly and overly sensitive to any and all slights against him, while McGuire's character calls for a bit less seriousness and stress in their relationship. Eventually Kazan and screenwriter Moss Hart sort it out and come up with a clear message: every person that believes in equality must say or do something, even if someone is simply telling an offensive joke. Regardless of how preachy or soft the movie might seem, Kazan was definitely gifted with actors, and the excellent cast makes many of the scenes come alive. A young Dean Stockwell plays Peck's son.
Demetri Martin: Live (At the Time) (Netflix)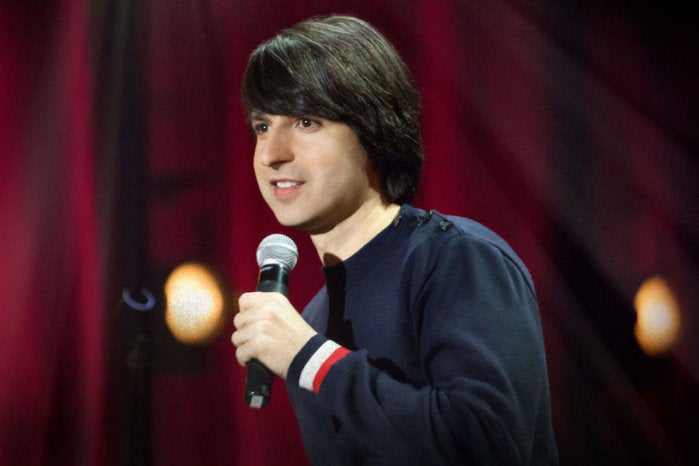 ★★★★☆
Comedian, TV writer, and actor Demetri Martin has made his feature filmmaking debut with the wonderful Dean, soon to be released in theaters. Meanwhile, fans can enjoy this low-key but very funny Netflix original standup comedy special. Running just over an hour, Demetri Martin: Live (At the Time) (2015) does not employ any of Martin's terrific, funny artwork or sketches, but it does include one of his trademark guitar-playing segments. Martin has made no bones about being influenced by 1980s comic Steven Wright, and his act is extremely similar, consisting of brilliant one-liners that seem to have come from another universe. He has a longish bit about pets, but then he drops something like "I have an L-shaped couch… lower case."
Mentioned in this article
Roku Premiere+
Price When Reviewed:
$99.99
Or there's an observation that prune juice is a fallacy, since prunes are already juiced plums… why isn't it plum juice? "How hard are we squeezing these prunes?" he wonders. And then he moves on. It's sometimes difficult to reveal anything personal in an act like this one but Martin does it in small pieces. He admits that, for whatever reason, death seems to come up frequently in his material; he doesn't seem to know why and doesn't try to explain. He just embraces it. Then, there's a joke about those little holes in crackers… the audience laughs intermittently and then Martin says, "that joke never works, but I like it, so I keep it in." I admire a comedian who can do that. [Note: Netflix offers this title for download and offline streaming on mobile devices.]
MST3K: Cry Wilderness (Netflix)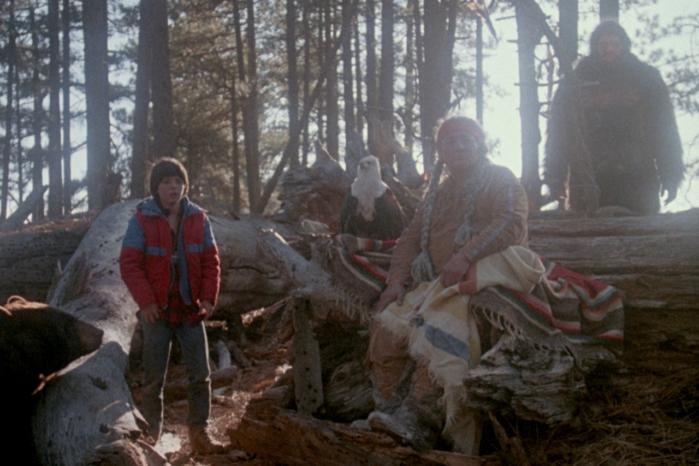 ★★★★☆
The brand-new, eleventh season of "Mystery Science Theater 3000" continues with Episode Two: Cry Wilderness (2017). Made in 1987, just a year before the madmen behind MST3K created their show, this horrendous piece of work was, perplexingly, written by the great Philip Yordan (Johnny Guitar, The Man from Laramie, El Cid, etc.), an Oscar winner. But this awful thing seems to have been aimed at kids, one of those productions that didn't bother with quality because, "hey… what do kids know anyway?" A kid with a weird bowl haircut gets a message from Big Foot that his father is in danger, so he escapes his prep school and heads to the "Wilderness" to help save him. He is eventually aided by a Native American guide and a sneering hunter.
The movie contains lots of adorable animals, but a disturbing scene in which the hunter tries to strangle a raccoon! The MST3K gang—Jonah (Jonah Ray), Crow (Hampton Yount), and Tom Servo (Baron Vaughn)—get plenty of mileage over the fact that the adults keep asking the kid to stay put, and the kid keeps running off. They make plenty of fun of the ever-changing landscapes; most shots don't match with one another (snow appears in one shot, and then bright sunlight and dry ground in another), as well as the costumes and hairstyles. The episode doesn't offer anything as awesome as the "Every Country Has a Monster" rap song from Episode One, but it's remarkable how smooth the transition between the old show and the new show has been. Nothing drastic has changed, but it still feels fresh. "Does anybody else have a weird rash?" [Note: Netflix offers this title for download and offline streaming on mobile devices.]
Compliance (Hulu)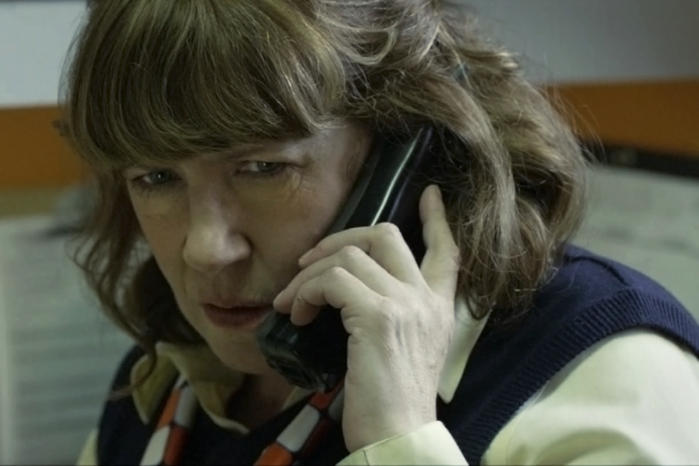 ★★★★☆
If you're watching The Handmaid's Tale on Hulu and, like me, admiring the coolly sinister performance of Ann Dowd as the "auntie," you might like to add this earlier performance to your watchlist. If Compliance (2012) had been released later in 2012 with a bigger marketing budget, Dowd might have received an Oscar nomination for her complex work here. She plays Sandra, the manager of a fast food restaurant. She receives a phone call from someone claiming to be the police, and accusing one of her employees, Becky (Dreama Walker), as being in possession of a stolen purse. Could she detain Becky until the police arrive? Sandra is uncertain, but concerned. Her brain is constantly struggling to make sense of it, but she complies.
Mentioned in this article
Apple TV (2015)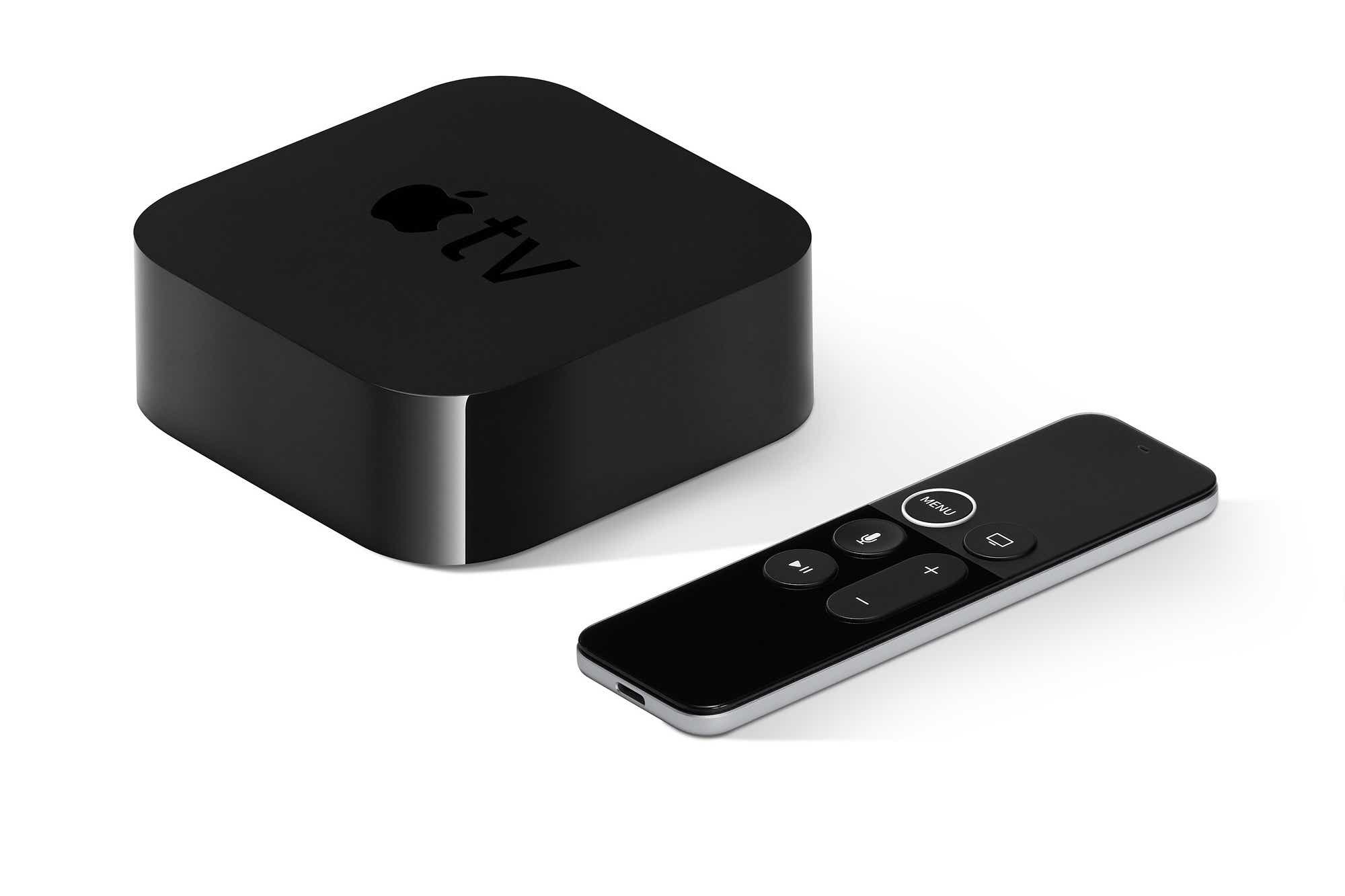 Price When Reviewed:
$149
The calls keep coming and the demands grow scarier and scarier, including a strip search. Eventually the film reveals that the officer in question is a fake: he's just some guy (Pat Healy) calling from his home, messing with people's heads. Things go much farther than you might ever expect or even imagine, and writer/director Craig Zobel tightens the thumbscrews with his intimate, constricted frames, making everything seem desperate and tense. As well made as the movie is, however, its greatest impact is to force everyone who sees it to examine his or herself. Would I have been suspicious? Could I have treated another human being like that? How far would I have gone?
The Host (Hulu)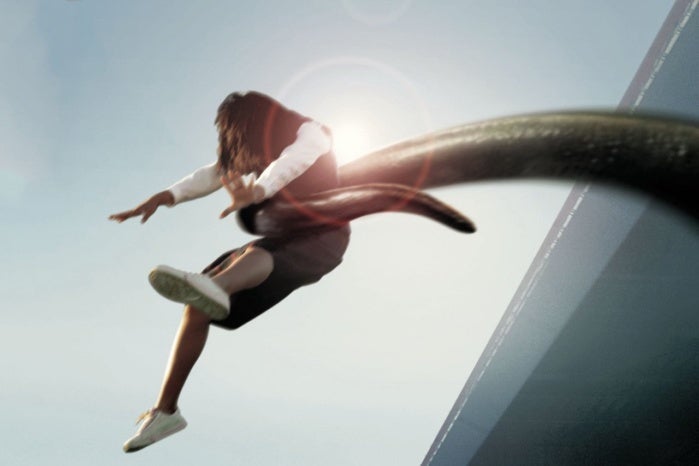 ★★★★☆
Giant monsters are back this year, from the big-budget Kong: Skull Island to the crafty indie Colossal, so it may be time to revisit one of the all-time best of the genre, Bong Joon-ho's The Host (2006), from South Korea. It caused a stir at the Cannes Film Festival, became one of the highest-grossing films in Korean history, and captured the hearts of the French critics at Cahiers du Cinema, who proclaimed it a masterpiece. I and many other American critics chose it as one of the best films of 2007. But what makes it so great? It begins, like most other giant monster movies, with idea that the monster was created due to human arrogance and waste: it grew from chemicals dumped in the Han River.
The movie has one of the best reveals in movie history as the monster drops from a mysterious sac hanging from a bridge, splashing into the river; the camera swivels around to capture the face of bystanders, and then back again as the creature emerges from the river and galumphs along the bank. Sweatpants-clad Park Gang-du (Song Kang-ho) is a single dad running a snack stand by the river and raising his clever daughter Hyeon-seo (Ko Ah-sung). When the monster snatches her, it's up to Gang-du and his family—including his sister, Nam-ju (Bae Du-na), a professional archer!—to get her back. In Bong's film, the monster is not the end-all, be-all. It's only there to remind us how good we have it here on Earth, and how quickly things can go wrong if we're not careful.
Manchester by the Sea (Amazon Prime)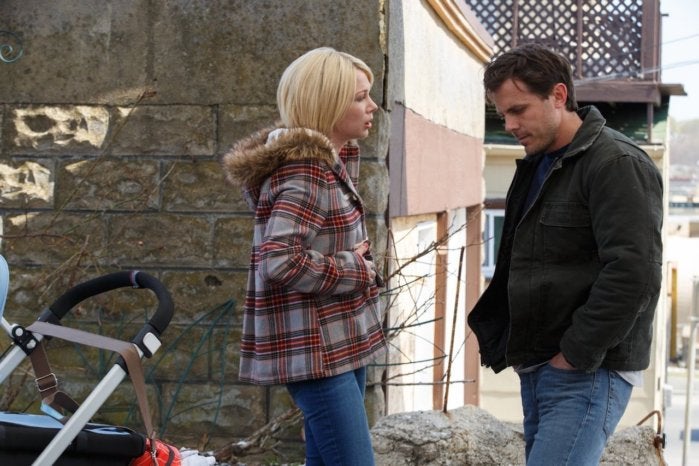 ★★★★☆
Amazon's very own production, the double Oscar-winner Manchester by the Sea (2016), comes home to its streaming service. It is a bit of a downer, steeped in loss, death, regret, and stagnation, but it's so beautifully written and performed, with the richness of a novel, and so deeply moving that it's easy to get swept up in its drama. It's a rare movie made by grownups, for grownups. Casey Affleck stars as Lee Chandler, a Boston handyman with an explosive temper. When his brother (Kyle Chandler) dies, Lee travels north to the small town of Manchester to handle his affairs. Much to his shock, Lee discovers that his brother has made him legal guardian of his nephew, the now-teenaged Patrick (Lucas Hedges).
Mentioned in this article
Amazon Fire TV (4K)
Price When Reviewed:
$100
The movie carefully explores all kinds of developments and setbacks, and each character has an inner life. Patrick plays in a band and casually juggles two girlfriends, not embarrassed to ask Lee for rides to his various conquests. Lee battles with his temper and his penchant for not getting involved, trying to figure out how to deal with the difficult funeral arrangements as well as what to do with the family boat (the source of many flashbacks). Michelle Williams is extraordinary in a very small role as Lee's ex (they share a tragic past), and Gretchen Mol plays Patrick's estranged mother, with Matthew Broderick incredible as her creepily religious second husband. Playwright and filmmaker Kenneth Lonergan (You Can Count on Me, Margaret) won an Oscar for his screenplay, and Affleck won one for Best Actor.
The Raid 2 (Crackle)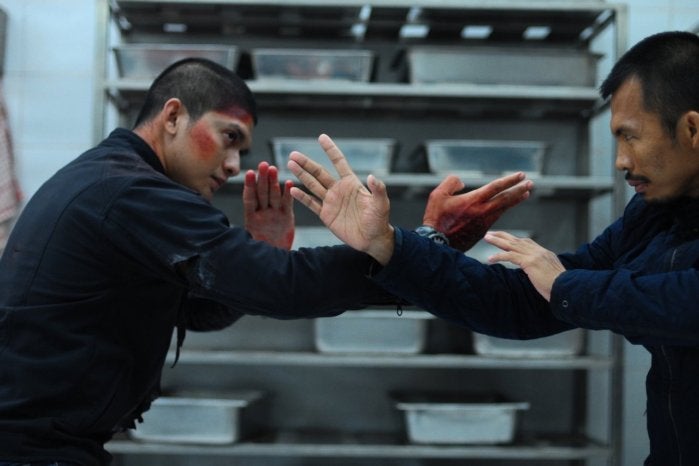 ★★★★☆
The previous entry, The Raid: Redemption (2012), was an incredible action movie, set almost entirely on one set: a building in which the good guys must get to the top, past ever-increasingly dangerous thugs, and then get back down to the bottom to escape. It was shot, with great skill and clarity, in Indonesia, by the Welsh-born filmmaker, Gareth Evans. How could there not be a sequel? The Raid 2 (2014) is every bit as good, but more sprawling and with a more complex crime story. It takes place just as the first film ends, barely giving poor martial arts hero Rama (Iko Uwais) any time to rest. (Uwais may be more familiar to Star Wars fans for his brief but memorable turn as Razoo Quin-Fee in The Force Awakens.)
Rama goes undercover in prison to befriend Uco (Arifin Putra), the son of a feared and respected gang lord, Bangun (Tio Pakusadewo). Rama manages to save Uco from an assassination attempt, thereby ensuring him a job with the father. But hothead Uco has other ideas about where to take the largely non-violent gang, and all-out war ensues. Director Evans does what most action directors do not do: he establishes a specific space, gives the lay of the land, before the fighting starts. The battlefields include a muddy prison yard, a nightclub with many different tiers and balconies, a warehouse, and the kitchen of a fancy restaurant. Every facet of these locations is used to full effect. Evans's gliding camera captures the battles through choreography rather than through frantic editing, and it's hugely exciting.
Prevenge (Shudder)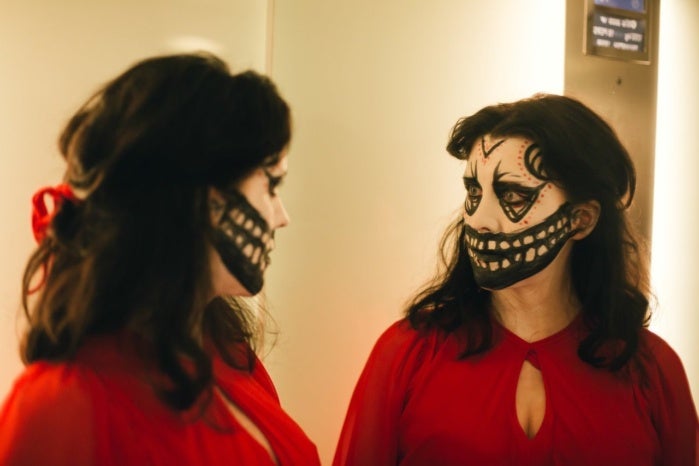 ★★★★☆
This Shudder exclusive is enjoying a 2017 theatrical release, but subscribers can see it from the comfort of their couches. Not that this is a comforting movie, although it is frequently quite funny, in an extremely dark way. Actress Alice Lowe apparently conceived (no pun intended) the idea when she was pregnant, and ended up writing, directing, and starring in the final result, Prevenge (2017). She plays Ruth, a very pregnant woman whose partner died in a mountain climbing accident; Lowe visually equates the red climbing ropes with blood-filled veins and umbilical cords, connections to life. Now, distraught, she visits a midwife that says her baby is in charge. So Ruth begins listening to her baby's sinister, high-pitched voice, as it urges her to kill.
Mentioned in this article
Roku Streaming Stick (2016)
Price When Reviewed:
$49.99
She seems to be targeting the climbers that let her baby's daddy fall, but she also seems to kill randomly; her targets include a large, balding DJ (Tom Davis) in a small dive bar and a career woman (Kate Dickie) who agrees to meet Ruth for a job interview. She even keeps a "baby book" of her murders. One man seems nice and Ruth decides not to kill him, but the baby speaks up and the choice is made. Lowe gives this a lot of grit and style, especially the climax set on Halloween night; it feels deliberately murky and smudgy, as if it were meant to be a "video nasty" or a grindhouse feature. It was filmed partly in Wales, and some Americans may find the accents a bit thick; this is one of those times that I wish Shudder offered optional subtitles.
Split (Vudu)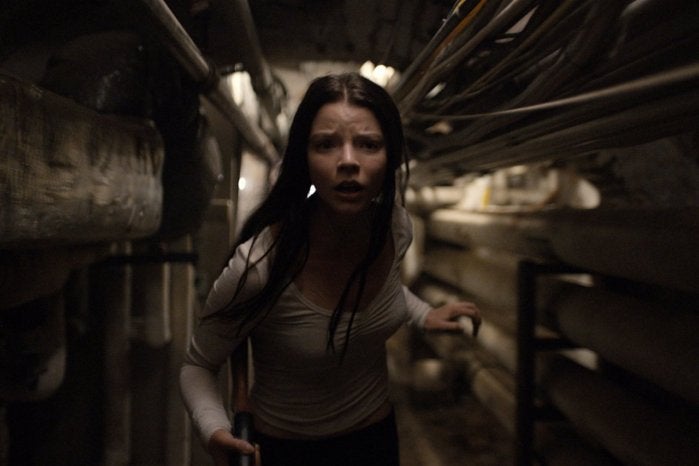 ★★★★☆
After disasters like The Happening, The Last Airbender, and After Earth, the once-beloved filmmaker M. Night Shyamalan stopped, regrouped, and came out with the low-budget found-footage film The Visit. His batteries re-charged, he dropped Split (2017) a year later, and the world seemed ready for it. In it, he seems confident, ready to return to the territory he blazed in The Sixth Sense (1999) and the cult favorite Unbreakable (2000). He was no longer trying to copy his earlier success, but rather attempting to build on it. As Split begins, three teen girls (Anya Taylor-Joy from The Witch, Haley Lu Richardson, and Jessica Sula) are kidnapped after a birthday party and locked in a windowless room.
Their creepy captor (James McAvoy) acts strange, holding conversations with himself and appearing to display different personalities. While the girls plot their escape, the man visits his therapist, Dr. Fletcher (Betty Buckley), who tries to communicate with these various personalities, some 23 in all. He warns her that a new one, "The Beast," may be coming soon, and it may have an appetite for young girls. This movie ventures into truly intriguing places, bending the line between realism and the supernatural, and exploring the elastic possibilities of the human form. Shyamalan's writing is cleverer than usual, doling out information sparingly, and his brand of camerawork—sustained shots and depth of space—is as good as ever.
The Trial (Fandor)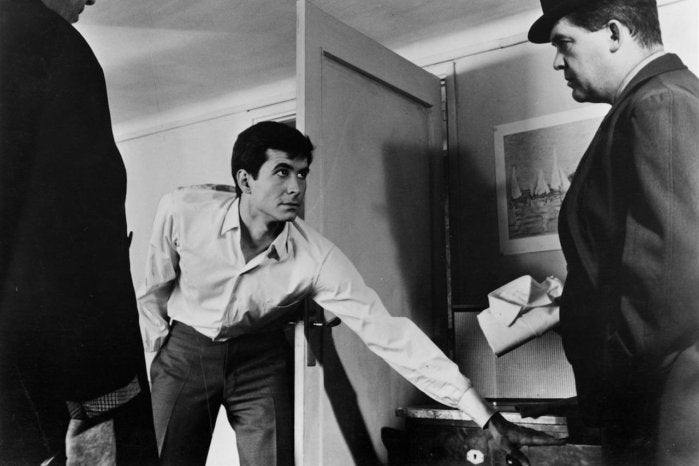 ★★★★★
Seventy-six years after his Citizen Kane (1941) and thirty-two years after his death, Orson Welles is slowly getting credit for some of the great work he did. After Kane, he directed at least another dozen films—some of them have yet to see the light of day—and contrary to popular opinion, most of these were quite good, masterful even. Though Welles never again had the amount of control that he was given on his celebrated debut, The Trial (1962) is notable for being close. Based on Franz Kafka's novel, it was filmed all over Europe and produced by Alexander Salkind, who later went to Hollywood to make the hugely popular Superman film. Nevertheless, money was tight, and, as on many of his other films, Welles was forced to invent and improvise. The result is stunning, and Welles announced that it was the best film he had ever made.
Mentioned in this article
Nvidia Shield TV (2017)
Price When Reviewed:
$199.99
In a great, twitchy performance, Anthony Perkins plays Josef K., a man who wakes up to discover that he has been accused of some unnamed crime. He is not told what he has done, nor is he arrested. He proceeds to go about his day, but things get stranger and stranger. With an uncanny use of deep-focus, black-and-white cinematography, and strange, cavernous sets, Welles comes as close as any filmmaker in history to capturing the unique visual and aural rhythms of a nightmare. Through this deeply harrowing, funny, and astonishing experience, Welles perhaps reveals something intimate about himself, and about all of us. Jeanne Moreau, Romy Schneider, Elsa Martinelli, and Akim Tamiroff co-star, and Welles himself steals a few scenes as "The Advocate."