At a Glance
Expert's Rating
Pros
Large display
Excellent PDF handling
Expandable storage
Capable or running Android apps, which greatly expands the amount of content available to users
Cons
Low display resolution makes reading less enjoyable than on comparatively priced hardware
Sluggish performance renders many basic apps, like Amazon Kindle and Instapaper, frustrating to use
Proprietary Android app store is an unknown quantity that could leave your personal information vulnerable
Our Verdict
With its low display resolution, sluggish performance, and questionable app security, you'd do well to avoid this Android-powered e-reader.
Best Prices Today: InkBook 8
The Midia InkBook 8 has similar dimensions to Kobo's Aura One, measuring 6.5 by 1.3 by 8.9 inches and sporting an eight inch e-ink display. It weighs just a bit more than its Kobo counterpart, coming it at just under nine ounces. In exchange for the e-reader's extra heft, you'll gain a microSD card slot that can use cards with a maximum capacity of 32GB.
Upgradeable storage on an e-reader isn't a feature we see often, these days; probably because most people just don't need it. The 8GB of internal storage the Aura One provides, for example, can hold five to six thousand ebooks. E-readers like the Aura One, Kindle Paperwhite or Kindle Oasis are one-trick ponies: their operating systems and UIs are designed to read electronic periodicals, side-loaded documents, and books from a proprietary store. Period.
Mentioned in this article
Kindle Paperwhite (2016), Special Offers
Price When Reviewed:
$119.99
The InkBook 8 can do all of this too. But thanks to the fact that the e-reader is powered by Android 4.2.2, it's possible to load the InkBook 8 up with a wide variety of apps that will augment its capabilities. On a basic level, that means that in addition to reading EPUB and PDFs, MOBI, TXT, FB2, HTML, RTF, and CHM files using the device's native reading application, InkBook 8 owners can also indulge in reading material from Amazon, Kobo, ComiXology or any number of other content providers. Just download the appropriate app from the InkBook 8's app store and you're in business.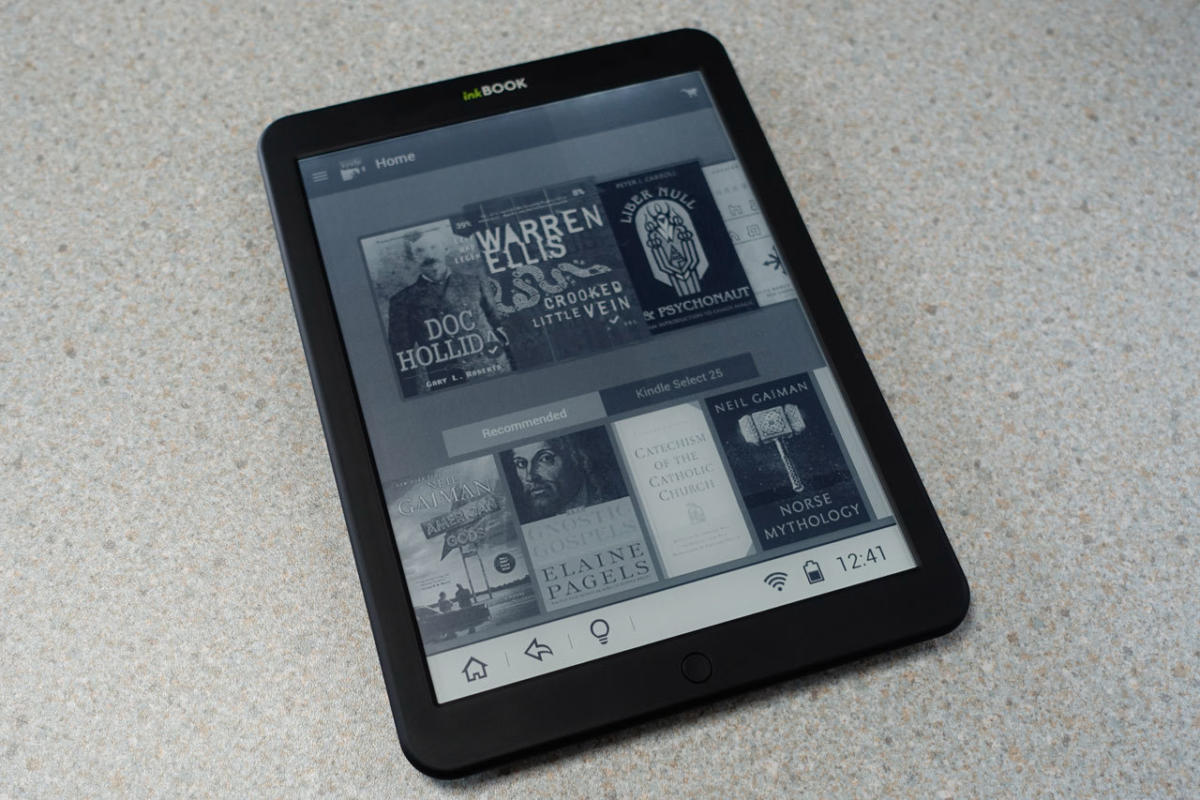 It's also possible to plug in a set of headphones to listen to music or audio books, download email clients and apps like DropBox or Box to download reading material from cloud storage, type out notes in apps like AI Writer or keep up with your RSS feed. The InkBook 8's preloaded apps and indeed, those that you can download, make it easy to customize your user experience.
In print, it sounds amazing. But the reality is that, for all its promise, the InkBook 8 is an underpowered piece of hardware that never quite does what you want it to.
Having an eight-inch display on an e-reader should be a win: Being able to jam more text or images onto a page means less screen refreshes are required to make your way through whatever it is you're reading. This makes for a less jarring reading experience and theoretically, longer battery life. None of this means much if the text or images on display aren't crisp and enjoyable to read. Turning it on for the first time, I was immediately disappointed by the InkBook 8's backlit 1024×768 pixel (160 dpi) display. That's less than half the pixels the fabulously readable third-generation Amazon Kindle Paperwhite can manage.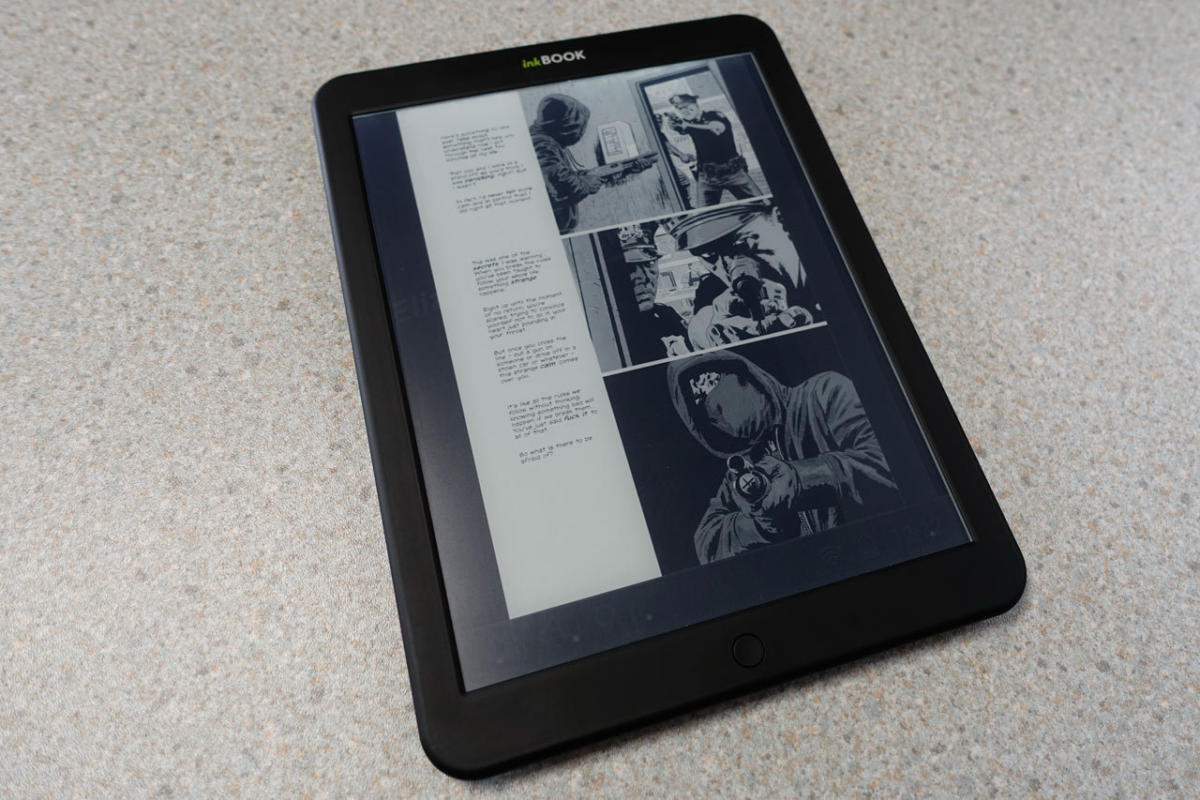 Given that the InkBook 8 costs $60 more than an ad-supported Paperwhite, that's a hard pill to swallow. One would think that looking beyond this flaw would be easy, given the amount of versatility that the e-reader boasts, thanks to its Android OS. But the InkBook 8 fails to impress here as well.
Slow, and possibly insecure
Android aficionados will be quick to note that the 4.2.2 version of the OS the InkBook 8 runs on is well past its prime. If we were discussing a phone or a tablet, they'd be right. But in this case, the operating system is baked into an e-reader. It's a low-impact device meant for devouring text, not gaming or video messaging. As such, Android 4.2.2 should run like a champ. But it doesn't. This is due to the InkBook 8's underpowered dual-core Cortex A9 1.0GHz processor and 512MB of RAM. During testing, I quickly found that books opened in the device's native reading app transitioned from page to page easily, making for an almost pleasant reading experience (There's no getting past that lousy display resolution, though.)
Mentioned in this article
Kobo Aura One
Price When Reviewed:
$229.99
Unfortunately, I found that perusing other apps—both native, like the InkBook 8's web browser, or downloaded ones, such as Amazon's Kindle app—was a mixed bag. Some installed software, like the Kindle or Kobo apps, often became unresponsive when launched, forcing me to reset the e-reader. In other cases, opening apps would take so long, the InkBook 8's OS would display a message saying that the app needed to be closed after more than a minute of waiting, only to have the app spring to life moments later. On the occasion where a reading app would open, navigating the interface of an app that was designed for a responsive, full-color display often proved to be an illegible, glitchy mess. Perhaps most frustratingly, pages in the Kobo, Kindle, and Barnes & Noble Nook, and ComiXology apps were significantly slower than what you get form the e-reader's native reading app.
While we're on the topic of apps, we need to talk about the InkBook 8's App Store.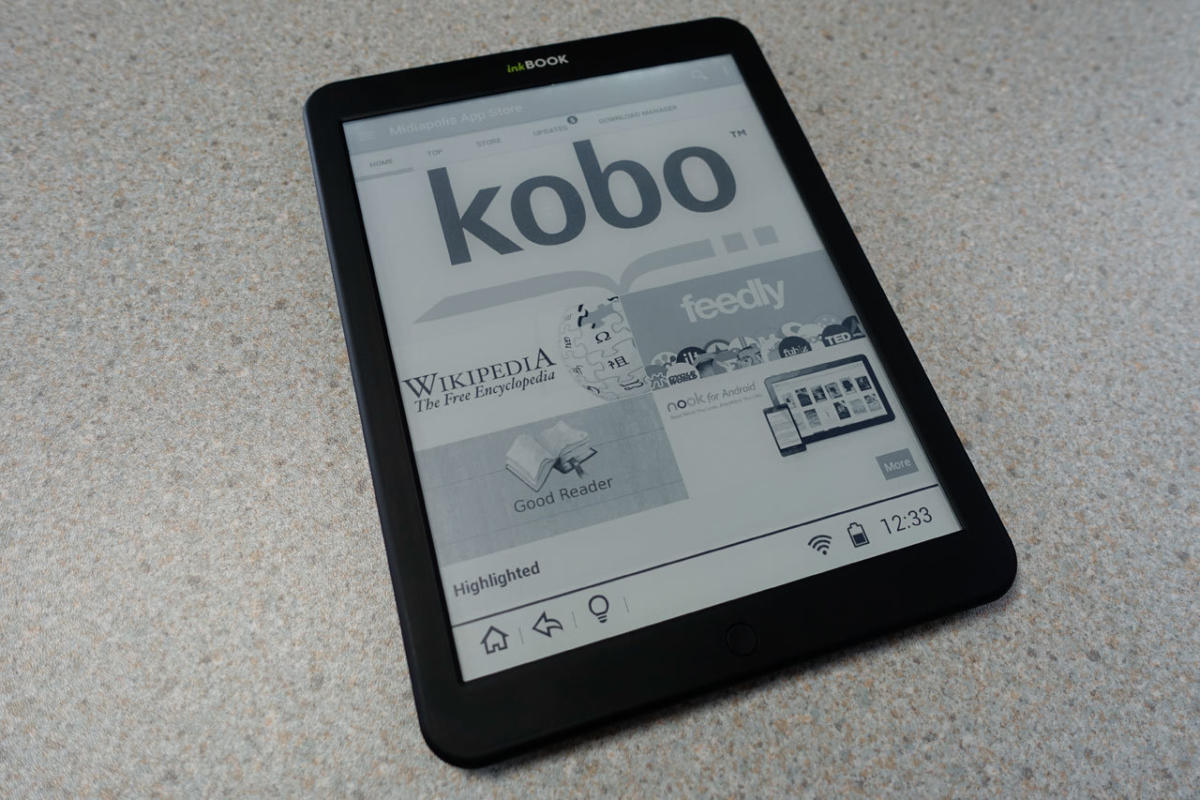 While it was available in the U.S. though Amazon when this review was written, it's now out of stock there. If you really want one and can't wait for Amazon to restock, you'll need visit the Midiapolis online store, which doesn't yet have an English-language version. As such, the e-reader comes pre-loaded with the Midiapolis store, not the more familiar Google Play, although the two offer many of the same apps.
As I'm no expert on Android security, I asked Greenbot executive editor Jason Cross about the safety of downloading apps from such an unknowun quantity. Cross hadn't heard of Midiapolis and was uncertain of whether the apps it offered would be signed the same as those that come from the Google Play store are. As it happens, you can download the Google Play Store app from the Midiapolis Store, although I could never get it to run. It's also possible to sideload .APK files found online, if you're into that. But this causes just as many potential security nightmares as the Midiapolis Store might. We recommend exercising caution in providing any sensitive personal information.
Best Prices Today: InkBook 8