At a Glance
Expert's Rating
Pros
Absolutely stunning picture
Good detail reproduction for an OLED
Great sound using the display as a planar speaker
Cons
Remote fails to match the elegance of the TV
Media apps are sluggish and buggy
Possible lifespan issues with HDR and OLED
Our Verdict
This is absolutely one of the best OLED TVs we've seen thanks to Sony's image processing. Our only qualm is that there's no available data on OLED lifespan when displaying HDR content.
Best Prices Today: Sony Bravia A1E-series 4K UHD OLED TV (65-inch class, model XBR65A1E)
What do you get when you put an OLED (organic light-emitting diode) display in the hands of the Sony with their decades of experience enhancing TV images? A better OLED TV. Having only seen another company's OLED TVs in the consumer space, we'd gotten the idea that the technology was simply challenged when it came to rendering fine details. Not so with the A1E, whose facility with picture minutiae, while not LCD-like, is a substantial improvement.
We recently had the pleasure of setting an A1E next to a brand new LCD-with-quantum-dots Samsung Q9F (we'll post our review next week) and having at it for an amazing week of viewing and testing. Sadly, the experience left us somewhat torn between which we liked most.
Design
One minor area where the A1E falls a bit short of its rivals is wall mounting. The panel itself is quite thin, but there's an integrated, non-detachable stand that adds quite a bit to the overall thickness (almost 4 inches folded, nearly 14 inches deployed). It's not detachable because that's where the electronics and most of the ports reside. There's also a cross-member across the back of the screen, though it's not very thick. To encapsulate: There's no way to mount the A1E flush to the wall as you can with the Q9F—if you care about such things.
Editors' note, July 31, 2017: Sony has enabled an Alexa skill for many of its 2017 Bravia smart-TV models that allows the sets to be controlled with voice commands. The XBR-65A1E model reviewed here is one of them. You'll find additional details on Sony's support site and on Amazon.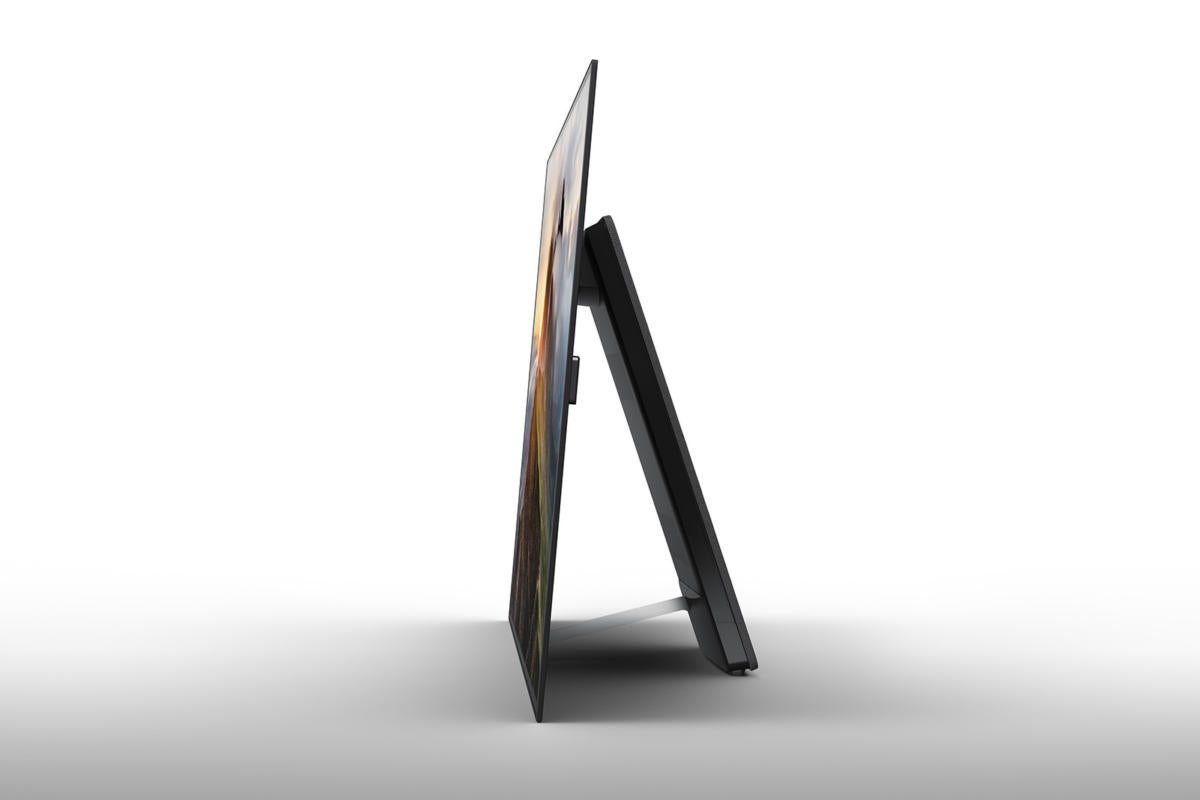 The integrated stand also ships with a removable cover so you can hide the cable attachments. As with all TVs, you're on your own from with camouflaging them from there. We tested the 65-inch class (64.5-inch) XBR-65A1E which weighs in at 80 pounds and because of the stand, it was a bit of a beast to wrestle out of the box. Have a friend on hand—standard advice for this class of TV–to minimize the chance of damage.
The A1E features four HDMI 2.0a/HDCP 2.2 ports, one USB port on the side and two in back USB ports, an ethernet port, an ATSC tuner, and integrated 802.11ac Wi-Fi and Bluetooth 4.1 adapters. So far, it's state-of-the-art all the way around.
Remote control and user interface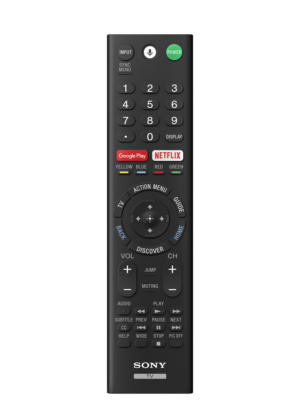 The one area where we were a bit disappointed with the A1E was its remote. After using LG's Magic remote and the elegant automatic-pairing OneRemote that ships with Samsung's Q9F, the A1E remote seems a bit quaint.
Sony's remote offers the auto-magic pairing and control of attached devices that its rivals have; it follows a familiar design pattern, and it's easy to use. We simply expect a bit more more style at this price point. Ditching the giant Google Play and Netflix advertising buttons would help. We understand the extra revenue they bring in for cheap TVs, but it's just crass with a top-of-the line unit.
The A1E's Android TV interface is easy to navigate and easy on the eyes, but the Sony version continues to have minor issues. The video app enumerated files that were deleted (but not erased) from our test USB SSD, and playback wasn't smooth in some cases. Also, the apps support fewer file types than their counterparts on other TVs. On the plus side, Android TV on the the A1E doesn't crash, as it was wont to do when it first shipped a couple of years ago.
One note: the A1E was much better than Samsung's Q9F when it came to linking its HDMI inputs with the PC we used to test Cyberlink's PowerDVD 17, which now plays copy-protected Ultra Blu-ray discs. When we say better, we mean the A1E had no significant issues, while the Samsung wouldn't handshake with the PC most of the time.
Excellent sound
FLAC is one of the less-common file types (for TVs, that is), and Sony's music player supports it. That's great, because A1E delivers surprisingly good sound by employing the display panel as a planar speaker, or "acoustic surface" in Sony-speak. That simply means the display panel itself is vibrated using left and right actuators. And despite working the actuators both working on a single surface, there's still some stereo separation. Not a ton, but enough to notice.
Throw in the rear-facing subwoofer located in the stand, and you absolutely will not need a soundbar with this TV. Of course, a good sound system will always sound better than a TV's integrated speakers, but we quite enjoyed listening to those FLAC files (Ormandy/Heifitz/Beethoven, and Rush's "My Turn to Drive," if you must know) on the A1E.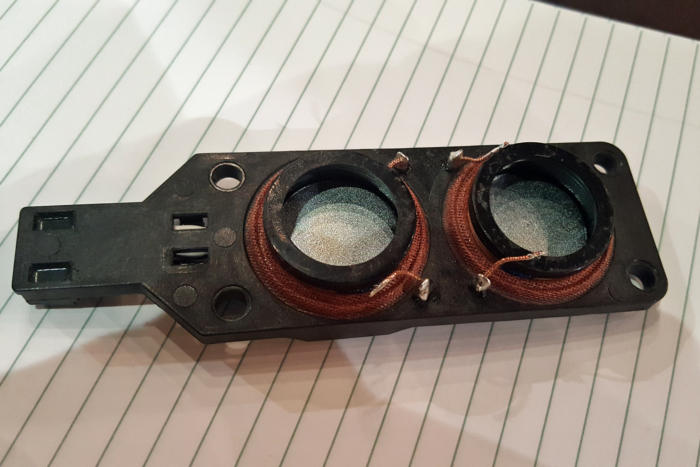 Picture—ah!
Enough of the chit-chat. You watch TV, so picture is paramount, and the A1E's is simply fantastic. There's just something about images rendered on an OLED display. Actually, that something is black. Black as in the absence of any light, because unlike LCD technology, OLED displays don't need a backlight. The stunning black that Samsung's Q9F claims, but can't quite deliver. The thing about pure black is that it makes all the colors surrounding it seem more vivid.
Okay, so the A1E has outstandingly rich and accurate color. That's OLED. What surprised us was the amount of detail in the A1E's renderings. When we say detail, we mean things like the reflections off the top of waves and the highlights in hair. The A1E still doesn't render them as well as most high-end LCD TVs, and not as sharp as Samsung's Q9F, but it's better than what we've seen to date, and when you add in those pure blacks…
We're guessing that the difference between this OLED TV and others we've seen is Sony's processing wizardly. The company describes what they do with an endless array of sexy, but meaningless names, which to be blunt, we're tired of regurgitating. But we're certainly not tired of watching the results—Sony is very, very good at it.
Please note, that to get the detail of which we speak, we had to twiddle about with the settings a bit. The TV, as we got it, defaulted to less sharpness, and for some reason, an inadequate level of motion compensation. After tweaking, we had few complaints about any aspect of the A1E's picture in a side-by-side comparison with the Q9F. We did, however, miss the details–if not the moiré–the Q9F sometimes exhibits.
When will we get Dolby Vision?
Unfortunately, support for Dolby Vision (as well as Hybrid-Log Gamma) HDR remains in the A1E's future via a firmware update. We could judge its HDR chops only with HDR-10, and on count, it performs well. We measured 700 nits with HDR-10 content, and 170 nits with SDR (Standard Dynamic Range, aka, everything else). Basically, SDR and HDR-10 looked richer, due to the pure blacks, than they did on the Samsung Q9F. But details in darker and lighter areas weren't as discernible as on the Q9F, whose sharpness and overall brightness are astounding. Light/dark area detail is something Dolby Vision is supposed to help out quite a bit, but we can't verify at the moment due to the lack of high-quality content.
Lifespan issues?
OLEDs deteriorate over time and through usage, and blue OLEDs do so at a quicker pace than red and green ones. I asked at a Sony press showcase recently if playing brighter-in-sports HDR would affect the A1E's lifespan–especially the blue elements. If you pump more current into them to make them brighter, you might think that the little beasties might wear out sooner. The product manager told me that HDR shouldn't produce a significant drop in the lifespan of an OLED. Hmm.
I assume that claim is based on the areas of the screen that are brighter in HDR material not actually being that numerous. HDR is as much about contrast as it is about brightness, and the pure black is what allows the A1E to do nice HDR with only 700 nits, while most LCD TVs require at least 1000 to do it properly.
We'll take Sony's word for it, but it is something to think about.
Does the performance justify the price?
The A1E's picture is so rich and lush, our possibly errant and tenuous supposition of a shorter OLED lifespan won't matter to many folks. If you have $5500 to fork over for a TV today, you can probably afford to replace it before it wears out. Maybe by then Sony will have redesigned the remote and worked out the kinks in the media playback apps.
But the detail and color fidelity on the competing Q9F is something to behold, so shop both TVs. Tastes vary.
Note: This article was edited 6/12/2017 to say that it's increased current, not voltage, that is the possible issue with OLED lifespan.
Best Prices Today: Sony Bravia A1E-series 4K UHD OLED TV (65-inch class, model XBR65A1E)