At a Glance
Expert's Rating
Pros
Sensors are incredibly sophisticated and intelligent, stuffed with myriad capabilities that give you lots of flexibility
Setup is quick and intuitive, as is the app
Reasonable setup costs
Cons
It can't control anything in your home, and there are no hooks for devices/systems that can
Alerts are limited to smartphone pop-ups and are too easy to miss
Minor hiccups during setup, requiring a tech support call
Our Verdict
Notion embeds its sensors with all manner of technology, letting them do double (or triple duty), but the alerting system needs an upgrade.
Best Prices Today: Notion Home Awareness Starter Kit
Don't call it a security system: Notion is a "home awareness kit" that offers a somewhat different value proposition. Like a standard DIY security setup, Notion is built around a wireless hub and sensors that you place around your house. The wall-wart hub is fully wireless and requires no hardwired ethernet connection to your router. Just plug the hub into any power outlet and run through a few quick steps in Notion's iOS or Android app and you're ready to start placing sensors. Notion is sold in two bundles, with either three sensors or five. Add-on sensors are $49 a pop.
Editors' note: This review covers the original Notion kit. We've since added a hands-on review of the new second-generation system, which you'll find here.
There's just one type of sensor—a little hockey puck a bit larger than a Double Stuf Oreo cookie—and that's by design. Rather than building different sensors for different applications, Notion's single sensor does everything. One sensor can detect position changes (doors or windows opening or closing), temperature fluctuations, water leaks, light, noise, and more. A single sensor can serve multiple needs at the same time.
A sensor in the bathroom can detect when the medicine cabinet is opened, if the temperature in the room falls too far, or if there's a water leak. You can place a sensor on a window to detect if the window is opened and to listen for sounds of breakage. Stick one next to your smoke alarm and it turns it into an instant remote alert system, letting you know via a push notification if the siren goes off. But Notion doesn't tie into other smart home components or systems, so you'll need to depend on other devices—and their apps—to change the temperature if there's a freeze danger, to turn on a light if you hear a noise at night, or to close your garage door if it's been left open.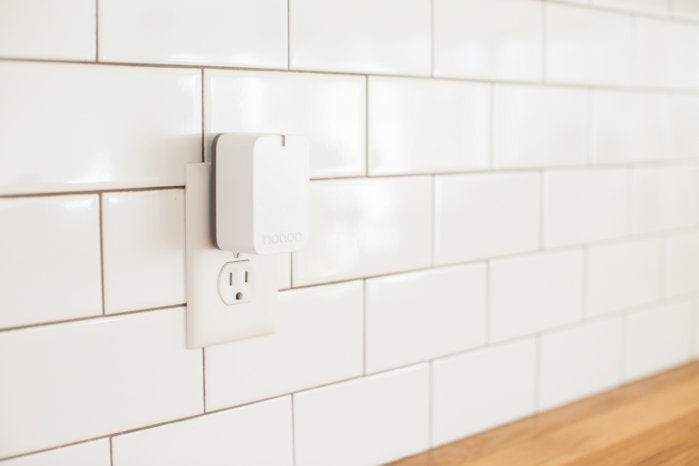 Sensor placement is designed to be ultra-simple. You "knock twice" on the sensor's shell to wake it up, then scan a QR code on the backside with your phone's camera. At that point you decide how you want to use the sensor—you wouldn't want a noise sensor on your garage door, for example—then attach it to the surface with adhesive tape.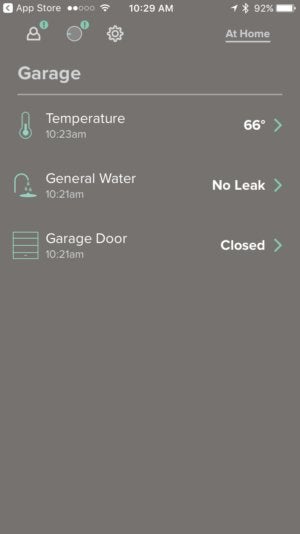 I did experience some trouble with two of the three sensors I tested, both of which stopped communicating with the hub right after I stuck them on various doors. Since the QR code is on the back of the device, removing the sensor and trying again was problematic, but fortunately Notion tech support had a quick fix. The sensor cover can be removed, and a copy of the QR code can be found inside the unit on the circuit board. A rescan got everything working quickly. (This is also how you replace the battery, which is a standard coin cell.)
Notion's sensors worked well in testing, quickly updating me when doors were opened, or when temperature thresholds that I'd set were exceeded. The water leak sensor took a significant amount of fluid to activate (and once I cleaned up the water, it took a couple of hours of drying time to revert back to "no leak"). Setting up alert parameters was painlessly simple, and the app keeps a running history of when various alerts are tripped.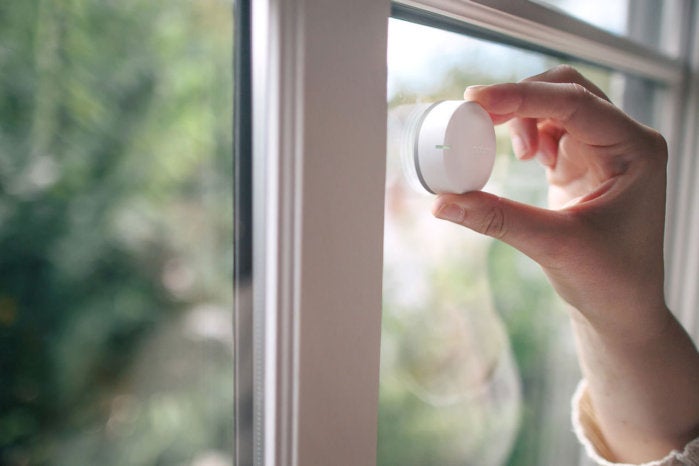 The only other catch is that alerts are exclusively relegated to pop-up notifications on your phone. Notion can't text you or call you. It doesn't have a siren that can be activated if a window is broken, it can't call the cops, nor can it really do much of anything except give you an easily ignored and easily dismissed notification. That's fine if you just want to know if kids are sneaking sips out of the liquor cabinet or if grandma is taking her medication when she's supposed to, but it's less helpful if there's a more immediate problem like a break-in or a natural disaster. Similarly, while Notion will tell you when the garage door opens, it can't alert you when it's been left up for hours.
Again, Notion isn't a security system but rather a "home awareness kit." While it's an outstanding idea in a well-designed package, it could use some upgrades to give that awareness more depth, range, thoughtfulness, and actionability.
Best Prices Today: Notion Home Awareness Starter Kit