At a Glance
Expert's Rating
Pros
Automatically feeds your pet on schedule
Looks attractive enough
App keeps you informed of feedings
Cons
Feels a little unfinished for the price
Despite battery, must be connected to a power outlet
Restricted to single-pet households and dry dog food
Our Verdict
Petnet's SmartFeeder will store your pet's food, automatically dispense it on schedule, and mostly keep you in the loop.
When I first heard about the Petnet SmartFeeder, I bristled. How could something so basic as feeding a pet be in search of a smart solution? I deposit a half-cup of dry kibble in my dog's bowl twice daily—done and done. Is no human endeavor sacred?
Okay, maybe a tad dramatic. I can see that there are times when an automatic pet feeder makes sense: an unpredictable work schedule, say, or an impromptu invite, either of which could step on the toes of your pet's meal time.
The SmartFeeder (which retails for $149) can dispense a precise measure of your dog or cat's food at preset times of your choosing, and then let you monitor and revise the feedings via a companion app. Fido or Fluffy stays sated when your schedule is in flux.
How it works
To get started, you have to assemble the SmartFeeder by connecting five interlocking pieces that form a combination bowl-and-food-hopper (capable of storing approximately five pounds of food). Then you download the Petnet app (iOS or Android) to your smartphone; create an account and pet profile; and finally connect the feeder to app over Wi-Fi. An illustrated, step-by-step user's guide walks you through the simple process.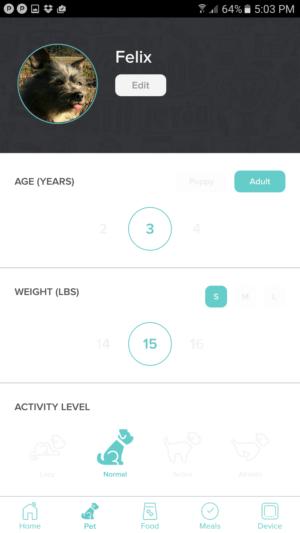 Your pet profile consists of stats like age, weight, acitvity level, and some specifics about your pet's food—you can pull data from an extensive list of common food brands within the app, or enter the info manually. While the SmartFeeder's marketing copy implies a health coaching element, the "recommendations" the app offers are little more than the sort of info you'd find on your pet food's packaging: ingredients, nutritional breakdown, and serving size.
But the real value proposition of the SmartFeeder is its ability to administer feedings like clockwork. Creating the schedule is super easy. Hit the Meals tab in the app, select your feeding times and portion size, and then tap the Auto feed on slider. Now kick back while this 17x9x15-inch black plastic silo becomes your pet's new BFF.
In action
On cue, the SmartFeeder's hopper activates, dropping a measure of kibble into the attached stainless steel bowl. It's not a silent operation. I found the mechanical churning-cum-rattle a little startling at first, but it quickly became music to my dog's ears.
Every feeding is also announced with an app notification. The reassurances are welcome, but the notifications are so frequent (typically two a day), that I missed a couple of warnings in the mix—something I remedied by paying closer attention.
One warning alerted me that Felix missed a feeding. This was the result of the SmartFeeder's battery dying (more on that later). Sadly, it was not preceded by any low-battery warning that would have given me a chance to recharge. Another warning let me know the hopper was low on food—fortunately before it was totally empty. But still, when I let the food hopper run out completely, I got the usual notifications that Felix had been fed! Petnet says a couple false positives might register when the hopper first runs dry, and that it's tightening up this functionality.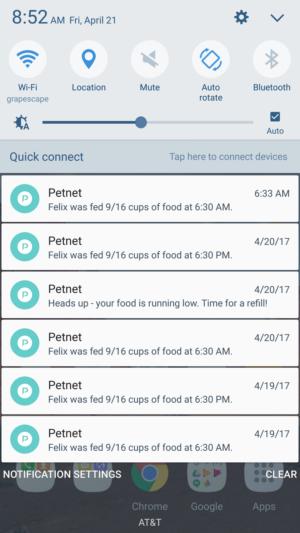 The Petnet app has some additional smart features, such as linking with a Nest camera (currently only on iOS, with Android support expected later in Q2), and a promised SmartDelivery feature for ordering pet food from in the app. That's all fine, as long as the existing features get polished.
The downsides
Besides the app's quirks, I was pretty won over by the SmartFeeder's convenience after just a few weeks. But there are a couple important caveats. First, this is a one-pet pony, so to speak. Both the feeder and app are designed to serve a single critter (no more than 55 pounds). Outfitting a multi-pet household with multiple SmartFeeders wouldn't make sense from a cost or space standpoint for most people.
Furthermore, canned food is a nonstarter—the SmartFeeder's chute-style design is partial to dry kibble. Lastly, the SmartFeeder must be tethered to a power outlet, using the included 6.5-foot cable. You'd be excused for thinking the SmartFeeder can operate on its built-in battery, and that its Micro USB connector is there simply for charging. But it turns out the battery doesn't last long enough to be the least bit useful. Petnet pegs battery life at around 7 hours, which doesn't cut it for a device that's tasked with your pet's every feeding. Just as well because the Micro USB port on the SmartFeeder's underside would be a PITA to fiddle with on the regular.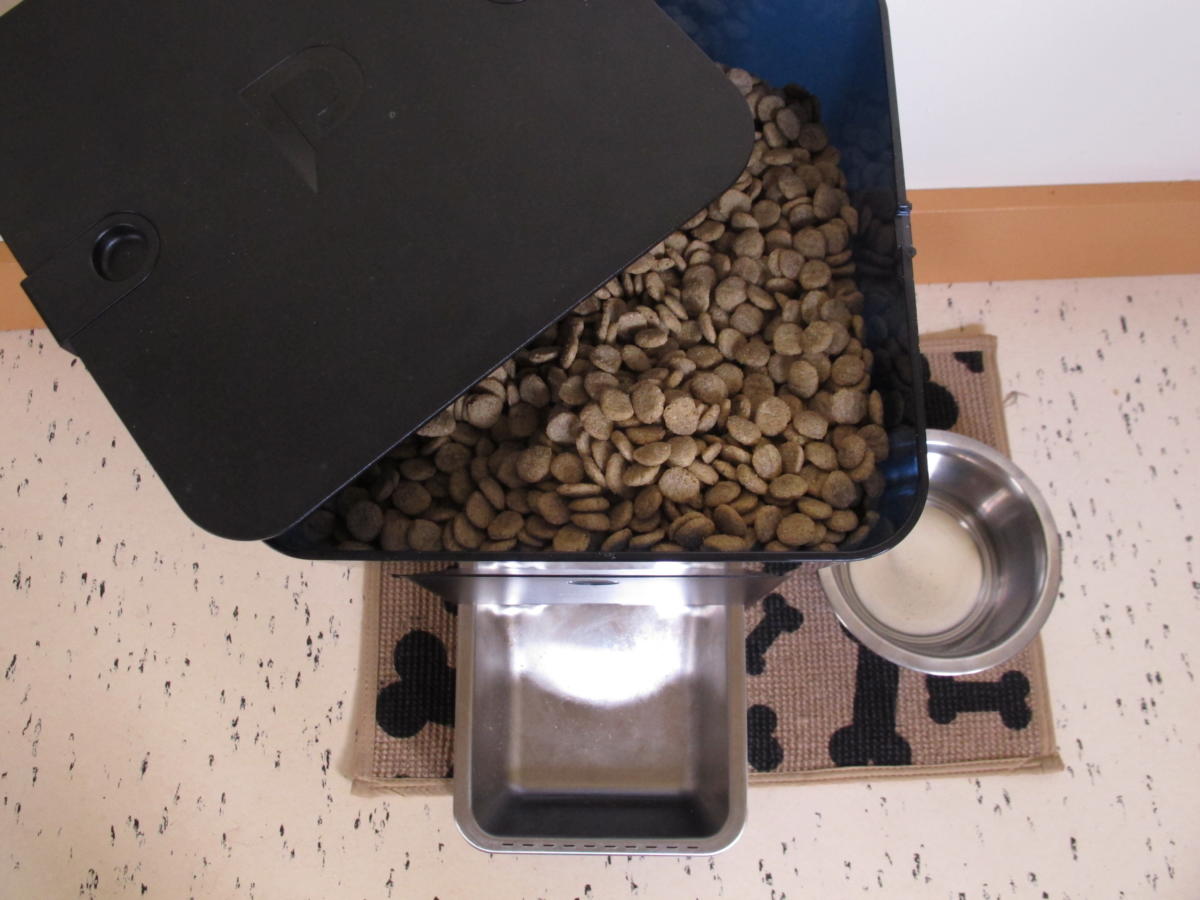 One final issue will only affect some users, and not too severely. Depending on the shape and size of your pet's food, it could collect and lodge between the chute and bowl, leaving your animal wanting. If this occurs, Petnet offers a free sloped riser that locks into the bottom of the SmartFeeder, angling the food's path and improving its flow.
Conclusion
As I said, I came to this review skeptical. I was offended at the thought of offloading my pet's feeding. Boy, did I change my tune. Once I felt assured of the SmartFeeder's reliability (and that means also knowing its foibles), I was stoked to be free of that daily chore.
That being said, $149 is not a frivolous expense, particularly for a product that still needs some spit-shining. But if you're finding it challenging to feed your pet on schedule, and your situation falls within the SmartFeeder's parameters, this product even as-is will keep you and your animal happy.