YouTube TV is ready to take on the likes of Sling TV and PlayStation Vue—at least in a handful of markets.
The $35 per month streaming bundle is now available in the metropolitan areas of New York, Los Angeles, San Francisco Bay Area, Chicago, and Philadelphia. Other U.S. markets are "coming soon," Google says, though the company has not announced any specifics.
YouTube TV's lineup covers more than 50 channels, including ABC, CBS, NBC, Fox, ESPN, Fox Sports networks, and Comcast SportsNet. An image of the full channel lineup—minus some newly announced AMC networks—is below, and you can check out our previous coverage for details on what's included and what's not.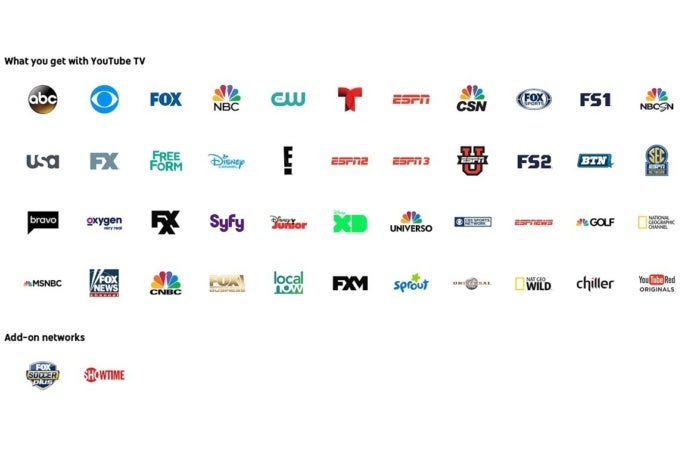 The story behind the story: YouTube TV is now the fourth major streaming bundle to launch in the United States, joining Sling TV, PlayStation Vue, and DirecTV Now. But unlike those options, YouTube TV is not available in any markets where it can't offer all four major broadcast networks. Sony previously tried that strategy with Vue, but altered course a year ago for its nationwide rollout. It'll be interesting to see whether Google stands firm in its commitment to local broadcast feeds over time.
Sign-up perks and more channels
For customers who can get YouTube TV, Google is offering a one-month free trial and will send out a complimentary Chromecast after the first month's payment. For now, Chromecast is the only way to watch YouTube TV on the big screen, though Google says it will support more TV platforms later this year. The service is also available on the web, iOS, and Android.
As for the channel lineup, Google says it will soon add AMC, BBC America, IFC, Sundance TV, WE tv, and BBC World News at no extra charge. Sundance Now and Shudder will also be available as individual add-ons, joining Fox Soccer Plus and Showtime.
YouTube TV is still missing channels from several major networks, such as Turner, Discovery, and Viacom. Earlier this month, Turner CEO John Martin said YouTube was making a "big mistake" by omitting its networks, which include TNT, CNN, and TBS. But keep in mind that TV networks tend to demand that all their channels be bundled together. Bundlers like YouTube need to make tough decisions about which networks to include, otherwise they'll end up with the same sky-high prices that are making cable less attractive.
Channel mix aside, YouTube is touting the strength of its cloud DVR feature, which has no storage limits (like Sling TV) and will hang onto recordings for nine months (a half-year longer than PlayStation Vue). Google is also throwing in access to original programming that was previously tied to the YouTube Red subscription service.
We hope to get our hands on YouTube TV soon. In the meantime, you can sign up for the free trial through the web, download the YouTube TV apps for iOS and Android, or get notified of future available markets.