At a Glance
Expert's Rating
Pros
Relatively inexpensive
Myriad configurability options open to those willing to tinker
Can be expanded into a connected home system
Cons
Monthly service plan requirement for very basic service is a tough sell
Sensors are physically quite large and visually intrusive
We encountered significant setup problems and a steep learning curve
Our Verdict
Scout's system is on the buggy side, and its limited sensor options are restrictive.
Best Prices Today: Scout Alarm
It's a philosophical question that I can't answer for you: Is a budget home security system something you're comfortable with? If so, Scout might be worth considering, though it's a system with a few drawbacks. I'd recommend taking a test drive before you commit.
Like most DIY security systems, Scout's is built around sensors that talk to a hub; in this case, via the ZigBee wireless protocol. You hardwire the hub to your router with an ethernet cable, so that the system can connect to the internet. We received four sensors for review (although all components are sold separately): A motion sensor, two "access sensors" (for doors or windows), and a door panel, which is an oversized access sensor with a few extra features I'll get to later. Total price of admission: $320.
A more typical home install that outfits two exterior doors with door panels, 10 door/windows, and three motion sensors will run $704, which is a considerable bargain compared to pricier alarm systems like Abode. But Scout's collection of products doesn't include components such as security camera, smoke detectors, or water-leak sensors. It will warn you of a break-in and that's about it.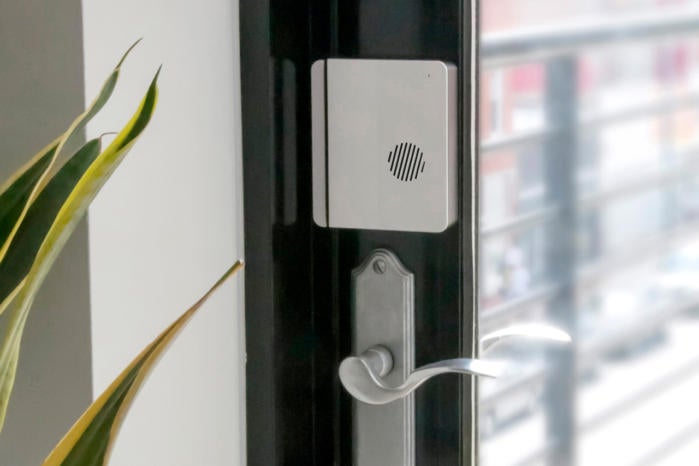 The catch: While it once offered a free self-monitoring service plan, Scout now requires a paid monitoring plan or it won't work at all. You can't complete an installation until you sign up for one. Two plans are available: One covers the basics for $9.99 per month, including notifications you configure yourself (push, email, text, phone call, or all of the above). The second plan costs $19.99 and includes professional monitoring—that means someone in an offsite location will contact the police on your behalf if an alarm is triggered. The requirement of a service plan isn't just a cost consideration, because if Scout as a company were to go under, your hardware would be immediately bricked.
Mentioned in this article
Abode Smart Security Kit
Price When Reviewed:
$429.00, including cellular backup and 1 year of professional monitoring. (As of May 22, 2023, MSRP is $279.99, not including professional monitoring)
I ran into a large number of snags while setting up the Scout system. Though the company says my experience was abnormal, I hit one roadblock after another, including Scout's app refusing to accept the preprinted code that came with the hub, two of the three sensors I received initially failing to work, and a crash-prone app on top all of this. A considerable amount of time, patience, and lots of removing/replacing lithium battery cells finally got things going—and going fairly well—but only after I'd signed up for the basic monitoring plan (which required me to provide a credit-card number).
The control system is closely patterned after IFTTT (which is also supported by Scout externally) and is designed to give the user full control over which events trigger which alerts. You can set up any number of alarm modes. For "Home" you might set only your door and window sensors to be active, so if one of them is opened, it will trigger a text message be sent to you. In this mode, the motion sensors won't trigger anything (since you're presumably still in the house). For "Away" you might turn on all the sensors. A "Kids Playing" or "Garage Only" mode might be something else entirely.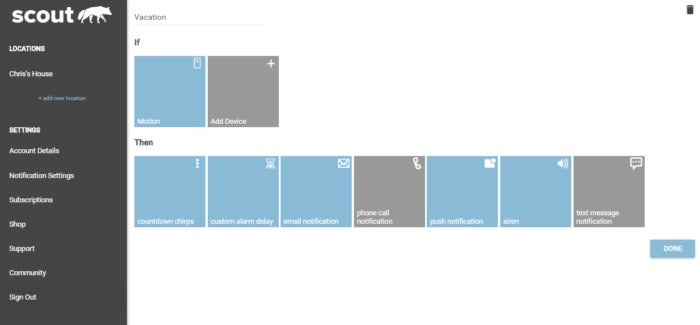 You can control Scout via an Android or iOS app or the web. The company also gives you a curious way to arm and disarm the system via the door panel I mentioned earlier. Included with the panel are a couple of RFID keyring fobs. Tapping one against the panel lets you turn a specific mode on or off, and different fobs can manage different modes. Once I was up and running, most of this worked well in testing, including the cellular and battery backup systems built into the hub. The if-then system grows on you over time after you gain some comfort with it, at which point it reveals how flexible it is. My only real complaint in regular usage is that the RFID fobs are buggy and can take quite a bit of fiddling to get the door panel to detect them—which is a problem if the alarm is actively going off.
Speaking of the alarm, the 105db siren is appropriately loud—particularly because the door panel sensor has a secondary klaxon built in, so you won't go hurting for alerts. The system also integrates with Alexa and Nest devices as well as LIFX and Philips Hue light bulbs, so if you want to get fancy with it, you have numerous options.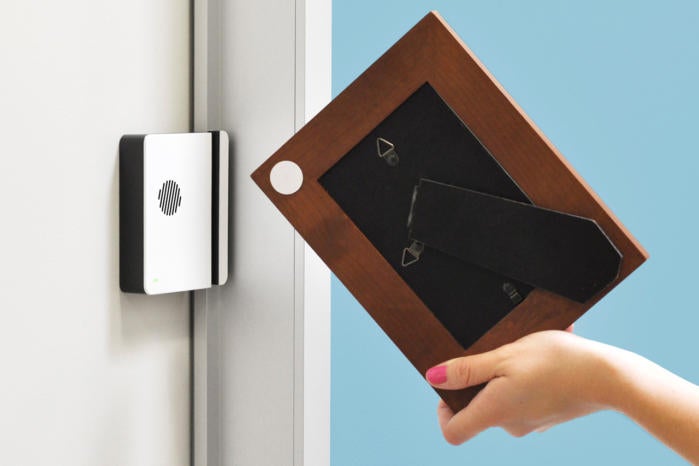 That said, while Scout has been around for a couple of years, it still feels like a product that's finding its feet. A lack of sensor options, very buggy setup, and the requirement of a monitoring program don't inspire a ton of confidence, but the product still holds some promise. Unfortunately, when compared to myriad competitors that don't have these drawbacks, I'm not sure I'm confident enough to trust my home security to Scout at this point; your mileage may vary.
Editor's note: This review was updated on April 11, 2017 to clarify that components can be purchased a la carte once you have a hub, a door panel, and a service plan.
Best Prices Today: Scout Alarm