At a Glance
Expert's Rating
Pros
No extra smart home hardware required
Simple Alexa/Google Assistant voice controls by room or individual light
It's still a physical light switch
Cons
Setup may require additional wiring and familiarity with electrical circuits (or an electrician)
Aside from Amazon Echo and Google Home, no integration with other smart home platforms and devices
Limited features in the My Leviton app
Our Verdict
Leviton's in-wall Wi-Fi dimmer adds smart control with minimal complexity, but it's too detached from other smart home systems.
Leviton is the latest connected lighting company to loosen its dependence on the hub, and it's about time.
Leviton's Decora Smart Wi-Fi dimmers and switches connect directly to your wireless network, letting you control the lights with a smartphone app or with a digital assistant (the Amazon Echo and Google Home are both supported). By sticking with plain old Wi-Fi instead of smart home-specific protocols such as Zigbee or Z-Wave, Leviton's in-wall and plug-in modules eliminate the need for a hub or bridge.
But while ditching the hub reduces the cost and complexity of smart home lighting, it also means Leviton must work harder to connect with other smart home ecosystems. Right now, the Decora Smart Wi-Fi series is currently detached from nearly all of them, severely limiting how you can control your lights.
Mentioned in this article
Echo Dot (2nd generation)
Price When Reviewed:
$49.99
Editors' note, July 30, 2018: Leviton has recently updated the firmware for its Decora Smart Wi-Fi lighting-control products to expand support beyond just Amazon Alexa and Google Assistant voice control. The update enables these products to also support IFTTT (If This Then That) and the Nest ecosystem. Leviton also made a minor improvement to its app.
We have since reviewed two additional products in the Decora Smart Wi-Fi product line. You'll find those somewhat more positive reviews here. TechHive's editorial policy, however, is to not change existing verdicts based on firmware or app updates.
In-wall or outlet?
Leviton's Wi-Fi range includes a pair of in-wall dimmers (in 600W and 1000W configurations) and an in-wall switch for ceiling light fixtures. There's also a plug-in dimmer for lamps, and a plug-in outlet switch for small appliances or anything else you might want to turn on and off.
The plug-in modules are easy to install. Just insert one into an outlet, and then plug a lamp into the module's two-prong receptor. You then use Leviton's iOS or Android app to join the module's temporary wireless network on your smartphone and enter your regular Wi-Fi network's login credentials. The app then lets you control the lights at home or remotely through a Leviton account.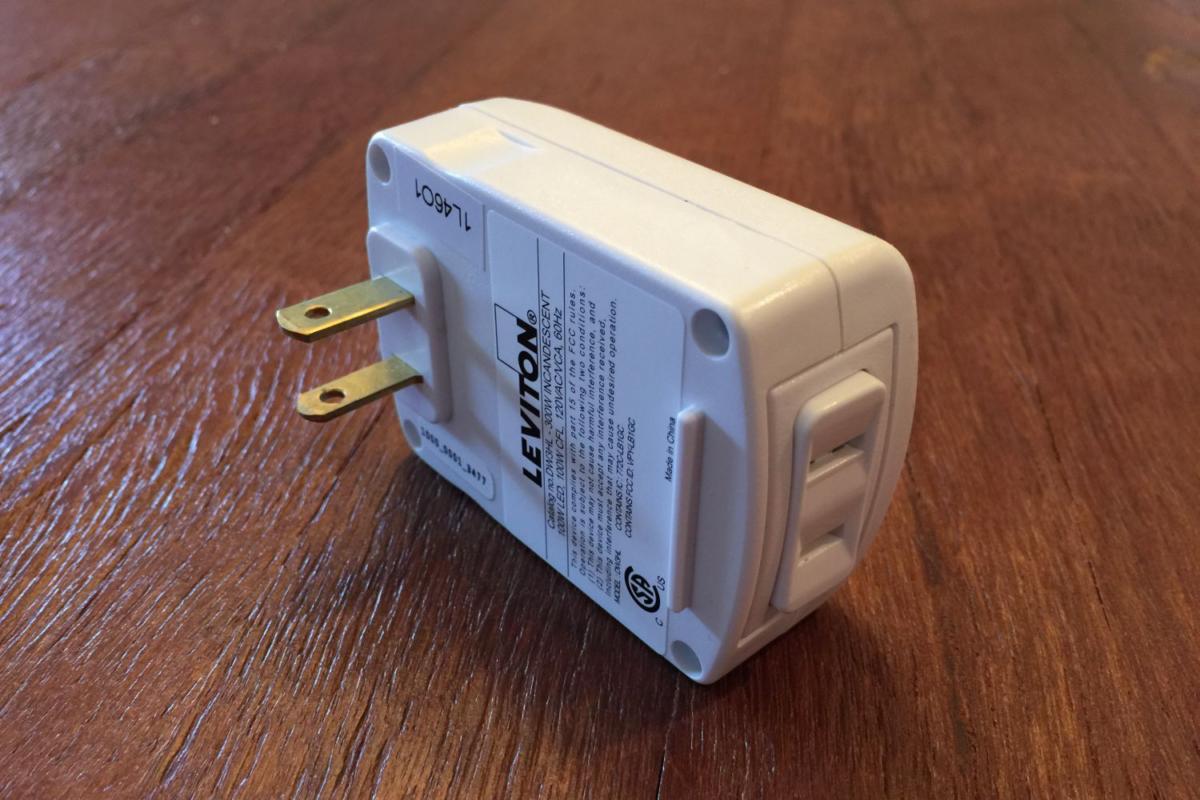 Setting up the in-wall units is much more daunting. This requires shutting down the circuit or removing the fuse that powers your existing switch, removing and unwiring your old switch from the wall, and rewiring the new switch or dimmer in its place. Leviton's printed instructions assume a working familiarity with electronic circuitry, and doesn't mention that you might have to splice in some additional wires (hot, neutral, load, and ground wires are required).
You'll probably want a voltage tester to ensure the proper connections, and you must always be mindful that any misstep could cause a fire or a serious injury. This is true of any in-wall installation. For three-way lighting, where the circuit is controlled by more than one switch, you'll need a matching dimmer or switch remote (as well as a traveler wire). If you're uncertain about what to do, it's best to hire an electrician.
If you're replacing a toggle-style switch, you'll also need a new wall plate for Leviton's rocker switch. Leviton includes interchangeable white and light almond switches in the box; other colors are sold separately.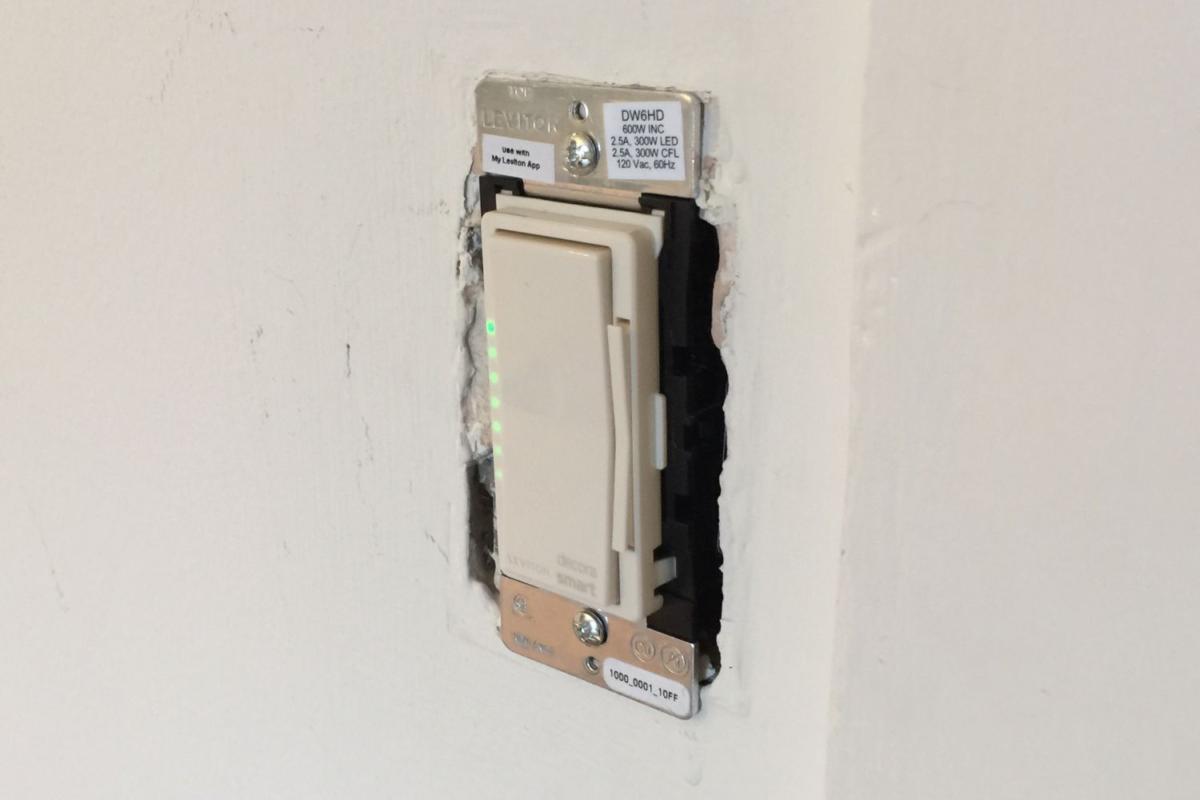 Still, going through all that trouble provides one major benefit: You can keep using the light switch the same way you always have. With Leviton's plug-in modules, and with smart bulbs such as Philips Hue, turning off the physical switch prevents you from controlling the lights with your smartphone or voice.
Voice control, and that's about it
For smart home newcomers, Leviton's hub-free approach could be a relief. Up-front costs are lower, setup is less complex, and consumers can avoid getting locked into any one ecosystem. Still, the lack of a hub puts a bigger burden on Leviton to work with other smart home devices, and the company is woefully behind on that count.
Mentioned in this article
Google Home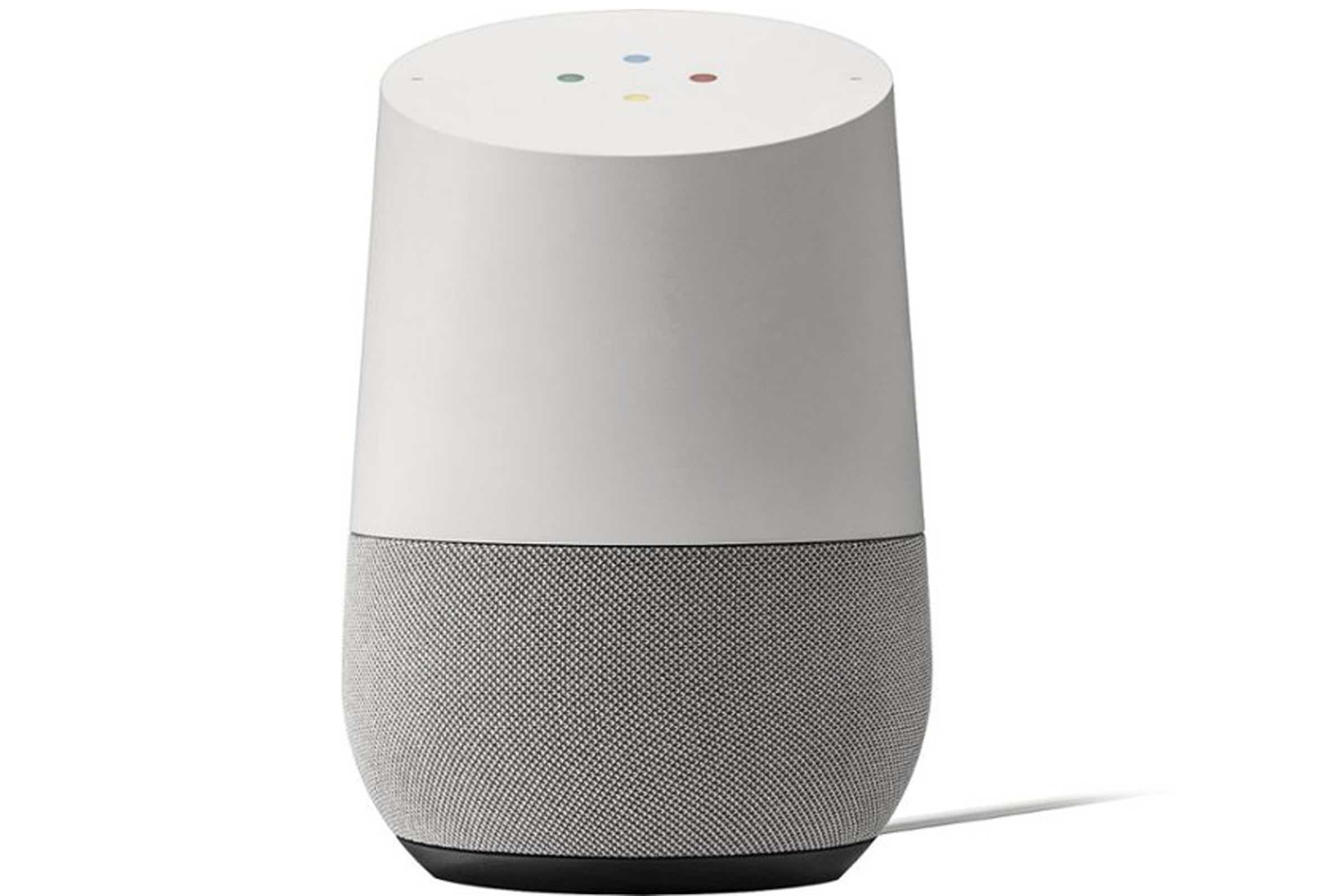 Price When Reviewed:
$129
The only way to control Leviton's Wi-Fi devices, apart from touching the devices themselves, are with an Amazon Echo or a Google Home. They can't be integrated into any other smart home ecosystem, not SmartThings, the Wink Hub 2, Works with Nest, or even IFTTT or Stringify (there is a separate lineup that's compatible with Apple's HomeKit). That means you can't utter a single command to turn off the lights, lock the door, and lower the thermostat.
You can't trigger the lights with motion sensors, either, nor can you automatically adjust the lighting based on whether the sun is out. You can't even add a smart button for Leviton's plug-in dimmers and switches, which is too bad since those devices don't include a physical on-off switch or remote control. Leviton says it plans to add other integrations over time, but hasn't gone into specifics.
Leviton's own app comes up short on automation and scheduling. You can group lights by room, tie multiple lights or rooms to a single command (such as "Goodnight," to turn them all off), and set up schedules based on time, day of week, or sunrise and sunset. But the app doesn't support geofencing, so that lights automatically turn off when you leave home and turn on when you arrive, and it doesn't offer a vacation setting that would cycle lights at random. The lights also can't be controlled by app or by voice without an internet connection, even if your local network is up and running.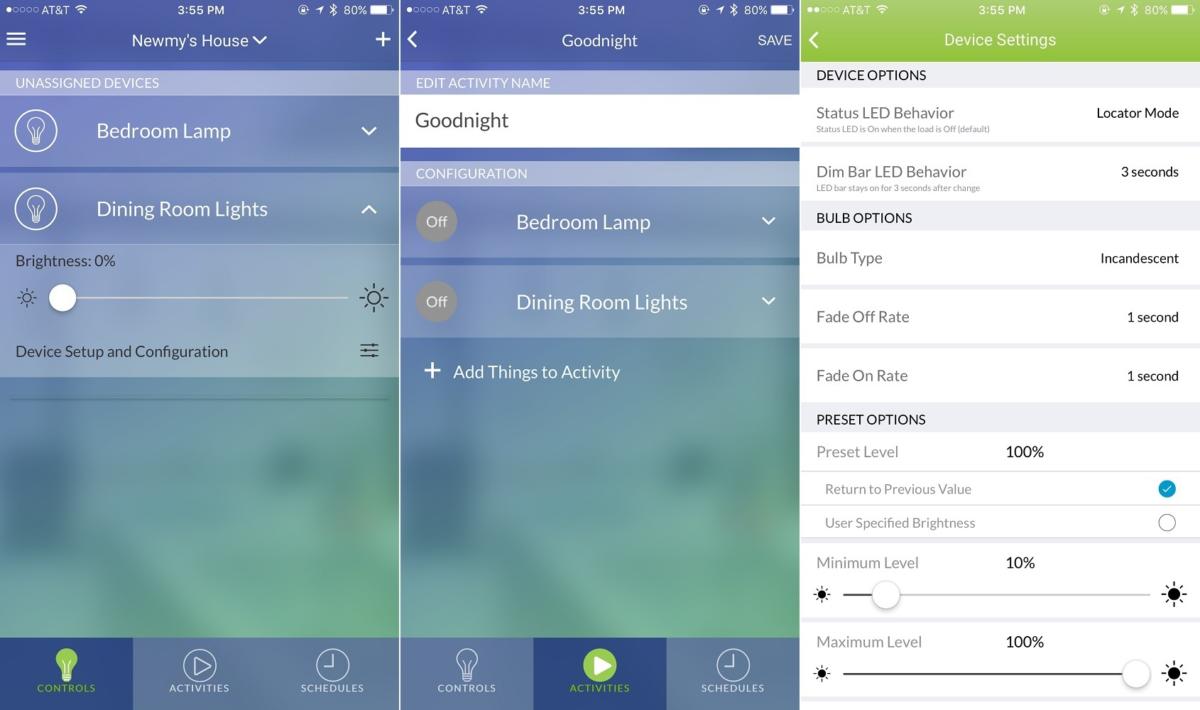 Not recommended
With so few features and smart-home system integrations, Leviton's Wi-Fi dimmers and switches are tough to recommend. Apart from Leviton's manufacturing quality, compatibility with the Echo and Google Home, and support for three-way installations, these products' best feature is their moderate price tags.