At a Glance
Expert's Rating
Pros
Improved playback of all video and audio files
More than compentent catalog capabilities
Plays nearly everything, including Ultra Blu-ray HDR
Cons
Ultra Blu-ray HDR playback requires state-of-the-art hardware
Minor user-interface foibles
Our Verdict
PowerDVD's TrueTheater enhancements make it the best playback option for nearly every type of media, including DVD, Blu-ray, and—as of this version—Ultra Blu-ray.HDR. We have minor quibbles with the user interface, but Cyberlink continues to put distance between it and the competition.
When it comes to playing back multimedia on your PC, there is no program with the breadth of features or playback quality that can beat PowerDVD Ultra. It handles audio, video (3D and 2D), images (2D and 3D), and even social media, all the while enhancing the looks or sound of just about all of it. I use it almost exclusively when watching older movies. And now, with version 17, I could connect a VR headset and watch brand-new Ultra HD Blu-ray HDR content—if I owned the very select type of hardware that's required to play back VR and Ultra HD Blu-ray HDR content.
The name should tell you all you need to know about PowerDVD's origins: It was designed back in the day to play movie CDs and DVDs using PC optical drives. Over the years, it's morphed into more of a universal audio/video/image player and librarian. It's also acquired two interface modes: one for when you're sitting on your couch with a remote control, 10 feet back from your TV; and a second for when you're sitting at a desk (or with a laptop in your lap).
Both interfaces are done well, though we could nitpick a few items, such as dialog borders that tend to meld into each other, contextually mismatched functions and icons, and so on. But a few minutes futzing around and you'll be in good shape. It ain't rocket science.
Other PowerDVD features include pinning YouTube videos for local viewing; direct upload to Flickr and Facebook; media casting to Apple TV, ChromeCast, and Roku devices; and support for RAW file types. Brand new for version 17: Support for Oculus Rift and HTC Vive VR headsets.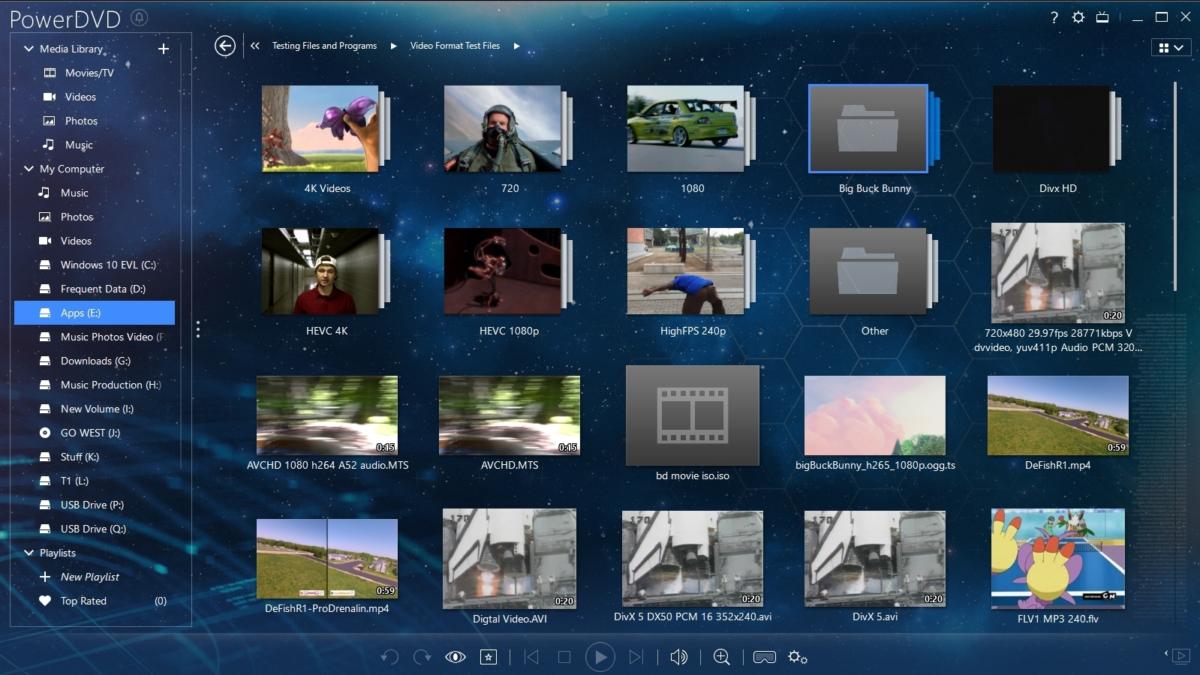 Strict hardware requirements
More on that sobering news regarding hardware and the playback of Hollywood's latest and greatest 2160p, HDR epics. Only the very latest PCs—we're talking Kaby Lake and a limited number of Skylake systems— are capable because the computer must support both AACS 2.0 (Advanced Access Content System) and SGX (Software Guard eXtentions) copy protection. The GPU driver must support AACS 2.0 as well. Unless you just bought a brand-spankin' new high-end PC, you won't have any of that.
Beyond the computer, you'll need a display that supports 3840 x 2160 (4K UHD) resolution, HDMI 2.0a, and HDCP 2.2. That pretty much means a late-model TV. Last but not least, you need an Ultra HD Blu-ray drive that supports Ultra HD Blu-ray movie playback. Currently that's the Pioneer BDR-XD06J external USB drive, or the internal BDR-S11J. Both are fine players that we've tested here in the lab.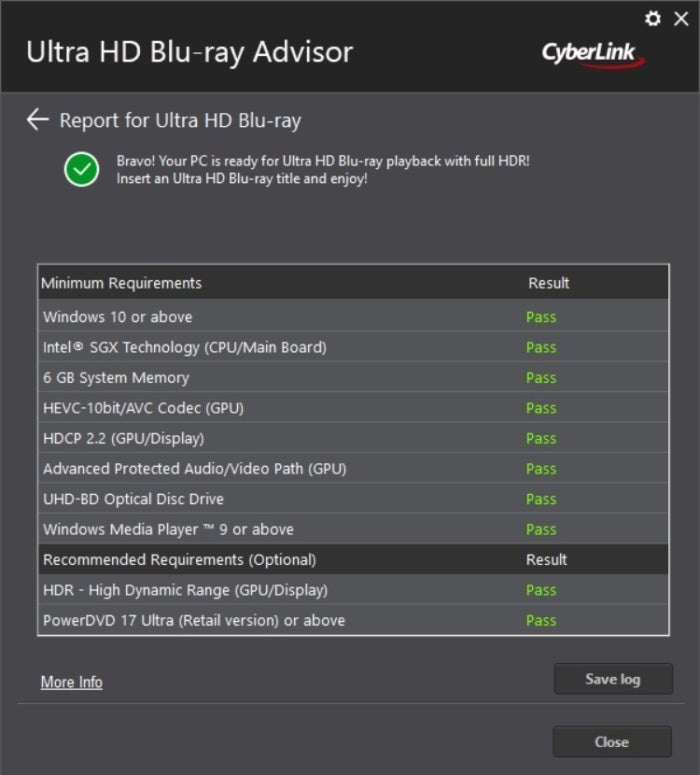 Cyberlink provides its Advisor utility (a free download) to check your system's compatibility with DVD, Blu-ray, and Ultra HD Blu-ray playback. Expect your current one to fail. Indeed, we had to borrow a test bed from Cyberlink to perform our tests. The screen grab of Advisor shown above is from that system, the foundation of which is an ASRock Z270 motherboard.
If you have the hardware—it's great
Now for the good news: PowerDVD 17 does as good a job of rendering HDR-10 content as we've seen, and perhaps even a little bit better. We tried several titles and were more than pleased with the results. As a matter of fact, we're planning on using it as the control subject for future TV and Ultra HD Blu-ray disc-player testing. Hopefully, Dolby Vision support will be added at some point.
Having state-of-the-art Samsung Q9F and Sony A1E TVs on hand to show off the the new high-resolution content didn't hurt. One note on that: the Samsung failed the HDMI handshake 9 out of 10 times. For now, if you're looking to match PC output with a TV, you're standing on shaky ground with a lot of vendors. The Sony was fine.
If you have a TV that supports HDR, but lack HDR content, PowerDVD 17 will up-sample SDR (Standard Dynamic Range) files to a more colorful/contrasty version. Faux HDR, if you will. It works pretty well, as long as you're outputting to an HDR display, it's not a DVD, it isn't 360-degree content, and the resolution isn't less than 2048 x 1152. Alrighty then.
More issues
As if the hardware requirements for Ultra HD Blu-ray weren't enough, there are some other issues related to Hollywood's trying to protect its stuff. First off, there's something called exclusive mode, which is what happens when playing copy-protected Ultra HD Blu-ray discs. It's full screen, and if you exit full-screen mode, the material switches to SDR. We also experienced temporary screen blanking while the Sony TV and the PC were interacting in non-exclusive mode.
We'd love to show you what we mean, but you can't take screen shots while PowerDVD is playing protected movies. Sigh. Bottom line, PowerDVD plays Ultra HD Blu-ray discs on your TV, but it's hardly hassle-free at this point.
Don't have the hardware? It's still great
As I said up top, the thing about PowerDVD 17 and preceding versions, is that it's not just a player—it's the best player. The program has more ways to enhance sound and video than you can shake a stick at: TrueTheater HD (adding detail),TrueTheater Lighting (shadows and highlights), TrueTheater Color (come on now), TrueTheater HDR (the dynamics upsampling), TrueTheater Motion (smoothing action), TrueTheater Noise Reduction, and TrueTheater Stabilizing (shaky video).
Should you buy it?
PowerDVD 17 is simply the best video, audio, image-playback solution on the market. It's far more versatile than the competition, and it continues to improve. Our few nits about the interface do nothing to change that opinion. But the program is also pricey, so we generally recommend upgrading every other version. Unless you have the hardware for Ultra-HD Blu-ray playback or one of the newly supported VR headsets, you might want to skip this upgrade.