At a Glance
Expert's Rating
Pros
Sweet, balanced sound
Built-in Class AB amplifier adds euphonic warmth and midrange presence
Comfortable to wear despite their size and weight
Cons
Heavy and bulky
Inline remote's buttons aren't easy to decipher by touch
Carrying pouch won't protect from accidental drops or abuse
Our Verdict
No headphone amp required. A built-in Class AB amp guarantees these planar magnetic headphones sound their best with any source.
Best Prices Today: Ella
Blue Microphone's dynamic headphone offerings, Mo-Fi and Lola, left us impressed, so we've been eager to experience its Ella model, which features a planar magnetic driver design. Planar magnetic technology uses an extremely thin and light diaphragm to reproduce sound. A magnetic system drives the diaphragm's entire surface in an even pull-push manner.
Ella sports two 50mm x 50mm planar magnetic diaphragms measuring less than 50 microns thick. The planar magnetic diaphragm is rated to deliver frequency response of 20Hz to 20kHz—pretty much the entire range of human hearing.
Mentioned in this article
Blue Lola
Price When Reviewed:
$250
Planar magnetic headphone designs are known for their ability to reproduce fine details and quick musical transients, among other attributes. Getting the best performance from this type of headphone typically requires a dedicated headphone amplifier, which can add substantial cost to what are typically already expensive cans. While some recent planar magnetic offerings, like the Oppo PM-2 that I previously reviewed, are designed to work with mobile devices, they still sound better paired with an outboard amplifier.
Well, you won't need an amp with Ella, because Blue put a 250mW Class AB amplifier right into the headphones. A 1000mAh battery powers the onboard amplifier and provides around 12 hours of playing time. There's a micro-USB connector on the left ear cup for recharging its battery, and an intelligent power-management circuit shuts the amp down when it's not in use.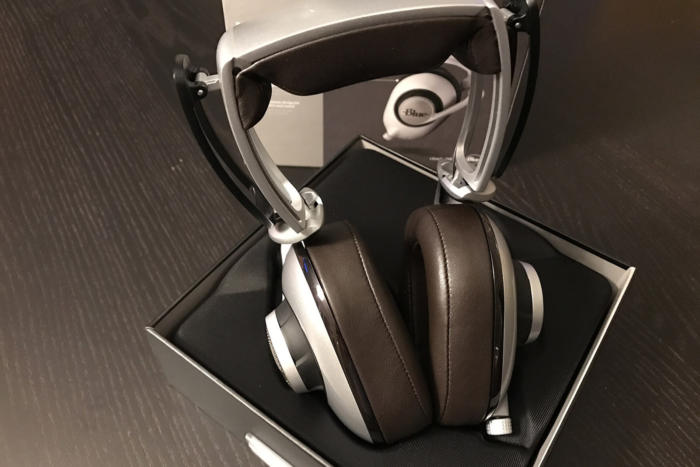 Ella's amplifier
Turning on Ella's amp is simple and doesn't require fiddling to find the switch. The dial is located where the 3.5mm audio cable inserts, and it lets you choose one of three amplifier settings. In the Off position, the Ella functions as a typical passive set of headphones with 50 ohms of impedance. They will rely completely on the amplifier built into the source you're using to drive them.
In the On position, Ella's built-in amp kicks in and the headphones' impedance drops to 10 ohms. Turning on Ella's amplifier yields a two-second silence before your music kicks back in. When it does, it's noticeably louder by a several decibels. To put it into visual terms, if you were running the Ella in passive mode and had iTunes jacked up to max volume, you would need to adjust the slider down about 20- to 25 percent to get it to volume match the headphones with the amp turned on. It's that significant of a jump.
On+ is intended to be used with vinyl and will provide a slight boost in the bass. I don't recommend using this setting with any source other than LPs. Engaging On+ with other sources was downright unpleasant. It made them sound bloated and boomy.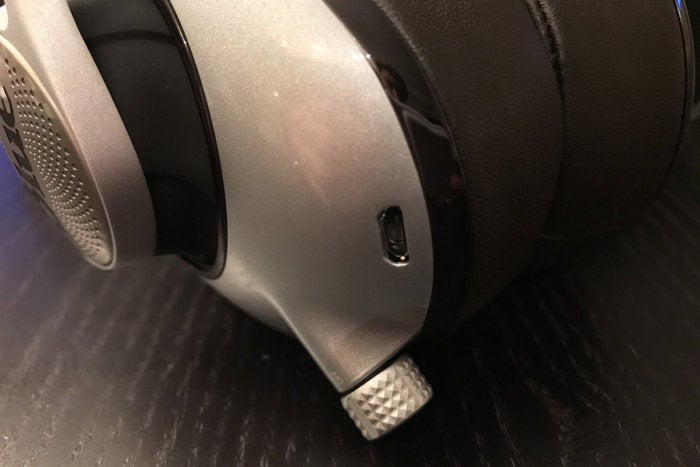 Ella shows its charging status with a unique glow on the ear cups. A slow pulse lets you know that the Ella is charging successfully. The glow turns solid when Ella is done charging. If the headphones are in need of charging, there's no audible cue. Instead, the ear cups will produce a fast pulsating glow. You can charge Ella and listen at the same time, but Blue doesn't recommend the practice. There are some rare situations where you can get grounding issues that will cause a buzz in the headphones.
Listening tests
I tested Ella on an iPhone 7, a MacBook Pro, and an Astell&Kern AK70 with a mix of high-resolution tracks, songs ripped from CDs, and AAC-encoded iTunes downloads.
I also tested Ella with an Anthem AVM 60 preamp-processor, which has a built-in headphone amplifier. With the AVM 60, apart from the aforementioned volume jump, I noticed very little sonic difference between running Ella passively or with the amp turned on.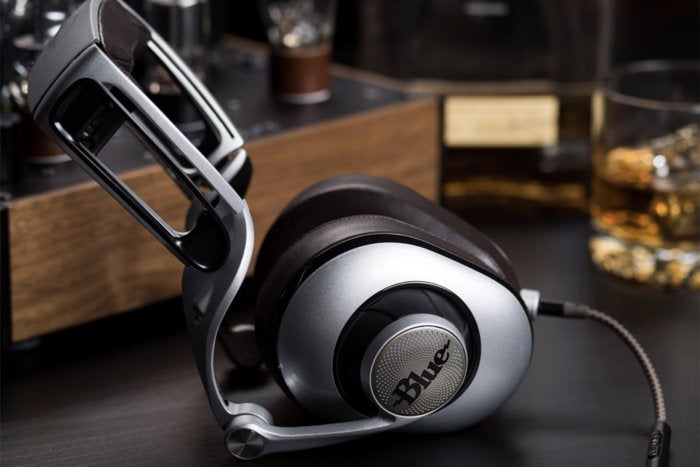 Powering Ella with mobile devices, however, was a bit of a different story. Running the Ella headphones passively sounded good, but music consistently came across slightly thin in the upper bass and midrange. Activating the onboard amp produced several nuanced but important refinements to the music that you'd notice when pairing good passive headphones with a superior headphone amp.
Mentioned in this article
Atell&Kern AK70
Price When Reviewed:
$599.00
First off, the previously thinned out midrange became fuller and warmer with the amplifier engaged. Similarly, vocals and instruments jumped out of a flat soundstage and took on a slightly more three-dimensional quality. Vocals especially became nicely rounded and separated from instrumental backgrounds.
It surprised me that deep bass lines and overall dynamics weren't dramatically influenced by the amplifier. There was, however, a slight difference in the mid-bass. For example, the kick drum in "Lens" from Alanis Morissette's Havoc and Bright Lights filled out more with the amplifier on as opposed to off.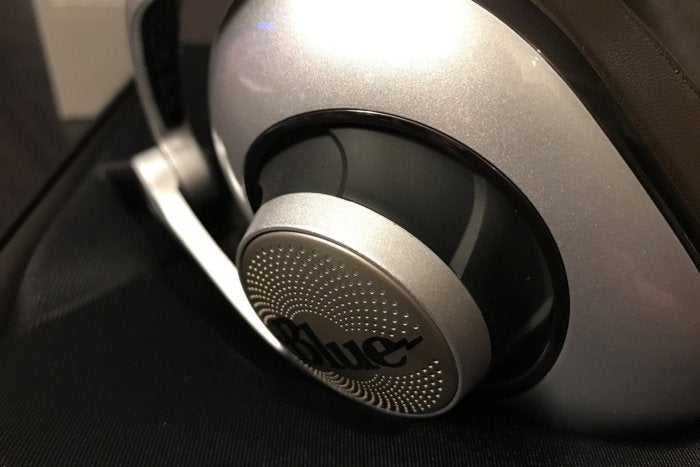 Industrial design
Ella calls to mind the distinctive design, look, and build of its predecessors. It's a closed-back, over-the-ear design, with an aluminum headband and ear cups made from a tough, hard plastic. Weighing nearly 17 ounces, Ella comes in on the heavier side of the scale; but when you wear them, their bulk seems evenly balanced thanks to their strut-like superstructure. The multi-jointed, race car-inspired, metal headband applies even and comfortable clamping pressure to the side of your head.
The ear cups and underside of the headband are made of a soft synthetic leather with generous padding. The ear pads are deep and comfortable. I was initially worried that the amp's presence would make Ella hot, but that was never a problem. I enjoyed wearing them for extended listening sessions.
Ella comes with the usual accessories, including a soft, plush carrying pouch and a 3.5mm-to-1/4-inch adapter. There's no hard-sided case, so watch out if you're carrying Ella from one location to the next; that pouch doesn't provide much protection from being dropped or crushed. Blue also provides a micro-USB charging cable and two high-quality, braided (and tangle-proof) 3.5mm cables: One is three meters long and the other is 1.2-meters. The shorter cable is designed for use with a smartphone or digital audio player, and it comes with an inline remote control and microphone.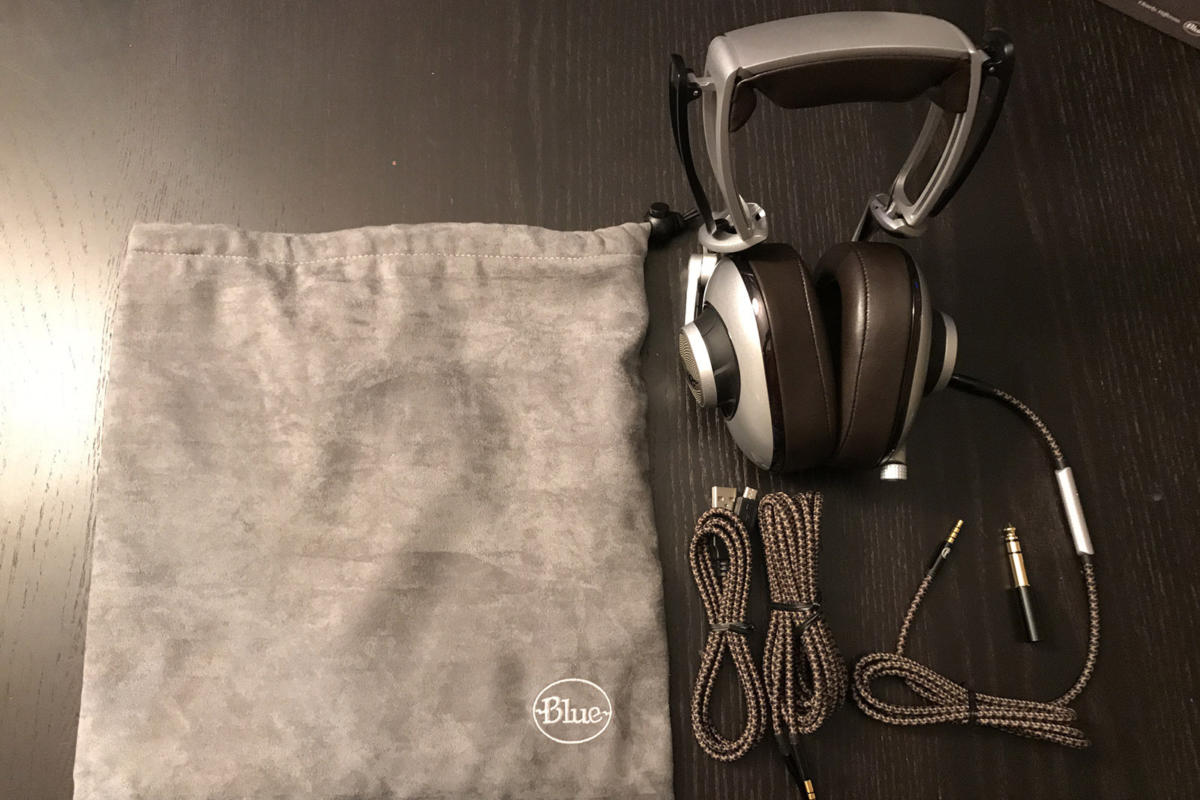 In use, the inline remote and microphone worked as advertised, but I wish Blue had done a better job of distinguishing the remote's buttons, so you could use them confidently by touch. There were times when I wanted to press the "play/pause" button and accidentally advanced a track. Strict and meticulous attention to industrial design and usability details like these are where brands like Bowers and Wilkins and V-Moda excel.
Planar magnetic magic
Planar magnetic headphones can produce musical magic, but giving them enough power is the key to helping them conjure up their sonic illusion. Ella's onboard Class AB amplifier is no gimmick, it makes a difference especially with lower-powered mobile devices and DAPs. Planar magnetic-based headphones aren't cheap and at $699 MSRP, Ella is no exception. Nevertheless, if you love the sound of planar magnetic headphones but have hesitated to take the plunge, Blue Microphone's Ella gives you a very compelling case.