At a Glance
Expert's Rating
Pros
Real-time monitoring for pollutants
Quiet
Easy-to-use app
Cons
Large size limits placement options
Expensive
Our Verdict
The Airmega 300S is a great way to ensure good air quality if you have special needs like allergies or asthma. Otherwise you might consider a more conventional—and affordable—air purifier.
Best Prices Today: Coway Airmega 300S
Seemingly every appliance can benefit from being smarter and connectable to Wi-Fi, and that includes the humble air purifier. These household fixtures, which bring relief to allergy sufferers, asthmatics, and other air-obsessed folks by removing airborne contaminants, are being reimagined to monitor for pollutants, adapt to environmental conditions, and notify their owners of dangerous changes in air quality. One of the latest of these home-monitoring marvels is the Airmega 300S ($749, street-priced on Amazon for $551.65 as of this writing).
The 300S breaks from the tall space-saving design of conventional air purifiers. The 21.2 x 13.6 x 13.6-inch box demands a fair amount of space and is about as inconspicuous as a swamp cooler. Perhaps that's why it's designed to look more like a piece of furniture than an appliance, with four black feet and a shiny white plastic body, whose studding of clefts seems as much for visual appeal as for sucking air.
In the corner of the 300S' top panel are the unit's power button and a series of LED indicators for Sleep mode, Smart mode, and fan speed. You cycle through these using a touch button beneath them.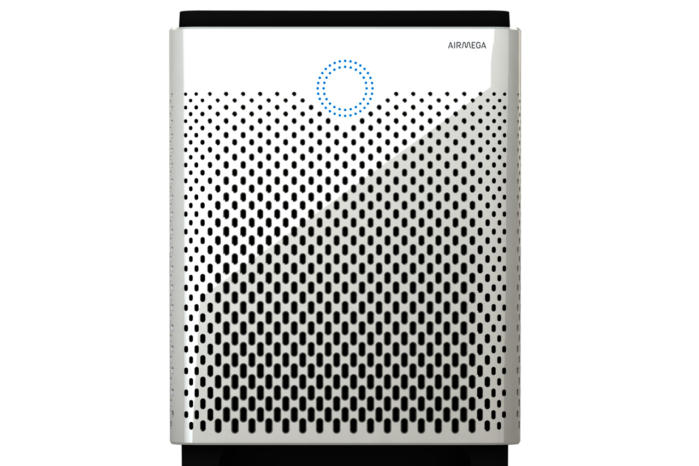 The 300S uses four filters—two micromesh "Pre-filters," which trap large particles like fur, hair, and dust; and two "Max2" filters that combine "Green True HEPA" filter technology with an activated carbon filter. This combination, according to Airmega, removes from the air 99.97 percent of particles 0.3 microns or larger. These include common allergens such as pollen and fungi, as well as cigarette odor, food smells, harmful gasses, and volatile organic compounds (VOCs) released by common household products such as paints and cleansers.
Two filter buttons opposite the main control panel light up to let you know when their respective filters need attention. The Pre-filters can be cleaned and reinstalled, but the Max2 filters, which have a lifespan of about a year, must be replaced. At $99 per set ($79.95 at Amazon), they aren't cheap.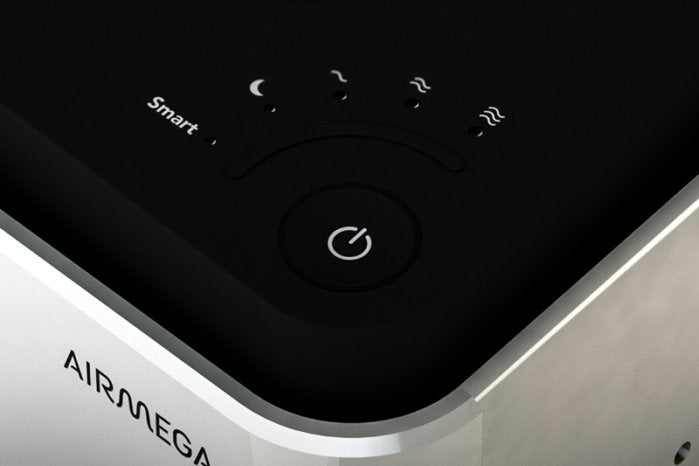 Above the filter buttons is a Wi-Fi indicator that glows solid when the 300S is connected to your network, blinks when it's not, and turns off when there's no Wi-Fi. To the right of this is a light bulb icon; when pressed it toggles the air quality indicator on the front of the 300S, a ring of LEDs that changes color according to the indoor air quality: blue and green when it's "good," yellow and green when it's "moderate," yellow and pink when it's "unhealthy," and pink and red when it's "very unhealthy."
Setup and usage
The 300S comes mostly preassembled, all you need to do is insert the filters. This is easily done by removing the corresponding side panels and putting in the Max2 filters first, then the Pre-filters.
Once the 300S is plugged in, you download the Airmega app on your phone (Android or iOS) and create an account. The app walks you through the process of connecting the 300S to your wireless network, which only takes a few minutes.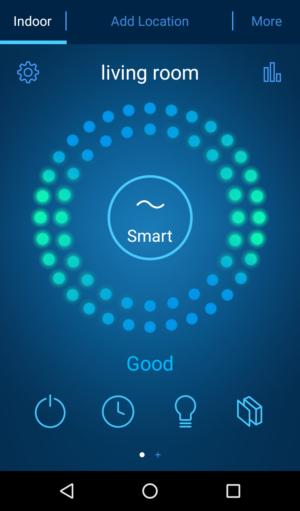 Once you understand the various displays and functions of the 300S, its app is pretty intuitive. The home screen displays the same air quality indicator found on the front of the purifier. You access smart mode, sleep mode, and the manual fan settings by tapping the center of this ring. The power switch and other controls mirroring the 300S' top panel are displayed as icons beneath the ring, along with a clock icon that provides access to a sleep timer and schedule settings for telling the 300S when to automatically turn on and off.
You can also add your location to have the app track the outdoor air quality. This displays at the top of the home screen as an Air Quality Index value and also on a separate screen with more detail, including readings for ozone, sulfur dioxide, and other pollutants. Monitoring this info along with your indoor data can provide insights into what times of day your home's air quality is and isn't at its best and what factors influence it.
Tapping a bar-graph icon in the upper right of the home screen gives you access to up to a year's worth of your air quality data. You can see this history displayed as a line graph or as concentric circles, each representing one of the four air quality "zones."
The 300S can also push notifications to your phone when its filters reach a certain life, indoor air quality reaches "very unhealthy" levels, or the purifier has a system error. Each of these can be toggled on and off independently in the app's settings.
I set the 300S up in my living room, which is well within the purifier's 1256-square-foot coverage area. After experimenting with the various settings, I kept the purifier in Smart Mode most of the time. This allows it to adapt to the environmental conditions in your home. It automatically adjusts the fan speed based on the current air quality, increasing it as the air gets unhealthy and decreasing it as it improves. If the air quality level remains "Good" for 10 minutes, the fan will turn off to conserve energy and power back on when pollution is detected. If the Airmega's light sensor detects the room is dark and air quality stays "Good" for three minutes, the Airmega will automatically go into sleep mode, reducing power and noise to avoid disturbing you.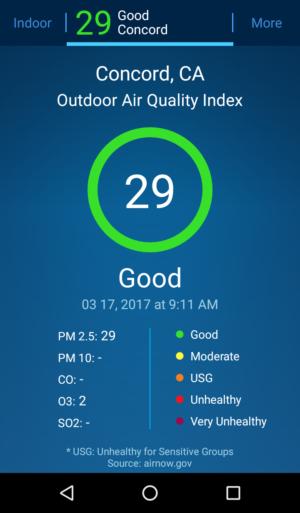 My indoor air quality remained in the "good" zone pretty much around the clock with just a couple of deviations. The first was during one afternoon when for reasons unknown it moved into the "moderate" level. As the 300S was in Smart Mode, it turned the fan speed up to Level 2, and within a couple of minutes the air quality was back down to "good." The second incident was during some house cleaning when I kicked up a cloud of dust near the Airmega; the indicator immediately turned color indicating air quality was "unhealthy." As the 300S was in manual mode and on the lowest fan speed, it took until the dust settled over several minutes until the air gradually returned to "good" levels.
The ability to operate the purifier from miles away—changing fan speeds and switching it on or off—also worked really well, and it's easy to see it's practical value. Being able, for instance, to change the purifier's settings from another room or location can come in extremely handy if you don't want to disturb a sleeping child or other family member who depends on good air quality.
Bottom line
The Airmega 300S performs well for medium-sized rooms (the larger model 400 is rated to clean rooms up to 1560 square feet) . Even at the highest settings, the fan noise is never intrusive and I came to miss the unit's comforting hum when it was turned off. The Airmega app is and easy to use and responsive, you get just enough information to keep your quest for healthy air from becoming an unhealthy obsession.
Unfortunately, its high price tag is a big hurdle, particularly when some other smart air purifiers, such as the Honeywell HPA250Bs can be had for a fraction of the price (it's $175.76 at Amazon) . That unit, however, is only rated for rooms up to 310 square feet). Given that, we can only recommend the Airmega 300S to smart home enthusiasts with large rooms and deep pockets.
Best Prices Today: Coway Airmega 300S