At a Glance
Expert's Rating
Pros
Cameras are entirely wire-free (no power or ethernet cables)
Highly customizable motion detection
Can be deployed indoors or outdoors (IP65 rating)
Cons
Hard to see detail backround in night vision mode
Setting up a separate hub might be a turn off
Magnetic mount leaves cameras susceptible to theft
Our Verdict
For an indoor/outdoor home security system, Netgear's Arlo Pro is tough to beat.
The DIY home security camera market has expanded by leaps and bounds in the two years since we reviewed Netgear's Arlo HD Camera. Netgear itself has expanded its wireless security camera line exponentially; it now includes a half-dozen cameras, including the indoor-only Arlo Q, the portable Arlo Go, and the upcoming Arlo Baby monitor. We have reviews of those two last products in the works. In the meantime, here's our take on Netgear's Arlo Pro.
The Arlo Pro isn't exactly new, but more of a rethink of the indoor/outdoor Arlo HD. It looks virtually identical to its predecessor, but there are host of improvements under the hood, including a single rechargeable battery (the original depended on four CR123 lithium batteries). The Arlo Pro also adds a built-in speaker and mic so you can soothe anxious pets, startle intruders, or ward off solicitors from your front porch.
Netgear says it also upgraded the camera's motion detection, night vision, and weatherproofing. The new camera carries an IP65 rating, which means it's impervious to the elements and even an errant blast from a garden hose. (The original was rated IPX5, which meant Netgear didn't claim protection from dust incursion fro the Arlo; the Arlo Pro's water-incursion rating is the same.) Our sister site Greenbot published an article explaining what IP ratings mean in the context of smartphones, but the story is just as relevant to home security cameras—or weatherized speakers, for that matter.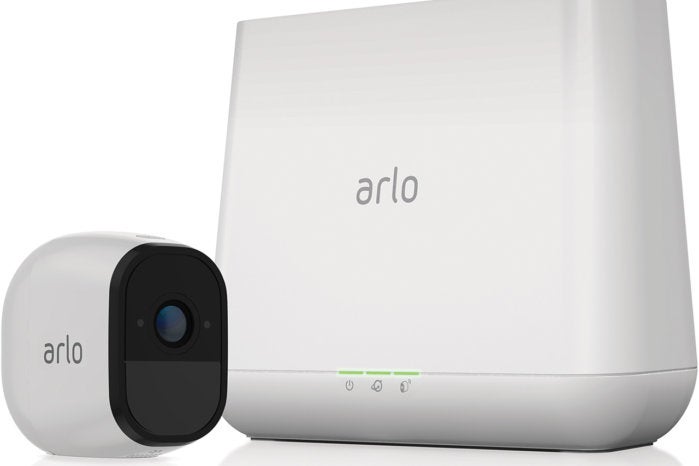 Though the Arlo Pro will work with Netgear's existing Arlo base station, Netgear has also released a new Pro version, which boasts several improvements of its own: It extends the Wi-Fi range to "300+ feet, line of sight" for more placement flexibility outside the home, and it adds an ear-piercing 100-decibel siren to scare off bad guys. The hub comes as part of one,- two-, three-, or four-camera starter packs for $250. $420, $580, and $650 respectively. Once you've purchased one of these systems, you can buy additional cameras for $190 each.
Mentioned in this article
Netgear Arlo Video Camera system
Price When Reviewed:
$349
The Arlo Pro comes with a free cloud storage plan that stores seven days of recordings from up to five cameras. That's probably plenty for most home-monitoring scenarios. If you need more, you can avail yourself of the Premier Plan (30 days for up to 10 cameras) for $8.25 per month, or the Elite Plan (60 days for up to 15 cameras) for $12.41 per month.
Setup and usage
Unlike most home security cameras, which connect directly to your Wi-Fi network, the Arlo Pro must be paired with its accompanying base station. This process is fairly painless: Plug the Pro hub into your router with the supplied ethernet cable, press its sync button, and then push the sync button on the camera. If you're using the Arlo smartphone app to guide you through the process—and you should—you'll know the setup is complete when you see the live camera feed.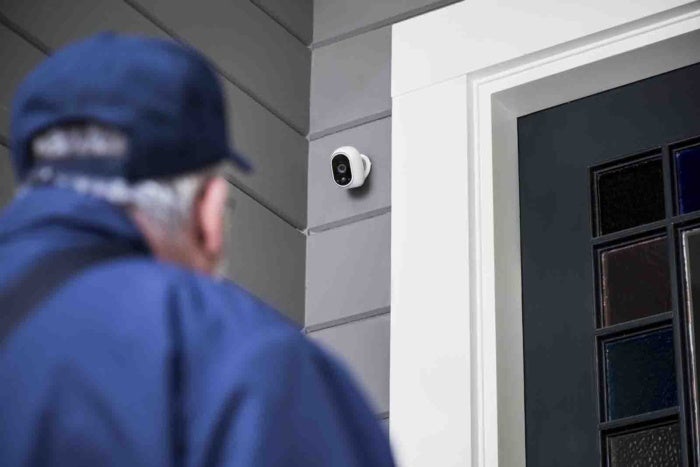 One of the boons of the Arlo Pro's wireless modular design is that you can place it just about anywhere, indoors or outdoors without having to worry about proximity to an electrical outlet or drilling holes in your wall to snake a power cable through. The camera's flat bottom allows it to sit on any horizontal surface or you can use the supplied mounts and screws to secure it to an interior or exterior wall, ceiling, or overhang.
Mentioned in this article
Arlo Q
Price When Reviewed:
$220
I nestled one between some knickknacks on my entertainment center and was able to take in my entire living room thanks to the camera's ample 130-degree field of view. Despite the lens' wide angle, the Pro's image had no image-bending or other distortion. It delivered crisp 720p video with sharp details and accurate colors. Night vision mode was less impressive; while the Pro's infrared LEDs adequately lit up the space directly in front of it, the background and sides of the frame were shrouded in darkness despite the cameras claim of 25-foot night-vision range. This was even more problematic with the camera outdoors, so you might not want to place it in a spot where there's no exterior lighting.
Unlike the Arlo Q, which has a 24/7 recording option, the Arlo Pro's recording is strictly event-triggered. It comes with four predefined motion-detection modes that can be selected in the Arlo app: Armed, Disarmed, Schedule, and Geofencing. You can also create your own custom modes.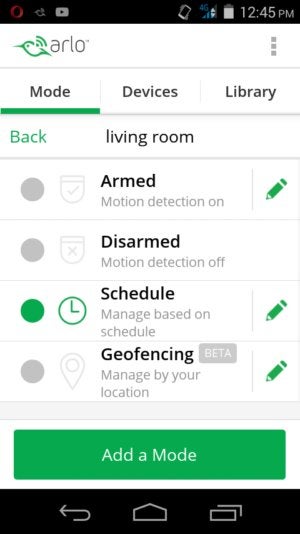 Armed is the default mode; when motion is detected, Arlo Pro will record five seconds of video and alert you via push notification and email. You can modify all of these if-then rules, however; for example, you can enable audio detection as well as motion detection and have them trigger the camera's siren as well as recording. You can also adjust the detection sensitivity and extend the video recording to any length up to two minutes.
Schedule mode lets you set specific days and times when motion detection is active, while Geofencing mode uses your phone's GPS: It turns on motion/sound detection when you leave home, and turns it off when you return. Custom mode lets you select a detection mode, tweak its sensitivity, and even have one camera trigger recording on another. This has a bunch of handy applications, such as having your front porch camera trigger your indoor camera to record whoever enters your home.
All these modes help significantly reduce false alarms by restricting when detection is active. You can further minimize erroneous alerts by calibrating the baseline sensitivity using the Arlo app's Motion Detection Test. You adjust the sensitivity slider—it ranges from 0 to 100 percent—then walk in front of the camera. If the sensor recognizes motion the camera's indicator LED will blink orange. This way you can determine the lowest accurate setting.
I later moved the camera outside. The Arlo base station lives up to its promises of extended range. I walked with the camera down my driveway and halfway up the block before the connection started to get dodgy. One thing to note is that the siren is located on the base station, not the camera. At 100 decibels, the siren is plenty loud, but, depending on the logistics of your home setup, there is a chance an intruder might not hear it until he's breached your home.
Bottom line
The Arlo Pro is a definite improvement over the original Arlo HD. Its ability to function equally well indoors or outdoors is fairly unique, and the app's motion detection controls are some of the best we've seen. The idea of setting up a separate base station may turn off some, but if you want an easy-to-use security solution with a lot of flexibility, it's well worth the minimal effort.