At a Glance
Expert's Rating
Pros
Tight but good layout for mix of power bricks and plug
Multiple LED indicators help troubleshoot electrical problems
Pivoting cord with flat end is excellent for placement
Cons
Confusing approach to passing through power when protection expires
Clamping voltage higher than desirable
Murky details on the company's equipment protection policy
Our Verdict
A solid entry that falls short in a couple of choices about continuous power and clamping voltage.
Best Prices Today: APC SurgeArrest (model P11VNT3)
APC is a long-time maker of electronics-protecting products, including uninterruptible power supplies. Its 11-outlet SurgeArrest has excellent build quality, a good outlet layout, and nice extras that put it nearly at the top of the pack. (APC sent us the slightly older, now-discontinued PF11VNT3 for review, which has an almost identical feature set and layout. A cable organizer is no longer part of the design.)
The surge protector runs five outlets for standard 2- and 3-prong plugs down the middle, and then on either side has three outlets perpendicular to the center plugs and widely spaced. I was able to attach six power adapters of varying sizes and five plugs down in the middle with only a little cramping.
Some of the bonuses include not just one or two LEDs to indicate status, but three, plus an easily reachable circuit breaker reset, in case a surge knocks out power to the whole unit. A Protection Working green LED remains lit while some of the device's MOVs are active (but more on that in a moment); a Building Wiring Fault indicator lit red would tell you to immediately call an electrician about a faulty ground or other problem; and an Overload light says you're trying to pull too much wattage and need to remove some hardware.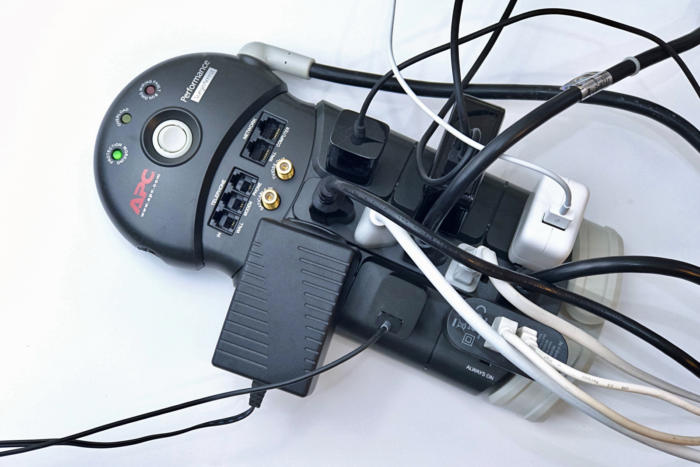 Another extra is the clever design of its power cord. At the point of attachment, APC has a 180-degree pivot instead of an inflexible point, which makes it easier to wall mount or find a good position to route its cord. One more nice touch: three of the outlets are always on and labeled as such, even if the power switch is turned off. That might be a problem if you don't want that on any outlets.
Almost all surge protectors either turn off a protected indicator when the internal circuits are burned out or have a setup where power stops flowing in that case. APC made an odd choice to do both—and neither. For the line-neutral (L-N) leg, for which APC clamps voltage at 400V, when protection ends, power stops flowing. That's sensible, as this voltage passes through your device directly, and it's the most likely point of failure.
With the two other legs, line-ground (L-G) and neutral-ground (N-G), APC offers a higher 500V clamp, and continuous power while dimming the Protection Working LED. Because ground is used for safety in the case of a short circuit, there's less likelihood of equipment-damaging trouble and less urgency. Still, I can't seem to find any other surge protector that chooses this approach. (Confusingly, APC has one explanation on its site and another in its manual about how this works, but it's confirmed with various sites that this explanation is correct—even though the company hasn't updated its site to reflect that.)
At 3020 joules, the SurgeArrest provides the right amount of durability relative to other products and its cost. The device includes a $100,000 lifetime warranty, but the details are hard to find: they're noted in the manual with a link, but the link is dead on APC's site.
While this model includes coaxial and telephone line passthrough filtering, we don't see any advantage in using either, based on industry reporting and testing. It's not a plus or minus, and the surge protector's cost relative to others doesn't seem inflated by their inclusion.
The bottom line
APC's odd choice about power flow through makes the unit neither fish nor fowl if one of your criteria is either power always flowing or never flowing when protection ends. It's higher clamping voltage isn't worrying, but given that other similarly priced units are rated at 330V for the main leg or all legs, it feels slightly underfeatured.
Nonetheless, the SurgeArrest has a solid set of features and 11 outlets with good placement for six power bricks should meet many needs, especially for a home-entertainment system in which most plugs are appliance size.
Best Prices Today: APC SurgeArrest (model P11VNT3)