February 14 is St. Valentine's Day, when we give our true loves cards, candy, flowers, sundry heart-shaped things, and take them to dinner, and perhaps even a movie. The holiday can be rough if you're single, or if you still haven't yet recovered from the hunt for a suitable Christmas gift—and now it's time for another? It could be that the best Valentine's Day present is to simply cook a nice meal (or order some takeout) and stream a romantic movie or two from the comfort of home.
Following is a list of suggestions, ranging from masterful classics to slightly alternative choices—hopefully a little something for just about everyone. And, if you're not in the mood for any love and romance, then Pixar's Finding Dory, the second highest-grossing movie of 2016, is new on Netflix, and it's as good an escape as any!
Sunrise (Rental on Vudu, Amazon Prime, Google Play, iTunes)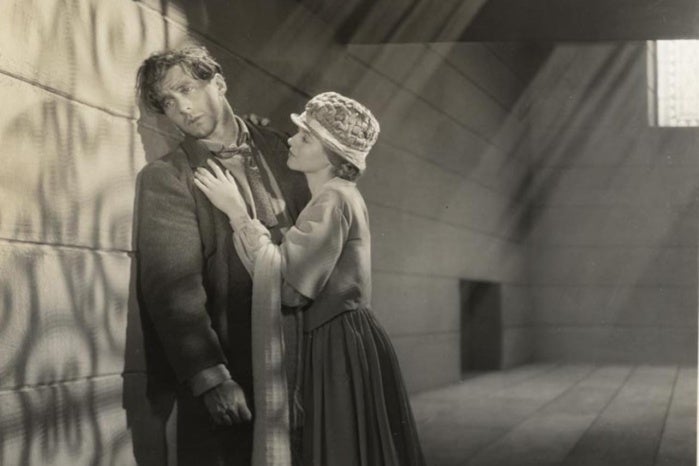 ★★★★★
Regularly cited as one of the greatest films ever made, and certainly one of the most beautiful, Sunrise (1927) was directed by the great German Expressionist F.W. Murnau during his sojourn to Hollywood (where he perished in a car crash just four years later). With profound style and poetry, and with many unique cinematic effects, the movie tells the story of a simple farmer (George O'Brien) who is tempted away from his wife (Janet Gaynor) by a woman from the big city (Margaret Livingston). Subtitled as "a song of two humans," the movie indeed moves in a lyrical way, using optics and light to suggest emotions not conveyed by dialogue. It's an unforgettable experience for lovers and cinema buffs alike. In the first year of the Academy Awards, it won three Oscars, for Best Actress (Gaynor), Best Cinematography, and the one-time "Unique and Artistic Production" award.
City Lights (FilmStruck)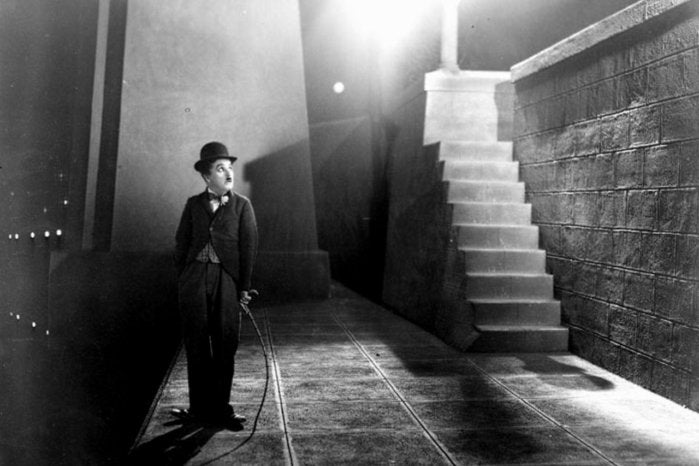 ★★★★★
In The Gold Rush, Charlie Chaplin wins a fortune and the heart of the pretty girl, but Chaplin's City Lights (1931) is a good deal more complex, and achieves even greater heights. Our Little Tramp falls in love with a blind flower girl (Virginia Cherrill), and she mistakenly believes him to be a millionaire. So he begins trying to raise money for an operation to restore her eyesight. In a secondary plot, an actual millionaire (Harry Myers) likes to hang around with Charlie when drunk, but can't remember who Charlie is when he sobers up. (It's a movie about trying simply to be seen.) Though the sound era was well underway when the film was released, Chaplin had decided to keep it silent, although he did add comic sound effects and his own music score. City Lights opens with a brilliant segment involving a statue, contains one of the great comical boxing scenes, and winds up with arguably one of the finest, most sublimely moving film endings of all time.
Casablanca (Rental on Vudu, Amazon Prime, Google Play, iTunes)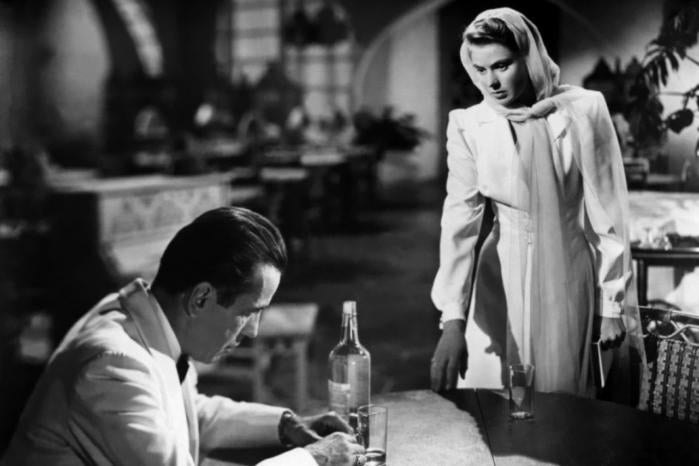 ★★★★★
Though lines like "Was that cannon fire or is it my heart pounding?" can elicit roars from modern-day audiences, Casablanca (1942) is undeniably one of the most perfectly constructed movies ever made at a Hollywood studio; it's a glorious coming-together of all the right artists at the right time—no single director or guiding hand can be credited—to create something exciting, rousing, and unabashedly romantic. Humphrey Bogart plays Rick, an expatriate running a saloon in Morocco (of course, it's a beautifully decorated studio lot) with his faithful piano player Sam (Dooley Wilson). His former lover Ilsa (Ingrid Bergman)—who disappeared on him and broke his heart—walks in with her husband, Victor Laszlo (Paul Henreid), an underground leader of the resistance against the Nazis. A lot of plot follows, but it's all so beautifully simple. An army of great character actors, including Claude Rains, Peter Lorre, Sydney Greenstreet, S.Z. Sakall, and Leonid Kinskey help with the many quotable lines of dialogue.
Sabrina (Hulu/Amazon Prime)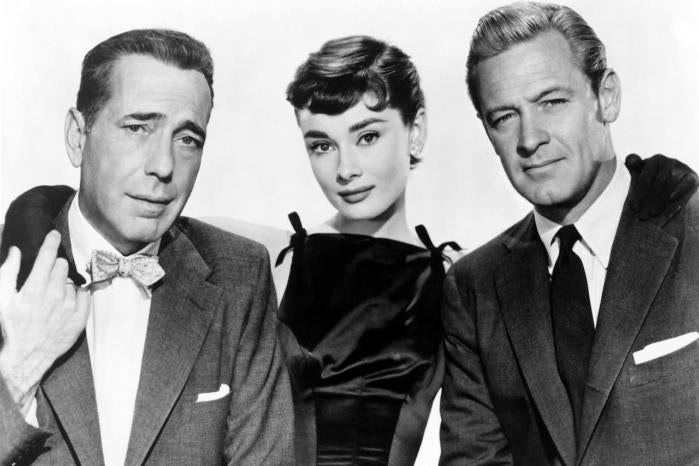 ★★★★☆
It's not quite Valentine's Day without a little Audrey Hepburn, and while she made better movies than Billy Wilder's Sabrina (1954), it certainly captures her at her pixie-ish loveliest. Her Sabrina is the chauffeur's daughter, living over the garage at the wealthy Larrabee family residence. She loves playboy David Larrabee (William Holden), who, of course, doesn't even notice her. After a thwarted suicide attempt and a stint away at a Paris culinary school, Sabrina returns, now a beautiful, worldly woman. David takes note, but so does his older, more responsible brother Linus (Humphrey Bogart). Wilder's playful, ripe tone deftly glosses over some of the material's darker angles, i.e. the suicide, the blatant manipulation, and the fact that Linus is shockingly too old for Sabrina. It's possible to watch and enjoy and sigh without being bothered by any of that stuff, especially when Hepburn sings "La vie en rose," or when she wears some of Edith Head's Oscar-winning dresses. And, it goes without saying, that this version is far preferable to the 1995 remake.
Marty (TubiTV)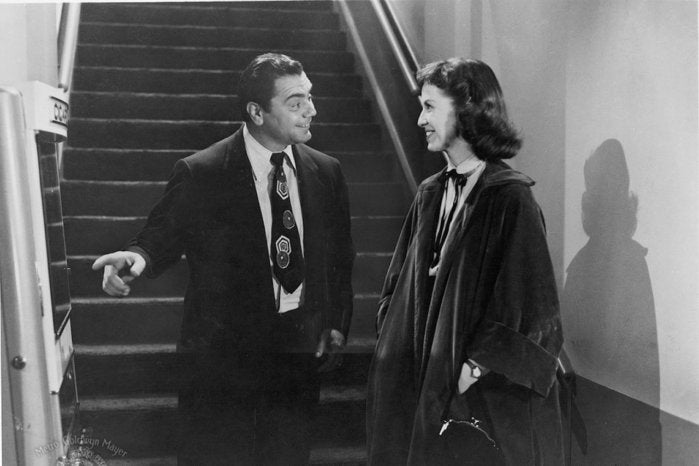 ★★★★☆
Written by Paddy Chayefsky, Marty (1955) was a revelation in its time. It was only a "small" picture, but it captured the hearts of so many viewers who saw themselves in Ernest Borgnine's average, everyday hero, and who gleaned hope from his late, but lovely, romance. Borgnine's Marty is a New York butcher whose brothers and sisters are all married; everyone gives him a hard time about it. One night at a ballroom he meets a girl (Betsy Blair), cast off by another man as a "dog," and they hit it off. But even though Marty is happy, everyone says he can do better. Chayefsky's screenplay relies a bit too much on repeated dialogue, some padding, and an attempt at a kind of thesis statement, but director Delbert Mann uses city lights to fine effect, giving a lived-in quality to the streets and buildings. And, to be sure, the movie's emotional effect far outweighs its intellectual one. It was a smash hit, and it won four Oscars, including Best Picture, Director, Actor, and Screenplay. In this day and age, an unabashedly grown-up entertainment like this is a rare thing, and still worth seeing. [Note: TubiTV streams films for free, without even signing up, and they are not edited for content, but the service does include ads.]
Pretty in Pink (Hulu/Amazon Prime)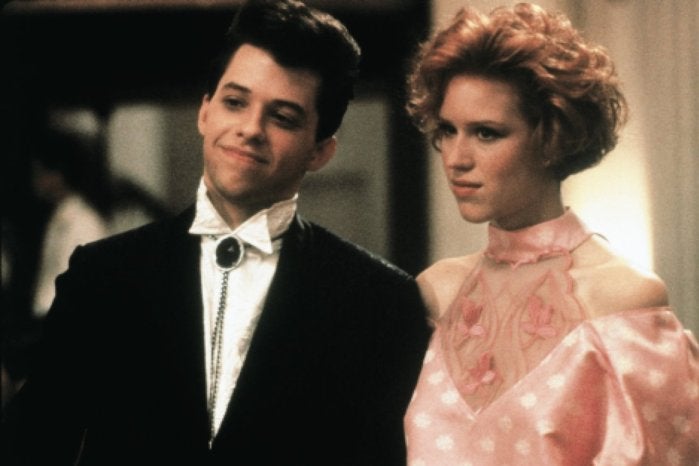 ★★★☆☆
After endearing himself to 1980s teens with Sixteen Candles (his directorial debut), The Breakfast Club, and Weird Science, John Hughes took a break from directing and gave his amiable screenplay for Pretty in Pink (1986) to Howard Deutch; but fans knew whose vision this was. The movie has slightly less comedy than its predecessors—Jon Cryer's energetic turn as Duckie notwithstanding—and is more focused on matters of the heart. Molly Ringwald plays Andie, a working-class girl who falls for rich kid Blane (Andrew McCarthy), much to the chagrin of all her friends, especially Duckie. Hughes' original screenplay came out one way, but the film was changed to suit the learnings of test audiences; it's still up for debate which ending is, or would have been, better. The great Harry Dean Stanton plays Andie's father, and James Spader plays an ultra-slimy yuppie scumbag. The legendary, romantic soundtrack features cuts from Orchestral Manoeuvres in the Dark, The Psychedelic Furs, Suzanne Vega, Echo & the Bunnymen, New Order, and The Smiths, not to mention Otis Redding's "Try a Little Tenderness."
The American President (Hulu)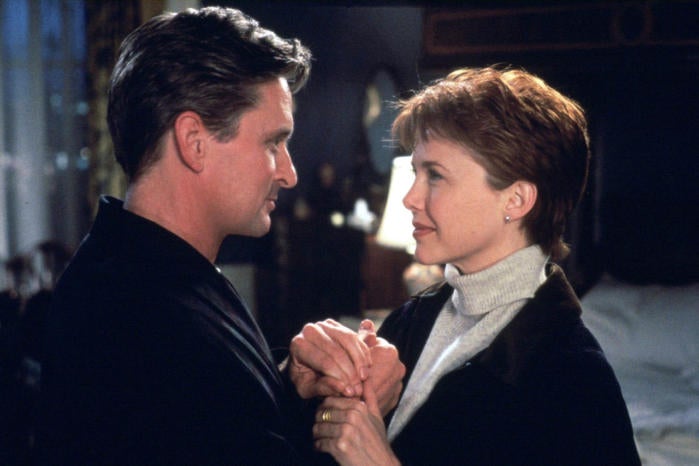 ★★★★☆
Writer extraordinaire Aaron Sorkin broke into the movies by adapting his play A Few Good Men to the screen; that led to his original script for The American President (1995), and his fascination with political process. This movie will seem so gentle and innocent compared to today's headlines, but perhaps it's a good antidote for at least a day, on February 14. The story wonders what would happen if a United States president became widowed during office; could he re-marry? What would the public think? So President Andrew Shepherd (Michael Douglas) is running for re-election and meets lobbyist Sydney Ellen Wade (Annette Bening). They make a deal involving a controversial environmental bill, and the president must learn to stand up for what he believes in, or lose her. It's a delightful, escapist fantasy, in which good guys win and bullies don't. Interestingly, Martin Sheen co-stars as the White House Chief of Staff, and went on to play POTUS four years later in Sorkin's TV series The West Wing. Rob Reiner directs, with his usual briskness and brightness.
Before Sunrise (Amazon Prime) & Before Sunset (Amazon Prime)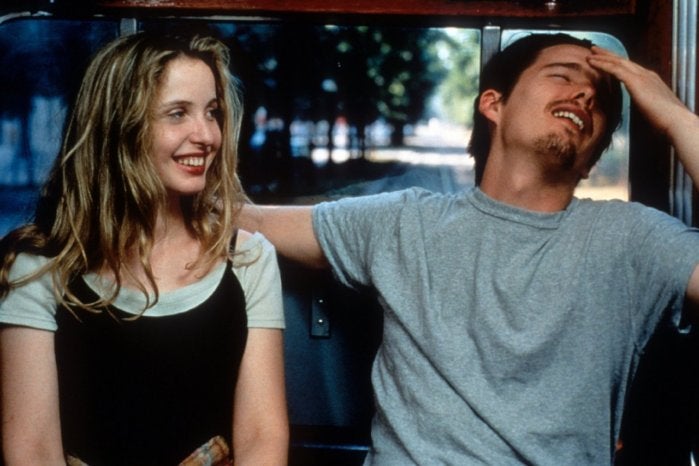 ★★★★★
Richard Linklater's Before Sunrise (1995) was an audacious idea, a talk-filled romance about a young American man, Jesse (Ethan Hawke), and a young French woman, Celine (Julie Delpy), meeting while traveling in Vienna. They strike up a conversation on a train and agree to get off and spend some time together. They, of course, fall in love, but where do they go from here? Both characters are highly intelligent, and both have established thoughtful ideas on love and life, and their discussion flows organically, rather than feeling like a script or a play. Better still, the movie achieves quite a bit of emotional energy as their chemistry grows stronger. Unexpectedly, nine years later, Linklater—with Hawke and Delpy co-writing—delivered an even better sequel, Before Sunset (2004). Now, life has delivered its first disappointments, hope has arisen anew, and time is short; quite a bit more is at stake. And, like City Lights, it offers another one of the best closing moments in the history of cinema. (Note: the masterful third chapter, Before Midnight [2013], is available for rental on Vudu, Amazon Prime, Google Play, and iTunes.)
Addicted to Love (Hulu)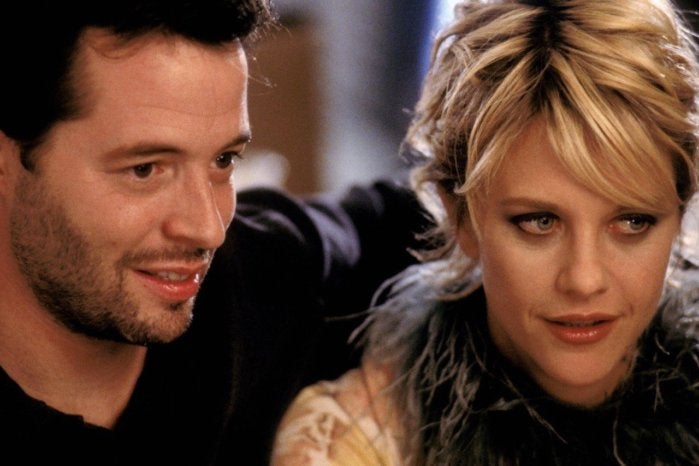 ★★★★☆
This odd, dark romantic comedy didn't really catch on during its day, but I found it to be very interesting and likable in a weird, punchy way. In Addicted to Love (1997), Sam (Matthew Broderick) is dumped by Linda (Kelly Preston), and Maggie (Meg Ryan) is dumped by Anton (Tcheky Karyo). Linda and Anton move in together, and Sam—shortly followed by Maggie—begins squatting in the rat-and-roach-infested abandoned building across the street, to spy on them. They set up a sound system and a beautiful, elaborate camera obscura to help, and then they make sinister attempts to break up the new couple. Of course, it's not hard to see where it's all going. But the odd touch is that, while Linda and Anton are technically the bad guys, they are kind of nice together, and while Sam and Maggie are technically the good guys, they're deliciously, enjoyably nasty. (The clever casting helps.) Actor Griffin Dunne directed, and while he concentrates heavily on performance, the movie's use of sound, windows, and voyeurism is actually quite clever.
Out of Sight (Crackle)
★★★★★
This crime film based on an Elmore Leonard novel may not seem like an ideal Valentine's Day movie, but the chemistry between stars George Clooney and Jennifer Lopez speaks for itself. In Out of Sight (1998), Clooney plays career criminal Jack Foley, who is seen escaping from prison by deputy federal marshal Karen Sisco (Lopez); so, naturally, he forces her into a car trunk with him. The rest is a cat-and-mouse game with Jack trying to rob a millionaire's home and Karen trying to stop him. Director Steven Soderbergh films a wonderful interlude wherein the two meet and have a drink, the Detroit snow falling softly in the windows behind them. As a whole, however, the movie is a crackerjack example of its genre, with a bold use of colors, and even won the National Society of Film Critics award for Best Picture. Look for a quick appearance by Michael Keaton, reprising his role as Ray Nicolette from Quentin Tarantino's Jackie Brown. A terrific Karen Sisco TV show debuted in 2003, but was quickly canceled. [Note: Crackle streams films for free, without even signing up, and they are not edited for content, but the service does include ads.]
Eternal Sunshine of the Spotless Mind (Crackle)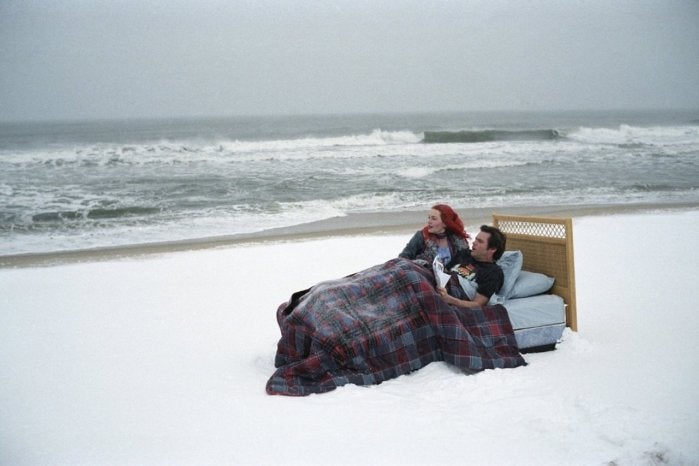 ★★★★★
The fifth produced screenplay by Charlie Kaufman, and the second to be directed by former music-video maker Michel Gondry, Eternal Sunshine of the Spotless Mind (2004) didn't seem to catch on immediately; it was too weird to fully grasp the first time out, but eventually it struck a chord that has resonated ever since, and this soulful, experimental romance now seems to have a place on everyone's list of favorite films. Jim Carrey gives a nakedly open-hearted performance as Joel, a man who has lost and cannot get over his girlfriend Clementine (Kate Winslet). He decides to employ a strange, futuristic service to have his memory wiped, but while this is taking place, he changes his mind and begins to rebel, bringing about a strange mashup of flashbacks and dreams and imagination, all wrestling for some kind of love and acceptance. The movie is certainly funny, but its moments of astonishment and wonder are greater in number. Kirsten Dunst, Mark Ruffalo, Elijah Wood, and Tom Wilkinson also star. Winslet received an Academy Award nomination, and the screenplay won an Oscar. [Note: Crackle streams films for free, without even signing up, and they are not edited for content, but the service does include ads.]
Corpse Bride (Netflix)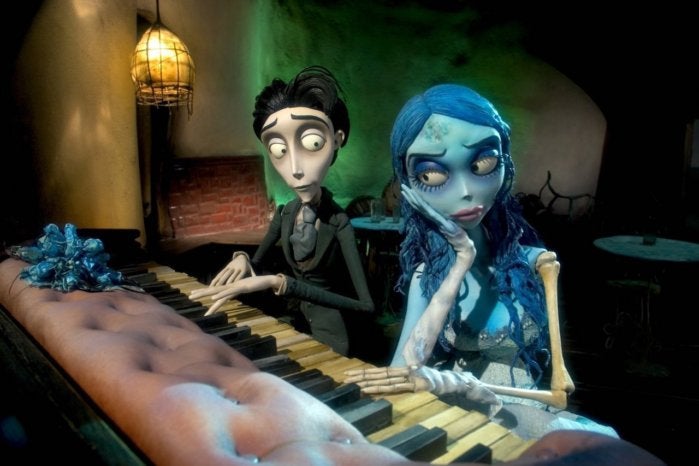 ★★★★☆
Here's a wedding movie for those who can't stand wedding movies. After The Nightmare Before Christmas—created by Tim Burton and directed by Henry Selick—became a cult classic, Burton was able to follow it up, this time with co-director Mike Johnson. Their Corpse Bride (2005) is in the same gothic-comic tradition, with many gleefully ghoulish touches to the romance story. Johnny Depp voices the meek, skinny Victor Van Dort, who is supposed to marry Victoria Everglot (voiced by Emily Watson), but, while practicing his wedding vows in the woods, he finds that he has unexpectedly married the corpse bride (voiced by Helena Bonham Carter) instead. Now in the underworld, Victor must find a way back to his flesh-and-blood betrothed. One of the most memorable characters is a maggot, who sounds just like Peter Lorre, living inside the bride's brain. The story is apparently based on an old Russian folk tale, but this 77-minute movie feels anything but old-fashioned or antique. It received an Oscar nomination for Best Animated Feature.
Twilight (Netflix)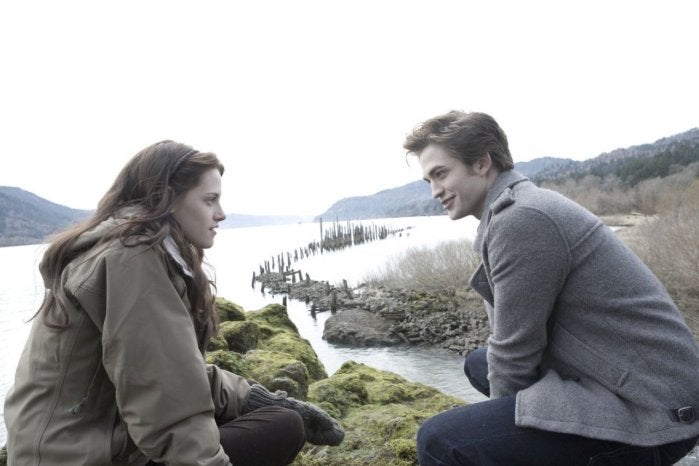 ★★★☆☆
There's awful, and there's awful, and there's Twilight (2008). I have only seen this original film in the series, and only once, and when it was new and before there was any indication of the magnitude of its success. But, I confess that, at the time, I found it an effective piece of teen romantic monster-movie entertainment. It's a bit goopy, sure, and it's neither scary nor funny, but teens often behave in excesses, experience their emotions a bit too deeply, and it all feels appropriate. (Director Catherine Hardwicke had previously made the controversial Thirteen [2003], which took a horrifyingly realistic look at younger teens.) In this movie, Bella Swan (Kristen Stewart) moves with her single father to the Pacific Northwest, goes to high school, and becomes fascinated with the pale, brooding Edward Cullen (Robert Pattinson). We know he's a vampire, but it takes Bella a little while to figure this out, and by then, she's hooked. [Note: Netflix offers this title for download and streaming offline on mobile devices.]
Bright Star (Rental on Vudu, Amazon Prime, Google Play, iTunes)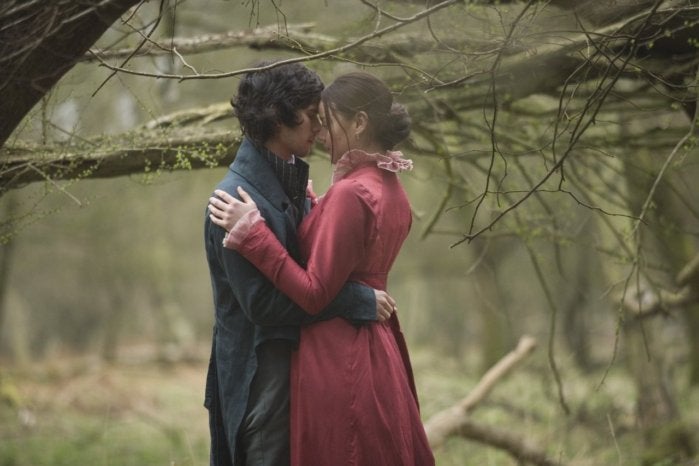 ★★★★★
Sometimes the best romances are the ones that don't end with a wedding or a walk into the sunset. Sometimes just a few moments of perfect, doomed love are enough. That's the case with this great movie by New Zealand director Jane Campion, better known for her Oscar-winner The Piano. Bright Star (2009) tells the story of famous poet John Keats (Ben Whishaw), but it's not about where he was born, nor how he came to write his first poem; it tells the story of how his life began when he met Fanny Brawne (Abbie Cornish). Their love is forbidden because of financial and other matters, but they love each other deeply anyway, and Campion depicts their love with gloriously passionate moments of a dreamy, delicate, cloudlike quality; one exhale could blow them away. When Keats writes Fanny a poem about butterflies, she lets loose a flock of butterflies in her room; it's as beautiful visualization of a feeling as ever was captured on film.
I Love You Phillip Morris (Hulu)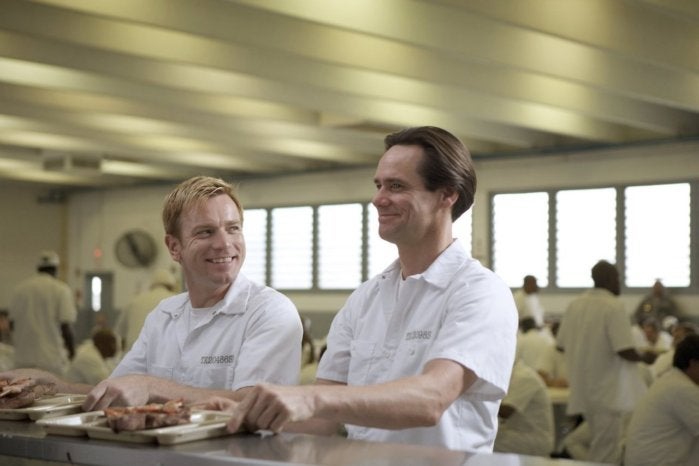 ★★★☆☆
Screenwriters Glenn Ficarra and John Requa (Bad Santa) make their directing debut with I Love You Phillip Morris (2009), a gay romantic comedy and a story of complex con jobs all mixed together and based on a true story. Jim Carrey has one of his best roles as Steven Russell, who has a habit of lying that has led him into the con game. At first he tries marrying a woman, then becomes a gay playboy before being arrested and meeting the love of his life, the gentle Phillip Morris (played by Ewan McGregor), in prison. Unfortunately, although Steven declares that they will be together forever and means it, he still can't quite stop lying, and more trouble is coming. The filmmakers have a welcome mean streak that keeps the material from getting too goopy, though I wish McGregor had a little bit more to do as Morris. The twisty reveals behind the cons seem a little at odds with the relationship material, but overall the movie comes in as a satisfying alt-romance.
Weekend (Netflix)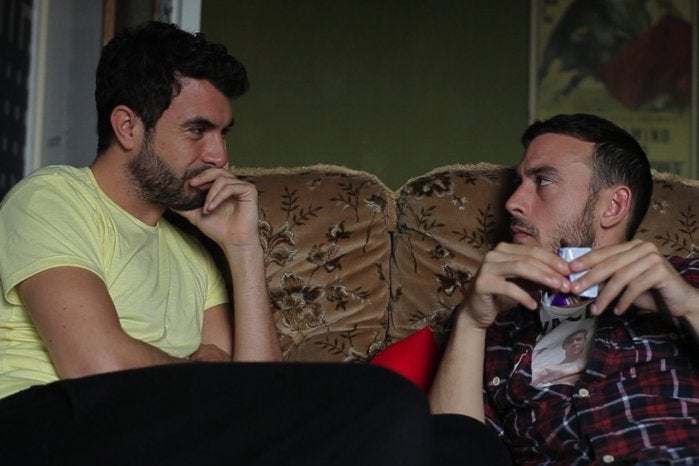 ★★★★☆
Andrew Haigh's low-budget indie Weekend (2011) is arguably one of the greatest films ever made on the subject of gay love, not because it deals with issues of homosexuality, but because it simply tells a tender, honest, emotionally potent romance story. In England, Russell (Tom Cullen) works as a lifeguard. Though he's openly gay, he doesn't exactly flaunt it. One night, he slips away from a dinner party and goes to a club. He spots Glen (Chris New), a smaller man, but with a much larger personality. They go to bed together and when they wake up, Glen asks Russell to talk about their night into his tape recorder. Thus begins a complicated weekend that should have ended as a one-night stand but continues into something special. Haigh spends a considerable amount of time on intimate dialogue scenes, but he doesn't forget about visuals, and uses the city as a vivid backdrop. The director went on to make a different kind of relationship drama with the Oscar-nominated 45 Years (2015). [Note: Netflix offers this title for download and streaming offline on mobile devices.]
Her (Rental on Vudu, Amazon Prime, Google Play, iTunes)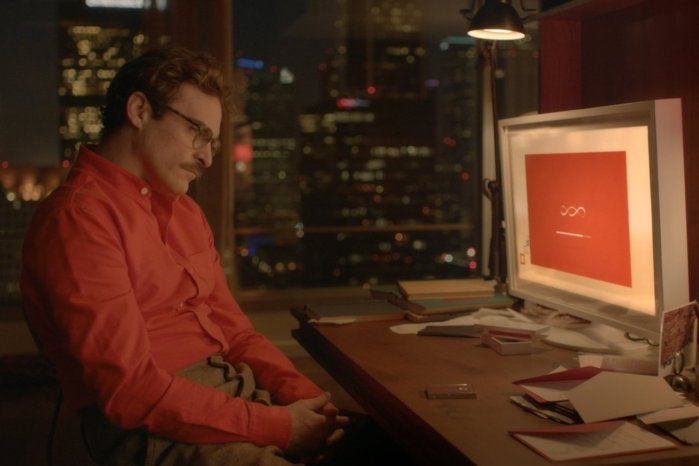 ★★★★★
Director Spike Jonze won an Oscar for his original screenplay for Her (2013), a strangely sweet, futuristic story of love in unexpected places, and of connection in any place. Joaquin Phoenix gives perhaps the best, most open-hearted performance of his career as Theodore, a professional letter-writer, working at a company that promises beautiful, "personal" products for your loved ones. He installs a new computer operating system called Samantha (voiced by Scarlett Johansson), and falls in love with her. In a lesser movie, this would have been a gimmick or a trick, and resulted in some awkward comedy, but here it just simply happens, and it's explored thoughtfully and emotionally, rather than as a problem to be solved. This relationship has its upsides as well as its downsides. Jonze's visual scheme is the equal to his screenplay, with remarkable harmony and conflict emerging in every frame, even in the way Theodore dresses and walks.
Southside With You (Rental on Vudu, Amazon Prime, Google Play, iTunes)
★★★★☆
Barack and Michelle Obama are not in the White House anymore; some people are glad and won't care, but some people miss them and should definitely see this remarkable first-date movie. Writer/director Richard Tanne's Southside with You (2016) takes place in the summer of 1989 in Chicago, as young man Barack (Parker Sawyers) works as an intern in a law firm and boldly asks out his co-worker Michelle (Tika Sumpter), not on a date, but to a meeting. They spend the day talking and eating and driving around in Barack's car with a hole in the floorboard. Michelle witnesses Barack's remarkable speaking powers at the meeting. They discuss painter Ernie Barnes and Stevie Wonder records, and see Spike Lee's Do the Right Thing. Issues of sex and race come up, and are handled intellectually; everything flows naturally, without preaching. The final result is the feeling of getting to know two people, stripped of whatever labels might be applied to them nowadays, and leaving off with a feeling of unfettered hope.
Sing Street (Netflix)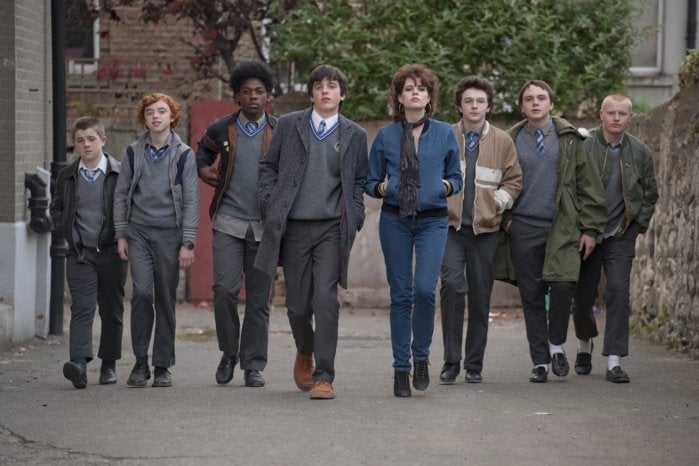 ★★★★☆
Writer/director John Carney (Once, Begin Again) returns with another working-class music film, and like the others, Sing Street (2016) is both winning and charming. Teen Conor (Ferdia Walsh-Peelo) is having a rough time; it's the 1980s, his parents are fighting all the time, and he is forced to attend a cheaper school, where he's now the new kid. He is immediately smitten by the mysterious, aloof Raphina (Lucy Boynton). He invites her to be in a video for his band; the problem is that there is no band. So he quickly forms one and begins practicing. Miraculously, he writes a tune, "The Riddle of the Model," that sounds like it was time-warped straight from the synthesizer decade; it's this and the movie's other songs that elevate the mood. As ever, Carney tries to establish a mood of working-class struggle, with little asides and moments rather than grand statements, and it works. But while the fantasy sometimes mixes uneasily with the reality, it's clear that it's all meant to carry us away, and that it does, with a song in its heart. [Note: Netflix offers this title for download and streaming offline on mobile devices.]
Finding Dory (Netflix)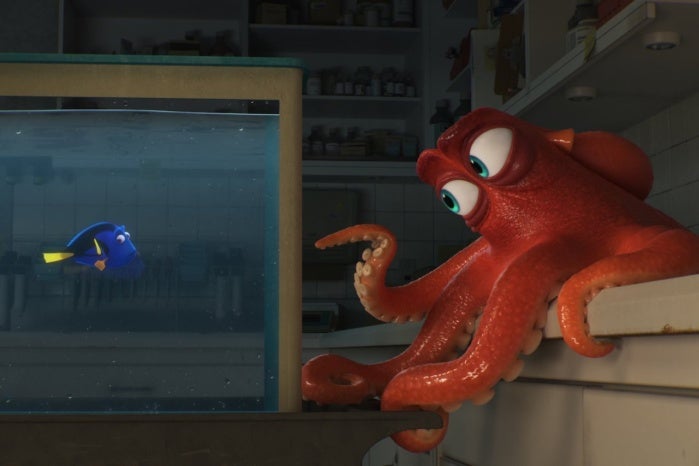 ★★★☆☆
Finally, here's a funny, fine fish story for those who eschew romance this February 14. Far from a major achievement by Pixar, Finding Dory (2016)—a smash-hit sequel to the smash-hit Finding Nemo (2003)—nonetheless gets by swimmingly. Dory (voiced by Ellen DeGeneres) was always one of Pixar's best individual characters, and freed from Albert Brooks's worrywart Marlin, she achieves new depths as she tries to find her parents. Director/co-writer Andrew Stanton makes sure not to exploit her short-term-memory loss as a one-note joke; he instead explores the toll that a lifetime of forgetting and apologizing can take on a body. Technology has drastically improved since the original, and the underwater footage is truly dazzling, matched with an enviable cast of voice actors. Ed O'Neill is a standout as a grumpy, helpful octopus (actually, given that he's missing a tentacle, a septopus), and Sigourney Weaver as… well… I don't want to give it away.