At a Glance
Expert's Rating
Pros
Small and light form factor with a bright display and smooth user interface
Consistently great sound with a wide range of headphones
aptX HD and DLNA support
Can be used as a USB DAC
Cons
No native support for MQA audio files
Streaming services are currently limited to Tidal, Moov, and Groovers+
Frustrating to use in your left hand
Our Verdict
Astell&Kern's AK70 strikes a high note with its portable size, performance, and strong networking feature-set.
Apart from hardcore music lovers and audiophiles, most people can't understand why anyone would opt for a dedicated music player. You can play music right from your phone can't you? Sure, but pair your phone with high-quality headphones and download high-resolution music files and you'll be left wanting. Listen to Astell&Kern's AK70 and you'll change your tune.
In my experience, the major disadvantage with a dedicated music player is that it's not only another device to carry, but it's often a big and bulky device to boot. While Astell&Kern's AKJr's iPod nano-like size was seemingly perfect, it's sluggish user interface and Spartan feature set left me wanting more when I reviewed it last year.
Fast forward several months and the high-end music player manufacturer is back with the AK70. If we were looking at Astell&Kern's lineup, you might be tempted to say that it's the Goldilocks digital audio player of the bunch. From seemingly every angle, this product seems just right. And at $599, the player's price point sits right between the AKJr and the AK300, making it an almost perfect price/performance champ.
Every feature feels just right
Mentioned in this article
Astell&Kern AK Jr
Price When Reviewed:
$499
In stark contrast to my experience with Astell&Kern's AKJr, I didn't have a major complaint using the AK70. The touchscreen user interface was slick and fluid all the time, every time. It just got out of the way so I could enjoy the music. Typical with A&K's user interface, the on-screen volume indicator has the motif of a vinyl LP's tracks. Increasing the volume expands the track ring and decreasing the volume shrinks it. There's a large numerical prompt, too, so you're never confused by the volume level. The track you're playing is always displayed clearly with just about all the information you could want. Clear, large buttons help you navigate around the player's features with ease.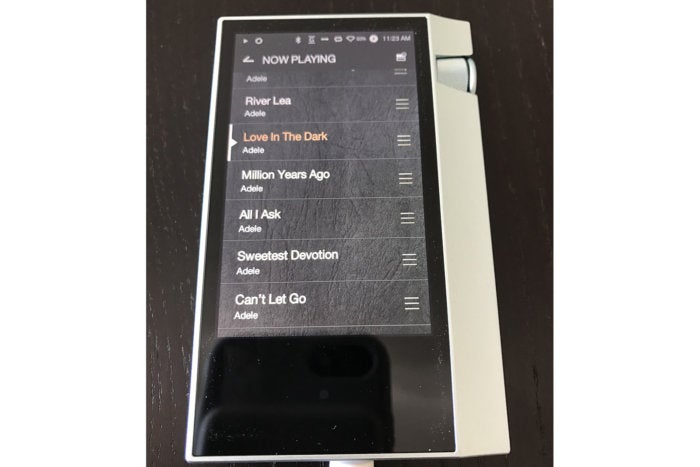 The 3.3-inch WVGA TFT LCD was consistently clear and crisp, though it doesn't span the complete height of the AK70, leaving you with an unused black area at the bottom of the player. I would have preferred a larger screen, but it really had no impact on using the player with perhaps the only exception being scrolling through long song or album lists.
After months of almost daily use alongside multiple headphones and product tests, I fell in love with the AK70's form factor. The AK70's iced-mint color with brushed aluminum texture is gorgeous. Weighing just 132 grams and being 13 millimeters thick, this DAP is light and portable to the point where it will fit into a jacket or back pocket with ease. With it's beautiful balance of weight and form-factor, I never minded carrying it in addition to my mobile phone, even on long trips.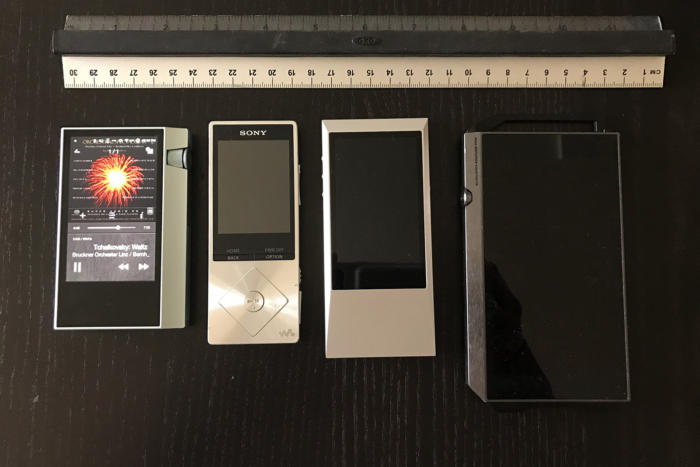 Perhaps best of all, the AK70 feels comfortable and natural to hold in your hand. Astell&Kern addressed the annoyingly sharp corners that were a nasty feature of the AKJr. The AK70s corners won't dig sharply into the palm of your hand nor will you have serious concerns about it ripping your clothing.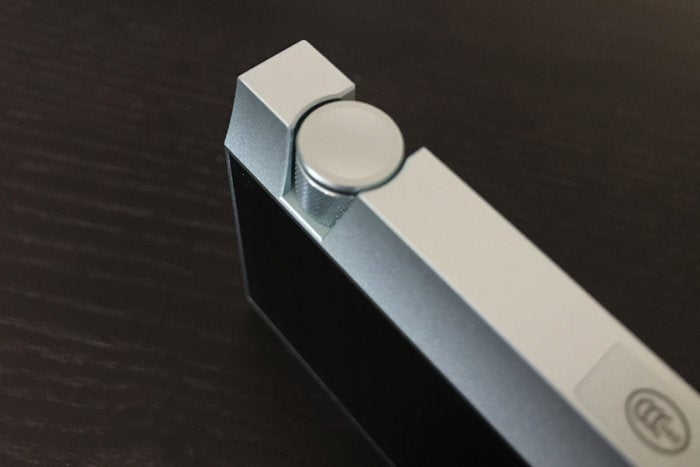 The AK70 features a large, easily accessible, knurled volume knob on the right side of the unit. You can tell that the AK70 is intended to be used in your right hand because the front right side of the AK70 has a beveled front edge.
Some quirks to be aware of
As much as I liked using the AK70, that's not to say it wasn't without its quirks. Astell&Kern provided me with one of their leather-style cases. It's a beautiful complement to the player, but if you choose to purchase the optional case, there's one quirk: you'll have a hard time swiping the top of the screen. A very thin part of the case creates just enough of a bevel that you can't always swipe the top of the screen accurately or cleanly. Consequently, you might need to press a few times or nudge the case a bit to get what you're after.
I also initially had a hard time getting the AK70 out of the case. Your initial instinct is to push it out from the bottom. You'll be fighting a battle like trying to get your finger out of a Chinese finger trap. It won't budge. The trick is to slide the AK70 out of the case by pushing up against the unit's face with your thumb. Once you do that, it will slide out with no problem.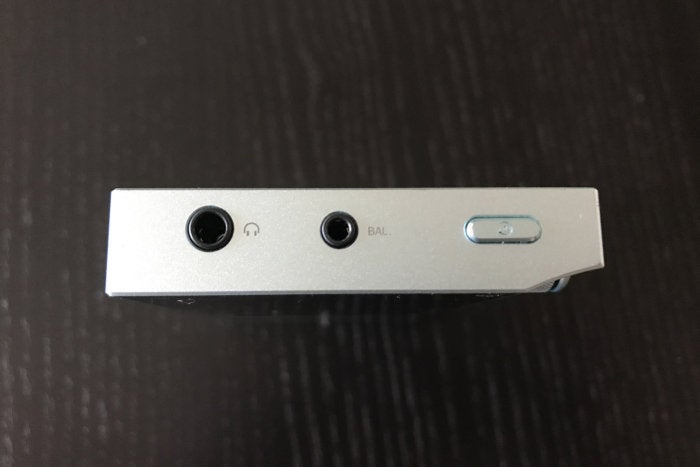 My only other criticism is that the AK70 isn't well-designed for left-handed users. Trying to adjust the volume with your left index finger is more difficult than it should be, because the back of the unit is completely flat. It's a design choice that looks smart on paper, but falls short in practice.
Mentioned in this article
PIoneer XDP-100R
Price When Reviewed:
$699
You need some effort to get your left index finger in-between the aluminum body's protective phalanx. Once you do, you can't rotate the volume knob all that much without your finger eventually fighting against the aluminum casing. Worst of all, if you adjust your grip during this process, you'll end up rewinding or advancing the song you're playing because your thumb presses directly against the physical control buttons. Astell&Kern should have beveled (or even slightly contoured) the AK70's rear like Pioneer did the with its XDP-100R. Then, you'd have no issue whatsoever. While you can use your left thumb to reach across the unit's front face, it's just awkward.
A cool assortment of features
The AK70's feature set is as great as its design. There's 64GB of onboard storage plus one MicroSD expansion slot that Astell & Kern says can handle cards up to 256GB. There are 200GB cards available that you can also try and they should work, but be sure to buy high-quality, name-brand MicroSD cards to avoid issues.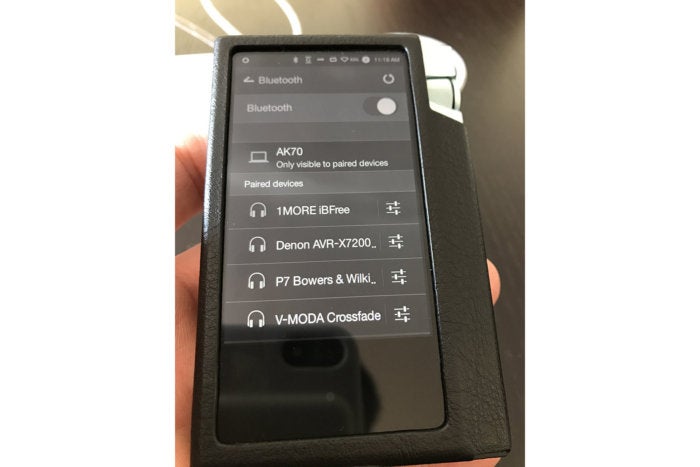 Common with Astell&Kern's other second-generation devices, a Cirrus Logic CS4398 DAC lies at the heart of the AK70. This chip can handle all standard high-res music formats up to 24-bit/192kHz. It will down-sample 32-bit music files to either 24-bit/192kHz or 24-bit/176kHz using a sample-rate converter. DSD 64/128 files will be converted to PCM 24-bit/176kHz for playback.
Bluetooth 4.0 with A2DP, AVRCP and 2.4GHz 802.11 b/g/n Wi-Fi are standard, and there's a 2200mAh 3.7V Li-Polymer Battery. I corroborated Astell&Kern's claim of 4 to 6 hours on a full charge with mixed use. As you'd expect, playing DSD files, using Wi-Fi and Bluetooth, and playing with screen brightness all had impacts on total battery life. In real-world use, the AK70 didn't leave me high and dry thanks to its auto-off feature, which will turn the player off after a defined period of time that you can specify in preferences.
I want to take special note that the AK70 now features aptX HD support so you can stream high-res audio files over Bluetooth; it's among the first players on the market to do so. (Make sure you're running the recent firmware, as aptX HD support was added after the player first shipped.)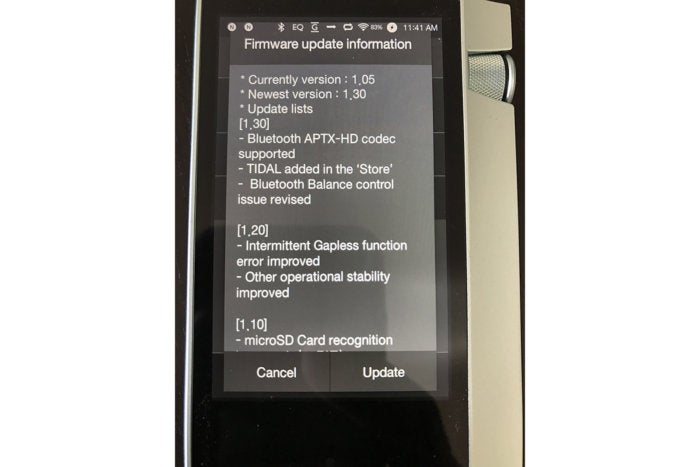 In case you're not familiar with aptX in general, it's a high-quality, low-latency codec that compresses an audio file so that it's small enough to stream wirelessly. While the original aptX wireless streaming codec gave you near CD-quality streaming, aptX HD improves things even further and supports streaming of 24-bit/48kHz high-resolution audio over Bluetooth. Of course, to take advantage, your headphones must also have aptX HD support. Right now, there's only a handful of models that will do so, and I didn't have any to test with the AK70.
Far more than just an average music player
The AK70 is far more than just a portable music player. Next to the traditional 3.5mm headphone output, you'll find a 2.5mm output that can support high-end headphones with balanced cables.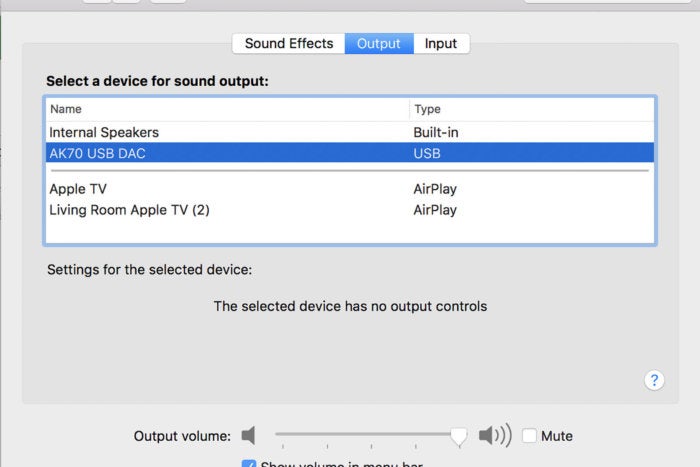 When you want to listen to music at home, the AK70 can act as a high-res music digital audio source. It's the first Astell&Kern device that can function as a USB digital out. Connect a USB OTG (On-The-Go) cable (not included) to the MicroUSB port and the AK70 can serve out music files stored on the device to your amplifier of choice. It can also play DSD files via DoP (DSD over PCM), in which a DSD file is sent on top of PCM data frames.
There are two other features worth a quick mention: First, the AK70 will connect to Astell&Kern's AK CD-Ripper. You can use the AK CD-Ripper and an AK70 to rip your entire CD collection without a computer. Second, the AK70 can operate as the heart of a music-streaming system, thanks to the AK Connect app.
But for me, I loved the AK70's robust DLNA support. You can scan compatible services for playback, share out content for playback to other DLNA-compatible devices, or act as a controller for content playback. The AK70 also comes with Mac and Windows PC media servers.
In practical terms, you have two cool choices for serving up music. You can install the free iRiver MQS DLNA-compliant server on a Mac, or PC or use PLEX, Twonky, or your DLNA server of choice. From the AK70, I was able to browse the MQS server as well as my installed Plex and Twonky servers on my network. DTS Play-Fi enabled devices worked too. Through the Anthem AVM 60 and Paradigm PW Amp Play-Fi enabled network amplifier (both units were in for review) I could browse the music library on the AK70 or the MQS Server. In other words, I could use the AK70 as a full-fledged media server. It worked great!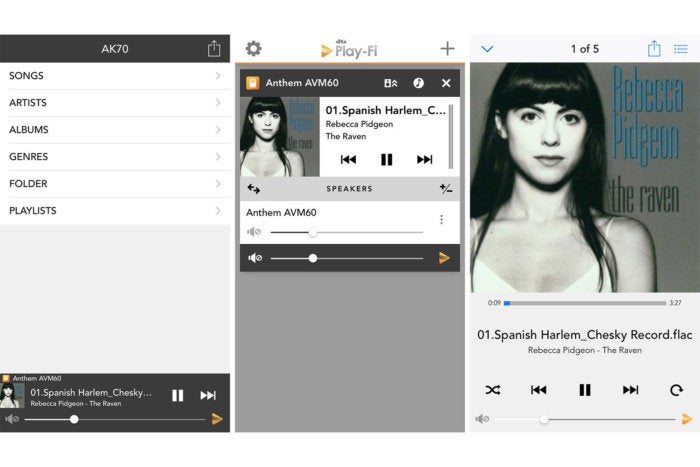 If you chose to install the the MQS Server, note that it won't appear on your network until it's completely finished scanning and indexing the music files on your network. If you have thousands of files like I do, this can take several minutes. Only after indexing is complete will you see a green light appear in the app, letting you know that the MQS server is ready. Protected media, such as downloaded Apple Music files and the like, won't play.
Every listening session was a great one
Mentioned in this article
Oppo PM-2 planar magnetic headphones
Price When Reviewed:
$699
I used the AK70 over several months with a whole handful of headphones, including the B&W P7 Wireless, B&W P9 Signature, and V-Moda Crossfade Wireless over-the-ear headphones; the Beyerdynamic Amiron Home, and Oppo PM2 open-back headphones; and the B&W C5 Series 2 and V-Moda Forza in-ear-monitors. (You can feel free to read the linked reviews above if you want to get a better sense of how the AK70 sounded with those specific headphones). The AK70 was a lush, beautiful performer with each one, though oddly at times through the Oppo PM2, I longed for just a hint more power and control.
The Chesky recording of Rebecca Pidgeon's album The Raven was beautifully delivered. The 24-bit/176.4kHz FLAC version of "Spanish Harlem" had a nice sense of space and soundstage depth when paired with the Beyerdynamic Amiron. No matter which headphone I used to play this song, bass lines on the song were flat-out warm, natural, detailed, and intoxicating through the AK70, driving almost every headphone with a good sense of control and detail.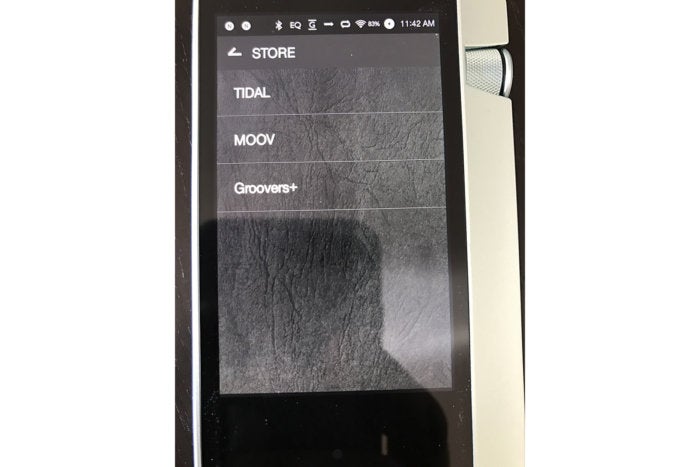 Of special note is the AK70's uncanny ability to render a very good sense of dynamics. On well-recorded material, percussion instruments will pop with a life-like quality and cymbals will snap.
I lost myself countless times listening to the DSD version of Pink Floyd's Dark Side of the Moon and the FLAC versions of Wish You Were Here and Led Zeppelin's Led Zeppelin II.
Playing CD-quality tunes sounded great through the AK70 too. Both the album version and Melodic Club Mix Radio Edit (say that ten times fast) of Sting's "Desert Rose" rocked. Male and female vocals likewise were consistently clear and timbrally accurate. Whether it was Sting on 
"Brand New Day" or Bono singing "Song for Someone" male vocals were spot on. Female vocals were lush. Whether it was Susan Wong, Natalie Mercant, Dido, or Adele, there was something just oh-so-right about the AK70s sound.
Don't think that a high-res player makes a difference? Whether as a USB DAC or a stand-alone player, music played through the AK70 sounded consistently cleaner and clearer with a tighter bottom end, more defined midrange, and more open top-end than through a MacBook Pro's internal headphone jack or an iPhone 7. If you value the differences in those details and the emotion behind each, then you'll appreciate what the AK70 delivers.
But forget tech and specs. If your measure of a music player is whether or not it gets your feet tapping and your body moving then the AK70 definitely fits the bill.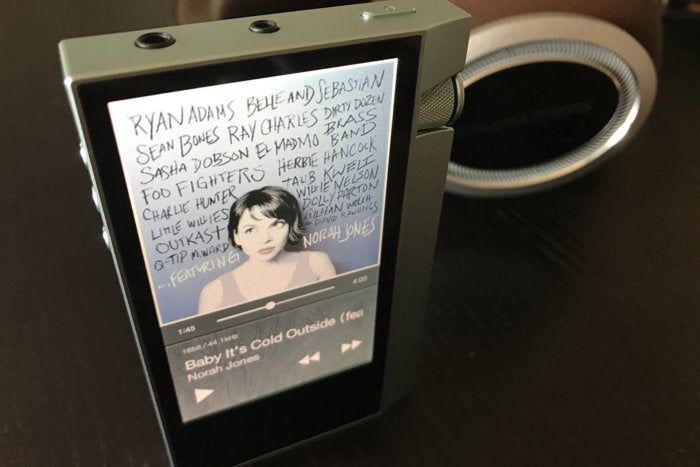 An easy recommendation
Astell&Kern's AK70 strikes a masterful balance of design and features in a portable package. With decent battery life, a smooth UI, and consistently great sound at a middle-of-the pack price, there's lots to love. If you've been on the lookout for a quality high-res audio player that can drive a wide array of headphones while slipped in your pocket, you've found your dream player. While The AK70 won't support MQA, it does support all the other major high-res music formats, and the inclusion of Apx HD has you ready for next-generation high-res music streaming.