Continuing the custom of reassessing the year that was as we boldly head into a new one, we look at one of the best feature releases of 2016. Or was it one of last year's best TV shows? Or was it both? We also look back at three other unsung gems of 2016, all worth celebrating, even if they aren't getting much awards-season attention.
But that's not all. In the interest of looking back, we also highlight some excellent content spanning the last several decades that's now available on a streaming service near you. From Martin Scorsese's 1970s documentary about The Band's final concert, to the touching alien story Starman from the 1980s, to Boogie Nights, which made Mark Wahlberg a household name in the 1990s, to a couple must-see flicks from more recent history, these 12 movies are a testament to the enduring delight of great cinema.
Boogie Nights (Netflix)
★★★★☆
Widely considered one of today's very best directors, Paul Thomas Anderson had his breakthrough with this, his second film. It was released several months after his first, Hard Eight, and wowed critics enough to make it one of the most acclaimed movies of its time, as well as earning three Oscar nominations. That's all hard to believe when you consider that Boogie Nights (1997) is actually about the porn industry. Mark Wahlberg stars—and also had a breakthrough—as the man who becomes "Dirk Diggler," the hottest 1970s porn star around, and suffers the downfall of sudden fame and fortune.
It's not a masterpiece, and it shows a young filmmaker still learning, borrowing heavily from Robert Altman, Martin Scorsese, and Quentin Tarantino, but the energy and power of the movie are undeniable. And it's not as lurid as one might think; it's actually more about a surrogate family, led by paternal porn movie director Jack Horner (Burt Reynolds, receiving his only Oscar nomination). Julianne Moore—also nominated—is very touching as older porn star "Amber Waves," William H. Macy is pathetically endearing as "Little Bill," and Heather Graham is cute as "Rollergirl." Don Cheadle, Philip Seymour Hoffman, John C. Reilly, Luis Guzmán, and Philip Baker Hall co-star.
O.J.: Made in America (Hulu)
★★★★★
Both film and television critics have named this one of the best of 2016, sparking a debate among them; is it a film or is it a TV show? Does it have to be just one? Either way, it's a monumental work, one for the ages, managing to take a soul-sucking tabloid story and turn it into the story of America itself. Working from almost unlimited access, director Ezra Edelman uses archive footage, audio recordings, photos, and documents, as well as new interviews, to step back and view the "trial of the century," wherein every ludicrous, awful detail was aired all over the news, and freshly unpack it as a microcosm of our country.
Taken in context with the Rodney King beating, the release of the white officers involved, and the subsequent riots, the O.J. Simpson trial was a loaded prospect; here was a remarkable athlete who managed to transcend color barriers—by not identifying as a "black man"—at the center of a trial that eventually became about race. With incredible patience and intelligence, Edelman outlines precisely how Simpson's fame and the subject of race influenced, and were influenced by, absolutely everything at the time, and even now. Major players Marcia Clark and Mark Fuhrman are interviewed, as well as two of the original jurors, author Walter Mosley, and film director Peter Hyams.
Lo and Behold, Reveries of the Connected World (Netflix)
★★★★☆
The one-of-a-kind filmmaker Werner Herzog, a one-time member of the German New Wave, recently premiered his latest documentary on Netflix, Into the Inferno; that movie required him to go exploring all over the world, peering into the fiery pits of active volcanos. His other 2016 documentary, which had a theatrical release, is more intellectual than dangerous, but no less enthralling. With Lo and Behold, Reveries of the Connected World (2016), Herzog attempts to explore the nature of the Internet, going so far as to ask, "Does the Internet dream of itself?"
He goes back in time, looking into the very first computer-to-computer connection, where the first two letters of the word LOG were typed before it crashed, resulting in the "Lo" of the title. Then he goes further, looking into a heartbreaking case of cyberbullying and traveling to a community of people who are allergic to electromagnetic waves and must be isolated from everything. He also finds hope, interviewing scientists who use models of cells to try and isolate deadly diseases. In every case, Herzog's curiosity takes the lead, and he never stops probing, exploring, or learning.
Superman (Netflix)
★★★★☆
I fear this childhood favorite has not aged too terribly well, but at the same time, I'm still convinced that Christopher Reeve makes the best-ever screen Superman. He was big and handsome and commanding, but still possessed a warm humility, and he was a perfect, bumbling, apologetic Clark Kent besides. (Most of the other broody, hunky Supermen haven't the talent to pull off the Kent angle.) Matching him was the throaty, sassy Margot Kidder as Lois Lane, unafraid to nose her way into a story, but also unafraid to make mistakes. Netflix offers the 143-minute version of Superman (1978), which still includes a lengthy "origin" sequence; it lacks the humor of the rest of the movie, but it does at least have Marlon Brando and Glenn Ford.
The modern-day sequences still have a wonderful big-city feel with lots of bold colors and a soft-focus sheen, while John Williams' heart-thumping score gives everything a lift. Gene Hackman is another of the movie's cards-up-its-sleeve, conveying genius as the evil Lex Luthor, with Ned Beatty as his bumbling sidekick (though why would Luthor have a bumbling sidekick?). Richard Donner directed, and started directing the back-to-back Superman II as well, though he was eventually replaced by Richard Lester. The screenplay comes packed with prestigious writers, from Mario Puzo (The Godfather) to the team of David Newman and Robert Benton (Bonnie and Clyde). Adjusted for inflation (according to boxofficemojo.com), it's still the biggest of them all.
Hugo (Netflix)
★★★★★
This year, Martin Scorsese realized a decades-old passion project with the masterful Silence, just now opening in theaters around the country. It's a big, difficult movie, both messy and deeply felt, deeply spiritual, but just a few years ago, Scorsese made the equally great Hugo (2011), which felt far more polished, more controlled, but no less passionate. Asa Butterfield stars as Hugo Cabret, an orphan who lives in the upper regions of a Paris train station, dutifully winding its clocks and trying not to be caught by the station's inspector (Sacha Baron Cohen). His fate intertwines with an old man, Georges (Ben Kingsley), who runs a magic shop, and the man's pretty daughter, Isabelle (Chloë Grace Moretz).
There's an automaton that holds a great mystery, and when it is revealed, it opens an incredible path through film history, illuminating the magic and discovery and the power of movies. One of the great film buffs, and a great activist in restoring movies, Scorsese was the perfect man for this job, but the man behind Taxi Driver and Raging Bull brings a surprisingly gentle touch to it, creating a wondrous awe that might have been more in line with Spielberg. Hugo received 11 Oscar nominations and won five awards; however, even though it was a true, heartfelt celebration of silent-era cinema, it lost several top awards to a more callous, jokey movie about silent-era cinema, The Artist.
The Last Waltz (TubiTV)
★★★★★
Scorsese is about more than just religious movies, gangster movies, and film history; here he is, fresh from a success on Taxi Driver, directing this groundbreaking rock 'n' roll concert movie. The Last Waltz (1978) was shot during the farewell performance by The Band (Robbie Robertson, Levon Helm, Garth Hudson, Rick Danko, and Richard Manuel) at San Francisco's Winterland on Thanksgiving Day 1976. The $25 ticket apparently included a turkey dinner, though Scorsese eliminates such details from his movie. He apparently wrote a shooting script, designed around the beats and tones of the music itself; there are no shots of the audience and very little else.
The extravaganza included many guest stars of the day, including Paul Butterfield, Eric Clapton, Neil Diamond, Bob Dylan, Emmylou Harris, Ronnie Hawkins, Dr. John, Van Morrison, The Staples, Ringo Starr, Muddy Waters, and Ron Wood. The movie grooves through many breathtaking moments, such as Joni Mitchell joining Neil Young from out of the shadows on "Helpless," or all the performers taking the stage for a rousing version of Dylan's "I Shall Be Released." But a highlight comes after the show, a recording of the Band's signature song "The Weight," staged all by itself on a bare set, with only the Staples helping. It's a spiritual moment, indeed.
The Piano (Hulu)
★★★★★
Jane Campion's film caught on with critics in the fall of 1993, and became far and away the biggest hit of her career, winding up with eight Oscar nominations and winning three Oscars; it even gave Schindler's List a run for its money. Yet, in spite of all this attention, The Piano (1993) is actually quite a masterful film, achieving a simple, profound visual and sonic design unlike anything else of its time. Holly Hunter stars—and won an Oscar—as Ada McGrath, a mute woman who, in the mid-19th century, is sold into marriage with a New Zealand frontiersman (Sam Neill). She arrives with her daughter, Flora (Anna Paquin, also an Oscar winner), who translates her mother's sign language, as well as their beloved piano.
Dumped on the beach, Ada learns that there is no room for her instrument, and it is traded to a white man living as a Maori, George Baines (Harvey Keitel). He, in turn, allows her to "earn" the piano back, key by key, if she gives him lessons in his humble dwelling. There, they begin an intense, sensual relationship. Campion's use of poetic locations, exteriors, the juxtapositions of the beautiful piano and its surroundings, Ada's silence and her music, etc. are ingenious, and superior in every way. Campion won the film's third Oscar for her original screenplay. The film also won the prestigious Palme d'Or at the Cannes Film Festival.
Amelie (Hulu, FilmStruck)
★★★★★
Jean-Pierre Jeunet, that director of dark cult comedy-fantasies (Delicatessen, The City of Lost Children) needed to come back from the much-hated (but not too terrible) Alien: Resurrection, and came up with this adorable, cartoonish story of a saucer-eyed waif with obsidian hair, doing secret good deeds and generally appreciating life. I can't think of a more hopeful movie to look at right now. Audrey Tautou stars as the darling title character, by turns a little Charlie Chaplin, Giulietta Masina, and Audrey Hepburn, whose story begins when she finds a treasure box that once belonged to a little boy and decides to return it to its now-grown-up owner, anonymously. She observes his reaction and vows to do more good in the world.
Her deeds take the form of painstaking, mousetrap-like setups, requiring several steps, each and every one of them delightful. Then, of course, there's the challenge of finding true love for a shy girl like herself (Mathieu Kassovitz plays the object of her affections). Jenuet weaves these little stories in and around each other throughout the film, creating a joyous tapestry. He uses colors and computer effects to create a deliberately non-realistic world, part cartoon, part wide-eyed utopia, full of generosity and hope. It worked; it was one of the highest-grossing foreign-language films in American history, and it earned five Oscar nominations, including Best Foreign Language Film, Best Screenplay, and Best Cinematography.
The Fits (Amazon Prime) [4 stars]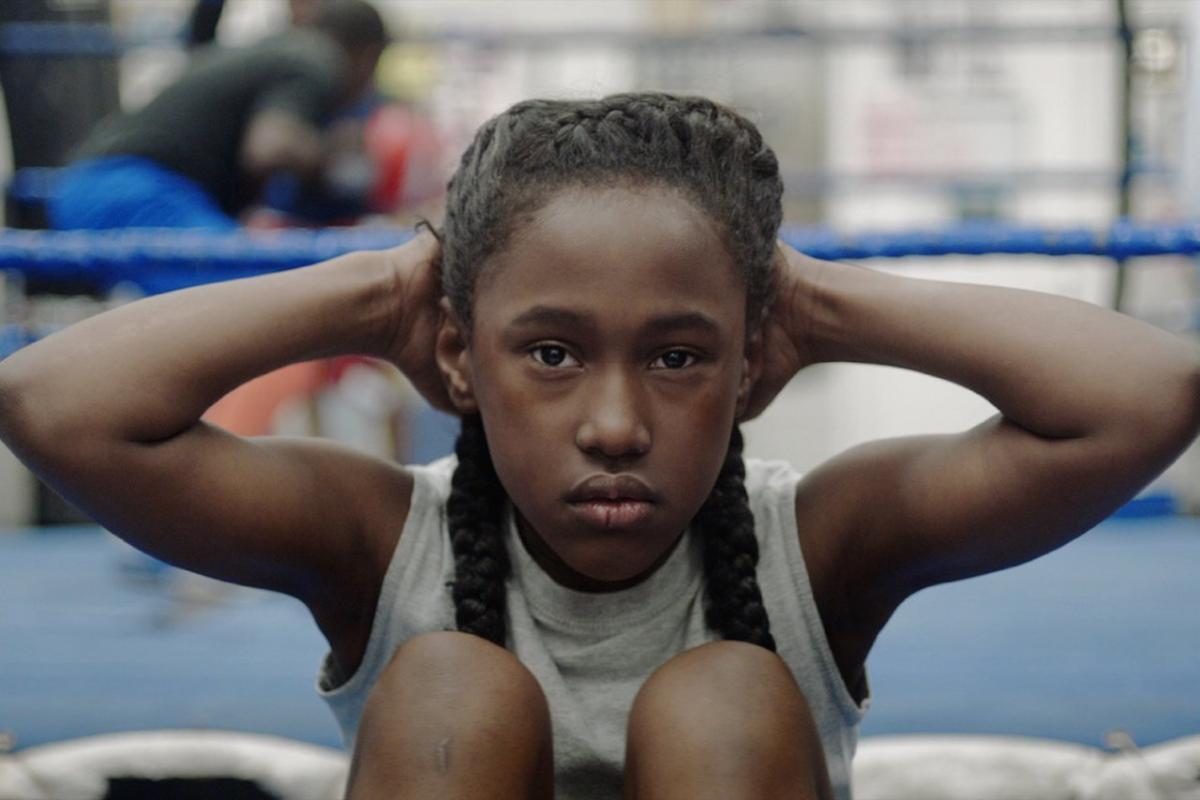 ★★★★☆
This low-budget film gives "small, indie" movies a good name again. Making her feature directing debut, Anna Rose Holmer crafts a highly intriguing, deeply poetic movie for anyone looking for something different. The Fits (2016) stars an impressive young actress named Royalty Hightower—who seems destined for great things—as eleven year-old Toni, who spends her days at a gym where her brother teaches boxing. She, too, has been taking lessons, and has developed muscles and a fearsome jab. But when she sees a dance class going on next door, she decides she wants to switch.
At first, she finds she doesn't fit in, and her tomboy looks clash with the girly-girls and their makeup and boyfriend talk. But then, the girls suddenly start having unexplained seizures that bring a whole new dynamic to the community. Holmer keeps any hysterics out of the picture, focusing on small moments through sustained shots, isolating Toni in the frame and keeping most adults out-of-focus; oddly the title "fits" also corresponds to the idea of not "fitting" in. The director especially establishes a vivid physical atmosphere, an overcast, dispiriting urban area. But she also creates moments of hope, family, and beauty, all in a surprisingly economic 72 minutes.
Love & Friendship (Amazon Prime)
★★★★☆
The brainy, witty independent filmmaker Whit Stillman couldn't be a better match for a Jane Austen movie, given that he already writes upper-crust characters who try to deal with their problems, romantic and otherwise, through hyper-educated banter. Love & Friendship (2016) is the first-ever film based on an obscure Austen novella, Lady Susan, presumably written when she was a teen and not published until after her death. For the film, Stillman reunites with leading ladies Kate Beckinsale and Chloe Sevigny, 18 years after their spin in Stillman's The Last Days of Disco (1998), and they hardly seem to have missed a beat. This is how Austen should be; not stuffy, but breezy and delightful.
Beckinsale plays Lady Susan, perhaps the nastiest and funniest character in all of Austen. She's newly widowed, and invites herself to stay with her brother's family, hoping to land herself a well-to-do new husband in her sister-in-law's younger brother (Xavier Samuel). Unfortunately, Lady Susan's daughter Frederica (Morfydd Clark) shows up, having run away from school, so Susan decides to protect her "investment" by trying to set up Frederica with the doltish, jabbering Sir James (Tom Bennett). Susan occasionally reports on her progress, in a vicious, hilarious way, to her American friend (Sevigny). Beckinsale has her all-time best role here, and she even manages to stand her ground as Bennett effortlessly steals all his scenes.
Starman (Crackle)
★★★★☆
In 1984, John Carpenter had enjoyed a fast, fearsome run, making a group of mind-blowing horror and action movies, including Assault on Precinct 13, Halloween, The Fog, Escape from New York, The Thing, and Christine. Then, from out of nowhere, he made this touching, emotional science fiction movie. Starman (1984) starts with a premise that doesn't seem like it would work; an alien on a peace-seeking mission is shot down by the U.S. government. He finds the home of widowed Jenny (Karen Allen), and uses a lock of her dead husband's hair to clone a human for himself. Then, of course, he arranges a pickup from his alien friends, which requires a road trip.
The movie features some bad guys—government agents are hunting for him—and there are a few special effects, such as when the starman uses some of his interstellar orbs to do magical things, such as bringing a fallen deer back to life. But the bulk of it is centered on the odd, tender relationship between Jenny and the man who looks exactly like her husband, but isn't. And, indeed, he doesn't know much about being human at all, relying on her to teach him things. (One of the funniest lines involves a traffic light.) It was a decent-sized hit, and critics liked it, earning "two thumbs up" from Siskel & Ebert. Jeff Bridges even earned a surprise Oscar nomination for Best Actor.
Sideways (Vudu)
★★★★☆
Alexander Payne's Sideways (2004) was the critical darling of the 2004 awards season, and popular enough in certain circles that it even increased sales of Pinot Noir over other types of wine. Unfortunately, its momentum ran out before the Academy Awards, and, though it received five nominations, it lost just about everything to Million Dollar Baby; lead actor Paul Giamatti didn't even land a nomination for himself. But after all the hype and backlash, Sideways has risen as a smart, funny experience, and one of the few films that feels alive, as if its characters could get up, walk around, and live lives away from the screen.
Giamatti plays neurotic writer and wine snob Miles, who goes on a road trip to the wine country with his friend Jack (Thomas Haden Church), a failed actor who is about to be married. Their aim is to drink wine and hopefully have a last fling before nuptials. They meet Maya (Virginia Madsen), a grad student who already knows Miles, and winery counter girl Stephanie (Sandra Oh), and everything slowly comes unraveled over the next several days. Though it's based on a novel, director Payne manages to create a vivid, cinematic flow to the story, focusing on character and performance, and especially characters in relation to their environment. It's bittersweet, but totally satisfying, and you leave it with a smile. Vudu recently begun a new feature: Selected movies are now available to view for free, with ads, and Sideways is one.