Ooma, one of the biggest names in VoIP (voice over internet protocol) phone service, is expanding into the DIY home security market. Ooma Telo owners will soon be able to install motion, door/window, and/or flood sensors in their homes, and add a new tier of service that provides home security monitoring.
"The Ooma Telo is essentially a Linux computer that attaches to your network," Ooma product manager Thad White said. "But it's also a secure device that we can update with new features and services. People want to secure their homes, prevent intrusions, and stay safe. But customers told us that professionally monitored systems from ADT and the like are too expensive. We looked at our platform and realized we could build an economical home monitoring service that delivers the same level of security or better."
Ooma's telephone service is basically free for calls made within the U.S. (after you buy the hardware; the Telo base station costs $100). But you'll be billed for taxes and a government-imposed 911 access fee on a monthly basis. You'll also need a handset to make and receive calls, but any corded or cordless handset will do.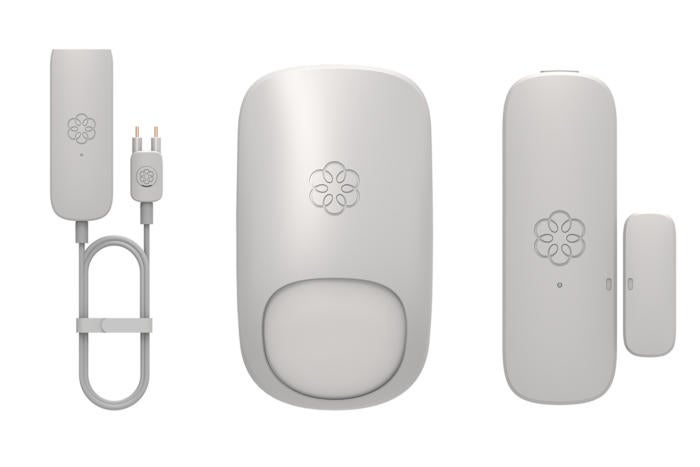 Ooma's wireless sensors are reasonably priced and its service is an even better value. In fact, Ooma Premier subscribers who pay $10 per month for an expanded basket of services will get home monitoring at no additional cost; the service will cost $6 per month on its own. Door/window sensors will be priced at $25 each, motion sensors at $35, and water leak detectors will go for $30 each. The sensors communicate with the Telo base station using a wireless protocol called ULE, an evolution of the DECT standard developed for cordless phones. One base station can support as many as 100 sensors.
As with any other home security service, you can arm the system as "stay," for those times when you're in the home and don't expect the doors or windows to open (when you get to sleep, for example). In this mode, triggers from motion sensors are ignored so you can walk around the house. When armed in "away" mode, all the sensors are activated. If a sensor is triggered when the system is armed, Ooma will send you a push notification, an SMS message, and/or an email alert that there's been unexpected activity in your home. The service will also call you.
When you receive such an alert, you can open the Ooma app on your smartphone and push a button to be connected to the 911 dispatcher in the area where your home is located. As far as the dispatcher can tell, you're calling from the house, so they'll see your home's street address and will have all the information they need to send a first responder.
Ooma's new home monitoring service does has a few holes: There is no connection to smoke or carbon-monoxide detectors, for instance, so you won't get an alert if a fire breaks out or your gas-powered furnace malfunctions. And the water leak detector can't currently link to a smart shut-off valve to shut down your water supply should a pipe burst. Finally, there is no support for security cameras that would enable you to take a look at what's happening inside the house that might have triggered the alarm. It's easy enough to switch to another app on your smartphone to do all of those things, of course, but it would convenient—and cheaper—to have everything rolled into one service. Those issues aside, paying $6 per month (or zero additional dollars if you're an Ooma Premier subscriber) for security monitoring and a local 911 connection is a tremendous value.
Ooma has already sent us an Ooma Telo base station, so we'll have a hands-on review of its new monitoring service as soon as they can ship us some of the new sensors.