There's nothing quite like the taste of home-grown produce. It's fresher, you know exactly what went into it, and you can grow the exact varieties of herbs and veggies you like best. But it's difficult to be a hobby farmer if you don't at least have a yard to plant in. With a hydroponic system from Opcom Farms, you can grow lots of vegetables indoors. The company is showing a variety of such products at CES, starting with the GrowBox, the GrowWall, and its latest product, the GrowFrame.
Opcom recommends growing leafy vegetables such as lettuce, spinach, Swiss chard, and cabbage; fruits such as strawberries and cherry tomatoes; peppers; cucumbers; sprouts, including wheatgrass and alfalfa; and all types of herbs. With Opcom's products, plants draw nutrients through their roots directly from the water, so there is never any need to bring soil into the house. You simply fill a reservoir with water, add nutrients, and let the plants grow.
The GrowFrame ($199) can rest on a table or countertop or hang on the wall, so no matter how small your living space might be, you'll be able to grow up to 33 plants. Install one in your kitchen and you can pluck whatever you need for the dish you're cooking, or for a fresh salad. Opcom says you can also plant succulents in the GrowFrame and hang it on the wall as living art that will also clean your indoor air.
If you have more table or counter space, the GrowBox ($499) can accommodate up to 50 plants, including tall and vining plants up to three feet high. The GrowBox has a 4.2-gallon water tank and a pump that automatically oxygenates the water. With four LED lights, it can be placed nearly anywhere in your home, including your garage if space is tight in the kitchen (an insect net will protect your plants from most pests). Need even more food? Opcom's ladder-like GrowWall leans against a wall and can grow up to 75 plants on five levels with a very small footprint.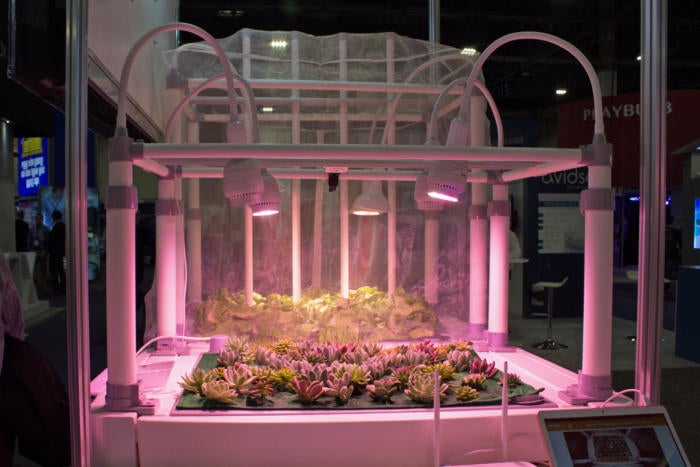 At CES, Opcom announced a new accessory for its GrowBox and GrowWall products: The Digital Gardening Kit includes a digital camera that can create time-lapse videos of your plants growing from seed to harvest. It can also stream video in real time if you're away from home and want to make sure the cat isn't eating the harvest.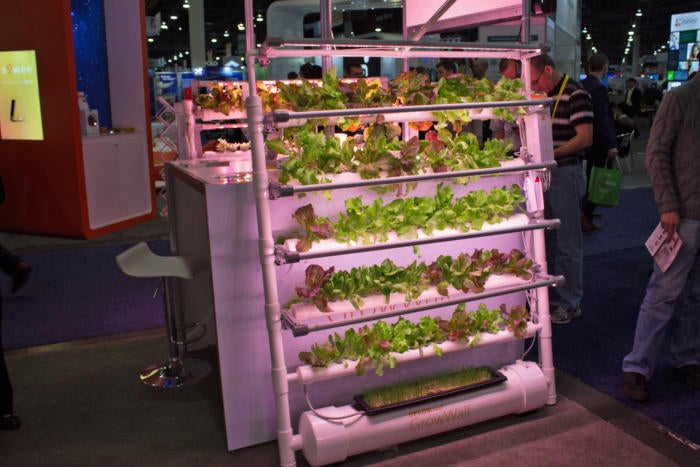 Opcom pitches its products mostly to city dwellers who don't have outdoor space, but I live in a rural area and find the idea of hydroponic gardening appealing. My house is on what used to be an old dairy farm, and I have nearly 10 acres of arable land. I tried to put some of that to use with raised beds for vegetables, but I gave up trying to compete with the squirrels, gophers, and other varmints that would eat everything I put in the ground. If I grow my herbs and veggies indoors, I'll just have to worry about the cats.