LG's vision of the future is filled with intelligent robots that help you manage your life more efficiently. Hate mowing the lawn? Get a robot. Need a personal assistant? Get a robot. This vision sounds expensive, but LG's new lineup of robots, unveiled on Wednesday, is the stuff we come to CES to see.
First there's the Hub Robot, which also comes in mini models that you can deploy throughout your house. The main bot is supposed to be stationed somewhere your family regularly congregates, like the living room, though it's mobile. The Hub Robot is a sleek, small bot with a round display. It looks like the spawn of Google Home and Rosie the Robot from The Jetsons. Like LG's new smart refrigerator, the Hub Robot uses Amazon Alexa to answer questions or perform household tasks like turning on the air conditioner or pausing a dryer cycle. Like Amazon's own Echo, the Hub Robot provides weather updates, traffic reports, streams music, and sets alarms, though its display makes it possible to watch videos or read recipes. (Alexa can read those recipes to you, of course.)
Then there's the Lawn Mowing Robot, which takes the intelligence LG has developed for its indoor Hom-Bot vacuum cleaner and brings it outdoors. The bot knows where it is and can automatically detect obstacles like trees and maneuver around them.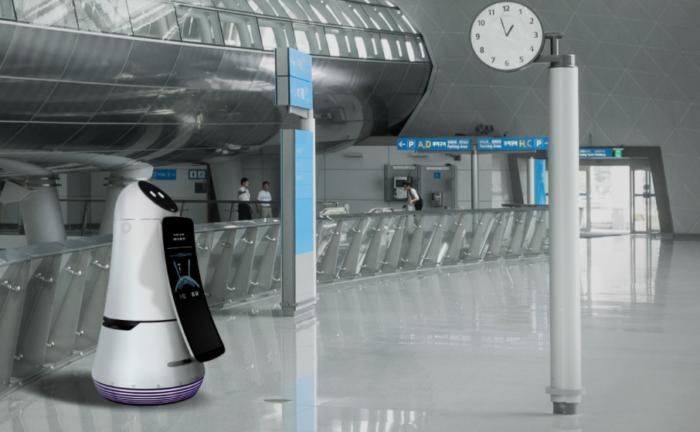 A pair of robots designed for airports rounds out LG's new bot lineup. One acts as a guide, answering travelers' questions, offering directions, and escorting passengers to a specific airport location. The bot can scan your boarding pass to offer detailed flight information. LG plans to put the Airport Guide robot in Seoul's Incheon International Airport, where it will be able to speak in English, Korean, Chinese, and Japanese. The Airport Cleaning robot is an industrial-sized version of its Hom-Bot vacuum cleaner.
We've reached out to LG for pricing and retail availability of its new robots, and will update this story with more information.