I've been living in a smart home for nearly 10 years. It's filled with sensors, smart lighting, voice recognition, security cameras, a smart thermostat, and more. In spite of all its capabilities, my home would be completely dumb if I hadn't dedicated hours upon hours telling it exactly how all of those components should work together, and then constantly tweaking those instructions when I add or subtract components and as my life patterns change. All that silicon made my home smart, but not intelligent. Vivint says its new Sky system can change that.
Mentioned in this article
Echo (first generation)
Price When Reviewed:
$179.99
Sky is a cloud-based artificial intelligence that promises to eliminate the need to program your smart home system. You'll no longer need to write complicated scripts telling your system what it should do in every conceivable scenario or sequence of events, or become frustrated at your inability to predict them all. Sky, according to Vivint, can accurately detect the state of your home and automatically issue appropriate instructions to its various systems: Is the home occupied? By whom? Which lights are on? Does the temperature need to be managed? Are the occupants awake or asleep? Should the doors be locked? And so on.
"What we're offering has been promised for a long time," said Vivint Smart Home chief strategy and innovation officer Matt Eyring, "but the issue has been a limited number of sensors in the home. You can't determine sleep, wake, home, and away unless you have a lot of sensors. With Sky, we can determine—in real-world, messy conditions, with adults carrying smart devices and kids and older folks who aren't—who's in the home. We can analyze past patterns and predict when you go to work, if you're ready to go to bed. And we don't depend on everyone having a smartphone or even everyone with a smartphone having our app installed."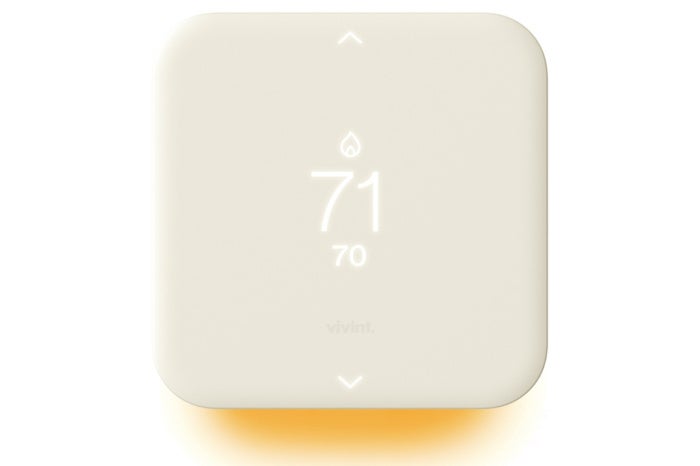 "We focus on macro states of the home, added Vivint CTO Jeremy Warren. "When do people go to sleep, when do they wake up, when do they leave for work? You won't need to go in and program scripts. The system will ask you questions. 'Hey it looks like you're gone for the day? Do you want me to turn these lights off? Should I lock these doors?' The system is aware of the state of lights, windows, entry locks, and so on. It will learn your pattern of activity and proactively make suggestions. But we don't believe in the man-behind-the-curtain approach to managing your home. Like the driver of an autonomous vehicle, the homeowner should feel they can always grab the wheel, so to speak."
The third wave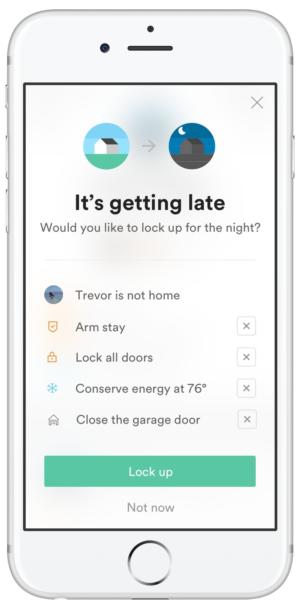 Eyring characterized Sky as the third wave of smart home development. "The connected home was the first wave. Voice control with the Amazon Echo and Google Home was next. Phase three is the first time we're really seeing a smart home, one that's actually learning and interacting. It's not just executing scripts or depending on you to pull up an app and push buttons. Today, you have to remember that you forgot something. The real smart home will know these things and do them for you while keeping you in the loop. It's more than just a remote control."
Vivint doesn't intend to compete with products such as the Echo or Google Home; it will incorporate those devices instead. "We think of the Echo and Google Home the same way we think of Android OS," said Warren. "We're not going to reinvent smart speakers or voice control, but we want those things to be included." While Vivint offers its own smart thermostat, it can also incorporate the Nest Learning Thermostat into its system.
Vivint's existing smart home offering already incorporates the Echo. You can tell Alexa to turn smart lights on and off, lock smart deadbolts, control the thermostat, close your garage door, arm the security system itself, and more. But she won't unlock doors, open the garage door, or disarm the security system because that would leave you vulnerable. The Echo responds to voice commands, but it can't distinguish between residents and burglars.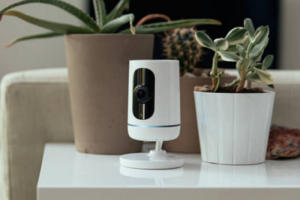 Vivint says Sky will be incorporated into its existing smart home offering at no additional cost, and that it will be rolled out starting in the second quarter of 2017.
"We're not looking for ways to upcharge people," Eyring said, "we just want to add value to the systems people already have." Vivint systems are professionally installed and generally require long-term contracts with monthly subscription payments (starting at $39.99 per month) in exchange for receiving some of the equipment for "free." You can compare Vivint's offerings here.