At a Glance
Expert's Rating
Pros
A solid value for what's delivered
Attractive, unobtrusive industrial design
Quick and easy to install
Cons
Anemic siren
Camera has subpar night vision
No cloud storage for video recordings
Our Verdict
Smanos offers an easy-to-install modular home alarm system, but there's no option for professional monitoring and its siren and camera are weak links in its security chain.
Best Prices Today: Smanos W020 WiFi Alarm System
Home security systems, whether DIY or professionally installed, come in two basic flavors: Professionally monitored systems that can contact emergency responders on your behalf, but that come with contracts and monthly service fees; and self-monitored systems you pay for just once, but that notify only you of an emergency. The Smanos W020 WiFi Alarm System is the latter, but calling it a "system" is a something of a misnomer because it's really just an alarm. The sensors and accessories needed to trigger it are sold separately.
That's not necessarily a bad thing, because it allows you to assemble just the right collection of components for securing your home, versus whatever Smanos might consider to be the average home. And Smanos' devices are reasonably priced: The W020 itself, for example, costs $100. You can add a motion sensor for $39, door/window sensors for about $28 each, key fob remotes for $25 each, and a security camera for $125.
Smanos also offers various starter kits at discounts over buying each component on its own. We found one such bundle, consisting of the W020 Alarm, the IP6 security camera, two door/window sensors, and a key fob priced at $265 on Amazon.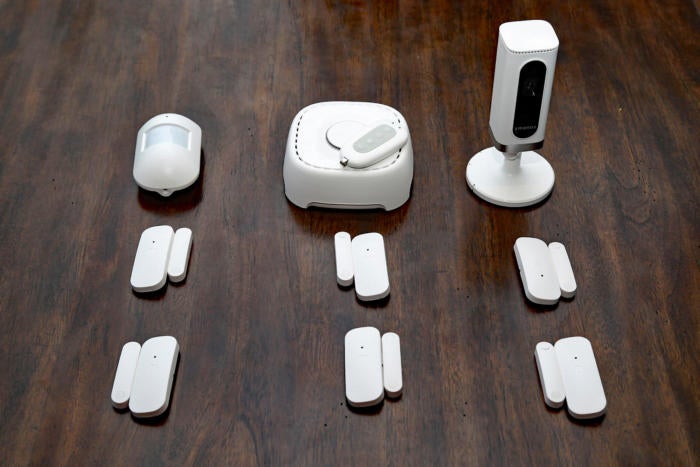 The system as reviewed
For this review, Smanos assembled a kit that included the alarm, a motion sensor, six door/window sensors, and a camera. Everything is wireless, of course, except for the power cords needed for the alarm and the camera. Purchased at Amazon, the collection Smanos sent would add up to about $460. The W020 alarm can also interact with Smanos' smoke detectors, natural gas sensors, flood sensors, and remote control keypads and fobs, but it's limited to 10 remotes and 30 sensors.
The Smanos system is very easy to set up, we had ours configured in less than 30 minutes. The W020 is a small white box with a circular LED indicator on top. The ring glows green when the alarm is unarmed and turns red when armed via the smartphone app (there are Android and iOS versions) or one of the remotes. If one of the sensors triggers the W020, it sends a push notification to your smartphone and fires off its onboard siren.
While Smanos rates the siren at 105dB, I didn't find it all that piercing compared to some other systems I've tested. It would wake you up if you were home, but it probably wouldn't draw your neighbor's attention. And while the W020 has a backup battery that will enable the siren to continue sounding if an intruder unplugged it from the wall, it wouldn't take but a few seconds for the perp to open the battery compartment and pull them out.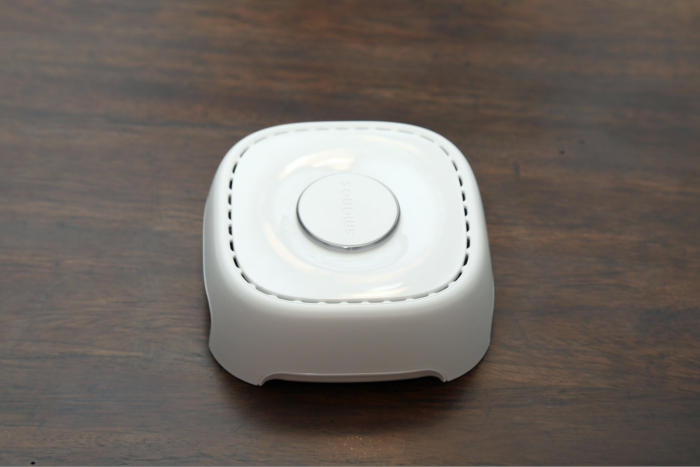 The door/window sensors come with 3M adhesive tape, so you just peel the backing off and push one half onto the door or window you want to monitor and other half onto the door or window frame. The sensors stuck firmly to my doors and windows, but it's hard to say how long the adhesion would last. We generally prefer sensors that can either be screwed into the surface or—better yet—sensors the can be inserted inside the door/window and the door/window frame, so that they disappear from view.
As is typical of this type of sensors, there's a magnet embedded in one half and a metal plate in the other. When the magnetic field the two halves form is broken by the door or window opening, a message is sent to the W020. Unlike Smanos' door/window sensors, the MD2300 motion sensor must be screwed into the wall. Deploying a motion sensor can reduce the number of door/window sensors you need to install. This one has range of about 20 feet, and in our tests, it detected only humans moving inside its perimeter. It correctly ignored small pets, so you don't need to worry about Fido or Fifi triggering your alarm while you're away from home and they're not.
Once all the sensors were installed, we moved to Smanos' IP6 security camera. It connects to your 2.4GHz Wi-Fi network and records HD video (720p) to an onboard microSD card (up to 32GB) in a continuous loop. An onboard mic and speaker enable two-way audio, so you can converse with people or pets in the home while you're away.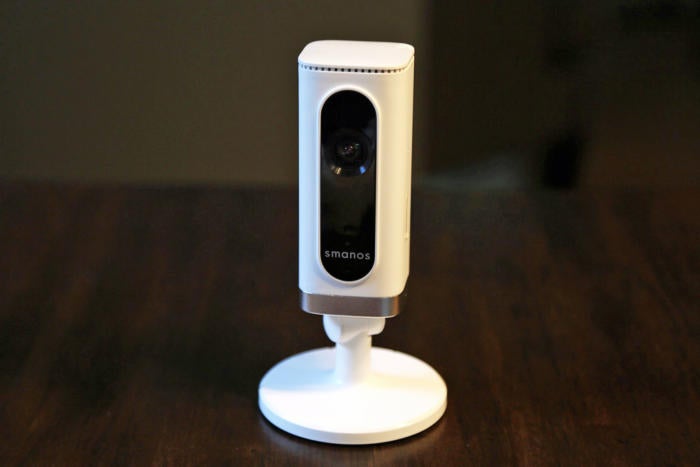 There is no provision for storing video in the cloud, so if an intruder steals the card or—more likely—the entire camera, you won't have any forensic video evidence of the crime. You can, however, use the smartphone app to monitor a live feed from anywhere you have internet access. If the alarm goes off, you can at least get a glimpse through the camera's lens (which has a 110-degree field of view) to see what's going on—and perhaps warn the perps that they've been seen.
Is this the security system for you?
The Smanos W020 WiFi Alarm System is an affordable home security solution, but it puts the onus on you to summon the police if there's a break-in. That could be scary if it happens when you're home. If you're away and you don't have your phone or you've silenced it for whatever reason—you're in an important meeting, or you're at the movies, for example—there could be a significant delay before you know about a break-in.
These observations are true of any self-monitored security system, of course, and not everyone sees them as shortcomings. Many prefer to keep everything under their control and don't like the idea of some nameless person in a remote location knowing what's going on in their home. If you're in that camp, the Smanos system is well priced and mostly effective (we found its siren anemic and its Wi-Fi camera subpar). But apart from a la carte pricing, there's little to set it apart from many similar systems.
Best Prices Today: Smanos W020 WiFi Alarm System