At a glance
Expert's Rating
Pros
Excellent grid guide with useful sorting options
More sports (at least in its $100-per-month tier) than other streaming services
DVR is easy to navigate and has its own dedicated menu section
Cons
No visual preview when fast forwarding on Fire TV and Android TV
Sluggish performance on some lower-end streaming devices
Some national sports channels are pushed out to more-expensive packages
Our Verdict
DirecTV Stream's sports coverage and cable-like features come at a high cost.
Price When Reviewed
Tiered pricing starting at $74.99 per month ($10-per-month discount for the first three months)
Best Prices Today: DirecTV Stream
In the realm of live TV streaming services, DirecTV Stream is on the extravagant side. Its sports coverage is without peer, and there are no major gaps in its lineup–if you're willing the pay the price. DirecTV—formerly known as AT&T TV, and DirecTV Now before that—also nods to cable with its excellent grid guide, easily-accessible DVR list, and the way it jumps directly into live TV at launch.
But with a starting price of $75 per month, DirecTV Stream is also one of the priciest live TV streaming services, and adding regional sports pushes the price to $100 per month or more. Its app can also feel sluggish on low-powered streaming players, and its DVR makes ad-skipping more difficult on Fire TV and Google TV devices. Cost-conscious cord-cutters would be wise to consider other options before settling on DirecTV's maximalist streaming bundle.
This review is part of TechHive's in-depth coverage of the best streaming TV services.
What's included with DirecTV Stream?
While most live TV streaming services have at least one notable gap in channel coverage, that's not the case with DirecTV Stream. Its $75-per-month base package includes all four major broadcast networks—ABC, CBS, NBC, and Fox—along with local PBS stations. It also includes major cable news networks (CNN, MSNBC, and Fox News); national sports channels such as ESPN and FS1; and entertainment channels such as AMC and HGTV.
The trade-off is that DirecTV excludes some popular sports channels from its base lineup. SEC, ACC, BTN, MLB Network, and NBA TV all require DirecTV's $100-per-month package, while NHL TV and FS2 live in the $110-per-month tier. (Strangely, DirecTV Stream leaves Travel Channel and the Weather Channel out of its base package as well.)
Those $100-and-up plans do include regional sports networks, so depending on where you live, you might get Bally Sports, AT&T SportsNet, Root Sports, or YES Network. The only other live TV streaming service that offers these channels is Fubo (formerly known as FuboTV), which starts at $75 per month (plus regional sports fees starting at $11 per month) but lacks TNT and TBS—both big sources of sports coverage.
You can view DirecTV Stream's full lineup using the channel lookup tool on its website.
DirecTV vs. DirecTV Stream
While this review is focused on DirecTV Stream, keep in mind that DirecTV also offers a streaming version of its standard DirecTV service. Unlike the satellite version, both of these streaming options have no annual contracts and use cloud-based DVR.
So, how do the two services differ? DirecTV proper has a lower advertised price of $65 per month and includes a set-top box, but it also has more hidden fees. These include a mandatory $15-per-month "Advanced Receiver Service" surcharge and regional sports fees, which vary by plan and location.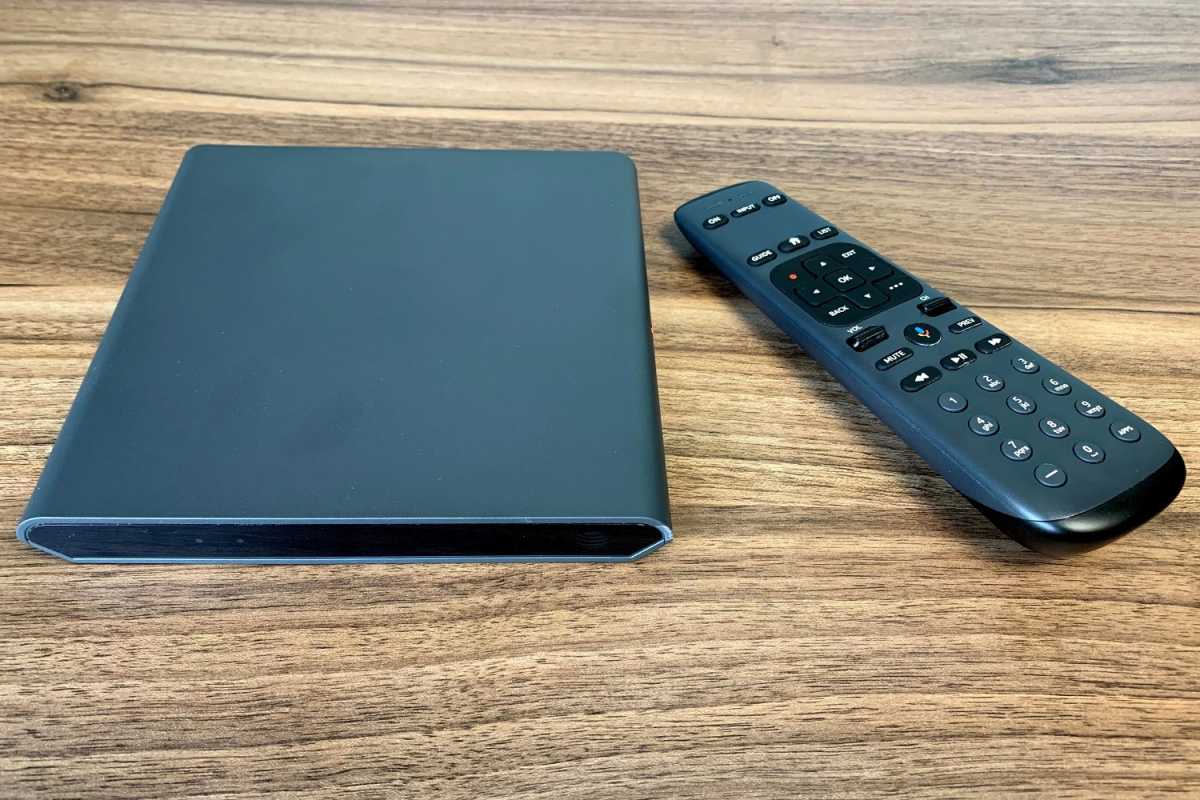 Jared Newman / Foundry
DirecTV Stream, by contrast, starts at $75 per month with no extra fees, so it's the cheaper option overall. Instead of renting equipment, you can just use DirecTV's apps on Roku, Amazon Fire TV, Android TV/Google TV, Apple TV, Chromecast, Samsung TVs, iOS, Android, and the web.
Also worth noting: While DirecTV no longer sells its own streaming box for DirecTV Stream subscribers, you can still buy it on third-party sites. This is a great option for cable or satellite TV converts, as it offers features like a guide button, a record button, a channel flipper, and an old-school number pad.
How does DirecTV Stream's DVR work?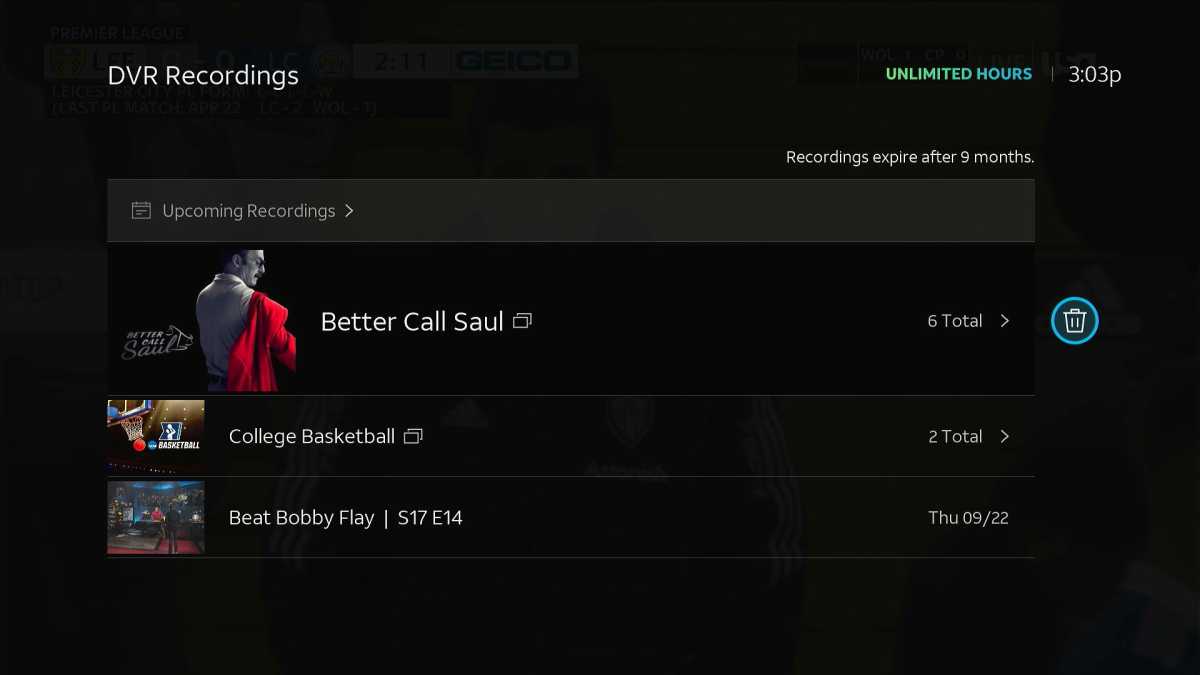 Jared Newman / Foundry
DirecTV Stream offers a cloud-based DVR that can store an unlimited number of recordings for up to nine months from the air date. That's the same time limit as the cloud DVRs for YouTube TV and Hulu + Live TV. You can either create one-off recordings or set up series recordings for a particular show or sports team, with the option to store only new episodes or reruns as well.
On the downside, DirecTV will only store 30 episodes of a particular show, after which it might delete older episodes automatically. Other DVRs don't have this limitation, and it means you won't be able to store every episode of shows that are in syndication.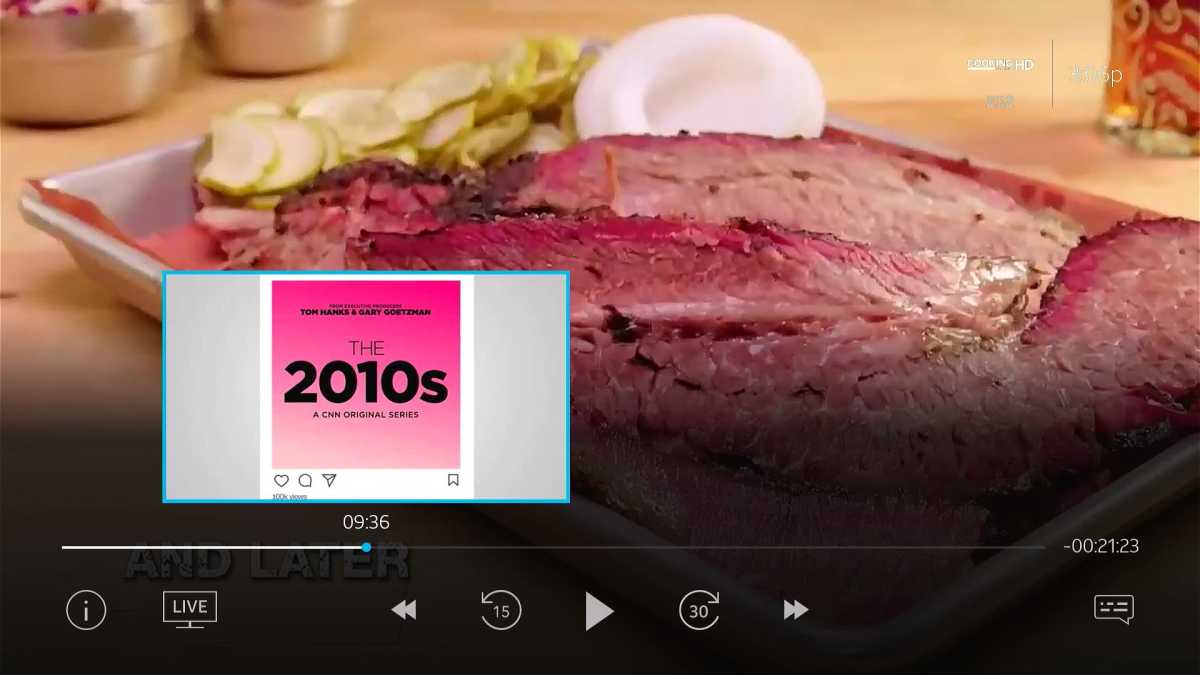 Jared Newman / Foundry
Another problem: DirecTV Stream's Fire TV and Android TV apps don't offer a visual preview when you fast forward through recordings, so it's hard to tell if a commercial break is over. (Apple TV boxes and Roku players do offer a visual preview, as does the DirecTV Stream box.)
DirecTV simultaneous streams and viewing restrictions
DirecTV Stream subscribers can watch most live TV channels on an unlimited number of devices while at home, and up to three devices at a time while traveling.
Those rules do come with some asterisks: Some channels have a three-stream limit no matter where you are, including NHL Network, Starz, and Fox-owned channels. And for all channels, you can only watch from outside the home on up to two TV devices, such as smart TVs or streaming dongles.
DirecTV's policies are pretty permissive overall, though, and the service allows you to switch home locations up to four times per year in case you want to use lots of TV devices while on vacation. On the downside, DirecTV Stream doesn't support multiple user profiles, so everyone must share the same DVR, recommendations, and favorite-channel list.
The DirecTV Stream experience
Jared Newman / Foundry
DirecTV Stream offers a consistent menu system across all TV devices, and it's clearly focused on making cable converts comfortable.
When you launch the app, it jumps straight into the last thing you were watching—whether that's live TV or a recording—with no extra menus to wade through. On most devices, clicking up on the directional pad shows a list of recent channels, and clicking down brings up the full home screen, with video continuing to play in the background. (Apple TV is the exception, as you must click "Menu" for the home screen instead.)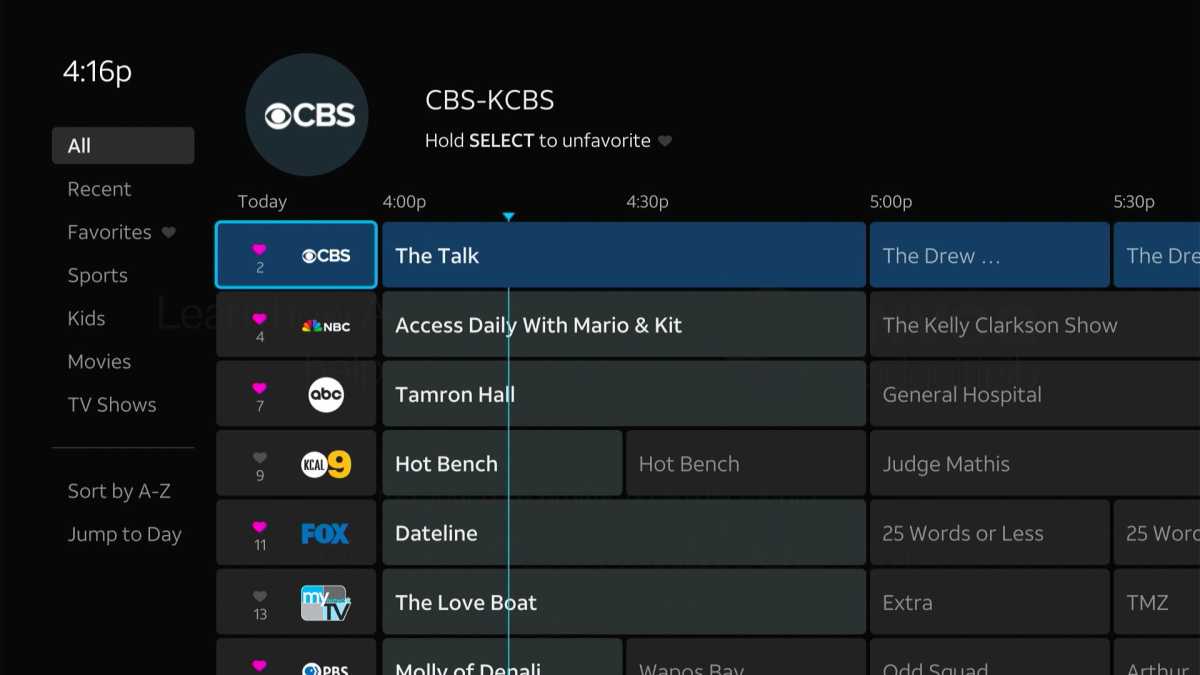 Jared Newman / Foundry
That traditional TV experience extends to the grid guide, which is among the best you'll find in a live TV service. You can sort by channel name or number, and there's an array of filtering options, including sports, movies, kids, recent channels, and a favorites list. Skipping ahead to future dates is easy as well, thanks to a "Jump to Day" option.
DirecTV also deserves credit for clearly distinguishing DVR recordings from on-demand content, which is important because the latter has mandatory commercial breaks. While some live TV streaming services lump them into a single menu—looking at you, YouTube TV—DirecTV Stream maintains separate sections for each. That helps eliminate confusion around when you're able to skip through ads.
Jared Newman / Foundry
Even DirecTV Stream's main "Watch Now" section gets straight to the point, with a list of recently watched live channels followed by a "Continue Watching" row for recordings and on-demand video. Scrolling further down brings up suggestions on what to watch next.
With such a nice interface, it's too bad DirecTV feels so lethargic on lower-end Fire TV and Android TV/Google TV devices. Too often on these devices, you'll click a button, not get an immediate response, then click again, only for the device to slingshot through multiple button presses all at once.
DirecTV's app works fine on Roku players and such high-end streamers as the Apple TV 4K and Fire TV Cube. (With Apple TV and Fire TV devices, you can also launch live channels by voice and browse through content directly from their home screens.)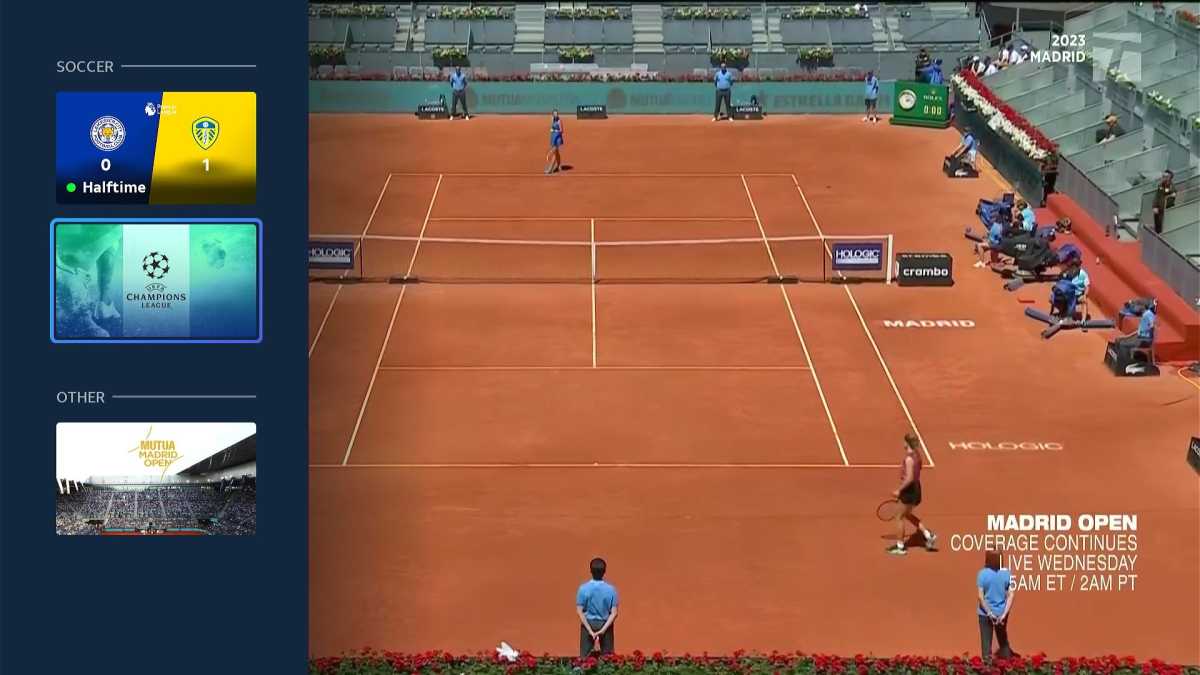 Jared Newman / Foundry
Also a shame: There's no multi-view feature, like Fubo offers on Apple TV devices, and like YouTube TV is starting to experiment with. DirecTV's app does offer a "Sports Mode"—invoked by holding your remote's select button—that lets you toggle through live events from a sidebar menu, but not being able to watch multiple games at once is a missed opportunity given the service's excellent sports lineup.
DirecTV Stream video quality
DirecTV Stream was the first live TV service with 5.1 surround-sound support, and it's always had broad support for 60-frames-per-second video on news and sports channels. Resolution is either 720p or 1080p, depending on the channel.
Surprisingly, DirecTV Stream has not offered any programming in 4K. Although it was an early supporter via satellite-dedicated 4K channels, those aren't available when streaming. It's not a major downside given that most cable channels don't offer 4K programming, and YouTube TV and Fubo both charge extra for it anyway.
Is DirecTV Stream worth it?
With the right streaming player, DirecTV Stream offers a drop-in replacement for cable and satellite TV that won't feel completely alien to new cord-cutters. It's also one of just two ways to access certain regional sports channels (such as Bally Sports, at least while it lasts) without cable or satellite TV.
Still, its base package is more expensive than Hulu + Live TV ($70 per month, including the Disney/ESPN bundle) and YouTube TV ($73 per month), and both those services work better on low-cost Fire TV and Android TV players. DirecTV Stream can certainly help you escape the long-term contracts and hidden fees of traditional TV, but it's hardly the most economical way to do it.
Best Prices Today: DirecTV Stream