Amazon just made the Fire TV's boring interface significantly less drab with a major new update that recently began rolling out. The new look's a dramatic shift from the previous left-hand navigation-based layout, which Amazon updated just a few months ago.
The new Fire TV home screen appears to borrow a lot of its aesthetic from Netflix's TV and PC interfaces. At the top you'll find a teaser ad for upcoming and featured content. The teaser can be either an image or a short video—Netflix does something similar on PCs for certain programs. The top teasers will rotate between four or five featured programs.
Here's a look at Netflix's interface for comparison: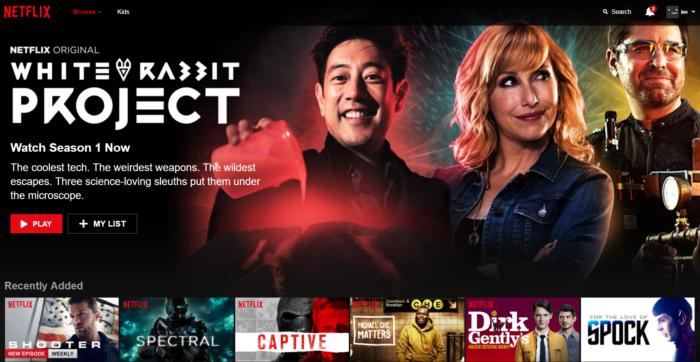 Below that are rows of tiles. Each tile represents a TV show, app, or movie, and the rows are organized by category such as recently viewed, downloaded apps and games, new releases, recommendations, and so on. Amazon says you will be able to customize the order that items appear in the "Your Apps and Games" menu. There will also be dedicated rows for content from HBO Go, HBO Now, and Netflix if you subscribe to those apps.
The menu, meanwhile, has been moved from the left column to the top of the screen, as you can see in the image at the very top of this page. The menu is also more streamlined. Instead of a plethora of options upfront like Prime Video, movies, TV, watchlist, etc. there are just five options in the new look: Home, Movies, TV Shows, Apps, and Settings.
Amazon also added a new notifications feature. If your favorite game or show gets new content the Fire TV can let you know. The new interface is rolling out now to Fire TV and and Fire TV sticks.
Why this matters: Improving the viewing experience with any TV device is always a good thing, but Amazon could be laying the groundwork for something bigger. Variety points out that the new interface would work well not only for apps and on-demand content, but a live TV selection as well. Imagine, for example, browsing through live TV and seeing live previews take up most of the screen. That's just speculation, but Amazon is rumored to be chasing live TV deals similar to competing TV device makers.