At a Glance
Expert's Rating
Pros
Weatherproof enclosure (IP65)
Operates on either AC or battery power
Excellent companion to the indoor Canary
Cons
You need a pricey subscription plan to get the full benefit
Susceptible to theft unless you buy an optional secure mount
Power adapter is not weatherproof
Our Verdict
The Canary Flex is a no brainer if you've already bought into the Canary ecosystem, but there are better alternatives for first-time security camera buyers.
Best Prices Today: Canary Flex
Canary's second home security product, the Canary Flex, isn't as ambitious as its first. It's a small indoor/outdoor camera with a magnetic mount, and it can operate on either battery or AC power. It has night vision, a passive infrared motion sensor, a three-axis accelerometer, an onboard mic, and a currently non-functional speaker, but it doesn't have a siren or any of the environmental sensors that are packed into its strictly indoor stablemate. You don't need to own the original Canary to deploy the Canary Flex, but the Flex is a terrific companion for that device if you do.
The Canary Flex is supremely easy to set up. Once you've installed the app on your smartphone, it will link to the camera via Bluetooth LE and then sniff out nearby Wi-Fi networks. Tell it which one to join, provide the network password, and you're done.
Mentioned in this article
Canary Home Security System
Price When Reviewed:
$169
Mounting the camera is even easier. The base can rest on a horizontal surface or you can hang it from a wall via a simple keyhole. A powerful magnet in the bowl-shaped base holds the camera tight and allows you to position the camera however you like. You should be able to hang the camera from the ceiling, but the app doesn't have a setting to flip the streamed image. That seems like a shortcoming that would be easy for Canary to remedy.
Weatherproof and battery operated
You can put the camera almost anywhere, especially if you purchase one of Canary's optional mounts (there's a bendable Twist mount that wraps around objects, a Stake mount that can be put in a garden or in a planter, and a Secure mount that locks the camera in so that it can't be stolen). The camera itself carries an IP65 rating, which means it's protected from dust and low-pressure water jets, and it can operate in ambient temperatures between 14 minus 4 and 113 degrees Fahrenheit. [Editor's note: Canary informed us after this review was published that they'd performed additional testing and found the Canary Flex can operate lower temperatures than they had previously stated.] Canary doesn't recommend installing it in locations where it will be exposed to direct sunlight for long periods, advising instead to mount it under an eave where it will be more protected.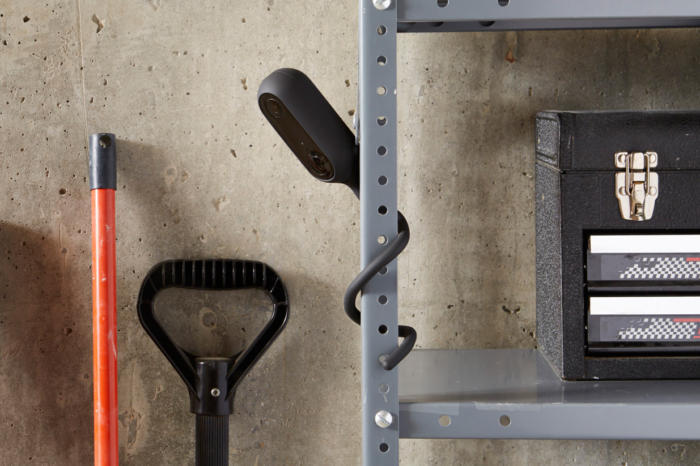 On the upside, you don't need to worry that there's an AC outlet nearby. The Flex can operate on its lithium-ion battery for months at a time, according to Canary. That's because the camera spends most of its time in sleep mode, waking only when it detects movement, at which time it will capture a clip with audio, encrypt and upload it to the cloud, and then go back to sleep. You can also send a wake signal from the app and the Flex will stream live HD video (720p) from its 116-degree-field-of-view lens. You'll get a live audio stream, too. If you also have a Canary, you can trigger that camera's onboard siren if you want to raise an alarm. And if you put in the phone number for your local emergency responder in the app's settings, you can push a button on this same screen to immediately call them.
Mentioned in this article
Nest Cam Outdoor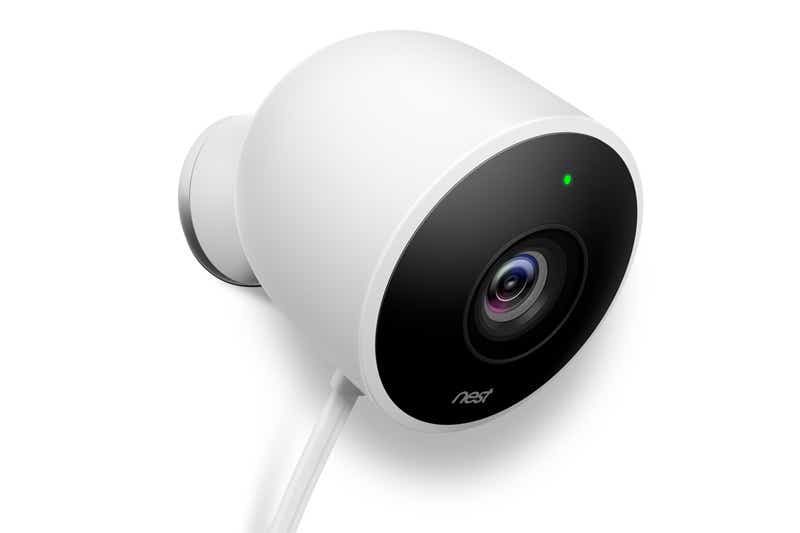 Price When Reviewed:
$199.00
You can monitor the camera's battery state via the app (the camera will send an alert when its battery gets too low), or you can plug the camera into an AC outlet and rely on the battery only for backup power. The eight-foot USB power cable magnetically attaches to the back of the camera, but you'll want to make sure the AC adapter at the other end is plugged into a weather-protected receptacle. Unlike the adapter that Nest provides with its Nest Cam Outdoor, Canary's is not sealed against the elements.
The software side
The Canary app integrates all your Canary devices, and you just swipe right to switch between them. It has three operational states: Away, Home, and Night. In Away mode, Canary devices will monitor your home for activity, record a video when motion is detected, and send you a notification. Home mode is customizable. You might want the Canary you're using as a baby cam to send you an alert when it detects motion while you're home, for example, while the Canary mounted outdoors ignores it. Or to preserve battery power, you might configure the cameras to respond to motion only when everyone is away from home.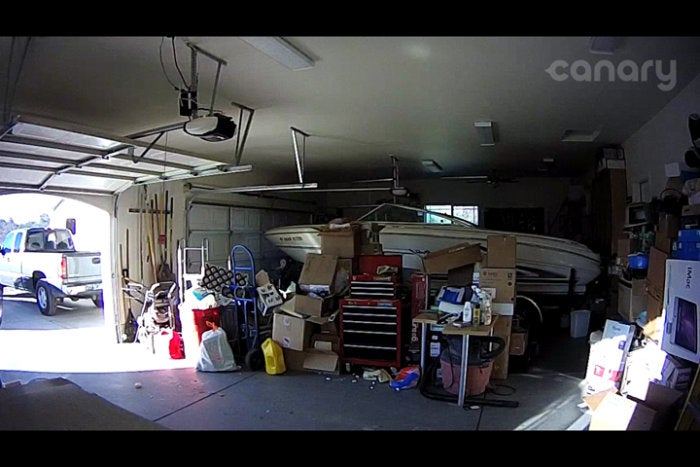 In Night mode, you can schedule the Canary to alert you to motion that happens during the hours you're typically sleeping. In Privacy mode, audio and video recording are turned off altogether. You can set this to be the default state for all or just certain cameras while the system is in Home mode, if you prefer. Like the original Canary, the Canary Flex can use your smartphone's geolocation capabilities to determine when members of your household are home and when they're away. When auto-mode switching is enabled, the cameras will automatically switch to Away mode when the last person leaves the house. Alternatively, you can manually switch between Away, Home, and Night modes.
Unlike the Nest Cam Outdoor or the Netatmo Presence, motion-detection alerts from the Canary and the Canary Flex don't overtly attribute motion to the presence of people, animal, or vehicles. Canary's algorithms do distinguish between motion caused by people, animals, and background motion, however; this information is then taken into account when you make manual adjustments to the Canary's motion sensitivity via the Canary app. Both Canary models can also recognize and then automatically ignore repetitive motion, such as a spinning ceiling fan or a TV screen.
The Canary app's timeline is both vertical and horizontal. If activity is detected in Away mode, all the cameras will record a clip and their thumbnails will be presented horizontally, since they all occurred at the same time. The rest of the thumbnails and events (motion detection, mode changes, and so on) are stacked vertically, with the newest event at the top of the screen. You can bookmark clips, tag them with descriptions to help Canary improve its identification algorithms, download them to your smartphone or tablet, and share them on social media.
Mentioned in this article
Netgear Arlo Video Camera system
Price When Reviewed:
$349
Getting the most out of both the hardware and the software requires paying a subscription fee, which Canary calls Membership. Without it, your timeline of events is limited to 24 hours, and if you have multiple Canary products, that time is distributed between them. If you have two Canary devices, for instance, your timeline is reduced to 12 hours; if you have three, it's reduced to eight hours. You won't be able to view or download any videos recorded outside of that window unless you pay for a subscription.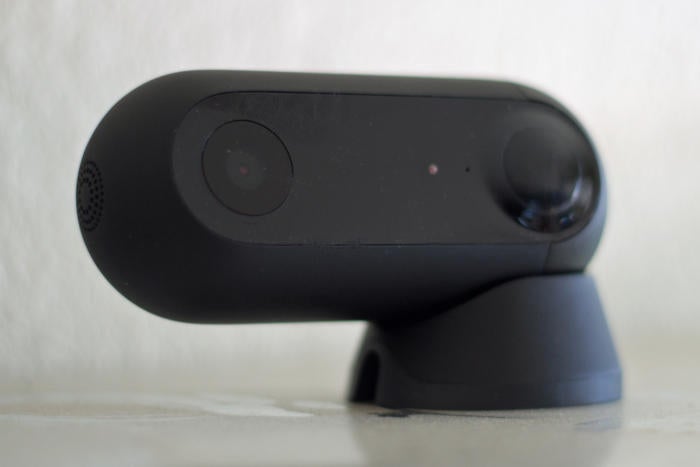 Membership increases your event timeline to 30 days and includes a number of other benefits, but it's not cheap. Membership for one Canary device costs $9.99 per month or $99 if you pay for a year at a time. That goes up to $14.99 per month ($149.99 per year) for two or three devices, and an additional $4.99 per month ($49.99 per year) for the fourth and each additional Canary device after that. Beyond the extended timeline, you also get a two-year warranty (one year is standard); a service called Incident Support, so if you suffer a break-in, a Canary agent will help you secure forensic video evidence and otherwise deal with the aftermath of the event; and—sometime in 2017—reimbursement of up to $1000 in homeowner's or renter's insurance deductible if you suffer a break-in.
Buy it or skip it?
If you already own an indoor Canary, the Canary Flex is its natural companion. If you haven't committed to the platform, you should compare the Flex to the Nest Cam Outdoor, the Netgear Arlo and Arlo Pro, and the Netatmo Presence.
The Nest Cam and the Presence depend on AC power and have no battery backup. The Presence is the most expensive of these at $299, but it also offers a powerful floodlight and there is no subscription plan for cloud storage—optional or otherwise. The Nest Cam is comparably priced, but like the Canary Flex, you'll want the subscription service to get the most out of it. The Arlo models operate on battery power, but only the $250 Arlo Pro can run on either AC or battery power. Netgear offers subscription plans, too, but they are truly optional—you get up to seven days of cloud recording for up to five cameras at no cost.
The Canary Flex is a very good security camera, but it's expensive at $199 and you'll need to spend an additional $99 every year you own it if you want to get full use of it. That makes it comparable to the Netatmo Presence, which will cost you $299 just once.
Update: This story was updated with a more thorough description of how the Canary and the Canary Flex algorithms handle motion detection.
Best Prices Today: Canary Flex