At a Glance
Expert's Rating
Pros
Terrific sound from a very small box
An IP67 rating means it'll survive a dunk in the pool or a day at the beach
Lightweight and easy to carry at just one pound
Cons
No track forward/back buttons
AC adapter not included
Our Verdict
The Soundcast VG1 Bluetooth speaker delivers great sound in a small, rugged package that's easy to take with you anywhere.
Best Prices Today: Soundcast VG1
Competition in the small Bluetooth speaker market is incredibly fierce, so any new model must deliver something compelling and special to break through and grab our attention. Soundcast meets that challenge in a major way with its rugged and waterproof VG1. It's on the expensive side at $150, but it delivers big sound that belies its small proportions
The oblong enclosure measures just 7 inches wide and 2.5 inches thick and is wrapped in a soft-touch rubber material that makes it easy to grip. You can also attach a sturdy shoelace-style lanyard to its left side to make it even easier to carry. A pair of 2-inch full-range aluminum-cone drivers are mounted in the front of the cabinet, and a passive radiator behind those fires surprisingly thick bass out the back.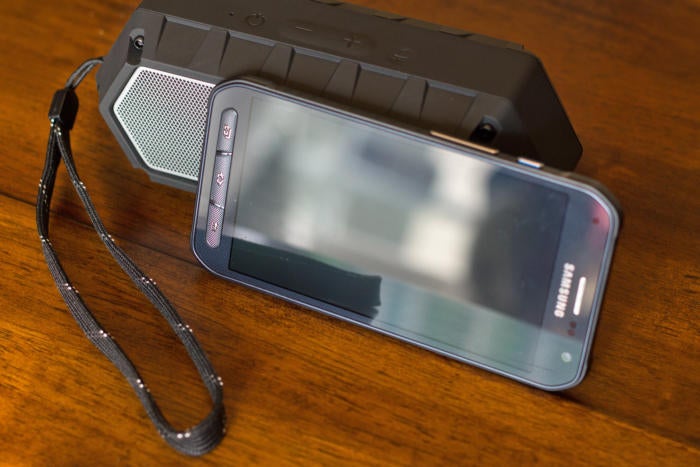 Soundcast has given the VG1 an IP67 rating, which means it's not only weatherproof but waterproof. The company claims the speaker can withstand being submerged in up to 10 feet of water. Power, volume up/down, and play/pause buttons are on the top of the speaker, and there's a microphone that enables speakerphone functionality. It can also send voice commands to Apple's Siri digital assistant. One control that's missing: track forward/back buttons. A hinged rubber door on the right-hand side of the speaker flips down to expose a micro-USB charging port for the battery, plus 1/8-inch jacks for audio in and out.
Soundcast throws stylish fabric-wrapped USB and audio cables in the box, plus a vinyl drawstring pouch to carry them in. But you'll need to provide your AC adapter or charge its battery from your laptop or another USB power source. The company claims the speaker can run on battery power for up to 15 hours, but I did not test that claim.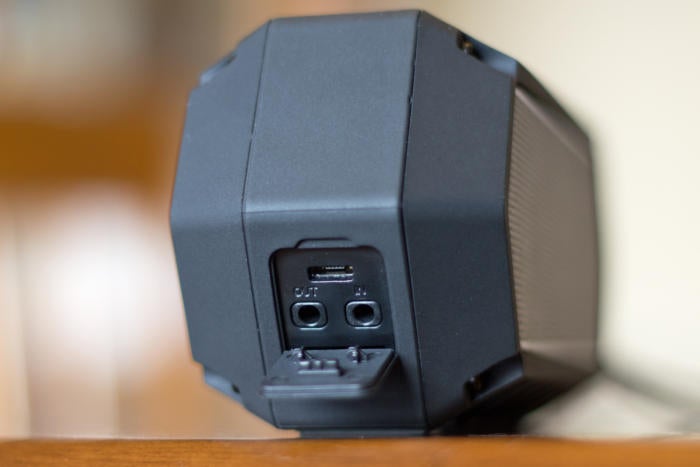 One of the biggest problems with small speakers is positioning them on the same plane as your ears. Listening to the VG1 on top of my desk while I wrote this review, the speakers were firing at my midsection. When I placed it on my kitchen counter and listened to it while standing, the sound was directed at my chest.
After looking at Soundcast's press materials, I thought the purpose of the VG1's angular design was so you could tilt the speaker back to aim its drivers up toward your ears, but the company actually discourages that practice because it restricts airflow into the speaker and distorts its sound. There's another problem, too: When the VG1 isn't resting on its sticky rubber feet, bass frequencies cause the cabinet to vibrate enough that it will slowly creep across the surface it's resting on.
Fortunately, the VG1 sounds fantastic even when you can't put it in an optimal listening position. It gets loud enough to hurt your ears in near-field listening situations, and it did a credible job of filling my 247-square-foot home theater with sound. That's amazing. I placed it in the built-in entertainment center that houses my TV, where it was roughly 45 inches above the floor. The funky bass lines in Morcheeba's "Love is Rare," from the band's Fragments of Freedom album, gave the passive radiator a good workout. Low frequencies remained solid and well defined even when the speaker was cranking at full volume. The full-range drivers in front, meanwhile, rendered the vocals, guitar, and snare drum clearly and distinctly.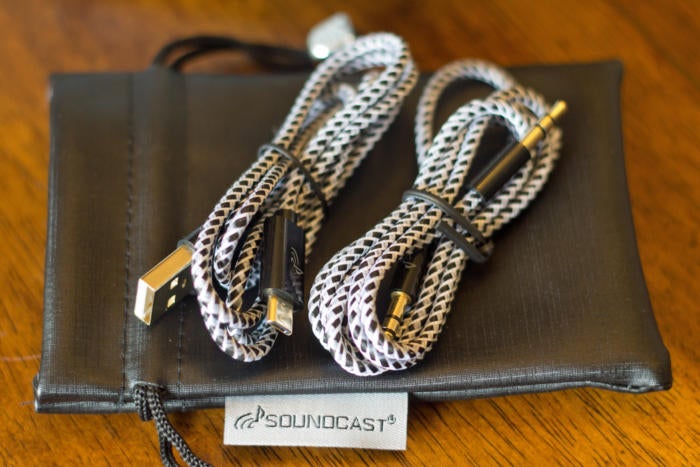 The VG1's excellent sound can be attributed mostly to its drivers and amplifier, but Soundcast's decision to include support for the aptX codec also deserves credit. Your source device also need to support aptX—you won't derive any benefit from having it only in the speaker—but aptX delivers better-sounding audio over Bluetooth than any other codec I've heard. As you might expect, given the VG1's small size, stereo separation is one of the few areas where the VG1 falls short. Fortunately, the speaker supports True Wireless Stereo, which enables you to operate two VG1s as a wireless stereo pair.
There's something to be said for having a pair of speakers at home and then taking one with you on the road; but if you intend to spend $300 on Bluetooth speakers, you might want to consider something like Oppo's Sonica Wi-Fi. It's not a speaker you'll want to carry around with you, but it will deliver awesome sound at home. The Soundcast VG1 is imminently portable, though, and you won't believe how good it sounds.